Priyanka Chopra knows how to make the most of her time in the spotlight. Her appearance at the Met Gala in New York yesterday proved that she was quite a head-turner in her long, very long, edgy trench coat.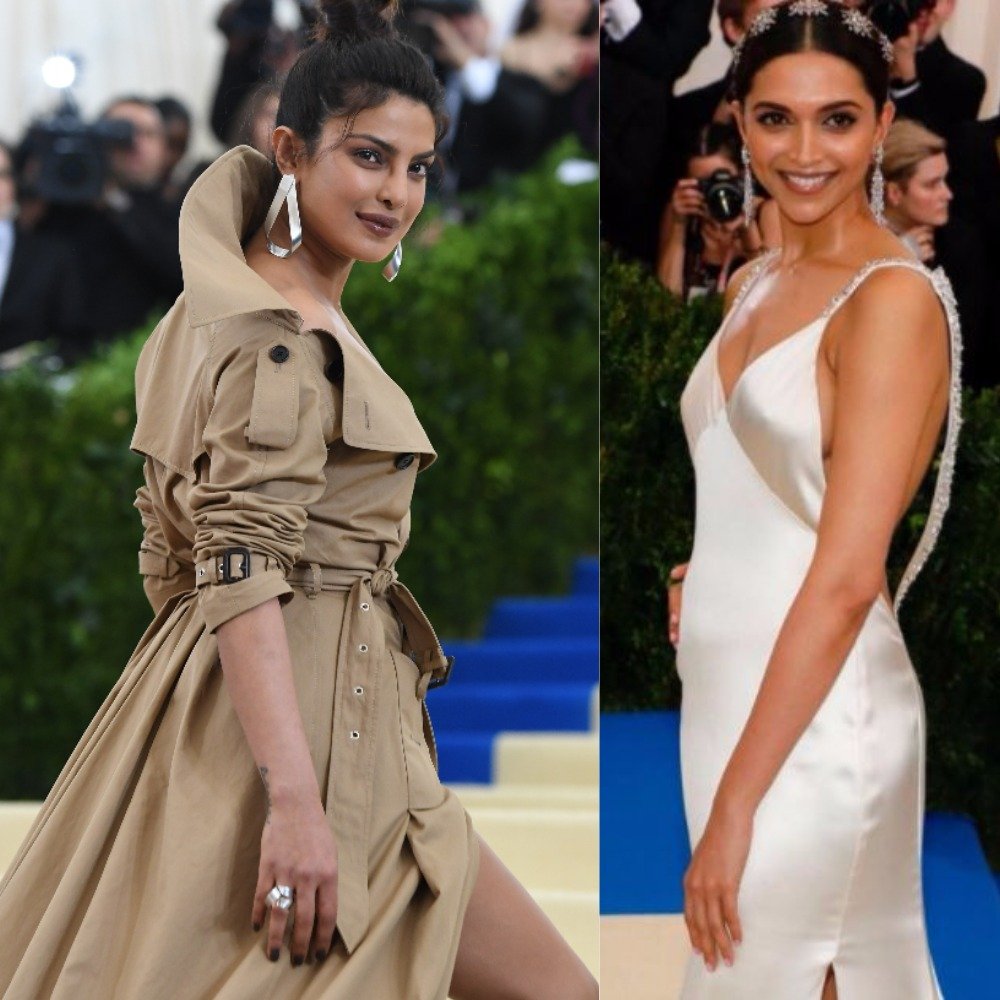 While fellow Bollywood colleague Deepika Padukone went unnoticed, Chopra owned the red carpet like a boss with her Ralph Lauren outfit.
She even got a lot of praises from the international media.
Priyanka Chopra Slays in Trench Coat Dress With Longest Train Ever on 2017 #MetGala Red Carpet https://t.co/kZHRzcwdWA pic.twitter.com/vfJQG1rhWj

— Us Weekly (@usweekly) May 2, 2017
.@priyankachopra is down in the trenches of the #MetGala...or trench coat, that is. Now THIS is a fashion moment! pic.twitter.com/LiEiIXDags

— Access Hollywood (@accesshollywood) May 1, 2017
If you can't beat Priyanka Chopra's glorious train, join it! ✨ #MetGala pic.twitter.com/sVR7oUVzrT

— EntertainmentTonight (@etnow) May 1, 2017
Actually, this trench coat-gown by @RalphLauren on Priyanka Chopra is a weirdly great combo. #MetGala pic.twitter.com/bBZ8GQZsNT

— Vanessa Friedman (@VVFriedman) May 1, 2017
PRIYANKA. CHOPRA. **jaw drops**

She is 🔥 E V E R Y T H I N G 🔥@priyankachopra #MetGala @GMA pic.twitter.com/N1ORvoXT8j— Tony Morrison (@THETonyMorrison) May 2, 2017
And then there were those who found it a moment of hilarity as Priyanka posed and preened for the paparazzi. She was all over the internet and how!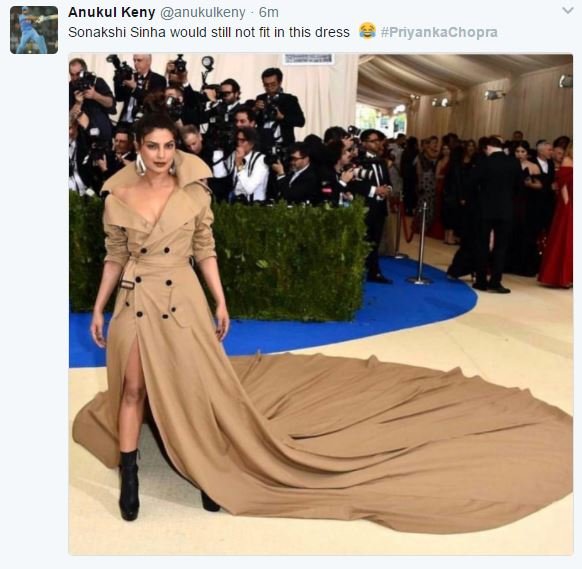 Meanwhilr Chai Malai Maar ke got a new meaning #PriyankaChopra 🙏 pic.twitter.com/tRsvFa072V

— ThankGodIAmUgly (@ThankGodIAmUgly) May 2, 2017
Dear #Trump

Don't Ever Ban Visa For Indians. We Do Provide Employment To Americans. 🙏🏾#PriyankaChopra #DonaldTrump Priyanka Chopra pic.twitter.com/fdyPPKnuJV— Sir Ravindra Jadeja (@SirJadeja) May 2, 2017
#BREAKING: #BCCI Hires #PriyankaChopra To Provide Cover Protection To Stadiums During Rains. #IPL #IPL10 pic.twitter.com/znKlloVDg8

— AaHiL (@_Khan_Aahil) May 2, 2017
#metgala #PriyankaChopra When you take Swachta Aviyan too seriously... pic.twitter.com/HZHFPljW8r

— Som Deep (@som_deep) May 2, 2017
When you've no time to dress but still want to make it to #MetGala #PriyankaChopra pic.twitter.com/ywbwq6Z9mN

— Noorain Jehan (@aaiiin) May 2, 2017
Aao Kabhi #Haveli Pe... Pochha Lagane!#PriyankaChopra #MetGala Priyanka Chopra https://t.co/VK6YC85bZz

— Deep Sojitra (@DeepSojitra2) May 2, 2017
Who said Baywatch is her first Hollywood Movie😜😜#PriyankaChopra pic.twitter.com/UdCidVCKwR

— SheTTy Anna (@AkashKshetty) May 2, 2017
@HumorouslyVipul I think #PriyankaChopra hs gt 10 mts of cloth instead of 1mt. Perhaps that ws typo error in her Whatsapp mssg 2 her tailor.

— Harie (@hariegomoji) May 2, 2017
Priyanka Chopra's reaction when somebody said "madam, ghar tak lift de do apni gaadi mein bitha kar.." pic.twitter.com/roqQGgh1I5

— Keh Ke Peheno (@coolfunnytshirt) May 2, 2017
Say whatever, but Priyanka clearly broke the internet with her bold choice for an outfit.
(Feature Image Source: AFP, Meme: Twitter/Sir Ravindra Jadeja)