I know what you're thinking. Yet another pro-women, male-bashing rant by a feminazi. Right?  
This is nothing of that sort. I am not even talking about men here. This article's sole purpose is to highlight just how far the women of this country can go, if only you give them a chance.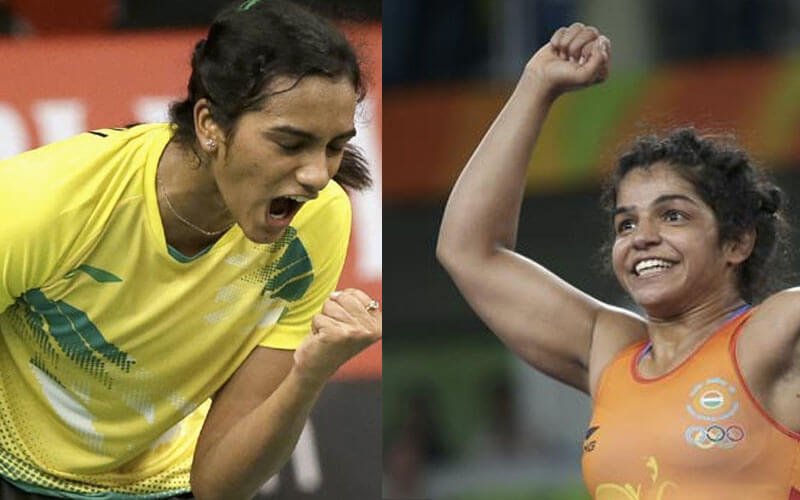 Before we proceed, how about some numbers to put things into perspective?
Since 1991, 80% of districts in India have recorded a declining sex ratio, according to a UNICEF report. India loses 3 million girls in infanticide, says this Hindu report. 
More figures?
In Haryana, eligible Jat boys are known to travel as far as 3,000 kms to find themselves a bride. Why? Because there aren't any in Haryana. Because as many as 35,000 girls are killed in Haryana every year. In other words, 4% of Indian girls are killed in the state every year. 
Now let's discuss the women at the Olympics. The ones we're celebrating so fondly on social media. 
117 Indians competed at the Rio Olympics: 63 men and 54 women. That's 'almost' equal, you think? Okay. No big deal, right?
Now consider the fact that most, if not all, of these women were, at one point, not even allowed to play the sports that they are now acing at the Olympics. Why? Because when Olympic bronze medalist Sakshi Malik told her mother that she wanted to be a wrestler, she was told, "wrestling is not for girls." Not just that, her neighbours would often warn their family that their daughter would develop "puffed-out cauliflower ears" and become "undesirable" to potential husbands.
I wonder what they have to say now.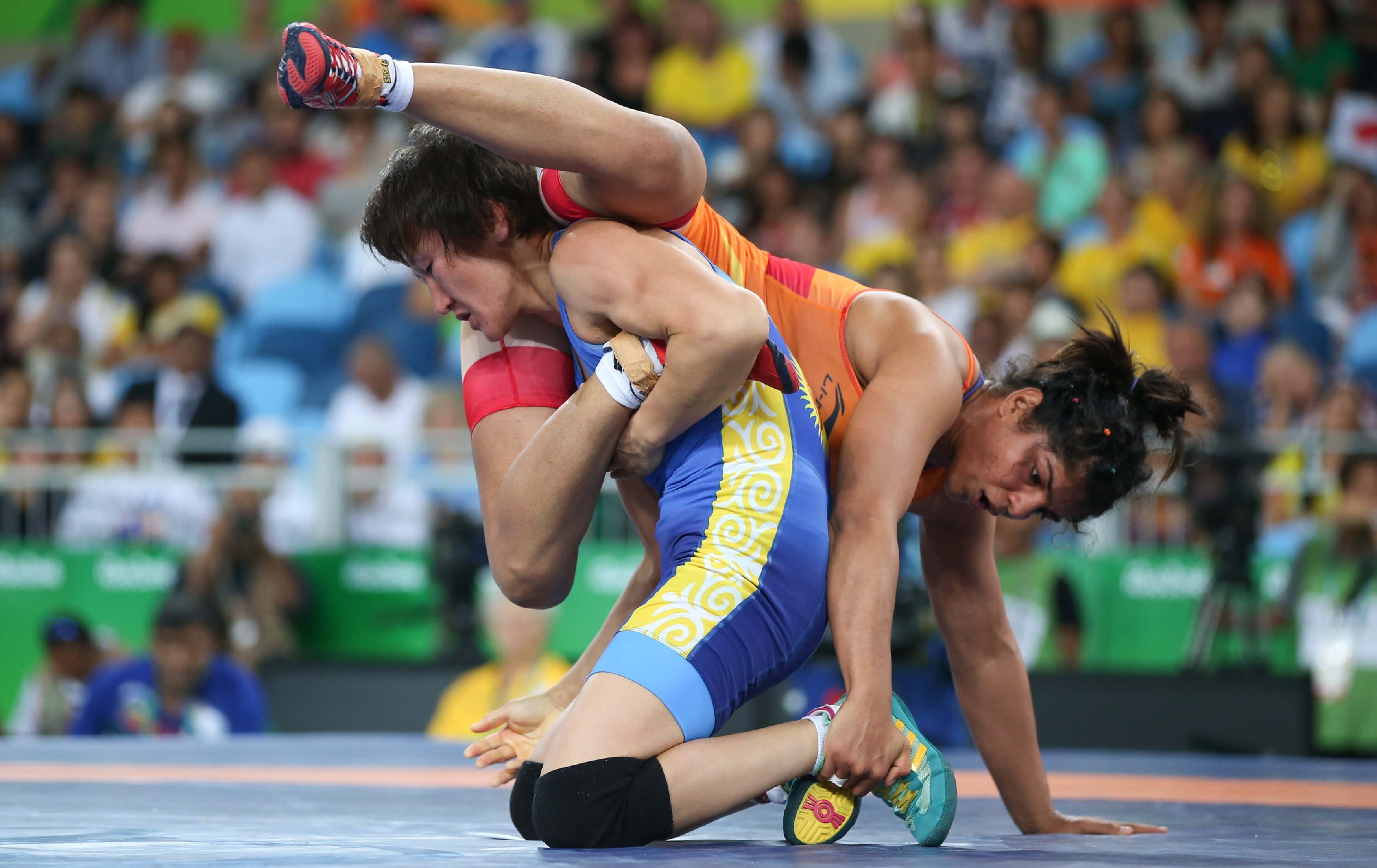 It's not just about Sakshi. We all know how our country treats its women. So much so that if we do let them into this world and provide them with quality education, it is only so that they can focus on looking pretty and find themsleves a nice dulha, and that's the end of the story. 
"Ladkiyan ladkon ke saath shaam ko late nahi khelti."
"Nikkar pehen kar ladko ke beech khelegi kya?"
"Ye sab cheeze acche ghar ki ladkiyon ko Shoba nahi deti!" 
We've all heard these phrases a little too much, in our own homes, around us, on the roads, over and over and over again. We teach our boys to play cricket while the girls are left with their barbies and pink frocks. 
Nothing sums it better than this tweet by Virender Sehwag: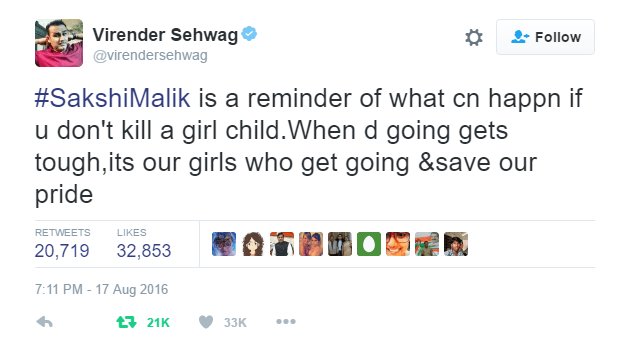 Dipa Karmakar, Sakshi Malik, PV Sindhu, Vinesh Phogat… these might have been mere names until about a week ago, but now, these are the women on whose shoulders our country is riding at the Rio Olympics. 
How many more Sakshis and Sindhus will we need to let our girls just be?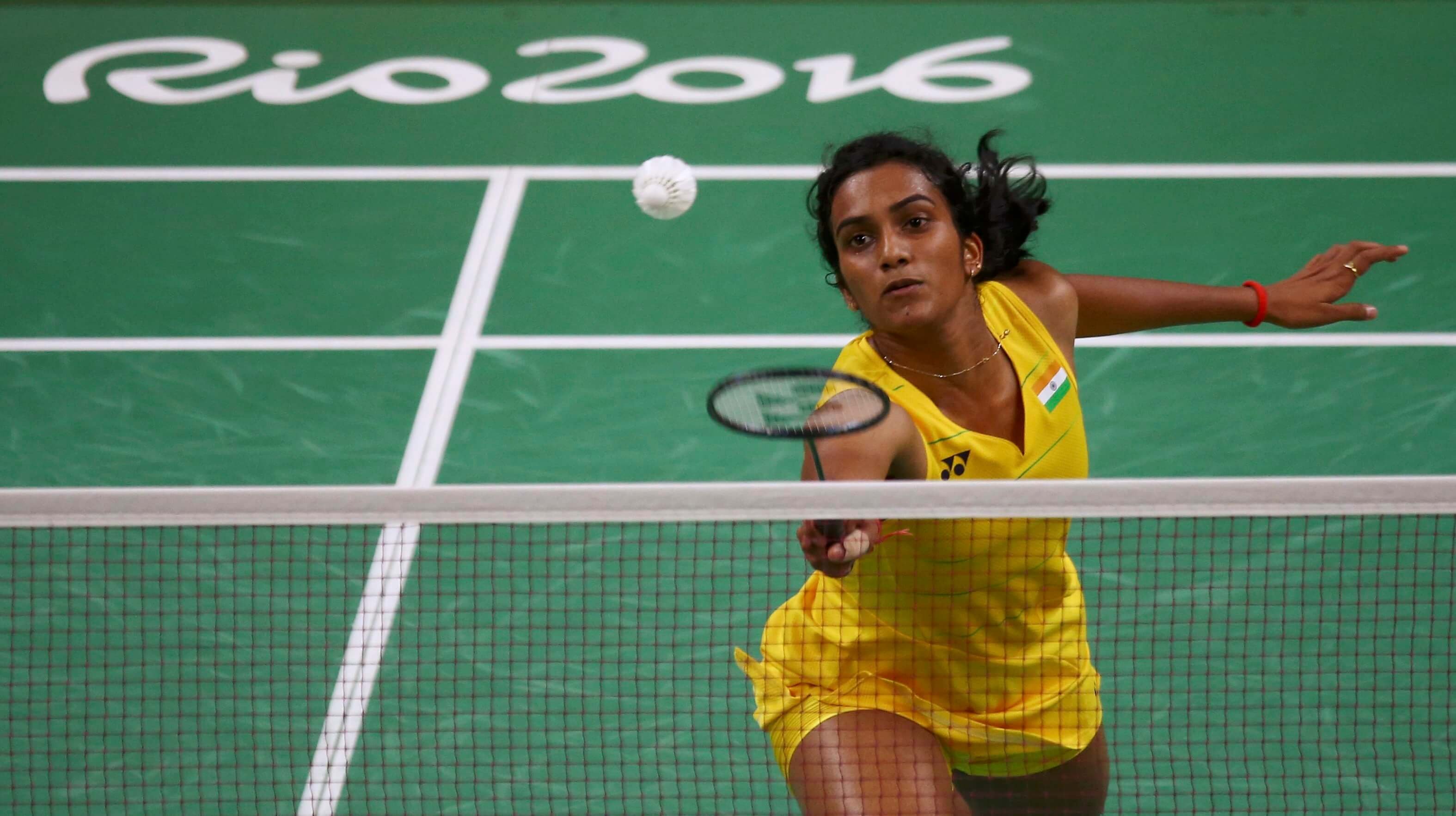 Let's all take this Olympics as a sweet reminder that if given a chance, our women can do wonders. The least we can do is let them live in this world. 
It is not easy being born a girl in this country. Please don't make it any tougher.