Disclaimer: This article needs to be taken with a pinch of salt or probably a little swaad anusaar. The opinions expressed in this article are that of the author and not of ScoopWhoop. 
Biryani (noun) 
meaning:
God's own food
An Indian dish made with highly seasoned rice and meat
Biryani is capable of uniting almost every human in existence. It knows no colour, race or caste, all it knows is to fulfill the dreams and hopes of millions of foodies who will always swear by the brilliance of this amazing food.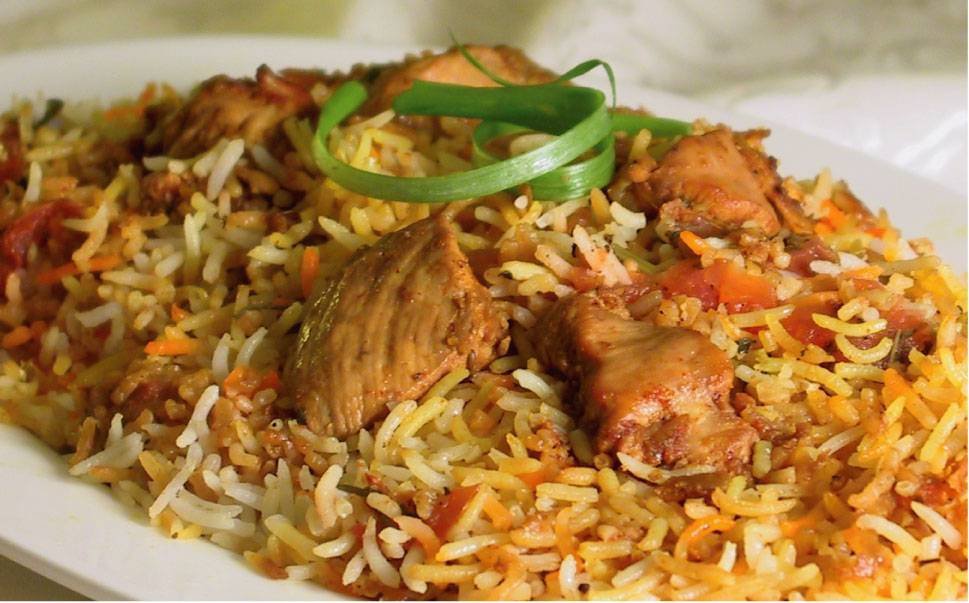 There is no such thing as vegetarian biryani or like people call it – 'veg biryani'. It's goddamn pulao. And if it is pulao that completely fulfills all your needs, why would you wish to use a term that is loved so much by the non-vegetarians of the world? You can't use words to fulfill the void in your self-esteem or protein intake.
For God's sake, call it PULAO not veg biryani.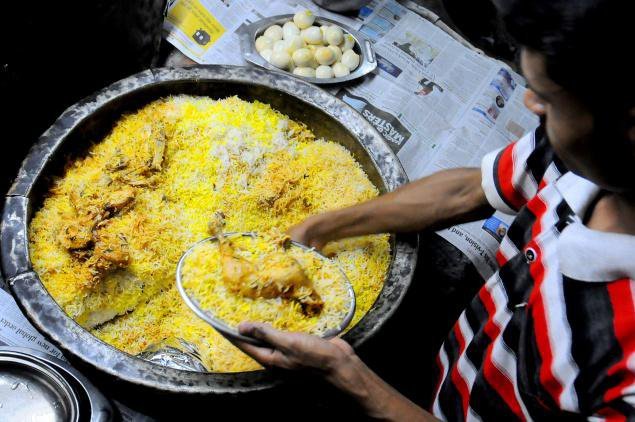 Non-vegetarians wouldn't think twice before devouring a plateful but we'll definitely get time to call out the bullshit that is being passed on to us in the form of 'veg biryani'. It's not just about semantics, but about cultural identities. 
I know it sounds ridiculous but biryani is an important thread in the fabric of Indian society.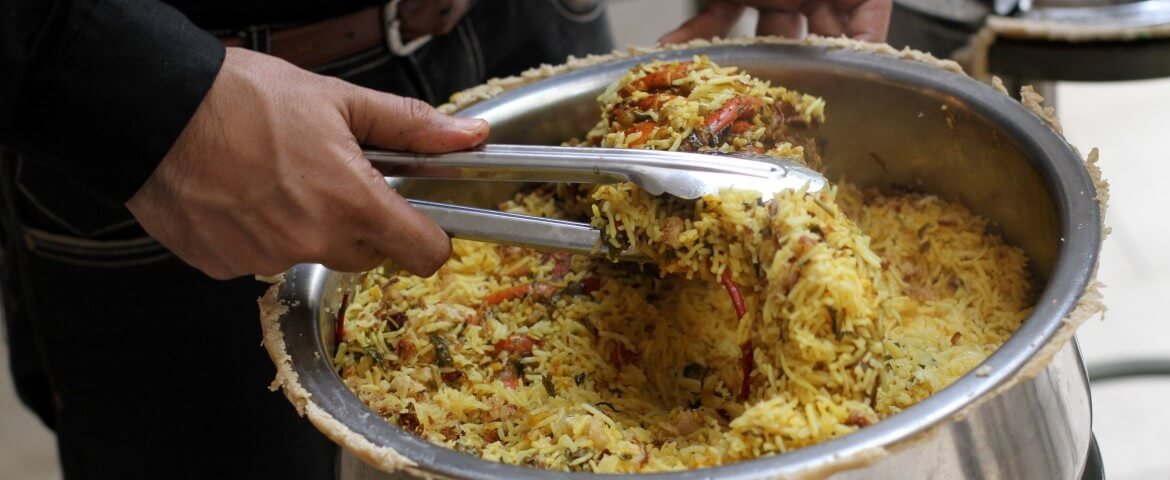 We've already told you in this article about how Biryani is culturally important to our country. Here are a few excerpts:
In fact in Hyderabad they had noticed a boom in sales of Biryani around the time of election campaigning, and in Chennai, contests for the Assembly are often dubbed Biryani Bypolls for the goodies that are showered on the voters. 
Or the time in Baroda before a Ranji Trophy match between Uttar Pradesh and Baroda, a man with a casserole emerged from the crowds and shouted to get Yusuf Pathan's attention, "Yusuf bhai ek autograph de do, aapke liye biryani laya hoon." 
Or when Sania Mirza visited the sets of Dilwale with a box of Hyderabadi biryani for Farah Khan and the rest of the crew.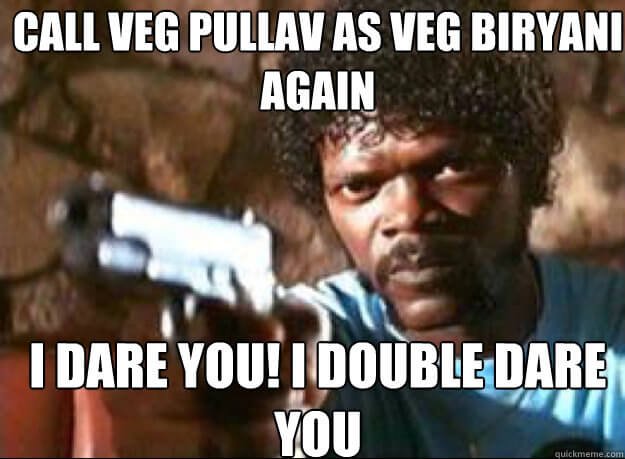 Please note that we don't have a problem with your eating habits. We are not one of those people. But the point here is that vegetarians can have their pulao but they need to stop calling it biryani. 
Biryani khaana hai toh meat khaalo yaar, it's actually pretty darn good.
Just because vegetarians don't have a lot of options, they tend to borrow non-vegetarian food and put these twists to them. It's a classic case of 'veg momos'. There is no such thing as veg momos. You can't just stuff vegetables inside things and call it the vegetarian variety of a much better non-vegetarian food.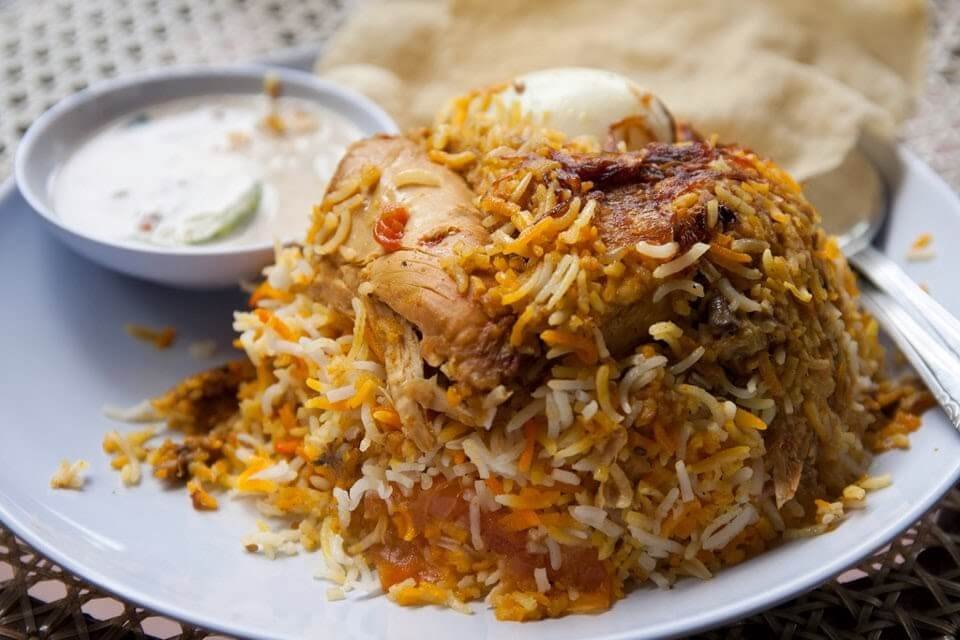 And as the times get increasingly volatile for our country, we must note that biryani has the power to unite people, families gather around tables, communities come together and work hard for each other, enemies and friends are one, and the meal is a means of tribute and thanks. 
Let's not take a huge dump on the legacy of something that has enriched our lives by turning it 'vegetarian'. Call it a pulao, not biryani.
[Author's note: I completely understand that I might have gone on a hyperbole with the argument here but biryani is one of the rare things that I'm really passionate about.]
Hate veg biryani as much as I do?