You've seen him on television shows and loved him on the big screen. And each time, he's bowled everyone over with his performances. Sanjay Mishra is that rare breed of actors who are remembered not just for their performances but also by their character's names. 
From playing the paan-loving administrator in an office to playing a man who only believes what he sees with his own eyes, in his career spanning over two decades, Sanjay Mishra has played varied characters with absolute finesse. 
For years, he was known as the comic actor who could add spark to any scene. And though he first appeared in TV shows like Chanakya and Hip Hip Hurray, it was with Office Office that he started getting massive recognition.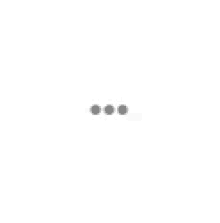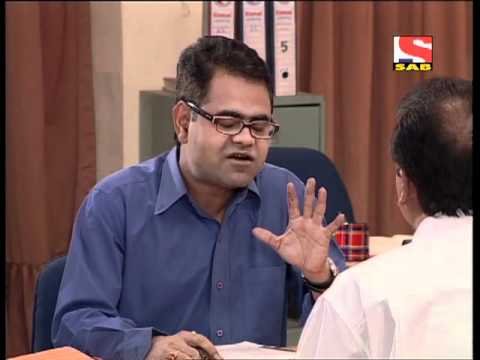 For Mishra, the acting bug did not appear out of nowhere. He was always inclined towards the arts and his father spotted his interests rather early in life. 
A government official at the Information & Broadcasting Ministry, his father was an avid film viewer himself and encouraged a young Sanjay to learn the craft of acting. Soon, Sanjay joined the National School of Drama and shifted to Mumbai. However, life in Maximum City wasn't an easy ride.
"When I came to Mumbai in 1991, you had to either be a comedian or a villain or a hero. People couldn't place me in any of these categories."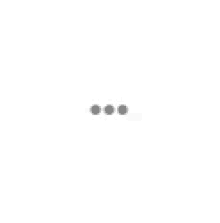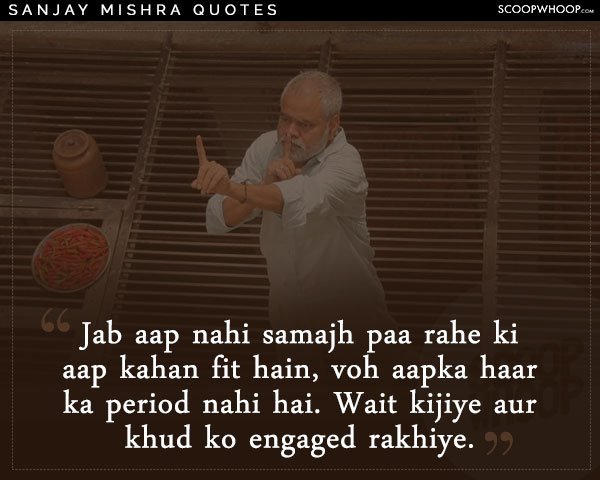 Yet, after becoming a noted face thanks to various comic roles, there came a point in his life when he left it all behind.
"I could not go back to Mumbai. I wanted to be alone, so I went to Rishikesh and started working in a dhaba, making omelettes. The Sardar who owned the dhaba did not recognise me."
This happened after his father passed away and Sanjay was left completely shattered. He just couldn't stand the hustle-bustle of city life anymore. He left Mumbai and moved to Rishikesh where he started working at a dhaba. He discussed this phase of his life in an interview with Rediff. 
It was Rohit Shetty, who had worked with Mishra in the Golmaal films, who persuaded him to come back and work in his next film, All The Best.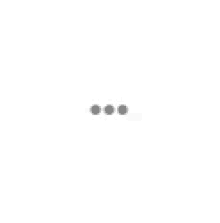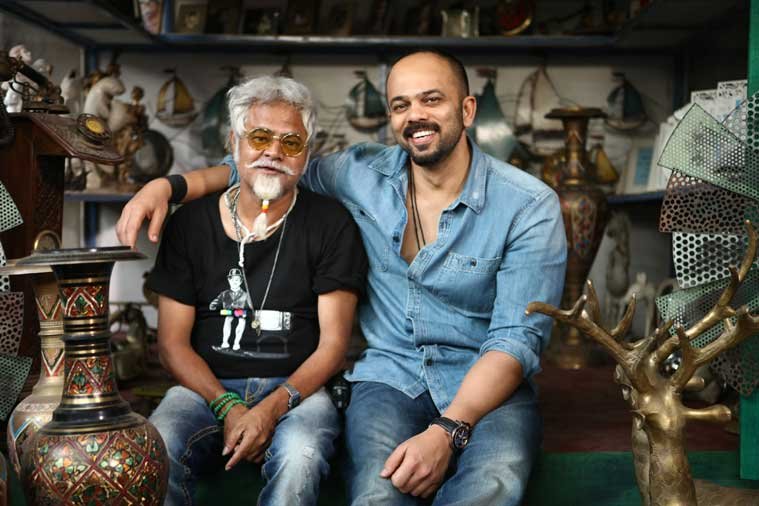 "During the shooting, I would cry in my van very often because I would miss my father."
In spite of going through a huge loss, Mishra gave a crackling comic performance and received a lot of appreciation. His dialogue "Just Chill" is still hugely popular!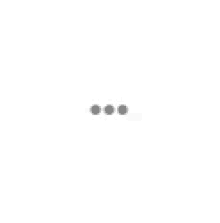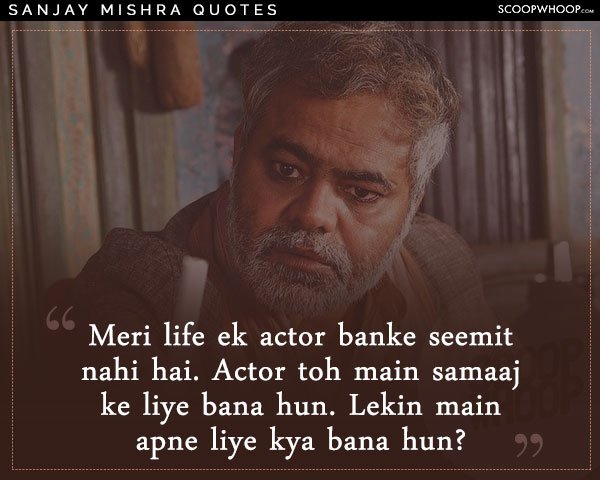 Unlike most actors who either shy away from mainstream cinema or look at it with disdain, Sanjay Mishra has always looked at each film as a rehearsal of his craft. He uses those films to make himself a better actor. 
The Rohit Shetty films for him are like T20 matches are to a cricketer. There may not be much skill needed but yet, one has to perform. And films like Masaan and Ankhon Dekhi are like test matches for him, the ones that truly test his mettle as an actor. 
He once said in an interview, "Just like a cricketer who tries to be good at tests and T20s, as actor I try to entertainer the audience through different genres."
Sanjay Mishra received a lot of acclaim when he played Raje Bauji in Rajat Kapoor's Ankhon Dekhi. His character has an epiphany after which he decides that he will only believe in what he has seen with his own eyes and watching that performance was nothing less than a spiritual experience. 
With Masaan, Mishra again showed that he was much more than just a comic actor.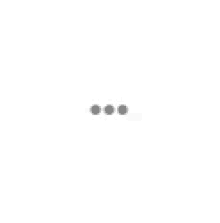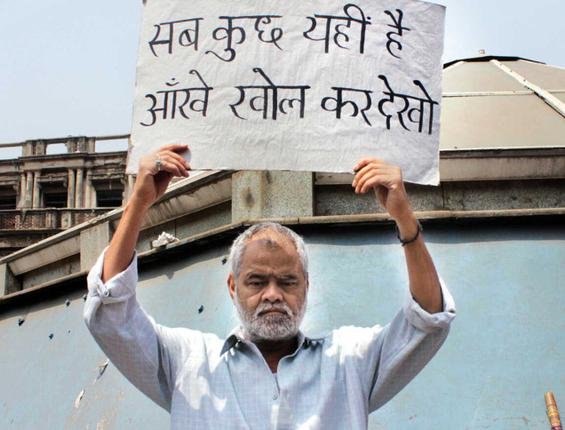 Mishra is not just an actor but a true artist. 
Apart from acting, he loves to cook. He does that even when he's shooting. He enjoys photography and has assisted various photographers during his struggling days. His keen interest in playing and listening to music also keeps his inner artist alive. His sitar is his constant companion.
The time between action and cut is when the world sees the actor in him. For the rest of the time, he stays an artist.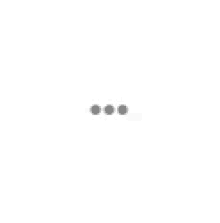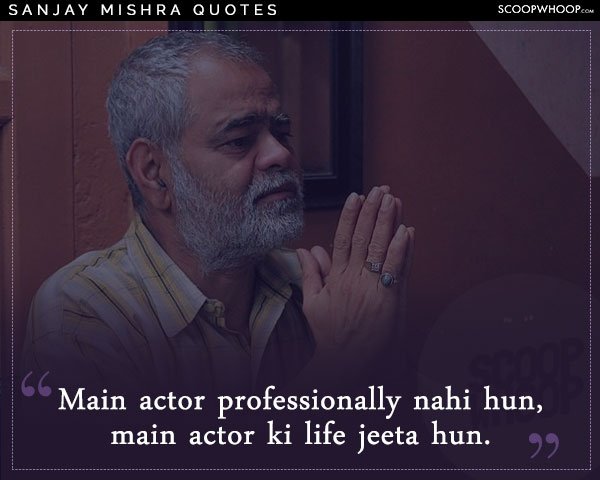 Hurdles in life never cease to exist and Sanjay faced another major hurdle when he was shooting in Jodhpur for his upcoming film, Baadshaho. 
It was his first day of shooting when he got to know that his brother had gone into was coma. The news shook him, yes, but Sanjay continued working. For him, it was his job to act and a commitment that he had to fulfill.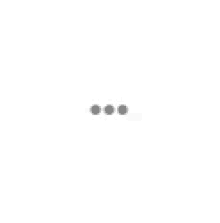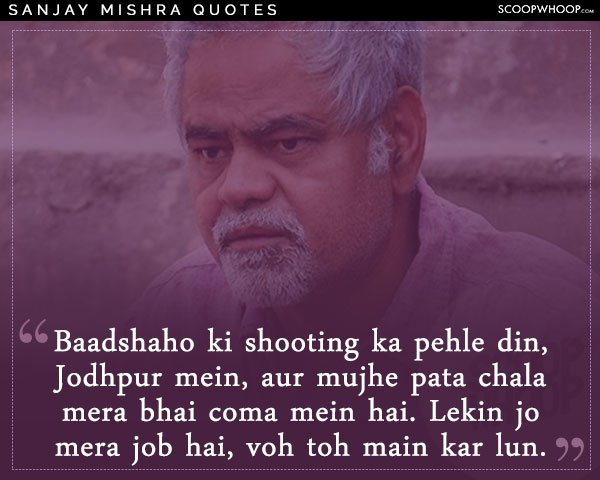 At 54, Sanjay Mishra is still surprising his audience with roles that leave a strong impact. 
He has been in the show business for more than two decades and has never ceased to make an impact through his characters. 
Mishra's career strongly imparts the message that the show must always go on, no matter what the circumstances.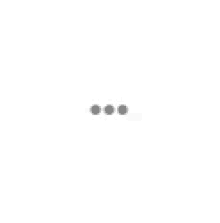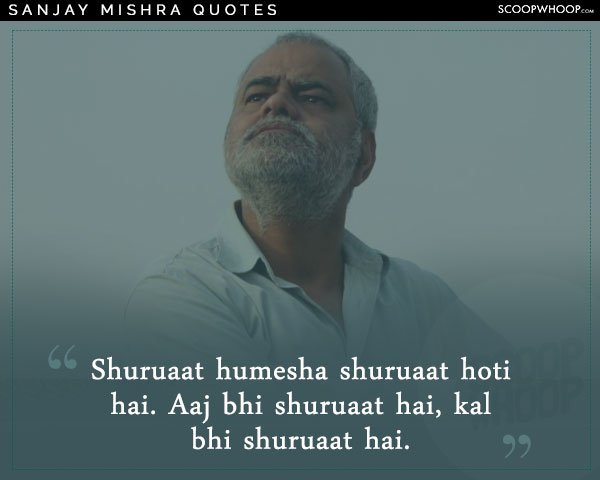 .