The stage is set and the the Men In Blue are up against the Aussies. Team India has been on a roll, the unbeaten streak has been amazing and we have been outstanding so far. But Australia are one of the best sides in the world right now, especially at home. They haven't lost one of their 6 previous World Cup semi-finals. But India are world champions and we will need to prove it in this match. Here are 10 things Dhoni and Co. need to do to beat the Aussies in the land Down Under:
1. A good opening stand
Rohit Sharma has been in wayward form in this tournament but he needs to bring his 'A game' for this match. Shikhar Dhawan has seemed to be more confident during the tournament but he can't lose form for this one. They should both aim for centuries or at least establish a 150-plus opening stand.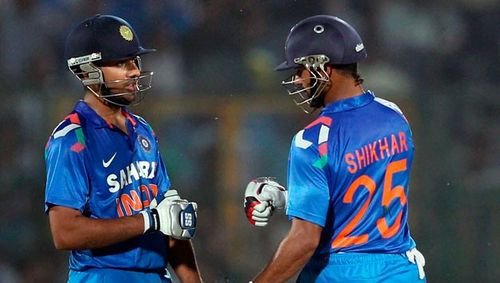 2. Kohli and Jadeja need to perform
India's star batsman, Virat Kohli, hasn't contributed after the ton in the opener against Pakistan and a big performance from him is what we need.
Except for some quick runs in the quarter-final, Ravindra Jadeja hasn't done anything outstanding with the bat either. Yuvraj Singh got us the victory over the Aussies in 2011. Jadeja was picked ahead of Yuvi this time around and here is his chance to justify his selection.
3. Performing well in the death overs
There have been several instances where India started the batting strong but blew their chance for a huge total in the death overs. We've lost wickets and lost out on runs but we can't afford that against Australia. The middle order needs to step up. The likes of Suresh Raina and MS Dhoni have to keep their cool and guide India to an imposing total, provided we bat first.
4. Watch out for Starc and the bounce
Mitchell Starc has been in outstanding form during the World Cup and can single-handedly win the game with the ball. India need to be very careful against the bounce he generates and also against Mitchell Johnson who can be quick on Australian tracks.
5. Target the weaker bowlers
Australia have only one specialist spinner in Xavier Doherty who hasn't been in great form so far. Glenn Maxwell is a makeshift spinner but with so much time spent in Australia, the Indian batsmen need to be confident enough to take advantage of their weaknesses.
6. Take full advantage of the Powerplay
Be it during batting or fielding, India need to use it to their advantage. While batting, it will be a great opportunity to start an onslaught of runs especially if the two batsmen are set at the crease. While bowling, India can hope to tempt the Aussies to go for the big ones and get wickets. Strategy is the key here.
7. Faster bowlers need to get quick wickets
Mohammed Shami, Umesh Yadav and Mohit Sharma have to get rid of batsmen like David Warner and Glenn Maxwell, who performed amazingly in the warm-up match, and not let any partnership stand for too long. Be it while chasing or batting first, a big partnership can really hurt India's chances.
8. Spinners need to be at their best
Ravichandran Ashwin has been in good form with the ball and has claimed 12 wickets so far. If the pitch turns out to be spinner friendly, he needs to take full advantage. Jadeja has taken 9 wickets but he hasn't shown his impressive self. So the onus is on Ashwin.
9. Keep an eye on rain and the run rate
The weather is unpredictable and the chances of rain are high as it drizzled during India's practice session as well. India need to make sure that their run rate is high in case it rains. And if the Aussies are batting first, they need to restrict their run rate as much as possible.
10. Being good in the outfield
India do not want to repeat what Pakistan and South Africa did in their last games. A big match can put a lot of pressure on fielders. But dropping catches means dropping matches at this stage. The Men In Blue need to give it their best while fielding.
With the number of Indians residing in or having travelled to Australia, we already have crowd support. India need to feed off their energy and give a tough fight to the Aussies. We have only won 1 in 13 games at the SCG against the Aussies but that needs to change. Team India has to be immaculate in their performance. Every player needs to bring his best.