Editor's note: This article was originally published on December 29, 2016 after Prithvi Shaw was selected to the Mumbai Ranji Trophy squad. It's now being republished after the teenager scored a 100 on his debut in the semi-final versus Tamil Nadu.
There is something about Mumbai cricket. No city has had more stories to tell in India's rich cricketing history than Mumbai. The ever-crowded Azad Maidan, the iconic Shivaji Park. Their dominance over Ranji Trophy. The stalwarts of Indian cricket like Sachin Tendulkar and Sunil Gavaskar.
Tendulkar, who's rise through Mumbai's cricketing culture is now well-chronicled, made his first class debut in 1988 when he was merely 15. He was already a star for his exploits in school cricket. And, not surprisingly in hindsight, his first ever game for Mumbai saw him score an unbeaten century.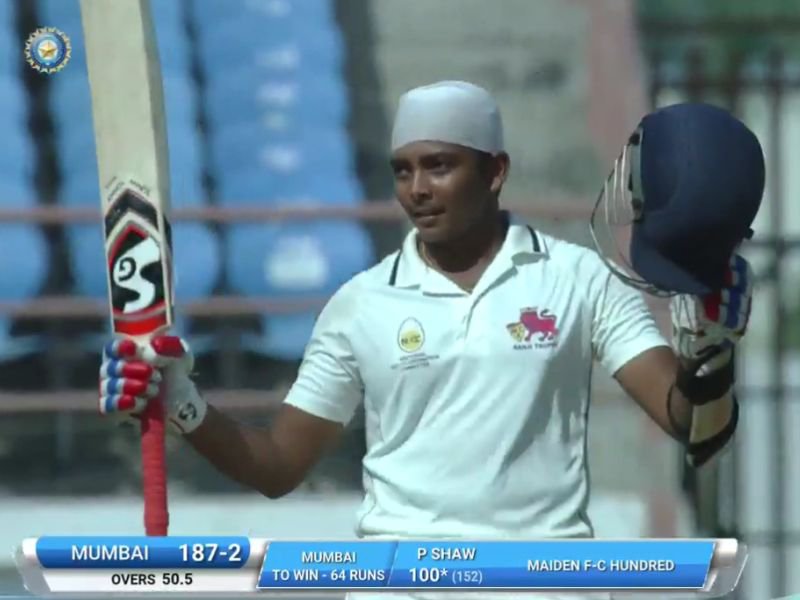 Fast forward to 2016, reigning Ranji Trophy champions Mumbai, gunning for their 42nd title, have inducted uncapped teenage batsman Prithvi Shaw into their squad for the semi finals against two-time champions Tamil Nadu to be played in Rajkot from 1 January, 2017.
And a few days later, in a tricky fourth innings chase in a massive match for Mumbai, Shaw scored a brilliant century.
Who is Prithvi Shaw?
Born on 9 November, 1999, Shaw's story of making it big in school cricket bears similarities to the early days of other Mumbai prodigies like Tendulkar and Ajinkya Rahane. As a kid, Shaw made long trips from Virar, one of Mumbai's farthest suburbs, to the hear of the city in Bandra – a journey that took over an hour by local train. Survived by his father, who runs a struggling garment business, Shaw put in the hard yards just to train with the right guidance.
Record-Breaking Prodigy
17-year-old Shaw has shown enormous promise at the junior level, having slammed a then record 546 in a Harris Shield game three years ago which was overtaken by Pranav Dhanawade (1009*) in January this year.
Shaw shot to nation-wide fame with that score – which came off just 330 balls for Rizvi Springfield against St Francis D'Assisi in November, 2013. His innings contained 85 fours and five sixes. Before Pranav Dhanawade came along with his incredible effort, Shaw's innings was the highest score in school cricket.
Incidentally, it was Harris Shield which first brought Tendulkar into national prominence after his (then) world record partnership of 664 with Vinod Kambli
Bumper sponsorship deal
Considering he comes from a family with financial struggles, that innings came at the right time. Soon after, sports equipment manufacturer SG signed the kid on a reported Rs 36 lakh deal, with a scholarship extending for six years. His school has provided him with a scholarship too.
The next Tendulkar? 
"It's too far ahead. For now, I am happy playing at this level and scoring the runs. Tendulkar is my idol in cricket and one thing I try to pick up from him is how he carries himself in a humble manner."
Rahul Dravid's role 
The Indian U-19 team is, as you would know, coached by none other than The Wall himself. Under Rahul Dravid's tutelage, the youngsters put in an all-round display to win the Asia Cup. And when the Mumbai selectors were looking to replace their injured opener Akhil Herwadkar, Dravid's inputs on Shaw was what clinched the deal for the teenager. 
Mumbai's chief selector Milind Rege is quoted as saying by the Indian Express.
"I asked him how he (Shaw) looked during the Asia Cup. Rahul had good words to say about him. He told he has a straight back-lift, goes well on the back-foot, but sometimes tries to bat in fifth or sixth gear. 'Maybe, because he is still young. Technically he looks good to me and it will be good decision if he is picked'. So we decided lets pick him as we have seen too many failures in Mumbai top order this season."
Mumbai's squad: Aditya Tare (Captain), Abhishek Nayar, Shreyas Iyer, Suryakumar Yadav, Siddhesh Lad, Praful Waghela, Prithvi Shaw, Shardul Thakur, Balwinder Singh Sandhu (Jr.), Tushar Deshpande, Royston Dias, Sufiyan Shaikh, Vijay Gohil, Akshay Girap, Eknath Kerkar.