Rio de Janeiro is all set to be the center of attention again, as the Paralympic Games get underway on 7 September. For fans in India, the Rio Olympics were a topsy-turvy ride, with the 118-member team coming back with one silver, one bronze and sadly, one four-year ban. 
And now that the euphoria of PV Sindhu's silver and Sakshi Malik's bronze has begun to die down, it's time to focus on the para-athletes who have braved incredible odds to get to the Paralympics.
India will field 19 Paralympians at Rio 2016, the largest ever contingent that the country has sent to the Games since it began in 1960. The hope for these athletes would be to add to the eight medals India has won so far. 
It would be easy for us to say that for many of these athletes, reaching the Paralympics games from a country where even able-bodied athletes do not get the best of support, is a big achievement. But don't let the likes of Devendra Jhajharia and Deepa Malik hear that, because they are in it to win it.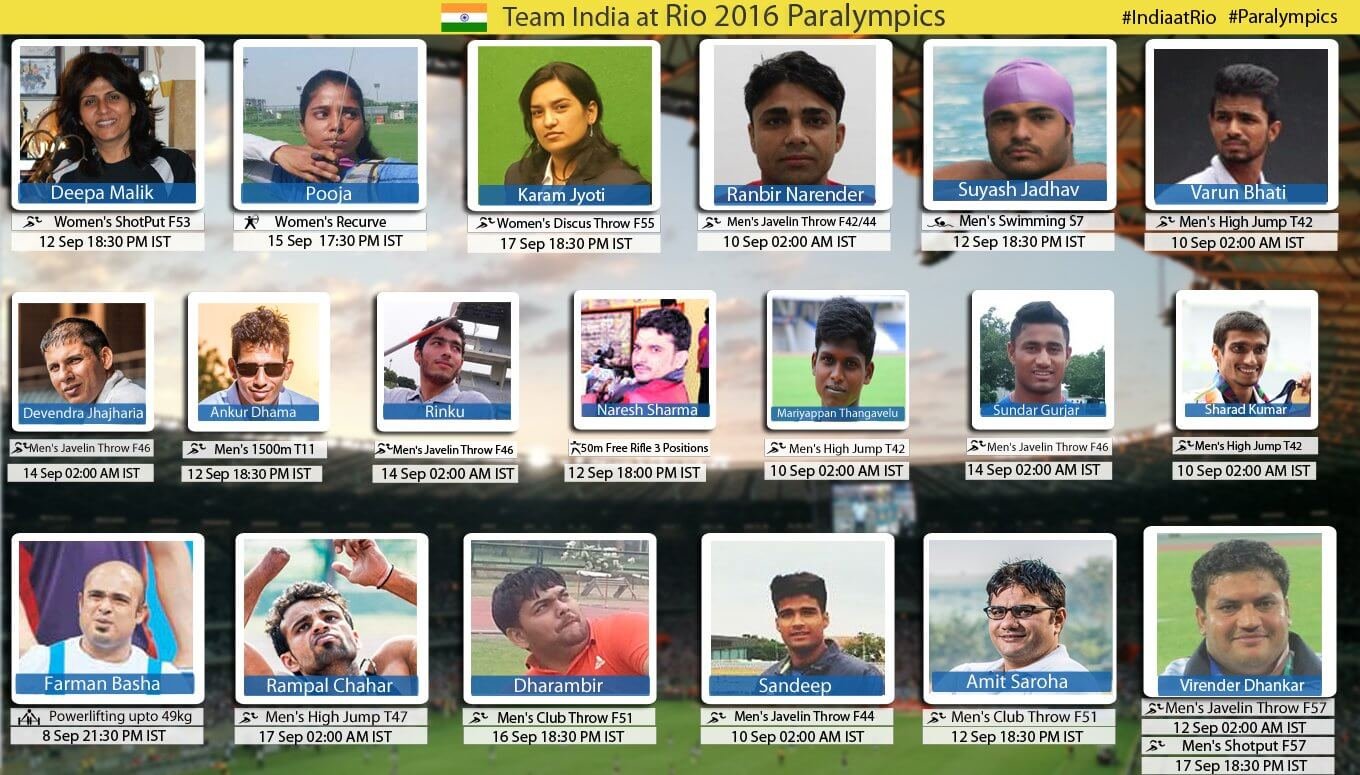 And here's everything you need to know about these incredible fighters. 
Devendra Jhajharia – Javelin Throw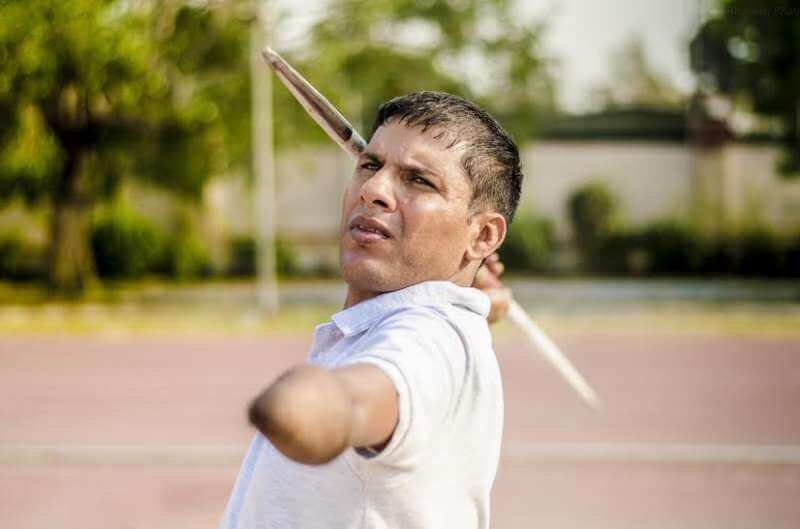 Every Indian knows Abhinav Bindra. But apart from the legendary shooter, there are two other Indian men who have won individual gold medals at the world's biggest sporting stage. Paralympians Murlikanth Petkar in 1972 (Swimming) and Devendra in 2004 (Javelin.) 
And after an agonising 12-year-wait, Devendra will be back again at the Paralympic Games at Rio 2016, as his event has been re-added to the games after 2004.
Growing up in his native village in Rajasthan, Devendra was the victim of an unfortunate accident when he was eight years old. While climbing a tree he touched a live electric cable and was electrocuted, the incident resulted in amputation of the left arm.
Devendra was spotted by Dronacharya Awardee coach RD Singh in 1997 who encouraged him to take up sport full time. His moment of glory came in Athens 2004, when in his first Paralaympic Games, where he went on to set a new world record with a distance of 62.15m, eclipsing the old mark of 59.77m. 
Accolades followed, as he won the Arjuna Award (2005) and Padma Shri awards (2012). Having recently won a silver medal at the 2015 World Championship in Doha & at the 2014 Asian Para Games in Incheon, Devendra represents one of India's biggest medal prospects at the 2016 Paralympics in Rio.
(He is supported by GoSports Foundation)
Deepa Malik – Shot Put
The Guardian wrote this about Deepa four years back: "The businesswoman and mother captivated the nation not known for its compassion for the disabled after she annihilated a bunch of able-bodied reality TV show contestants in a swimming race despite being paralysed from the chest down. But Deepa Malik will not be competing in London – in the pool or on the athletics field, where she has been the Asian champion in shot put, discus and javelin. Despite her track record, she was not selected to be part of the 10-man squad."
Four years down the line, Deepa has changed it around. The 45-year-old all-rounder, who is into swimming, javelin throw, shot put, discus throw and even motorsport, will finally represent India at the Paralympics!
Deepa was diagnosed with spinal tumour and was paralysed from chest down about 12 years ago. Since then she has undergone three spinal tumour surgeries and 183 stitches between shoulder blades, but none of it has stopped her from taking up new challenges. She is an Asian Record holder in Women's Javelin Throw and has also been nominated in Limca Book of Records for her swimming records. And she is an Arjuna Awardee as well!
Karamjyoti Dalal – Discus Throw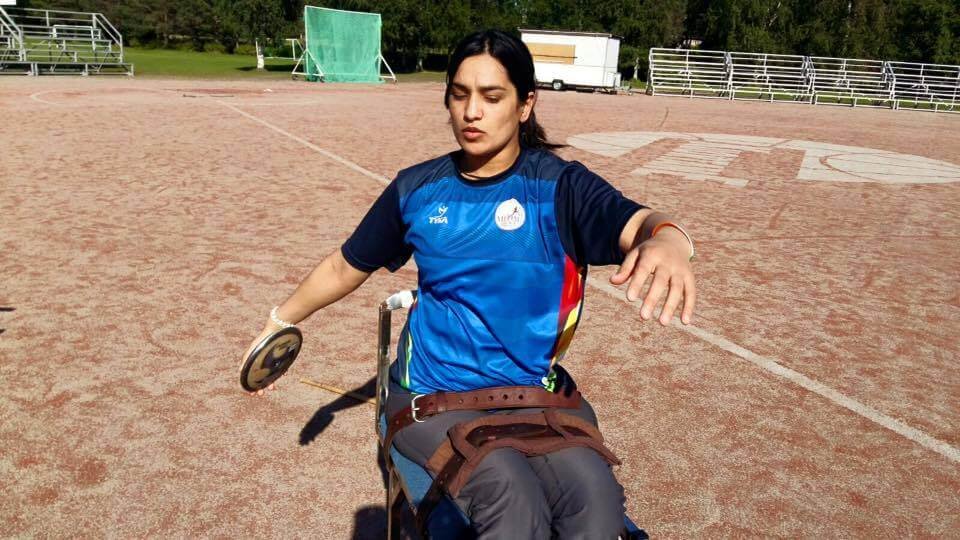 When she was 21, around eight years back, Karamjyoti Dalal fell down on her back from a terrace due to a sudden jerk from her prior epilepsy problem. It took her a year to even get back motor sensations! She had been having spinal cord issues since she was six. She was part of the Kabaddi setup of the country before this near fatal fall, and soon after recovering she took up para-sports.
But her rise to the top has been nothing short of meteoric over the past couple of years. She took up discus throwing just over a couple of years back and from being unranked then, she finished a mighty impressive 4th at the IPC Para-athletics championships in 2015. Having made it to Rio 2016 only after Russia's disqualification, she is still touted to be one of India's best hopes of a medal at Rio 2016.
Suyash Narayan Jadhav – Swimming
An amputee in both arms, 22-year-old Suyash Narayan Jadhav is the only Para Swimming participant at Rio 2016 from India. Following in his father's footsteps (who was a national level swimmer himself), young Suyash started swimming and aspired to fulfill his father's destiny one day by competing and winning medals at the international stage. But a routine day of fun and games when he was in class 6, ended with Suyash suffering serious injuries to his upper limbs after getting accidentally electrocuted by unprotected wiring at a construction site.
Both of Suyash's arms had to be amputated and he subsequently spent six months in hospital following the incident. He continued to compete in differently-abled competitions domestically and began to show promise. And last year Suyash became the first Indian para swimmer to record the 'A' qualifying mark for 2016 Paralympics in Rio.
Farman Basha – Powerlifting
42-year-old Farman Basha is an Olympic veteran and he will be competing in the 49 kg powerlifting event at Rio 2016, his fourth Paralympics. He finished fifth in the 48kg Powerlifting event at the Paralympics in London and finished fourth at Beijing 2008. The Bangalore-born Basha is already an Arjuna Awardee and holds a diploma in electronics and television engineering. He was diagnosed with Polio when was a toddler, which lead to permanent physical impairment of his lower body.
"I had a better upper body than most other men, so I started going to a gym owned by my friend. Powerlifting, though, happened much later, when a friend told me that I should compete at para events," Farman had told TOI in an interview.
And he has been fighting for his medal ever since!
Ankur Dhama – 1500 meters
The 21-year-old medium distance runner will create history at Rio 2016, as the first fully visually-challenged athlete from India to take part in Paralympics!
Ankur was born in a village in Uttar Pradesh, and started suffering from a gradual loss in vision when he was 4 years old. By the time he turned 5, Ankur completely lost his sight. He first competed internationally while still in school.
A History Honours student at St. Stephen's College, New Delhi, Ankur manages to excel at academics and competitive sport. He stays close to his coach, Dr. Satyapal Singh, who picks him up and drops him off after practice. Other than this, Ankur is largely independent and as per the rules for blind runners in athletics, he competes with his arm tied to that of a guide runner. He won 1 silver (800m) and 2 bronze medals (1500m and 5000m) at the 2014 Para Asian Games in Incheon (Korea).
Mariyappan Thangavelu – High Jump
21 year-old Mariyappan is one of the four high jumpers from India participating at Rio 2016 and secured his berth with a very impressive 1.78 m jump at the men's T42 event at the IPC Grand Prix in Tunisia earlier this year. He was five when in accident in his village in Salem (Tamil Nadu), a bus swerved off the road and ran over his right leg, crushing it below the knee. 
"I was told the driver was inebriated," he told the Hindu. "It doesn't matter. My right leg is now stunted — it is still a five-year-old's leg; it has never grown or healed."
If he keeps up his form this year, Mariyappan will be a strong hope for a medal at Rio 2016.
Varun Singh Bhati – High Jump
20-year-old Varun is an high-jumper who suffers from deformity in one leg due to Poliomyelitis. Hailing from a middle class family (father works at a car showroom, mother is a house-wife), Varun has made great strides in his sport at a young age. Afflicted by polio as a kid, Varun took to sport in his school days, and has been consistently getting better. Varun had registered the `A` qualification mark for the 2012 Paralympics in London with a performance of 1.60m, as a 16-year-old. He was also part of the Indian team for the 2014 Asian Para Games in Incheon, and more recently the IPC World Athletic Championships in Doha, where he performed better than more established Indian para high jumpers such as HN Girisha and Sharad Kumar.
Sharad Kumar – High Jump
24-year-old Sharad Kumar, was diagnosed with polio myelitis at age two, which caused paralysis of his left leg. He will look to put the horror of London 2012 behind him, where he tested positive for performance enhancing drugs before the games, resulting in a two-year ban. After his comeback, however, he won a medal in the F42 high jump at the 2014 Asian Para Games in Incheon and finished sixth in the world championships last year. In August 2015 he was selected to receive support from the Indian Sports Ministry through the Target Olympic Podium Scheme.
Rampal Chahar – High Jump
The 26-year-old high jumper from Sonipat, Haryana has a single below-elbow amputation. When he was four years old, Rampal met with an accident when his arm got caught in an agricultural chopper resulting in partial amputation of his right arm. Unable to see a career in sports, Rampal pursued his education – and has three Bachelor's degrees to his name.
But Rampal's life changed when he then met fellow para-athlete Amit Saroha, himself a paralympian, who introduced Rampal to the world of Para Sports. In 2013, after having worked a regular job and while pursuing sports in parallel, he quit his job to pursue high-jump full time. He soon went on to break a National Record.
In 2016, Rampal took part in his very first international tournament at the IPC Grand Prix in Tunisia, winning the Gold Medal with a jump of 1.85m – a mark comfortably surpassing the 'A' qualification for Rio 2016, which stands at 1.65m.
Sundar Singh Gurjar – Javelin Throw
20-year-old Sundar Singh Gurjar, is the youngest of the four Indian javelin throwers at Rio 2016. Having competed in able-bodied athletics at junior national level, he lost his left arm in a freak accident in 2015 in his home town of Jaipur. After a few initital days of shock, he got back to the sport with the help of his coach RD Singh. 
During the 16th Para-athletics National Championship in Panchkula this year, he threw a whopping 68.42m – six metres more than the current world record – but since the event was not recognised by the world body, the record hadn't been ratified. However, should he stick to that form, he will be a big medal hope for India in the category where Devender won India a gold in Athens, 2004.
Rinku – Javelin Throw
The youngest Indian paralympian at Rio, 17-year-old Rinku will try and emulate Devendra's feat in Athens, 2004. He is another one of para-athletes to be introduced to the sport by Amit Saroha. As a young boy, Rinku lost his left arm in an accident involving a fan blade, leading to amputation. He never received formal education, Rinku however was a natural in sport and he will be competing alongside his hero, Devendra.
Ranbir Narender – Javelin Throw
The 26-year-old from Sonepat, Haryana, one of the five Javelin throwers from India at Rio 2016, was born with a deformity in left leg. Born to a farming family near Sonepat, Narender lost his parents in an accident when he was 3 years old and was almost entirely brought up by his grandmother. 
The family made their livelihood through farming. He initially used to be a runner, and competed in the 2010 Asian Games in running event, until having chronic back problems. Narender then switched to javelin throw and today, he is one of the top Indian prospects in his discipline.
He won Silver medal at the 2014 Para Asian Games in Incheon (Korea) came 6th at the 2012 Paralympic Games in London.
Sandeep – Javelin Throw
He hails from New Delhi and his parents are daily wage earners. Having gone through the pain of a broken hip from a near fatal car accident, Sandeeep started javelin only in the year 2014 and has since made big strides in the sport to qualify for Rio 2016. He is currently the World No. 2 in his category.
Virender Dhankar – Javelin, Shot Put
Virender is the current world no. 1 in Javelin F57 category & world no. 5 in Shot-put F57. He is paralysed from the lower limbs area. Virender was one of the athletes to secure a late berth at Rio 2016, following the disqualification of Russia.
Amit Kumar Saroha – Club Throw
A Paralympian and an Arjuna Awardee, Amit Saroha suffered a car accident when he was 22, causing him to become a quadriplegic due to compression of the spinal cord. Before his injury, Amit was a national level hockey player. However, his tryst with fame as a sportsperson happened after his injury when he met Jonathan Sigworth, an American wheelchair rugby player on a tour of India to promote para sports. Wheelchair rugby introduced Amit to the world of para sports and he joined Sigworth in promoting wheelchair rugby across India.
While playing in a demonstration match of wheelchair rugby with a Brazilian team, he met several para-athletes from across the world and learnt the official Paralympic nomenclature for his injury – F 51. Amit decided to take training in sports which require upper body strength and started competing in throw ball and discus throw; he has not looked back since. 
In 2013, Amit was honoured with the Arjuna Award by the President of India. He won Silver medal in Club throw at the 2015 World Championships in Doha (Qatar) Gold medal in Club throw and silver medal in Discus throw at the 2014 Asian Para Games in Incheon (Korea). He is one of India's top medal prospects for the 2016 Paralympic Games in Rio.
Dharambir – Club Throw
The 28-year-old is one of the two club throwers from India at Rio 2016 and will be competing against his own mentor – Amit Saroha!
As a kid, while attempting to dive into water, Dharambir misjudged the depth and accidentally crashed into the underlying rocks of the water body which resulted paralysis below waist. Dharambir became familiar with para sports in 2014 and took to Club Throw, under the guidance of his mentor Amit. Within a span of just two years, Dharambir improved tremendously, to first secure the 'A' qualification mark nd then subsequently confirm his qualification for the 2016 Paralympic Games through a SAI trial.
Naresh Sharma – Shooting Sport
A true paralympic veteran, 44-year-old Naresh Sharma has competed at four Paralympic Games from 1996-2012, missing only the 2004 Games in Athens. An Arjuna Award winner in 1997, he became the first Indian athlete to achieve a quota for the 2016 Paralympic Games in Rio de Janeiro in November last year. Comfortable with rifle and pistol, Naresh has represented India in numerous categories at World Championships and Para Asian Games. His spinal cord impairment is a result of the effects of polio, which he developed as a child due to a vaccination error at a local hospital. 
He will be competing at the R7- 50m free rifle 3-position event and will look to end a decorated career on a high.
Pooja – Archery
The 25-year-old from Rohtak, Haryana will be hoping to follow in Sakhsi Malik's footsteps at Rio 2016. Daughter of a rag seller, Pooja hails from a humble background and was diagnosed with Poliomyelitis during childhood. Pooja retained keen interest in shooting. However, with no infrastructure for the sport of shooting in her local town, Pooja chose to pursue her interests in archery instead and picked up the sport in 2013.
Pooja found it difficult to afford an equipment of her own, but her coach Sanjay Suhag rranged for basic archery equipment to encourage Pooja along. In May 2016, Pooja won her first major medal at the National Para Archery tournament in Rohtak and followed that up with a 5th place finish at the World Ranking Tournament in Czech Republic; the latter performance secured her qualification for the Paralympics.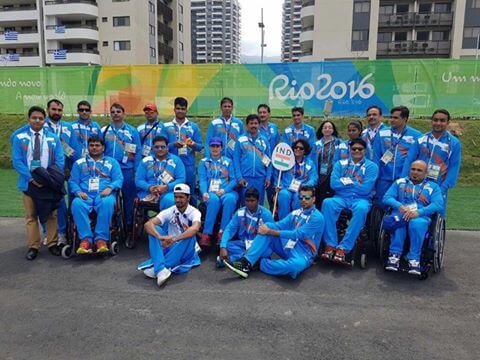 So, there you go. 19 incredible athletes, 19 incredible journeys. As they kick off their campaign at Rio 2016, here's wishing each and every one of them the best of luck!
(With inputs from GoSports Foundation and Anglian Medal Hunt)
Featured image: GoSports Foundation / Anglian Medal Hunt