"I feel sorry India has picked Vijender to fight me. Vijender looks scared already. India will be ashamed on Saturday."  – Francis Cheka
"This time there's much more "masala", that's for sure." – Vijender Singh
Sober is not the word you would usually associate with a professional boxing face-off, especially ahead of a title match. But that is how the pre-fight face off felt when Australian Kerry Hope came to Indian shores to challenge the nation's favourite boxing son, Vijender Singh. In his own words, the Indian never been too comfortable with this side of pro-boxing. And Hope wasn't exactly Ali either. It was two guys who were both clearly more comfortable inside the ring than outside, with cameras flashing at them, hoping for something eccentric to unfold.
But that's exactly what Francis Cheka, the Tanzanian challenger to Vijender's hard-earned title belt, has brought to the proceedings this time — a whole lot of eccentricity. He could not speak English, but his restless mannerism on the stage with all the hand-wringing, head-shaking and eyes-rolling brought out some energy from Vijender as well. With the belt in display, Cheka and Vijender went head to head — literally, as is the case with these events — for the first time after weeks of mouthing each other off.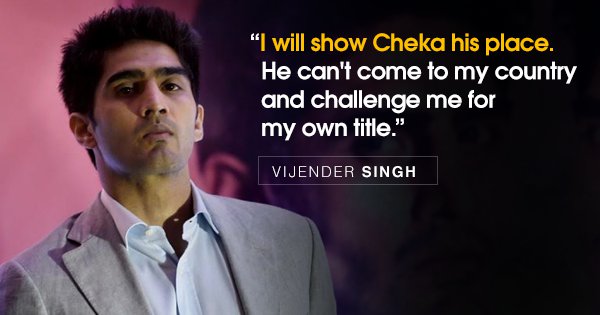 The promos for the fight have gotten better as well. With the broadcaster Star Sports offering their prime channel in prime time, the promoters are expecting the ratings to comfortably beat last time's. The adverts of the fights have been ramped up in terms of style and substance too.
However, the promoter of the fight, Neerav Tomar, expressed concern over the slow ticket sales compared to last time – demonetisation of course. Only 60% of the seats have been booked so far. He spoke about the brands being reluctant to spend money on advertising at a time when sales are low, but despite that, there are more number of sponsors on board at this point of time leading to the fight than the June showdown with Kerry Hope.
"We are extremely confident of bettering last time," Tomar told ScoopWhoop at the sidelines of the event. "Star India are putting in 10 times the effort to promote the fight this time, seeing how high the ratings were for his first title fight. We are still expecting a full house. The buzz is picking up and the face-off sets things up nicely for the fight. With Cheka, there is more energy this time, there is more oomph to this event."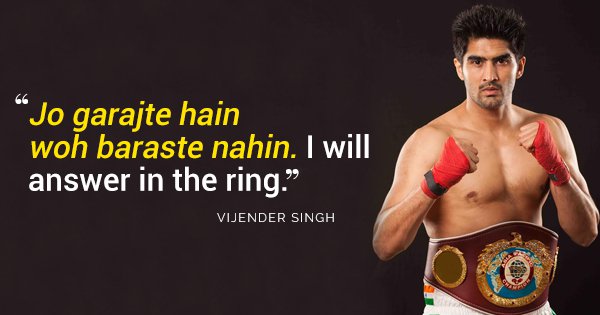 Even the assembled press got involved in adding spice to the proceedings. Cheka was questioned about his poor away record, he was told that all of Vijender's opponents talked big but none were able to defeat him, someone even asked him if he plans to stick around in Delhi after losing the title. 
Cheka's translated answers were equally entertaining. 
"I feel sorry India has picked Vijender to fight me. Vijender looks scared already. India will be ashamed on Saturday." 
"Vijender's Olympic medal is nothing. I am a World Champion and inter-continental champion. On December 17, Vijender will know why I am a world champion."
"I love India, but Vijender is going down. He has made a huge mistake accepting a challenge from me."
Vijender agrees that Cheka's antics have made the build-up to this fight more interesting. Speaking to ScoopWhoop after the event, the WBO Asia-Pacific Super Middleweight Champion said he is much more comfortable off the ring now compared to what he was when he started out.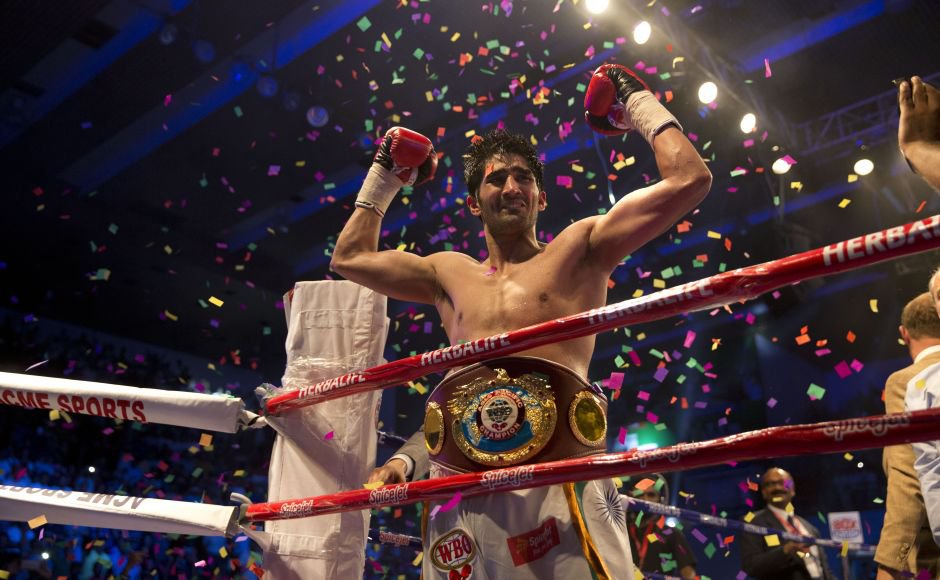 "Few fights back, when I was taking on this French guy, that was the first time, someone came to hit me in the face-off. I did not know what to do then. But now I am used to it. I could see Cheka was bouncing around because he was nervous, so I gave it back to him a little bit. This time there was much more "masala", that's for sure."
At one point, Cheka got out of his chair to answer a question. He walked out to the center of the dias where the belt was placed, pointed at it vigorously, lifted it up — all the while talking in a language that no one understood — walked up to Vijender to initiate the pushing and shoving. It was all pre-planned, of course, but when Cheka nudged at Vijender a few times too many, the man from Bhiwani pushed Cheka back forcefully. 
The melee was staged, but when Vijender's trainer intervened, briefly took him away from the spotlight, he whispered into his ears. "Can I actually punch him now? This is getting too much." His tone was different now — the playful "good boy" image he was projecting till then, made way for a scruffy, irritated one. His trainer told him to calm down, while the cameras were all turned on capturing Cheka's antics.
What Cheka was saying before all this started, no one knows. The translation never happened. But one thing was clear. This was not going to be like any of Vijender's previous fights. The drama is better, the opponent is better, the setting promises to be better with the promoters getting a hang of how things work in the glitzy world of pro-boxing. The question now is: will the fight and the result be better than what it was last time?
And, as Vijender has maintained throughout the build-up, the answer will be known inside the ring on Saturday.