This is a full-fledged breakup now. Virat Kohli has deleted a one-year-old tweet which he posted when Anil Kumble was announced as India coach.
The tweet, which he sent out on 23 June 2016, said…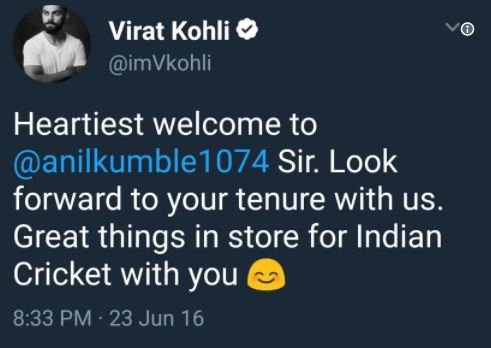 Kumble had even replied to the tweet – which the coach has not deleted yet…
Kumble had clearly mentioned the reason for his decision to quit, saying that he was told the captain of the team had reservations with his coaching style, and that his relationship with him was untenable. 
The legendary spinner's tenure ended after he decided to step down despite a tremendous year with India in which they won every Test and ODI series. The side also reached the final of the Champions Trophy, which they lost to Pakistan.
The BCCI had offered him an extension to stay till the end of the West Indies tour which starts on 23 June, but Kumble wasn't ready to continue with his position already undermined. Even the trio of Sourav Ganguly, Sachin Tendulkar and VVS Laxman couldn't broker peace between Kumble and Kohli.
Feature image source: AFP