There is no questioning his talent. He is a genius. A man so simple and a footballer so beautiful that you can't help but fall in love with the game every time you watch him play. He embodies everything that is right with football. Someone who could've played in any era and perhaps should have.
Pele and Maradona have legacies unmatched, Messi is from another planet and Cristiano Ronaldo is considered superhuman. The great thing about Andres Iniesta is that he falls perfectly in the human category – Humble, gentle and hardworking. He still remembers how much his father sacrificed for his football when he was a kid.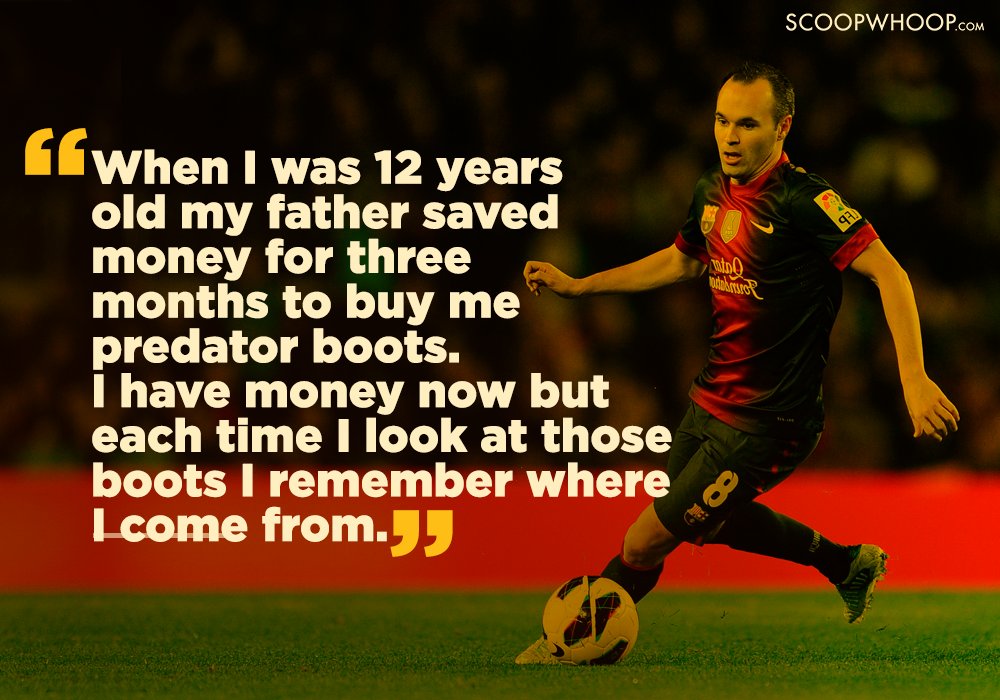 He belongs to a list of amazing players who are fortunately, and unfortunately, part of the Messi-Ronaldo era. Fortunate because his works of art on the field are finished off by someone like Leo and unfortunate because all the individual glory mostly goes to Messi and his Portuguese counterpart. 
If players like Messi and Suarez are the heart of Barcelona, Iniesta is the soul. Mostly invisible, but impossible to do without.
"I struck it with all my soul and it went in perfectly," he said after scoring a last minute goal versus Chelsea, that took Barcelona to the Champions League final in 2008-09. The final they dominated, but if it hadn't been for him, they wouldn't have reached there. 
2008-09 will be remembered for Barcelona winning the Champions League, but not his goal that got them there. 
The game of football has evolved a lot. Everything is fancy, from haircuts to celebrations. It is rarely about just football anymore. 
But in this era of footballing rock and roll, Iniesta remains a jazz musician. For him, it will always be about the music. Go up on stage, perform melodiously, then leave. And you can't help but respect that. 
Real Madrid's fans thought so too. Even when Barca ripped through them in a 4-0 demolition. Messi and Suarez were on the pitch. And while they were all booed, Iniesta got a standing ovation on hostile territory. 
Justifying one simple thing – He's an opponent later, he's a footballer first.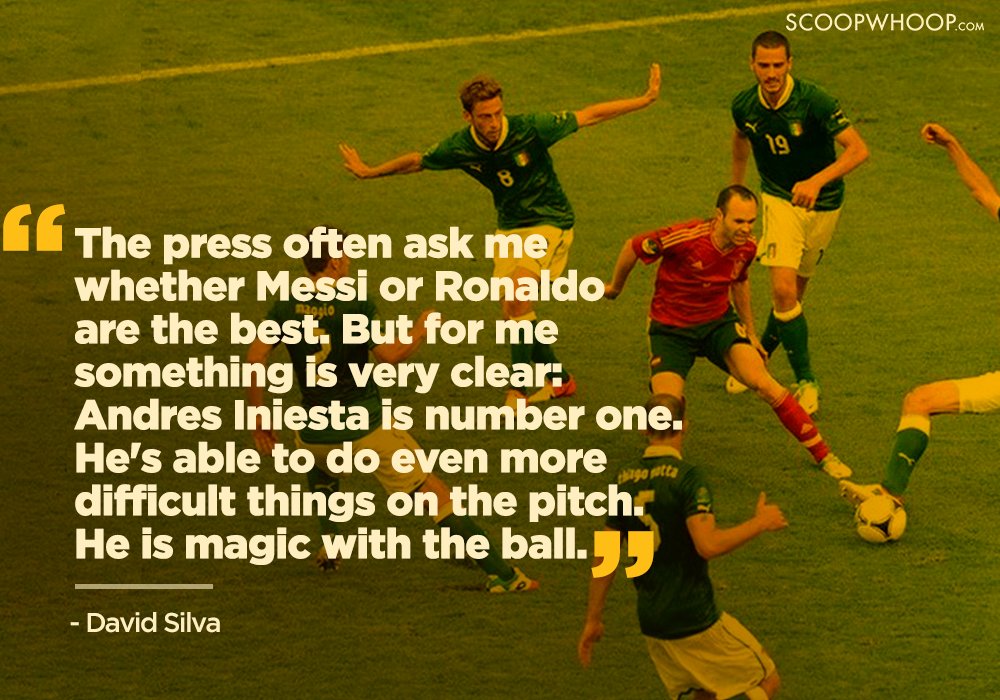 You feel happy when men like Ronaldo and Messi play for your team. But if Iniesta is on the pitch, you feel safe. He's an artist. Finding passes that will be lost if they were one blade of grass to the left or right. Creating chances on what seems like an empty canvas, which one move later suddenly presents a wonderfully painted picture.
The only difference is that he does not always sign off on them. While we admire the picture and search for the signature, we forget about the man who put it together. That probably takes away a lot of glory from him. 
But he seems content with that. He doesn't care that he hasn't won what seems like a well-deserved Ballon d'Or. History will remember him like that and that's the problem. You remember men like Maradona, you will remember men like Messi, but you won't always remember the men who made things easy for them. That's just how things are. They remain invisible.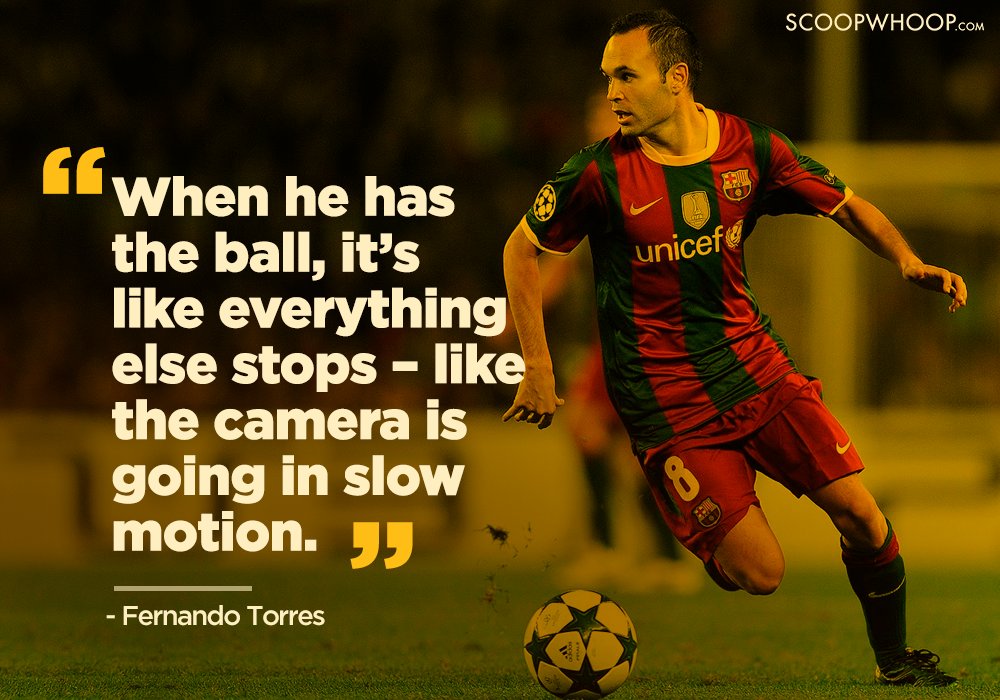 Makes you wonder, doesn't it? Had Andres played in another era, past or future, he probably would've been as decorated as any of the other legends. Probably would have had more moments of individual glory. Not that he is short on those though.
It was the 116th minute of the 2010 World Cup final in Johannesburg, South Africa. The ball bounced and sat up perfectly for Iniesta. He put his heart and boot into it. The net rustled, Spain were champions and Andres had won them the coveted trophy. 
It was his moment of glory but he dedicated it to a friend, a fellow footballer, whom he had lost to a heart attack. As the shirt underneath read, "Dani Jarque, always with us."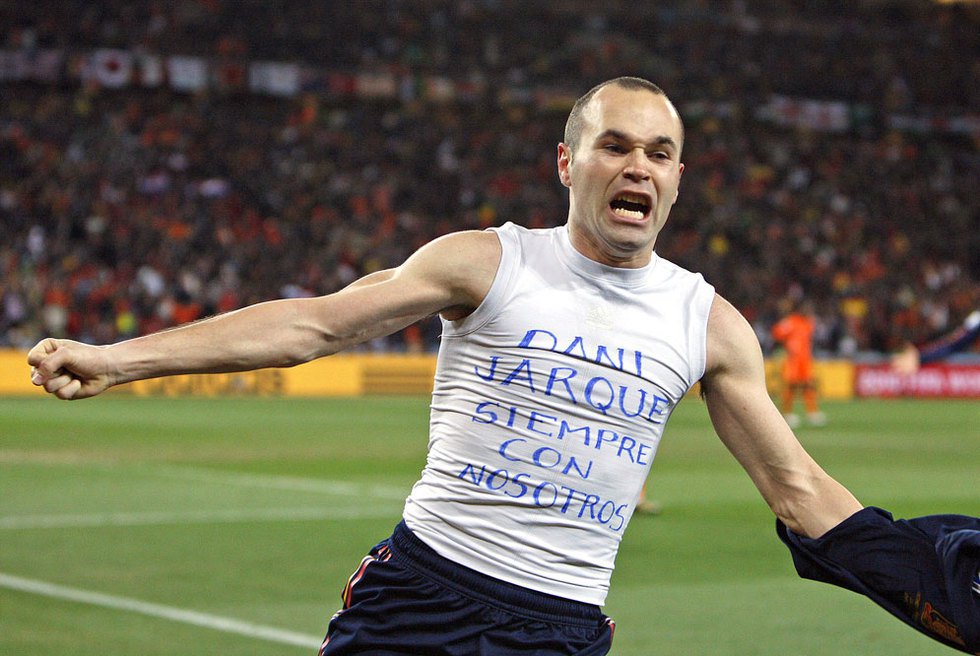 He sent an entire nation into jubilation, but more importantly, he warmed the hearts of a woman who lost her love and a daughter who lost her father. He told them on the grandest stage, that he hadn't forgotten his friend. It remains one of the greatest tributes in football history. And also the reason why he gets a standing ovation when he plays at Espanyol, Dani's club at the time he passed.  
He once said that, "Some people like you, some people don't. In the end, you just have to be yourself." But that's the thing, it will be hard to find someone who doesn't like him.
And the reasons are simple. He still keeps his old shoes, scores goals with his soul, gives the spotlight to others and in moments like the one in Jo'burg, he remembered someone else first. That's how he is. That's how Andres Iniesta will always be. Simple, kind, brilliant, unique and wonderfully human.