India are 276 runs ahead. Ravichandran Ashwin got his 20th five-wicket haul in 39 Tests. New Zealand's body language, for the first time this series perhaps, is indicating that they cannot wait for the series to be over. All the indications are that India dominated day three of the final Test in Indore.
But Virat Kohli should secretly be upset with how his men went about their first full day in the field after becoming the World's No 1 Test side.
There were at least five dropped catches (one of them ended up being a run-out for Ashwin), there were mis-fields in the deep, there were fumbles that led to easy singles, there were far too many loose balls that the New Zealand batsmen kept dispatching with ease for boundaries — 186 off the 299 runs were scored from 4s and 6s.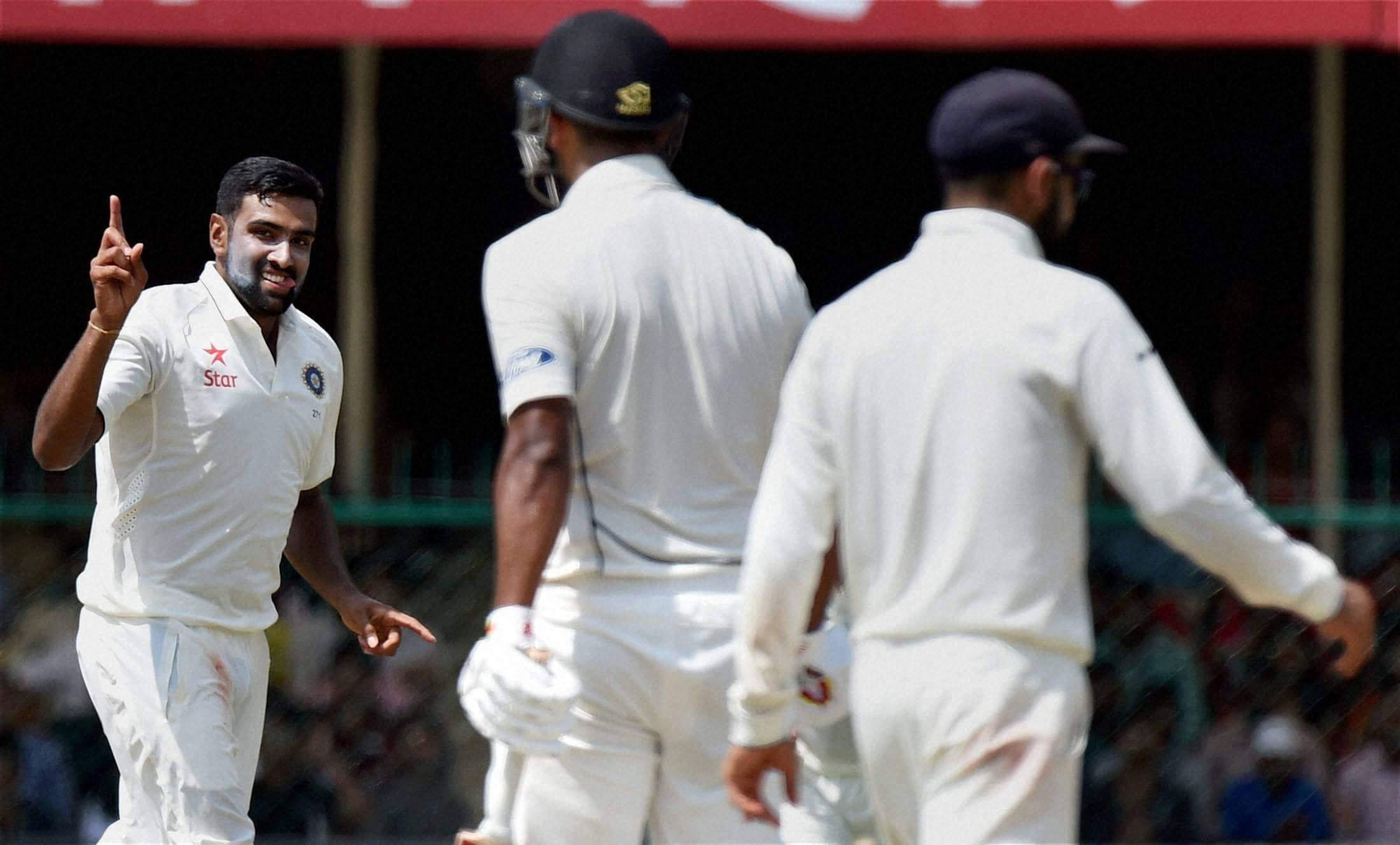 Ajinkya Rahane, of all people, started it off when he put down Martin Guptill at gully early on in the day after he was beautifully set-up by a swinging full delivery by Mohammad Shami. Ravindra Jadeja, dived forward and reached a leading edge off Tom Latham, but Shami was left frustrated again as the ball spilled out of his hands. Cheteshwar Pujara — who for some reason was made to stand at long on — spilled a chance from Jimmy Neesham who went on to make 75. 
Rohit Sharma dropped a sharp chance at short-leg off Mitchell Santner. Of course, when Ashwin dropped a caught-and-bowled chance, it trickled off his fingers and got Jeetan Patel run out at the non-striker's end – because that was the kind of day he was having. 
This kind of indiscipline on the field will hurt India against a Test team of higher quality. It will hurt their ambition of playing cricket like the best team in the world — not just on the rankings board but a brand of cricket that will make the opponents feel that they are playing the best.
Test cricket, as the cliche goes, is about winning sessions. It's about winning the smaller battles. The pitch in Indore has held up very well, compared to some of the rank turners we have seen in India in the recent years. In the first session on day three, it became evident that the pitch will not offer the same amount of purchase the Indian spinners are used to. (Something which Harbhajan Singh pointed out, only to be demolished on Twitter )
It is on days like these that Kohli would have wanted his team to show they are capable of hanging on to half-chances. That, even when the going gets tough, the team that wants to stay No 1 in the world will play like they belong there. As it turned out, it was Ashwin's individual brilliance that put India in the driver's seat.
No iffs & buts, maybes & perhaps's: 20 five wicket hauls in just 39 Tests is clear testimony that @ashwinravi99 is an extraordinary bowler

— Cricketwallah (@cricketwallah) October 10, 2016
During his innings of 211, Kohli showed remarkable restraint — it was his slowest hundred in Tests among the 13 he has scored. He played the gaps, he manipulated the field to steal singles and doubles. He barely played a lofted shot. It was a very un-Kohli-esque innings and one that showed he has the maturity to become more consistent at the Test level.
He needs a similar lesson in captaincy. He, as the leader of a young team, must make sure that chances don't go begging on a pitch which is not playing to his side's advantage. 
Ashwin had a cheeky remark after the day's play. "I look to get a five for, as a batsman looks to get a hundred. You also need the help of other bowlers not to pick up wickets to get five-fors as often as I do," he said. 
But Kohli will do well to be prepared for days when Ashwin won't click. After all, if the team has to walk the talk being No 1 for a long time, they cannot afford too many days like the one they had in Indore on Monday.
Featured image: BCCI