Let's put things into context… 
The highest number of runs ever conceded in a first-class match in a single over is 77. 
Now if you think about it, even if all the 6 deliveries are legal, you can concede more than 36 runs in an over. You know, overthrows and stuff. But the possibility of that happening is very, very rare. 
So let's get back to the original number – 77. 
It took place in New Zealand in a first-class game between Wellington and Canterbury. Wellington bowler Bert Vance bowled a 22-ball over to give away that magic number. It's not a record he would want to hold, but I'm sure he was secure with it. I'm sure he thought no one in the world would ever break it.
To his relief (or not), he still holds it at the first-class level. But what must have come as shock to him, like it did to us, is that a bowler in Bangladesh, playing in the Dhaka Second Division Cricket League, just gave away 92 runs in just 4 balls!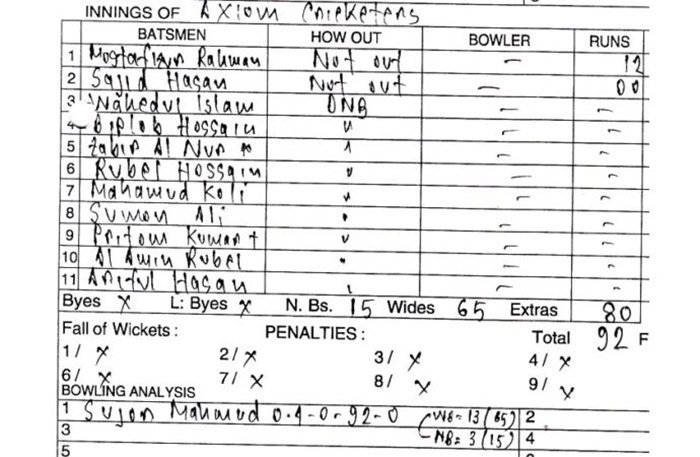 Yes, it's true. And the weird part is… he did it on purpose. 
His team, Lalmatia, went in to bat first and scored 88 off 14 overs in a 50-over game against Axiom.

Little did Axiom know that the chase would be much easier that they thought!
Lalmatia's opening bowler Sujon Mahmud bowled 65 wides and 15 no balls. And the remaining 12 were scored by the batsmen off the 4 legal deliveries. 
Basically Axiom won the game in just 4 balls!

But Sujon did not do it because he wanted to break the record. He did it as a sign of protest against unfair umpiring. 
Lalmatia's General Secretary, Adnan Dipon cleared things up and said:
"It started at the toss. My captain was not allowed to see the coin and we were sent to bat first and as expected, the umpires' decisions came against us. My players are young, aged around 17, 18 and 19. They could not tolerate the injustice and thus reacted by giving away 92 runs in four deliveries."
There have been instances of unfair umpiring and match-fixing in Bangladesh cricket before. But this one just broke a record!