Ravichandran Ashwin has become the third Indian cricketer and 12th player overall to be named as the ICC Cricketer of the Year. He was awarded the Sir Garfield Sobers Trophy for 2016 in the ICC year-end ceremony on Thursday.
Ashwin follows in the footsteps of Rahul Dravid (2004) and Sachin Tendulkar (2010).
Other recipients of the Sir Garfield Trophy include Andrew Flintoff and Jacques Kallis (joint-winners in 2005), Ricky Ponting (2006 and 2007), Shivnarine Chanderpaul (2008), Mitchell Johnson (2009 and 2014), Jonathan Trott (2011), Kumar Sangakkara (2012), Michael Clarke (2013) and Steve Smith (2015).
Ashwin was also adjudged the ICC Test Cricketer of the Year, which has made him only the second India player after Dravid (2004) to bag the two coveted prizes in the same year. 
Kallis (2005), Ponting (2006), Sangakkara (2012), Clarke (2013), Johnson (2014) and Smith (2015) are the other players to annex both the awards in the same year.
During the voting period, which ran from 14 September 2015 to 20 September 2016, the 30-year-old from Chennai played eight Tests in which he took 48 wickets and scored 336 runs. Ashwin also claimed 27 wickets in 19 T20Is.
Ashwin had finished 2015 as the number-one ranked Test bowler in the world, a position he twice reclaimed in 2016.
Reacting to the news, a delighted Ashwin said: 
"It's an absolute pleasure to be awarded with this great honour. It feels great to follow the likes of Sachin Tendulkar and Rahul Dravid in being named as the ICC Cricketer of the Year. To also win the ICC Test Cricketer of the Year makes it even better."
"There are a lot of people to thank for this wonderful achievement I have made. It has been a great couple of years but this year has been even more special. What is very noticeable is the way I have bowled and batted and the way I have gone about doing my business. What is more important, as far as I am concerned, is the number of people who have gone behind my success.
"I'd like to dedicate this award to my family. I'd like to thank ICC and most importantly my team-mates. I'd also like to thank the support staff for our success. We've had a great transition ever since Mahendra Singh Dhoni hung up his boots. A young captain has taken over, we fell on the right track, and we now have a new bunch of boys."
Here's the full list of ICC Award 2016 winners: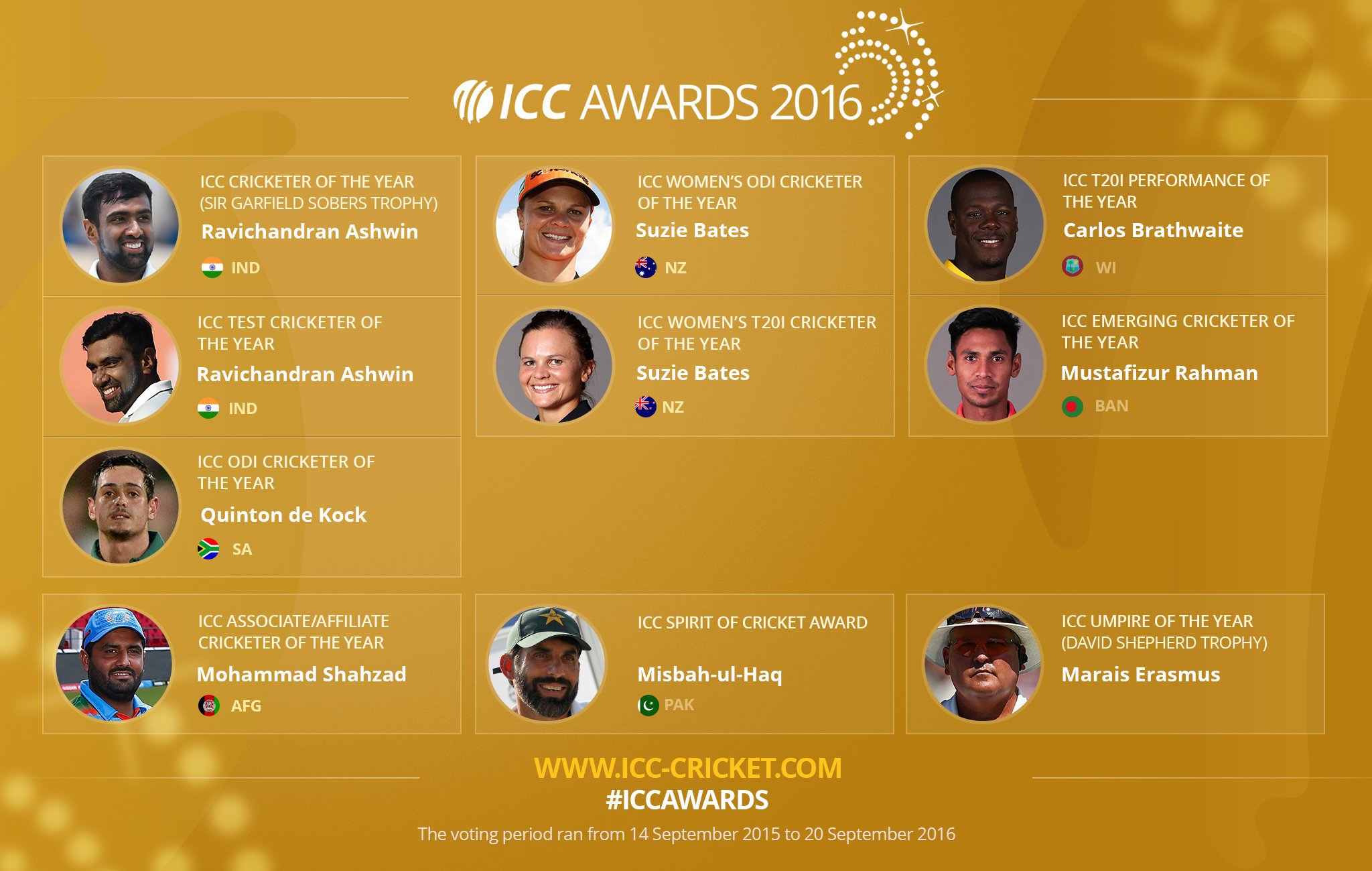 Featured image source: Reuters