First it was Laishram Sarita Devi and then it was Laishram Devendro Singh. Both Indian boxers are part of the Indian boxing contingent at this year's Asian Games which is being held at Incheon, South Korea.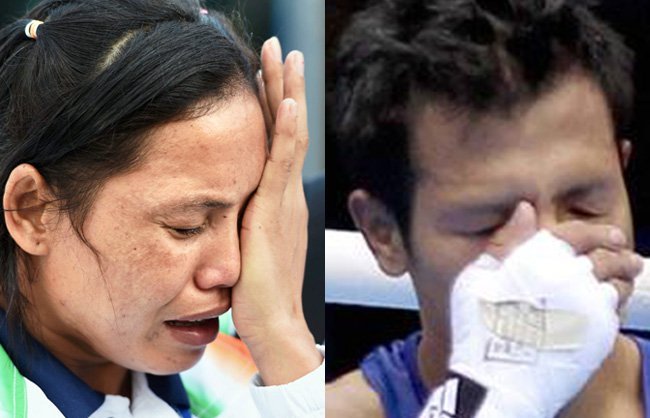 Dejected faces: Laishram Sarita Devi (L) and Laishram Devendro Singh (R)
The 32 year old Sarita Devi was robbed of a semi-final victory in the Women's 60kg category against South Korean boxer Jina Park by some seriously dubious judging. The first round was very close even though onlookers clearly saw her as the better fighter in that round. The judges awarded that round to Park. The second round saw a more aggressive Devi as she threw punches so ferocious that Park ended up with a bloody nose. The judges scored the 2nd round in her favour but through split decision. Then it got all weird. Even though Sarita Devi showed the same level of aggressiveness throughout the next two rounds, the judges gave those to Park and thus the match was awarded to the Korean boxer.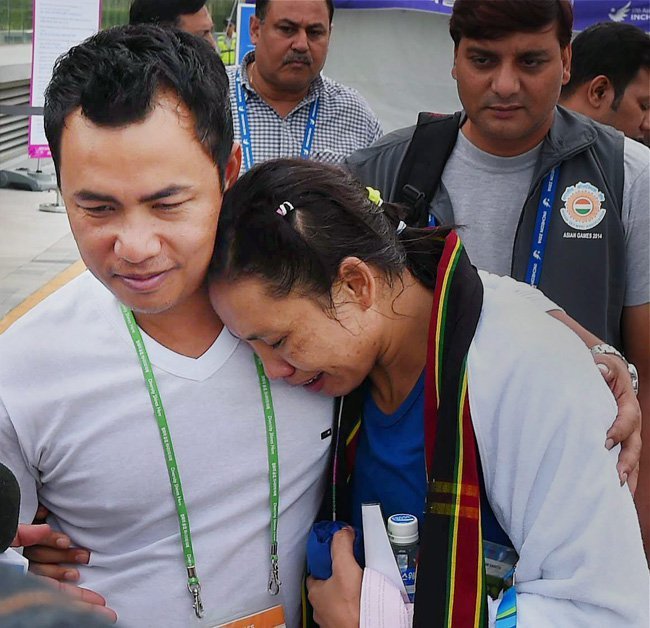 A teary eyed Sarita Devi being led away after her controversial loss
Later, Laishram Devendro Singh, India's prospect in the Men's 49kg category, made an exit in the quarter-final match against another Korean, Shin Jong-Hun in a unanimous victory even though Singh managed to bruise Jong-Hun in such a way that he could barely stand.
First, as Indians, we are proud of these two boxers because they delivered their best and it showed on their opponents' faces. Second, we need to voice our protest against these horrible decisions in a louder way. Just because South Korea is the host nation, it doesn't mean they can play unfair.
Indian pride is at stake here. We cannot take this lying down.
H/T to India Today