In association with
Royal Stag Make it Large
A classic way to offend us Indians would be to call cricket just a sport. No, you really can't!
It's an emotion binding us together across cultures. We have cried, laughed, and grown-up celebrating cricket and cherished the precious memories that we've held on to for so long. And with the ICC World Test Championship, Royal Stag is spicing things up by *drumroll!* giving us plenty of reasons to feel delighted with an opportunity to win tickets to the ICC T20 World Cup.
During the historic 5-day Test match between India and New Zealand, we need to tune into all the excitement and participate in the #RSMakeItLargeTest contest through the daily 
Twitter
, 
Instagram
 and 
Facebook
 polls. In these polls, we need to pick the #RSMakeItLargeTest moments through the sessions. If our answer matches that of the experts, we could stand a chance to win tickets to the ICC T20 World Cup.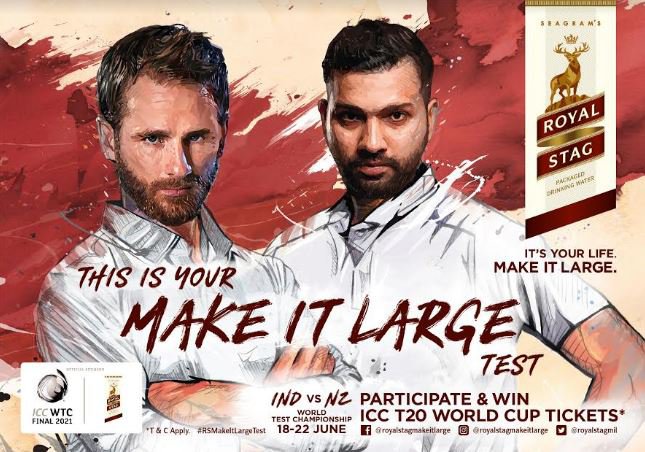 In fact, we're not the only ones taking part in the polls. Cricket enthusiasts, commentators & presenters like Aakash Chopra, Jatin Sapru, Mayanti Langer, Wasim Jaffer, Samir Kochhar, Yuzvendra Chahal, Shibani Dandekar, and Nikhil Chinapa are also playing along daily.
Royal Stag has had a prolonged association with cricket. So naturally, the #RSMakeItLargeTest campaign has left all the fanatics of the sport bouncing off the walls. And the excitement has taken over some of our favourite cricket stars who will be participating in the polls as well. Rohit Sharma is ready to #MakeItLarge in this test, but he's wondering if we're ready to meet him at the ICC T20 World Cup? 
Australian express-pace bowler Mitchell Starc says he'll be at the edge of his seat for Royal Stag's Twitter-led contest, and so are we. 
Before hitting the field, Indian fast-bowler Jasprit Bumrah also urged us to play along in the #RSMakeItLargeTest campaign for the next five days. 
While New Zealand skipper, Kane Williamson is pumped about the test today, he's more thrilled about meeting his fans at ICC T20 World Cup later this year. *Checks flight tickets*
There are some opportunities in life that come out of the blue, and give us unforgettable memories, remaining ever vivid and heartwarming. Witnessing the ICC T20 World Cup live in the stadium will certainly be a dream come true for the cricket crazy bugs in us. So head over to Royal Stag's 
Twitter handle
 today and participate in the polls. And keep your fingers crossed till the names of the winners are announced in the month ahead. 
Oh! You should also check out their Instagram and Facebook accounts. Afterall, #ItsYourLifeMakeItLarge