In a match that ends with 7-5, 6-3, 5-7, 4-6, 6-4 on the scoreboard, there isn't much to say afterwards. Or there is a lot to say, depending on who you are.
Russia's Daniil Medvedev definitely falls in the latter category. Extremely chatty in his after-match interview, he was so funny, I personally want him to qualify for more finals just so we can hear his speeches. 
The love story no-one anticipated. @DaniilMedwed & New York… https://t.co/kZUze8cOPZ #USOpen pic.twitter.com/qPRG6EUdQO

— US Open Tennis (@usopen) September 9, 2019
Complimenting Nadal for his outstanding performance, Daniil said 'it was a joke' how good he is.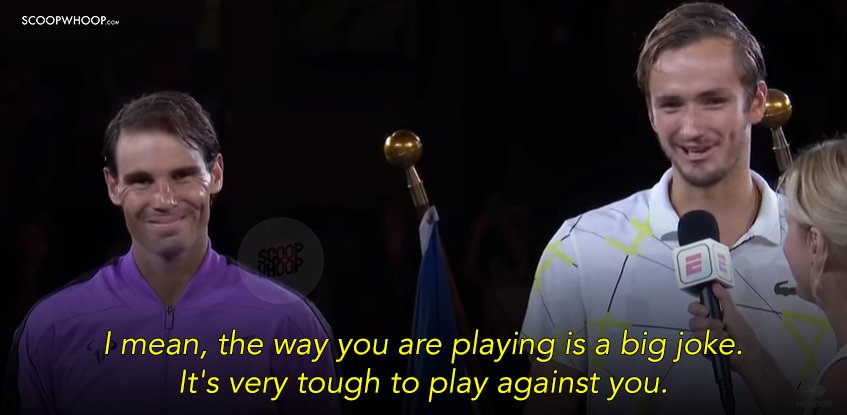 While hilariously adding that he was worried what the organisers will show on screen, if he had won.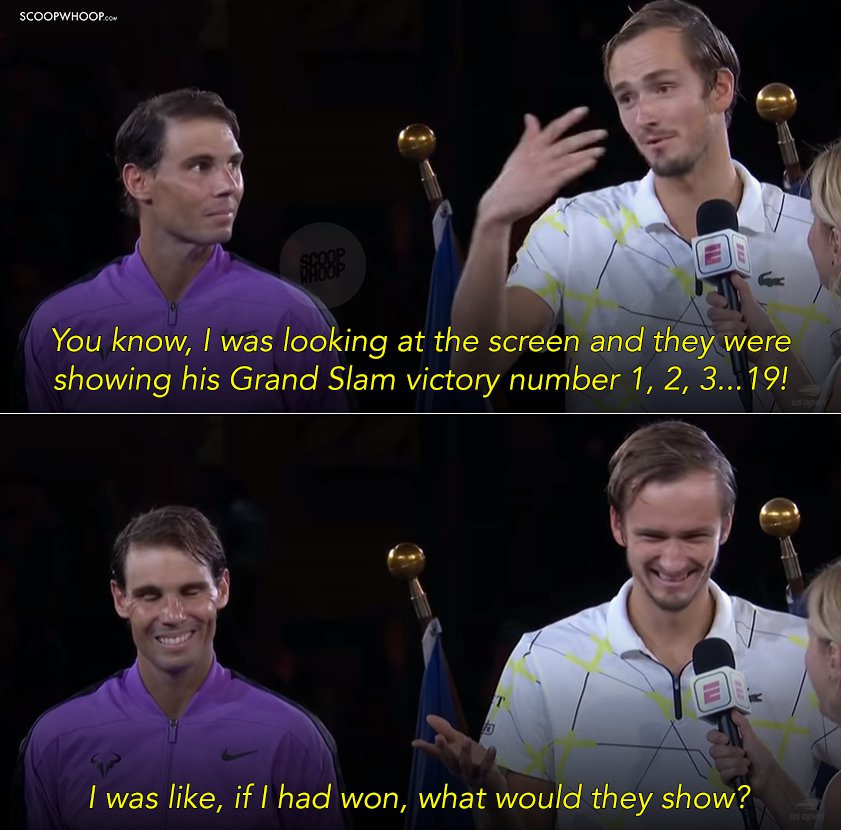 Medvedev also said he was prepared for the match to end, before he almost pulled an upset against the crowd favourite.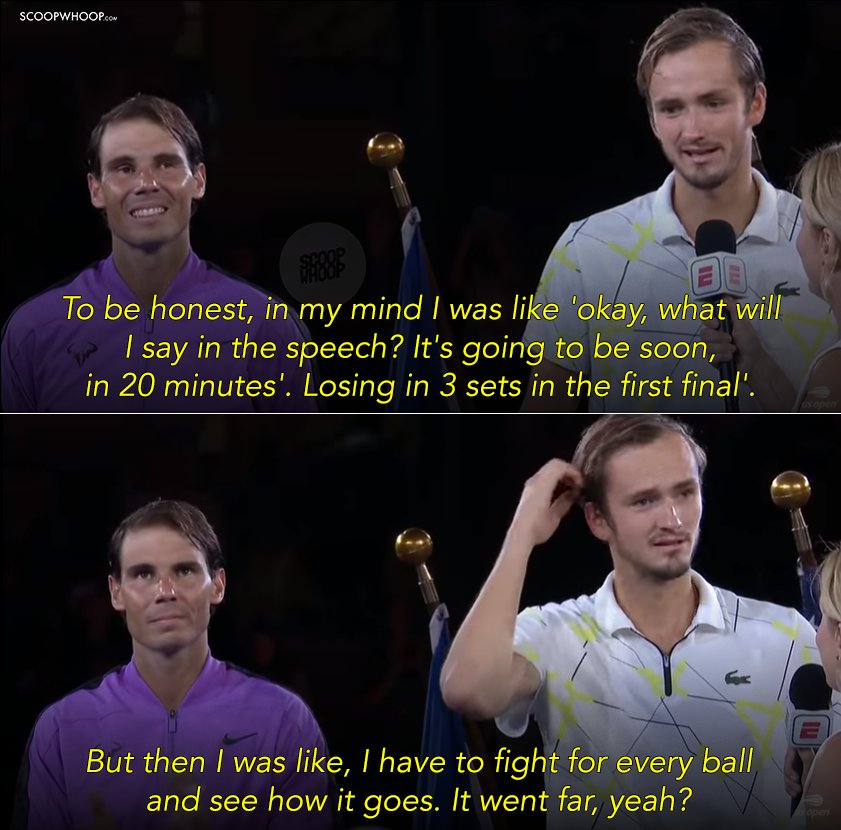 The interview soon started doing rounds on the internet, with people loving Medvedev for his humour and humility.
Daniil Medvedev just played for 4h51. And lost. In the first Grand Slam final of his career.

Yet, he's giving a BRILLIANT speech.

Fantastic two weeks — hell, fantastic SUMMER — from the young Russian. A star is born.

— Gaspar Ribeiro Lança (@gasparlanca) September 9, 2019
Deservedly, that sounded like a winner's speech from Daniil Medvedev.

What he accomplished is what I'm going to remember most from this summer of tennis. #USOpen

— Ben Rothenberg (@BenRothenberg) September 9, 2019
I've listened to Medvedev's speech as many times as I have listened to Rafa's. Probably the best runner up speech I have heard in years.

— Mihir (@memehir_) September 9, 2019
Huge Nadal fan but Medvedev really won me over today. Unreal talent, resilience and fight. Love his classy speech. So well spoken. Classy!

— Tom (@TheBoFlow) September 9, 2019
Medvedev: "I always forget to thank someone in my speech."

Camera cuts to his wife, whom he has forgotten to thank, hanging her head.

— Jordan Weissmann (@JHWeissmann) September 9, 2019
Medvedev is a sweet-spoken, brutally earnest fighter who can also sway the crowd with a few jokes. On being asked how he came back after the first 2 sets – "To be honest, in my mind, I was–okay, what do I say in the speech, it's gonna be soon in 20 minutes…" 😂🙏🏽#USOpenFinals pic.twitter.com/Dv3Tnafqvd

— Krishna Charan (@pun_laden) September 9, 2019
Medvedev; absolute class act 👏 Great speech. Even greater sense of humor #USOpen

— Olalekan Akanbi (@MDlokoso) September 9, 2019
I think Medvedev is my favourite tennis player now – great match and awesome runner-up speech.

— Romesh Pullenayegem (@romesh21) September 9, 2019
Medvedev's speech was so nice
He's the only Russian the Americans like 🤧

— Daddy Thanos 🌠 (@theodox_dip) September 9, 2019
Head to Mark's timeline for the most hearts tweeted after a tennis match in recorded history. Medvedev's speech was pure class, & funny too. He watched the tribute video to Nadal's 19 slams and wondered what the US Open would have shown if he had won tonight… he will be back ❤️ https://t.co/nS4p3GBpQM

— Max Whittle (@max_whittle) September 9, 2019
Is there an award for the best speech?
You can watch the complete interview, here: