In a match where 15 LBW decisions were given in favour of the spinners, it was almost wrong to see India reclaim the Test number 1 ranking via a top edge from a bouncer.
But that's how it happened.
India acting like Mitch Johnson in Perth to close out a match. Typical. Pretending to be something they are not.
It hasn't exactly been a hard grind from the men that reside east of Pakistan, the team they replaced as No.1. In fact, like the silver spoon that dangles from many of their mouths, this present was essentially handed to them. All they had to do was not stuff it up.
To be the best in the world usually means you have conquered the majority of challenges out there. However, this Indian side that now finds itself perched on top of the ICC table have not done that.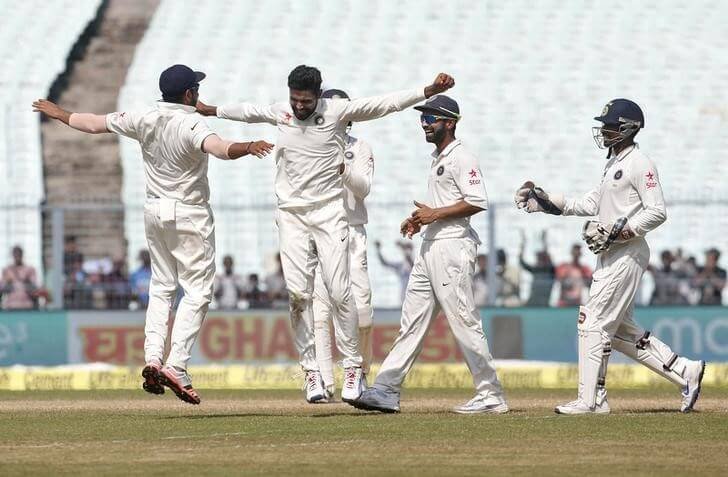 In recent memory, they have only beaten the then 7th placed Sri Lankan team and 8th placed West Indian team in an away series. And surely it is winning away from home that defines the good from the very special?
Knocking off their western neighbors, who have only held the mace for literally a few weeks is somewhat of a hollow victory. For Pakistan have taken on all comers in a foreign desert and just won. They recently went to England and failed to be beaten. Previous to that, they beat the then number 1 Australia. They skittled England in the UAE too.
India haven't beaten the incumbent number one to rise to the top. In fact, they flatly refuse to play them. Nicely played.
When Australia moved to number one, they had to beat the then champs South Africa in South Africa. Michael Clarke made a century with broken bones. Ryan Harris bowled with no working knees. The series win felt earned. The number one title felt right. The world respected what had been achieved.
When India regained the number one spot, all they had to do was defeat a lowly New Zealand at home, on doctored pitches – facing a team without Kane Williamson. There was no challenge here. Just a ho hum, I've seen it all before, ball keeping low and over-appealing festival.
So enjoy the top spot India. But understand that no one is celebrating with you. The reasonable man doesn't see this as something truly earned.
Instead, the mace has been gifted. Thirteen home Tests in a row only compounds the illusion.
If you truly want the world's respect, then let's see you go to England and win. Come to Australia and win. Fly to South Africa and win.
Because until you do any of those things, what are you really the best at?
Manipulating a schedule perhaps? 
Feature image source: Reuters