Schoolboy Pranav Dhanawade, who achieved fame with record breaking unbeaten 1009 runs in a school match, was allegedly involved in a brawl with police, after he raised an objection to vacate a ground being used as helipad.
The Subhash ground in Kalyan where Dhanawade was playing along with his friends, was handed over to police for security reasons, a senior police official said.
The Public Welfare Department has constructed a helipad on the ground in view of Union HRD Minister Prakash Javadekar's visit to Kalyan.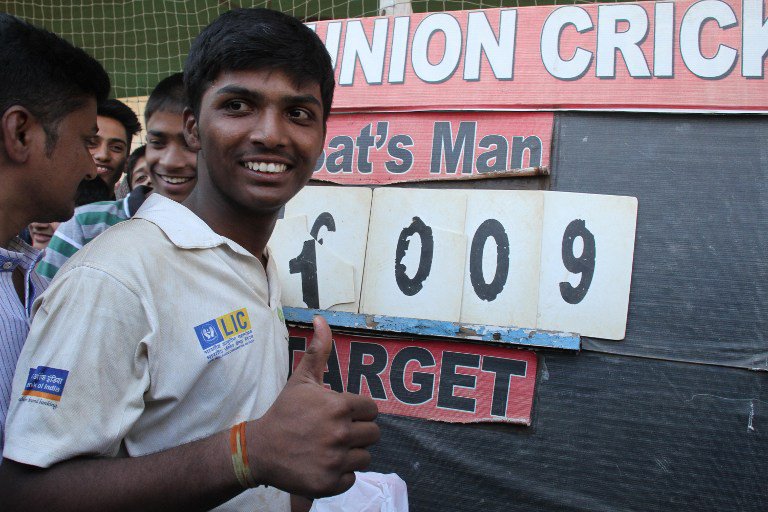 A guard, who was on duty to protect the helipad, came to the players and asked them to stop the game.
Dhanawade and his friends started arguing with police by saying where to play if not on the ground. In few minutes an officer and some police constables reached the ground, said police.
Heated argument started between police and locals over playing on the ground.
Dhanawade asked police to show permission and hence cops took him to the police station, said DS Suryawanshi of Bajarpeth police station.
He was later let off after police gave him a warning, said the officer.
The player has secured a monthly scholarship for five years from the Mumbai Cricket Association after becoming the first batsman in the world to notch-up a four-figure innings.
Dhanavade had batted for 395 minutes in the two-day game against Arya Gurukul in the Mumbai Cricket Association conducted Bhandari Cup inter school cricket tournament to remain unbeaten off 323 balls in which he struck a staggering 59 sixes and 129 fours.
Meanwhile, Javadekar has decided to travel by road and not by helicopter from Pune.
"It is not proper to make use of the play grounds for helipad hence I would be travelling by road and will not use the helicopter this time," the Minister told a regional news channel.
Feature image source: AFP