Mahendra Singh Dhoni has been busy unwinding since stepping down as captain of the Indian cricket team last month. He recently chose to travel in a train for the first time in 13 years from Hatia, Jharkhand, to Howrah with the rest of the Jharkhand squad for their Vijay Hazare match on Sunday. After the match, he hung out with his old friends from his days as a ticket collector at the Kharagpur Railway Station.
As shown in the biopic, Dhoni. The Untold Story, Dhoni has a chequered relationship with the Indian Railways and did not really have the best of times in his first job in Kharagpur. But playing at Eden Gardens for his state Jharkhand gave 'Mahi' the chance to have a reunion of sorts with his friends.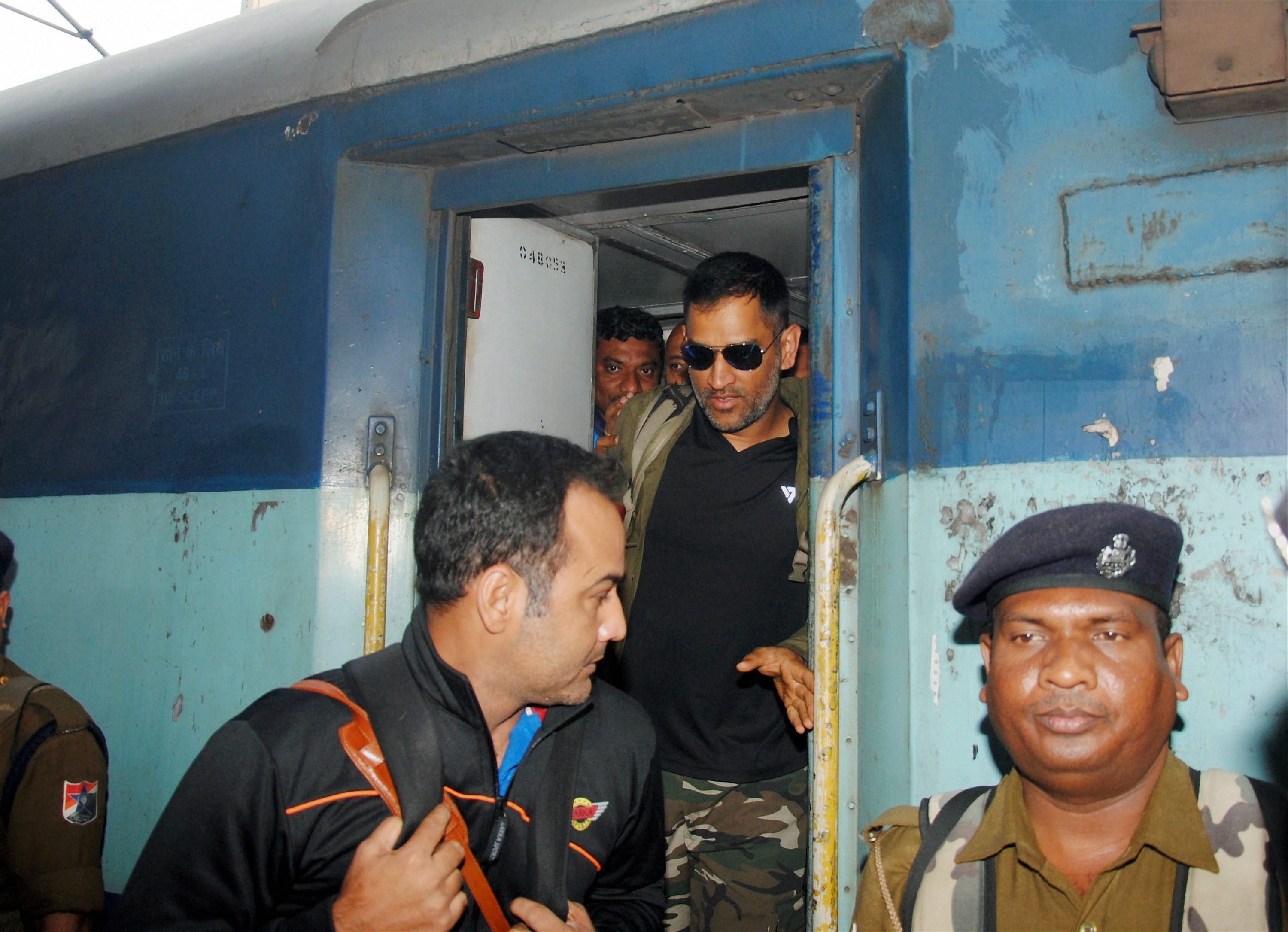 A Hindustan Times report says that Dhoni his friends from Railways, including his roommate and the tea stall owner in Kharagpur who used to keep aside milk for him, waited outside the dressing room at Eden Gardens to catch a glimpse of the man they saw growing up. The reunion continued later at Dhoni's hotel as well.
The report also adds that Thomas, the tea-stall owner at Kharagpur, was overwhelmed when Dhoni recognised him and spoke to him.
Dhoni has always had a special connection with Kolkata — he played some of his club cricket in the city and even met his wife Sakshi when he was playing a Test match at the Eden Gardens. 
And now, after all these years, when the media glare is not as blinding as it once used to be, Dhoni is making the most of his time away from the spotlight.
While life has seen a sea-change in the past month, on the pitch he is still a dangerous batsman, as Chattisgarh found out during their Vijay Hazare Trophy match. Dhoni survived some anxious moments en route a 107-ball 129 but the effort was just enough to steer the team home.
Chattisgarh skipper Mohammed Kaif won the toss and sent Jharkhand in and Jharkhand were looking down the barrel at 43/5 in 14.4 overs.
But former India skipper along with Shahbaz Nadeem (53 from 90 balls; 4×4, 1×6) propped the total to 243/9 with a handsome 151-run seventh-wicket partnership that came off 166 balls.
This knock of 129 was Dhoni's career-best in domestic one-dayers — studded with six sixes and 10 boundaries but it was not a typical Dhoni knock as he survived a few close calls before reaching his first century for Jharkhand.
A relaxed Dhoni clearly seems to be as dangerous a batsman as he was in his early days with India. And that's a good sign for Indian fans.