Remember the monk who sold his Ferrari? The tale of the gymnast who returned her BMW is becoming just as popular now.
Ever since news emerged that Dipa Karmakar wanted to return the BMW car that was gifted to her for her memorable fourth place finish at Rio Olympics, the reaction has been non-stop — clarifications, counter-clarifications, opinions, political statements. Did she say the roads were bad? Did she criticise the state? Was this proof that India is indifferent to an athlete's needs? So on and so forth. 
But hopefully all that is in the past now, as Dipa clarified that she did not mean to criticise anyone and will be putting the equivalent cash she receives to good use.
"I am grateful that I will be getting funds against the car's return, and I'm happy with whatever funds I get. I will be using these towards my sporting expenses." she said in an interview to Firstpost.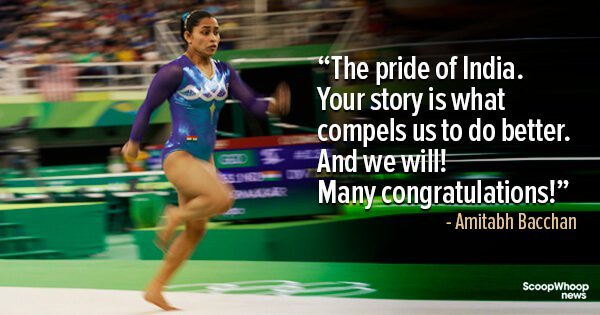 Hyderabad District Badminton Association president Chamundeswaranath had said earlier that they would be happy to compensate Dipa with cash if that is what she preferred.
Dipa once again reiterated that the her inability to maintain a luxury car in Agartala, where there are no BMW service centers, was the reason behind returning the car. 
"I have simply requested for the vehicle to be returned as I will not be able to maintain it. It is nothing to do with the state of roads or anything regarding the administration in my home state," she told the news website.
She was presented the keys of the car by cricket icon Sachin Tendulkar at a felicitation ceremony where she was honoured alongside Olympic silver-medallist shuttler P V Sindhu and bronze-winning wrestler Sakshi Malik.

It should not really surprise us anymore that any issue in the country that can be used for political mileage will be use for political mileage. The Tripura unit of the All India Trinamool Congress (TMC) had earlier charged the Communist Party of India (Marxist)-led Left Front government in the state for trying to gain traction with this episode.
Justifying Dipa's concern that in the absence of a BMW service centre in Agartala, it will be very expensive for her to maintain such a posh car, TMC MLA Sudip Roy Barman lauded Dipa for taking a wise decision.
"Now, people are trying to malign her by saying that Dipa has insulted the state by demanding money, which indirectly is trying to shatter her dreams of performing well in the coming challenges," Barman said, according to a PTI report.
"We should make a request to all political parties, media and NGOs to stand by her and encourage her for future ventures in sports. It is unfortunate that ministers are trying to politicise this issue by passing comments detrimental to sports in Tripura," he added.
Dipa, who scripted history by becoming the first Indian woman gymnast to qualify for the Olympics before putting up a show to remember in the vault final, can now hopefully go back to doing what she best — practise and bring laurels to the country. 
The 23-year-old Tripura girl scored 15.066 points, a mere 0.150 less than eventual bronze-medallist Giulia Steingruber (15.216) of Switzerland, to miss out on a podium finish.
Feature image source: Reuters