Virat Kohli is being "unreasonably targetted" for Anil Kumble's resignation as India's chief cricket coach, feels former BCCI President Anurag Thakur, who said the current Board set-up should answer for the unsavoury episode.
Kumble stepped down at the end of the Champions Trophy earlier this month after acknowledging a rift with skipper Kohli, who has refused to divulge just what led to the fallout.
"Virat is being unreasonably targeted, I think this discussion should stop. Virat has the ability to take Indian cricket to new heights in the next 10 years. This is not the first time that a cricketer is being targeted. In the past too, captains and former captains have been targeted," Thakur told PTI.
Thakur had to quit as board President after being ordered by the Supreme Court. The Lok Sabha MP, now heading the Himachal Pradesh Olympic Committee, said BCCI under him would have handled the situation better than the current set-up.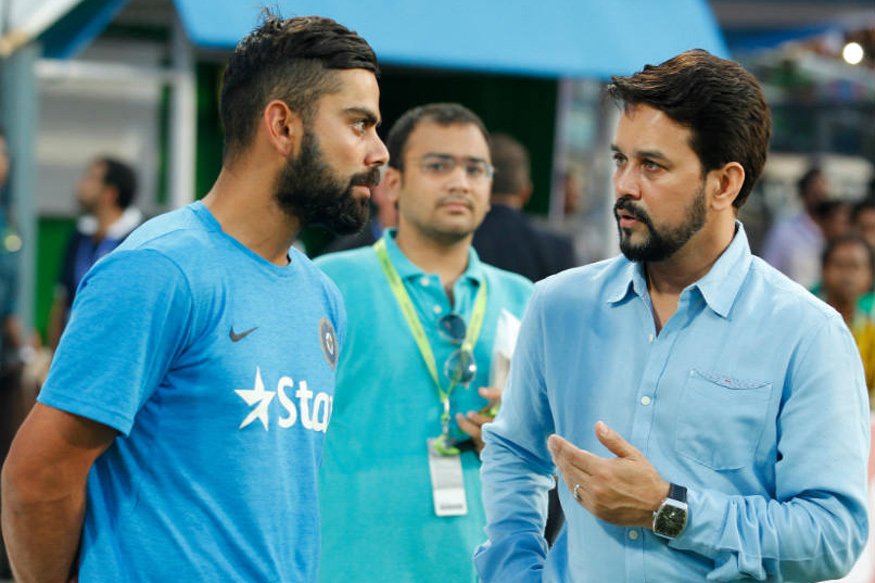 "The previous BCCI set-up was more adept at handling such situations. People should give the board credit that it honoured the Cricket Advisory Committee's recommendation but also gave Kumble only a one-year contract so that the Board was free to take a call if there were to be any problems," he explained.
Thakur said the BCCI top brass had a lot to answer for in the current controversy.
"We never allowed such things to be leaked. When Kumble was offered a one-year contract, nobody said that they had any objection to it," he said.
"In the 7-8 months of Kumble's contract when we were in charge, nobody spoke of any problem between them (Kumble and Kohli). Questions should be asked from those who are running the Board now as to how these circumstances have arisen," he added.
Feature image: AFP