"He is a hero in Tanzania. He is a big, big name. When he defeated American Phil Williams for the world title, the whole nation went crazy. The Government offered him a position as Member of the Parliament. He spoke in the assembly. He was given land to build his own house. When you are talking about boxing in Tanzania, you cannot look past him. He is a darling for his people. The whole nation knows he is in India, the whole country will be watching the fight — from railway stations, airports — wherever they are."
These are the words of Francis Cheka's trainer-promoter and perhaps it may embrace the hyperbole associated with professional boxing. But there is no doubting the fact that the former World Champ is a legend in his own right.
The man from Tanzania, who will aim to upset the Vijender Singh apple-cart is a boxer of high repute. He is Tanzania's numero uno. He is a former World Champion. He has been fighting in the professional circuit for 17 years — nearly half his life. He has been fighting more than just opponents in the ring.
Cheka's story is one of rags to riches. Born to a Tanzanian father and Mozambican mother, his childhood was not easy. It was a dysfunctional family. As a teenager, he saw his parents split up and his mother move to Tanzania. "It was stressful," he tells ScoopWhoop, with the help of his translator, Jay Misenga (also his trainer & promoter). "I wanted to take my mind off my family situation. I wanted to focus my frustration elsewhere. That's why I took up boxing."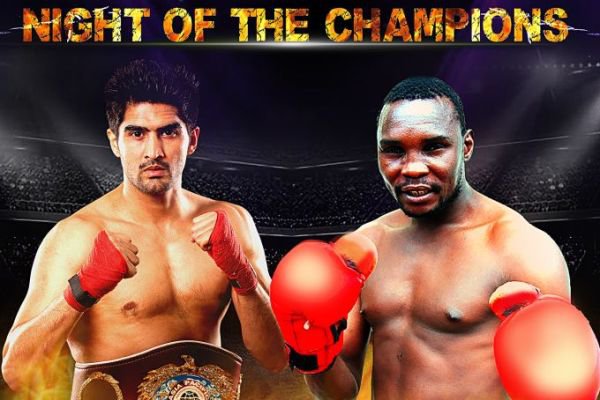 Cheka approached Abdallah Saleh, a renowned trainer in Tanzania. But despite spotting his talent, Abdallah was initially hesitant to coach him. But Cheka did not give up, to the point of badgering Saleh to give him a chance. As a 17-year-old, he was finally doing what he badly wanted.
"Passion. Boxing is passion," he says in one of the few instances where he speaks English. "For long time, I get no support. In Africa, no support means ranking down [makes a gesture to indicate a fall from top]." 
Cheka is known as "SMG" in Tanzania –  the Semi-Machine Gun. He has been gunning down opponents inside the ring for a long time. A veteran of 43 professional bouts (32-9-2 record, with 17 KOs), he has fought over 300 rounds in his career — compared to Vijender's 27 rounds in 7 pro-bouts. 
But it was never easy. There was little to no money in boxing when he started out. While Tanzania has produced many boxers of repute, the financial support had never been great, compared to other countries like Mozambique. Boxers were often left to fend for themselves. But Cheka found a way. He took an interest in the plastic-recycling business. 
As early as 2000, he started collecting empty plastic bottles. He started trading them with local businessmen, who would crush and recycle them, and export it to countries like China and India. "I love India for long time," he says in his broken English. "I do business with Indians. Patels. Plastic bottles help my boxing." 
For the majority of this interaction, he has an empty plastic bottle in his hand. He picks it up and points to it numerous times, often with visible pride.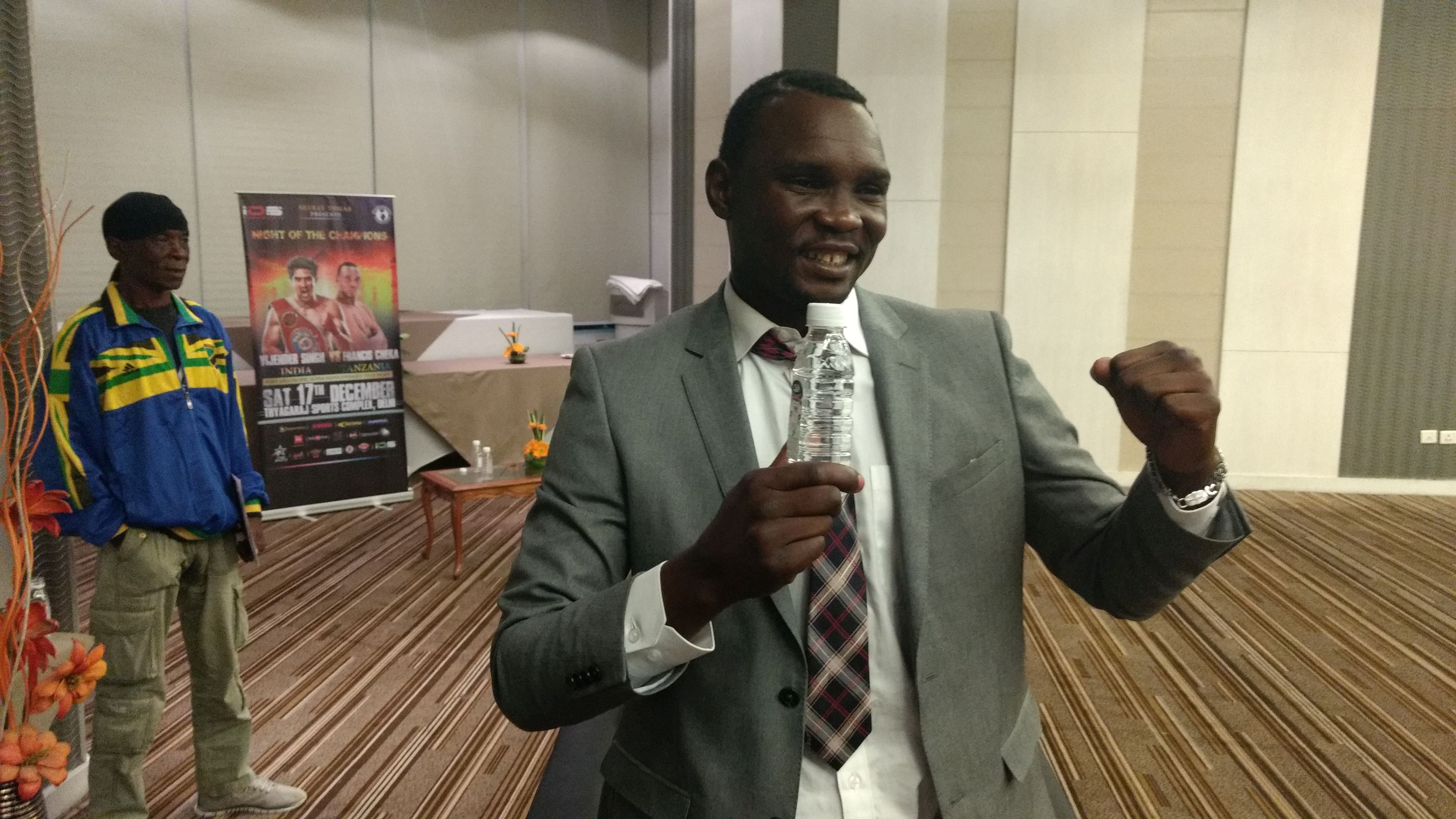 His early days were difficult, primarily because all his fights were against local boxers – his first 13 were fought in Tanzania. There was not enough exposure. He was barely making ends meet. He was not getting title shots. He had to wait till 2008 for his first title.
Soon the cycle reversed. From making money with this little business to help him land fights, and fuel his passion, he went to funding his business with the money he made from fights. His unmistakable talent soon brought him rewards. In 2007, he says, his fortunes changed. He started landing fights in the United Kingdom. He lost the bouts, but made enough money to start his own factory the size of the conference room in Le Meridien – where he is speaking with us. It's not much, but he is now getting by. "He began taking care of his family, he could now afford to feed his blind father, wife and kids," says Misenga.
Misenga, who is himself a Tanzanian settled in the USA, came to know of Cheka's talent in 2009. 
Rashid Matumla was then the biggest name in Tanzania. "He was the father of Tanzanian boxing when I grew up there," Misenga recalls. Then, on one fine day, he hears of this boxer Cheka who brought down Rashid.
"I was like, 'whoa, if he defeated Rashid, I need to take a look at this guy', so I went to Tanzania and signed him up."
That proved to be the turning point for Cheka. A good boxer can never get far in the world of professional boxing without the right guidance and promotion, one that was simply not forthcoming in Tanzania. "Jay. Big thanks. He changed me," Cheka says. In 2012, he won two of his three title fights. And in 2013, came the world title. American Phil "The Drill" Williams was defeated in front of a packed Tanzanian audience and Cheka became a hero.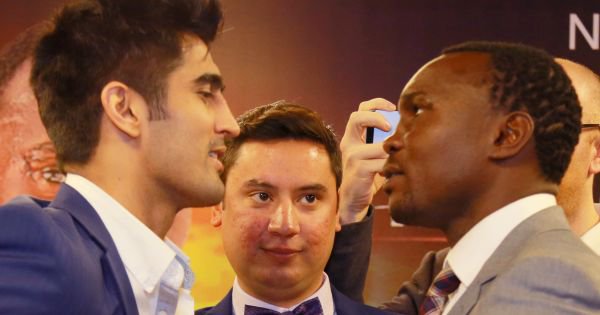 After more than a decade, Tanzania had its world champion.
There have been regrets along the way since. After a brief period when Misenga-Cheka split, he took up fights he shouldn't have, he says. There were controversies — one of his corner-men allegedly took money on his behalf and threw in the towel mid-way through a title fight in Russia. He took fights for money, without training, and ended up losing rankings. He fell from 17th in the world to the low 40s. He was even sentenced to jail in Tanzania in 2015 for beating up a bar manager & sending him to the hospital.
But now he has a chance to become relevant again. At 34, he says he is looking at retirement in the next few years and wants to go out on a high. He has already started promoting fights — his brother Cosma Cheka is one of his clients. He has already caught the attention of Indian fans with his near-incessant sledging of Vijender Singh. 
"I'll make him regret taking up boxing."
"I will end his career."
"India will be ashamed on 17th December."
"His Olympic medal means nothing to me."
Is that the real Cheka? "This sledging is his way to build his confidence. But make no mistake, he believes every thing he says. Away from the spotlight, he goes to a mirror and keeps repeating 'Vijender is mine, this fight is mine', with his fists clenched. He believes belittling his opponent builds his confidence up. But, he's a gentle guy in real life," says Misenga.
Of all the things Cheka has said, one thing rings truer than most.
"Vijender has fought nobody like me."
But come Saturday, we'll know whether he has fought someone like Vijender too.