In 2015, Hardik Pandya was playing for Mumbai Indians in the IPL. It was the first qualifier, against the Chennai Super Kings. Mumbai won the game and Hardik won the Man of the Match. It was the great Sachin Tendulkar who then told him that he would play for India within 18 months.
One year later, young Hardik got his national call up. He became part of the young side that whitewashed the Aussies. Everything made the headlines… his hairstyle, his tattoos, even the fact that he debuted wearing the unusual jersey number 228. Needless to say, the man is very expressive. Unlike his then captain, MS Dhoni. 
Yes, they are different in many ways. He's not even built like Dhoni. As much as we wish there is someone, there can't be another MSD. But there is one thing they have in common – hitting big and tilting the match in their team's favour.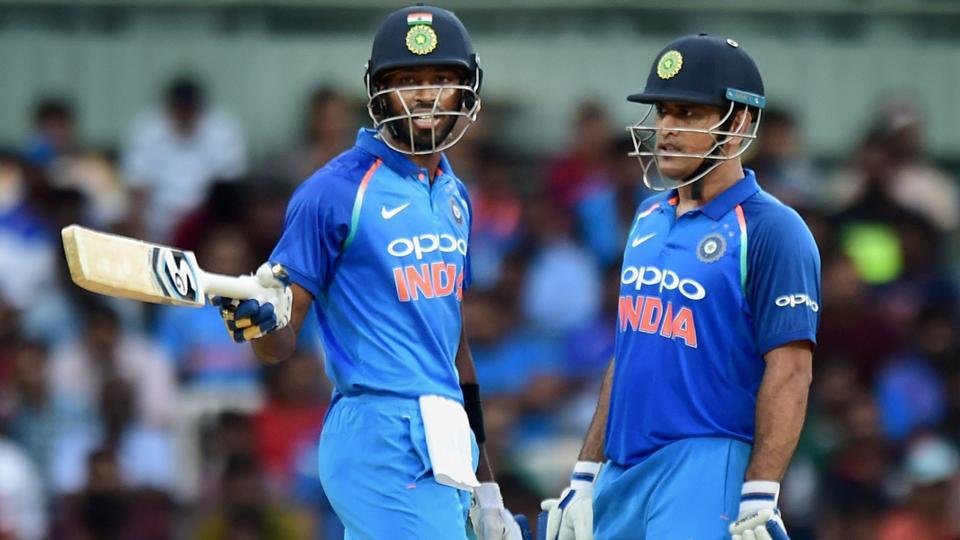 Pandya seems to be the heir apparent to the "finisher's throne" that will be vacated by Dhoni soon enough. Like I said, his built is nothing like Dhoni's. But he is a fearless character and knows how to hit big. And he can win us games, with bat and ball.
He won the Man of the Match on ODI debut. Interestingly, he won it for his bowling, against New Zealand. IPL was kind to him, but international cricket is a whole different ball game. How much can we trust him when it comes to a pressure situation?
There were flashes of brilliance, but the true fireworks were on display at the Oval against Pakistan in the final of the Champions Trophy. He came in when we were reeling at 54/5. We were going to lose. We eventually did. But this 23-year-old tried everything he could. While the pack collapsed, he stood tall like a lone wolf. 
76 off just 43, and in that process he also scored the fastest 50 in any ICC competition, off 32 balls. But an unfortunate run-out saw him walk back to the pavilion, cursing his luck. Maybe he could have led us to victory. We'll never know. But it was like he matured overnight.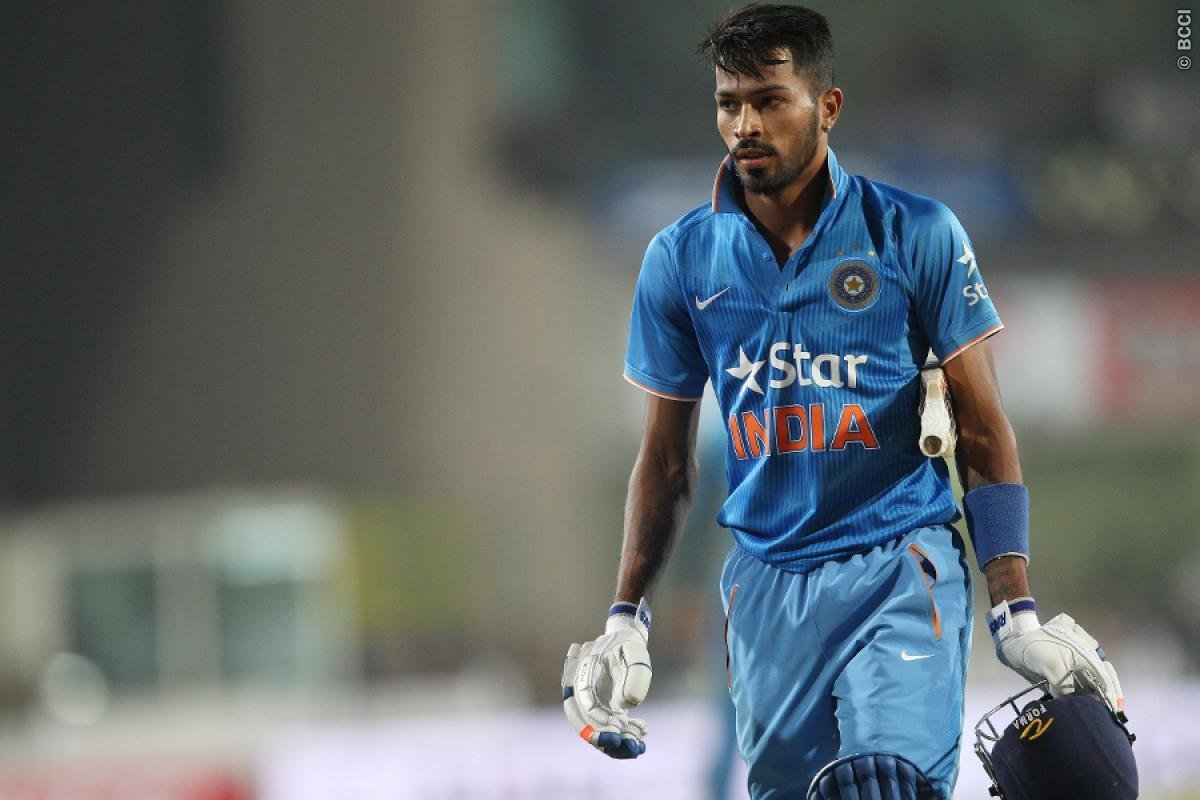 The only question was whether it was a one-off. Well, the 3rd Test against Sri Lanka saw him score his 1st century and the most runs in a Test over by an Indian (26). He hit 3 sixes on the trot in that over. 
And the trust in him grew.
The hat-trick of sixes were becoming a habit. He did it twice against Pakistan in the Champions Trophy too. The best part about his destruction is that it's all so well controlled. It isn't just hitting. It's calculative.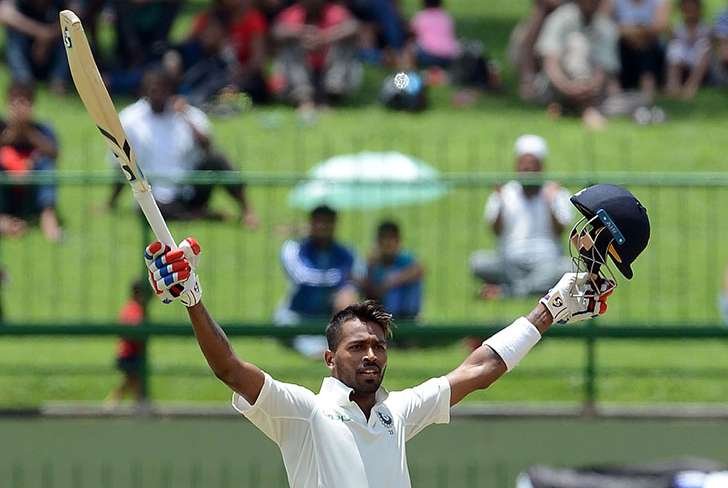 But it was in the opening game of the ODI series against Australia, on 17th September, when he truly charmed us. The top order had collapsed again – 87/5. And the Aussies were in a brilliant position. Pandya walked in. Who better to have as a partner than MS Dhoni? But this time, it was Pandya who took control. So much so that he even asked Mahi to settle for a single when he wanted a double. That's rare. But it also shows confidence.
It was the most wonderful "he came, he saw, he conquered" innings I've seen in a long while. He hit the roof multiple times. The men from Down Under had no reply. A blazing 83 off just 66, helping India to 281 and an eventual victory where he also pitched in with 2 wickets. His demolition allowed Dhoni to see things through to the last over. 
What's more? The hat-trick of sixes were back for the 4th time in just 4 months, when he thumped Adam Zampa. It was wonderful to watch.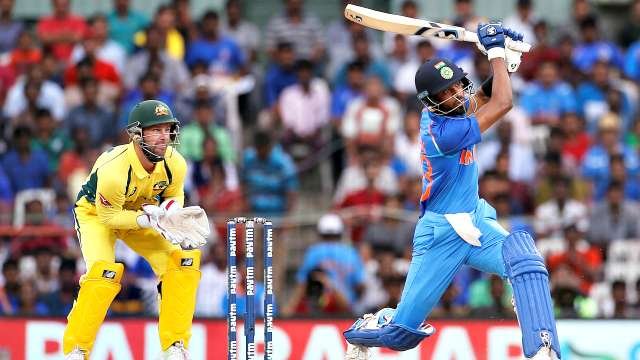 It's safe to say that he is a game changer. Not just with the bat, but with the ball too, And he's a great fielder. Kohli can now play 5 bowlers without compromising on the batting attack, in Tests and ODIs. What more can a captain want from an all-rounder? 
The good thing for us – Pandya is just getting started. The bad thing for opponents – Pandya is just getting started.
His approach to the game is what sets him apart. One of those aforementioned tattoos that caught the headline is his mantra for life."Believe", it says. That belief makes him who he is – The fearless Hardik Pandya. The man who can blow the roof off a place and hit it with the ball at the same time.