Arguably, the most popular non-cricketing commentator in the world at the moment, Harsha Bhogle remains distinguished amongst his peers for his quick wit and cleve use of the English language. Bhogle's popularity can be measured from the fact that his exclusion from the commentary team, following certain complaints made by Amitabh Bachchan and MS Dhoni had caused a mini-outrage among the die-hard followers of the game. Bhogle, is not loud like Ravi Shashtri, neither is he dramatic like Danny Morrison, but is often revered as one of the best commentators coming out of India.
He did an AMA on Reddit today and the discussion ranged from Pakistani players in the IPL to his supposed "hate" towards Amitabh Bachchan. And unlike a certain voice of India, Bhogle did not dodge any questions, but answered them with pure class.
Redditor SBI-bhakt asked him about the one cricketing stat that always amazed him.
This was rather easy for Bhogle. He wasted no time in saying: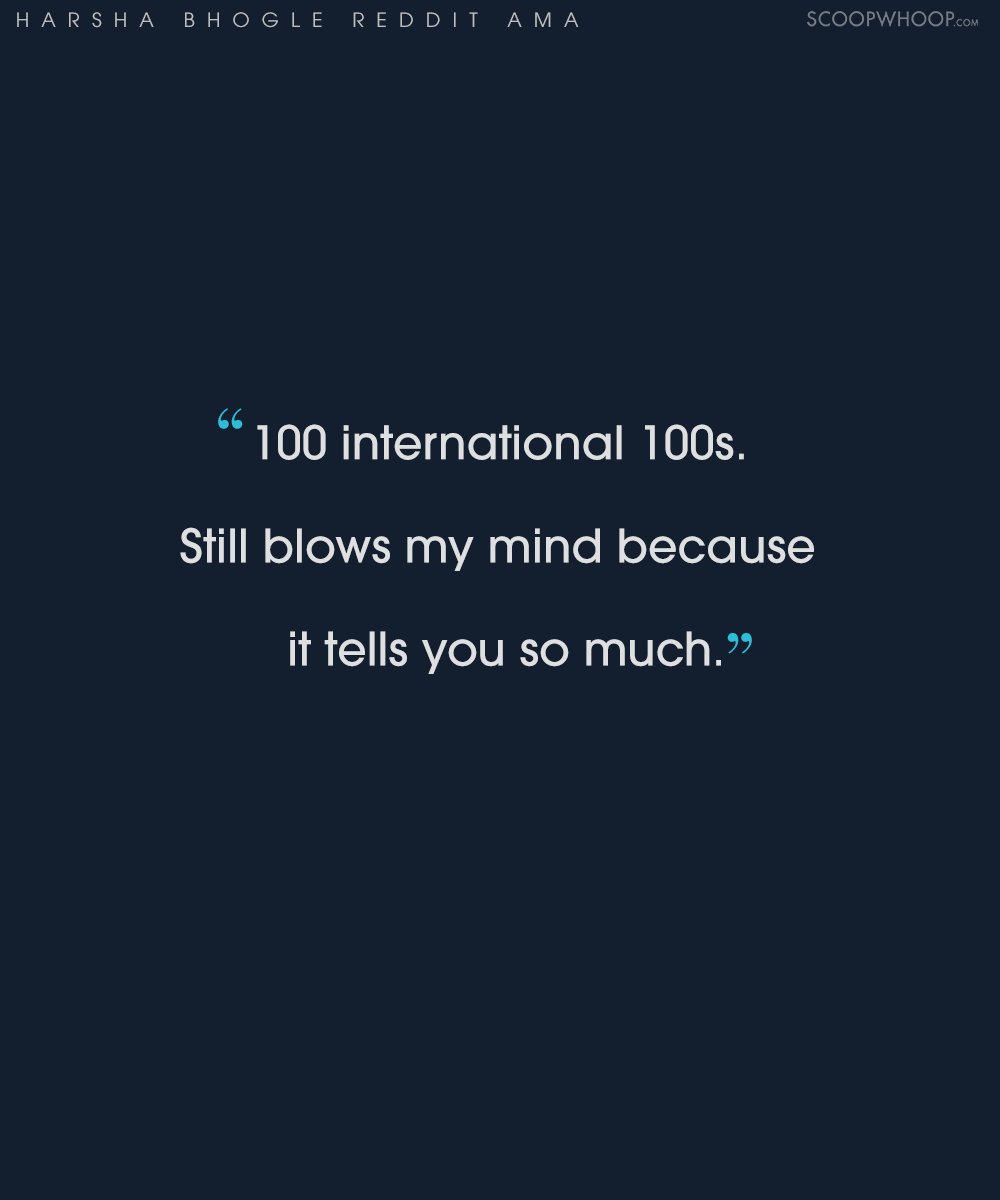 Redditor codesForLiving asked:
What is the most memorable moment in your career so far?
This too seemed way too easy. Bhogle replied about the moment that broke a billion hearts.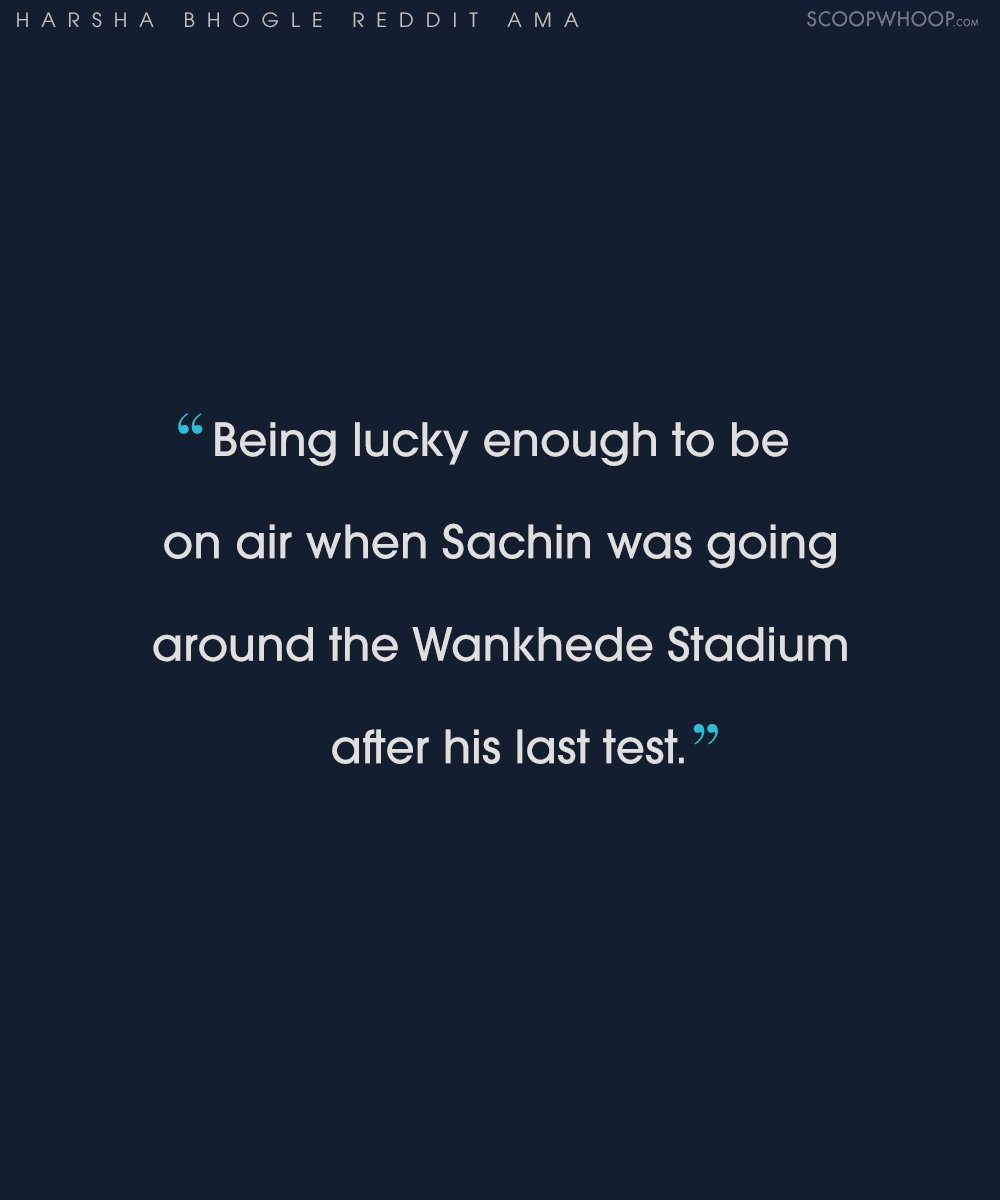 And a random question by _rickjames
Have you ever met Sanga's dad?
This was simple.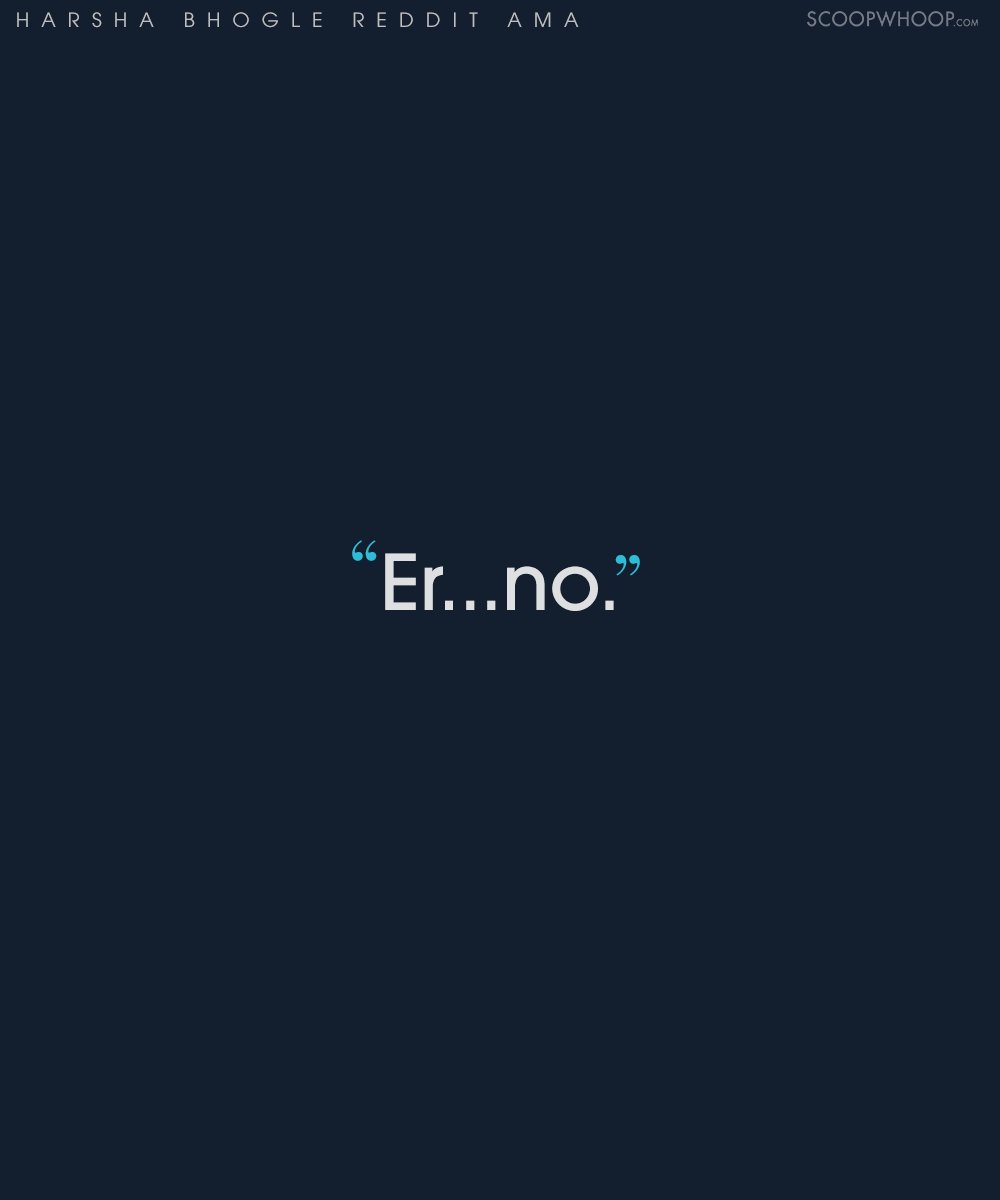 rajjjjk asked:
Hi Harsha! What in your opinion is the main reason we lost yesterday? Was it overconfidence/bad decisions of the team or just a bad day?
Harsha explained this is the best way possible.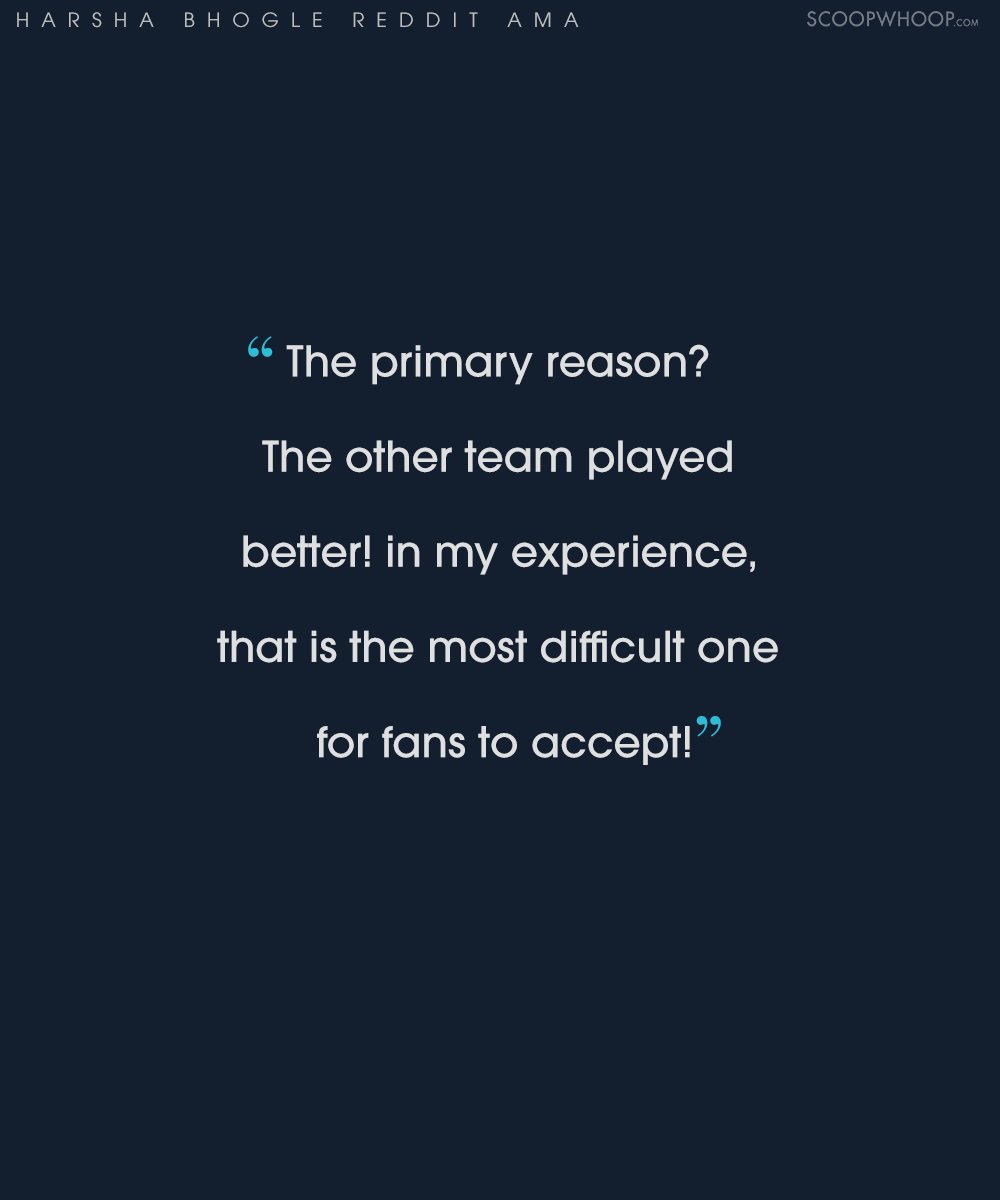 Redditor ilovethewayyousmile asked about the next big players from the current Indian squad.
Harsha Bhogle put his hopes in these two young cricketers.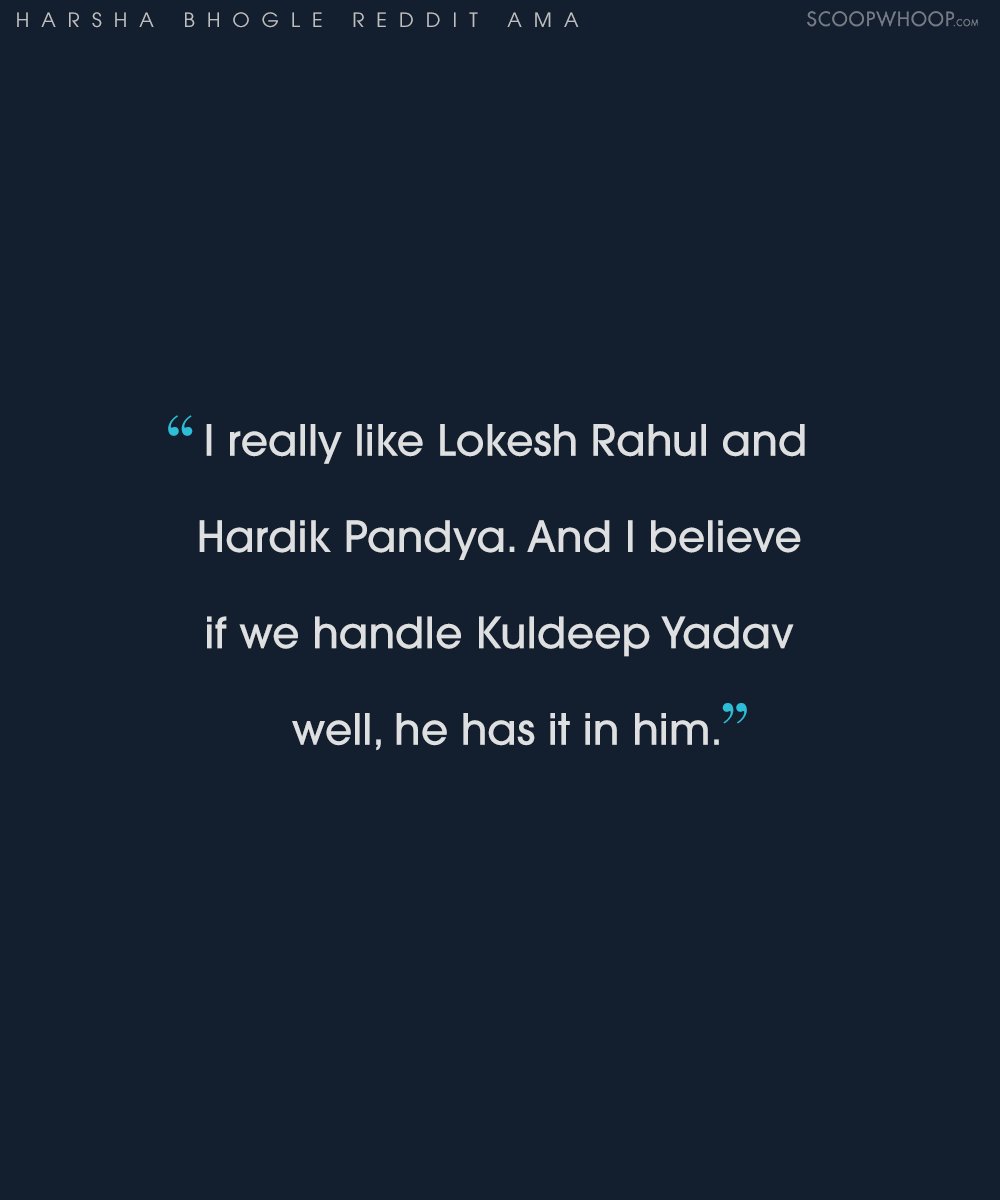 Redditor ilovethewayyousmile asked:
If you could change one thing about the cricket scenario (be it BCCI/ICC boards, IPL etc) what would you change?
Bhogle did not mince words with this one.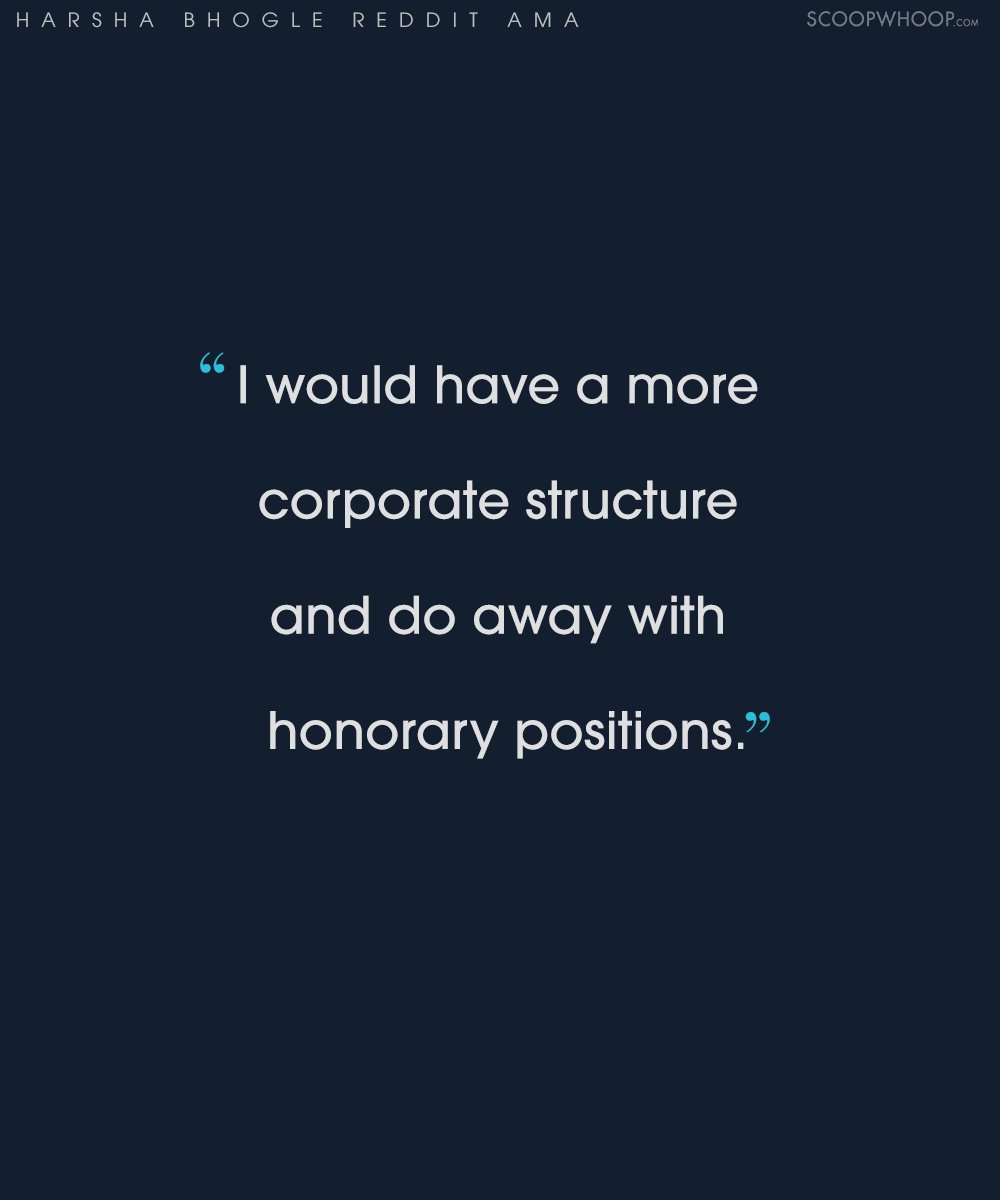 sehmaann just wanted to know about how it felt hanging out with Rahul Dravid.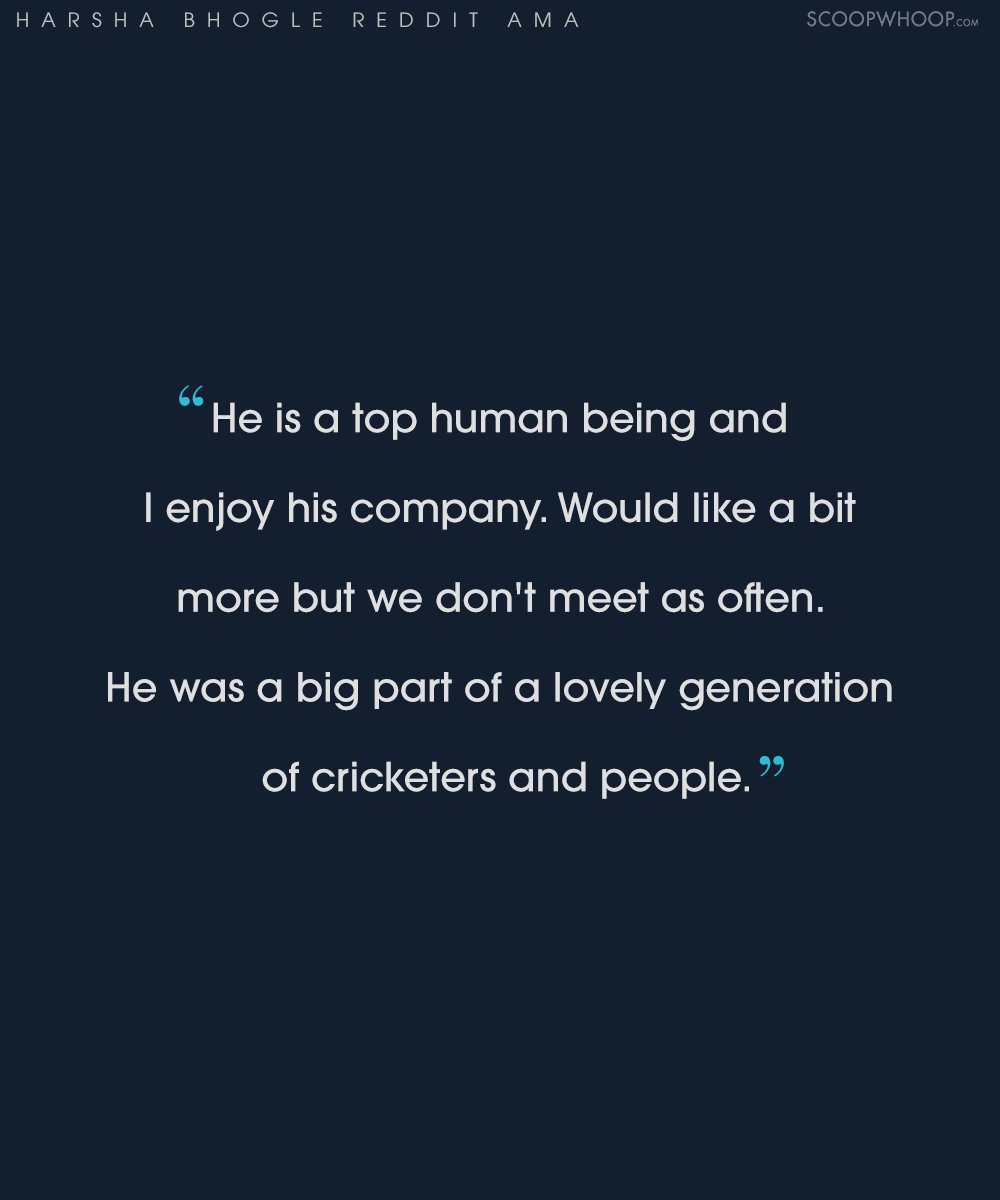 AzadBabu asked one question that probably has been on our minds for ages now
Don't you think the overdose of T20 matches and especially tournaments like IPL is killing the game ?
Harsha explained it to him in a way only Harsha can.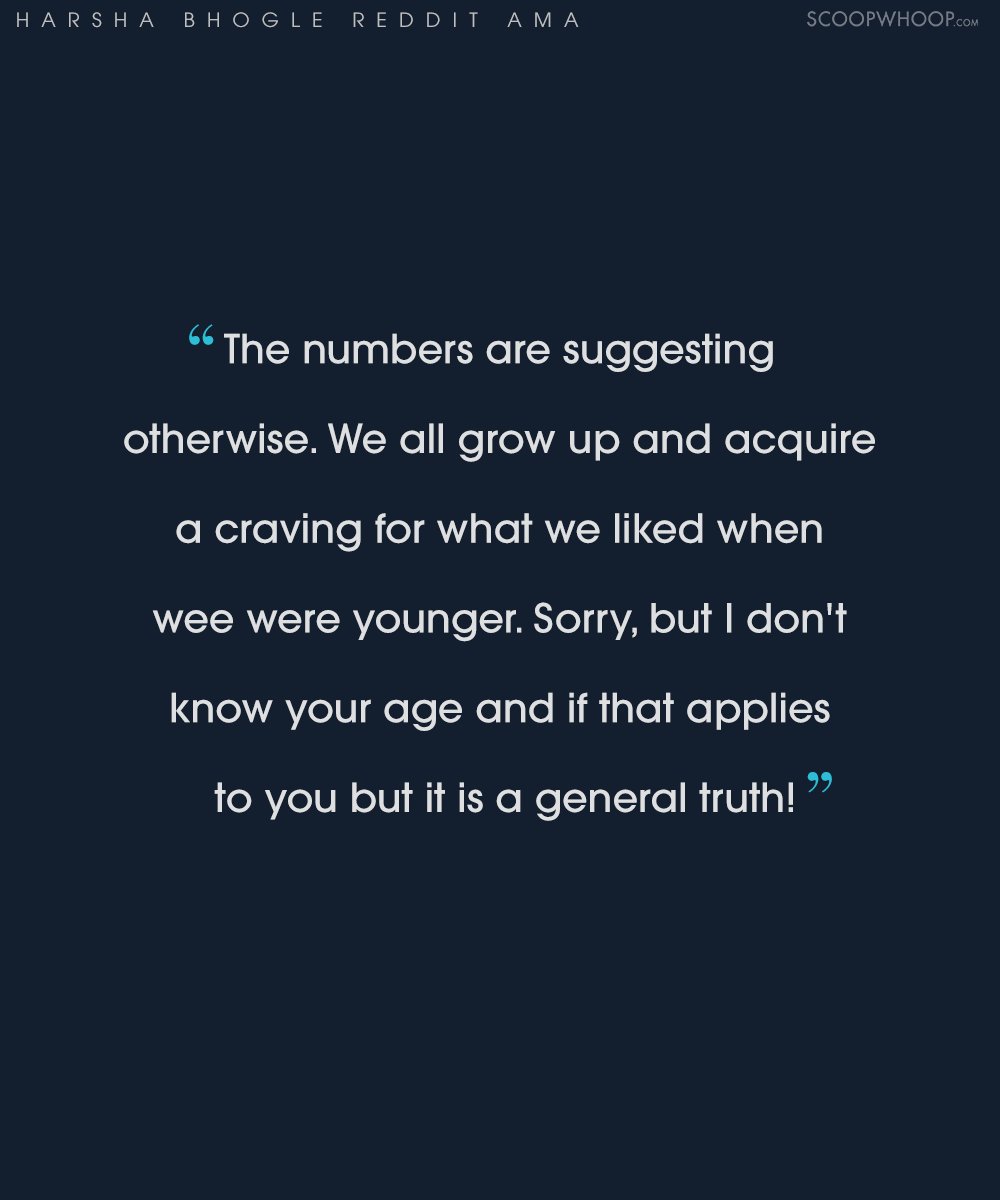 The one question we have all been dreading .
rajjjjk asked:
Who do you hate the most on this planet and why is it Amitabh Bachchan?
And a dignified reply followed: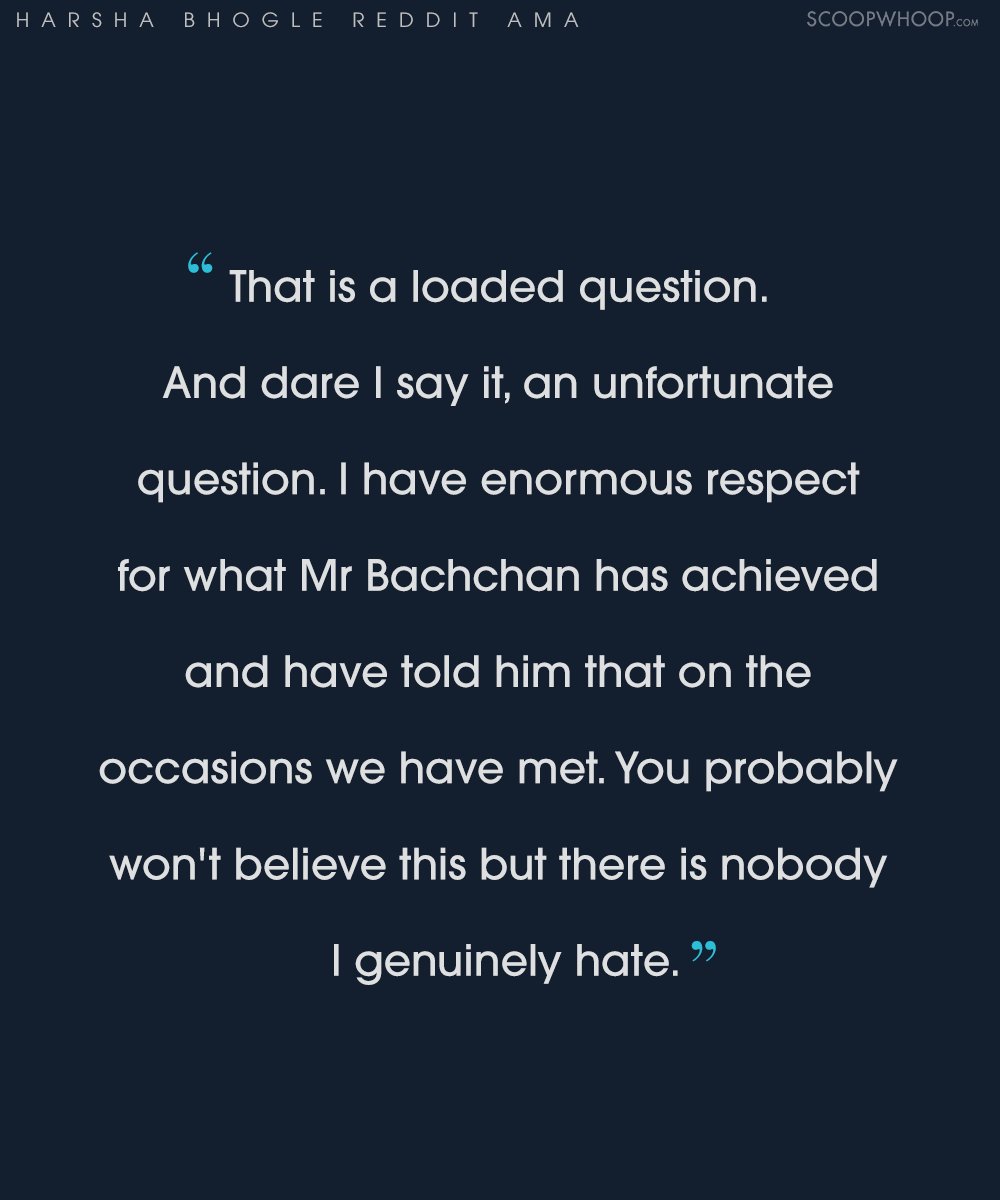 ilovethewayyousmile asked:
What is your stance on the whole "banning Pakistani players from IPL" and "no individual tours with Pakistan" thing?
Bhogle made his stance clear on the matter.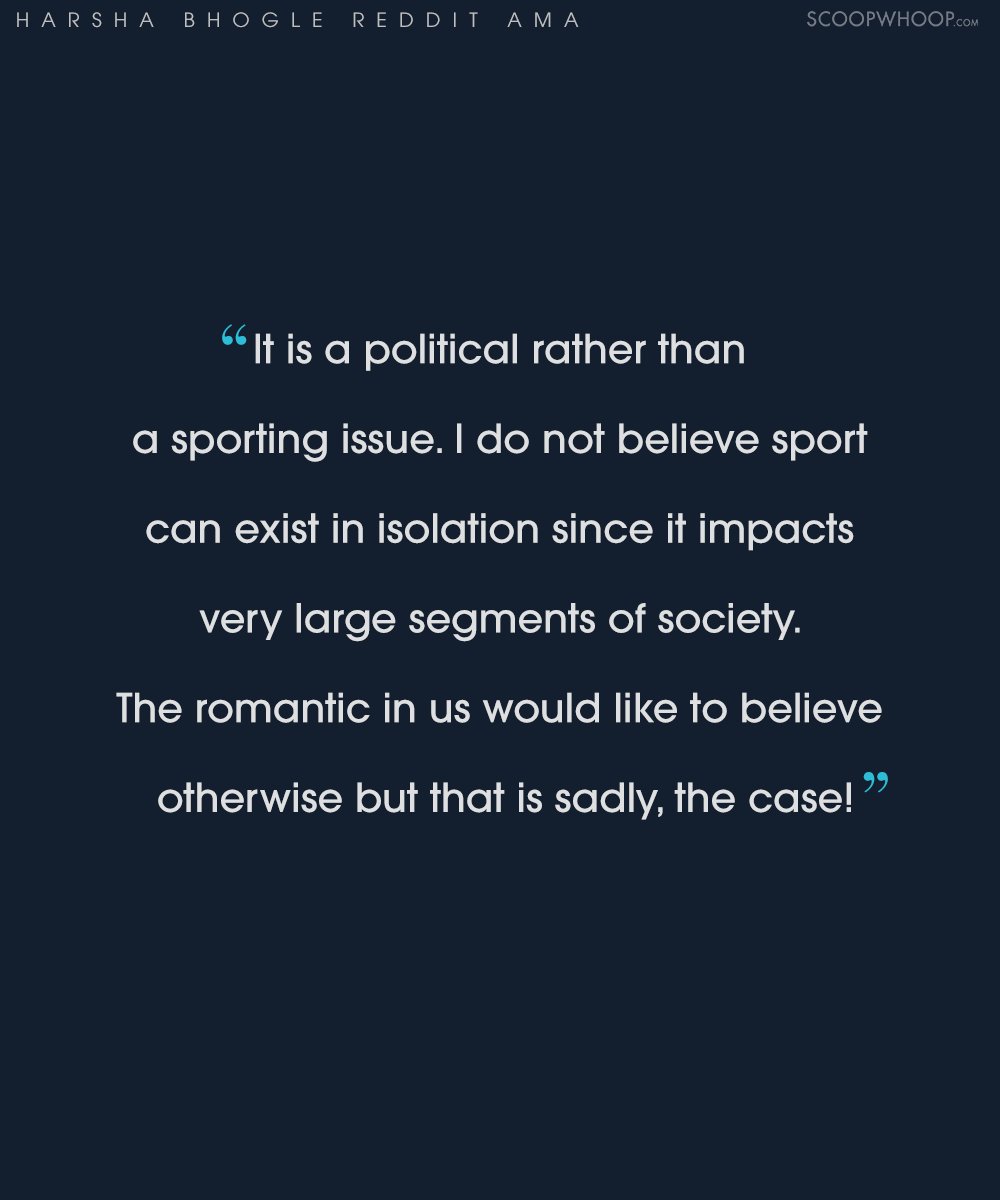 mrfroyopancakes asked:
Hi Harsha, what are your thoughts on ex-cricketers being given commentary gigs despite them not being very good at it?
Bhogle replied: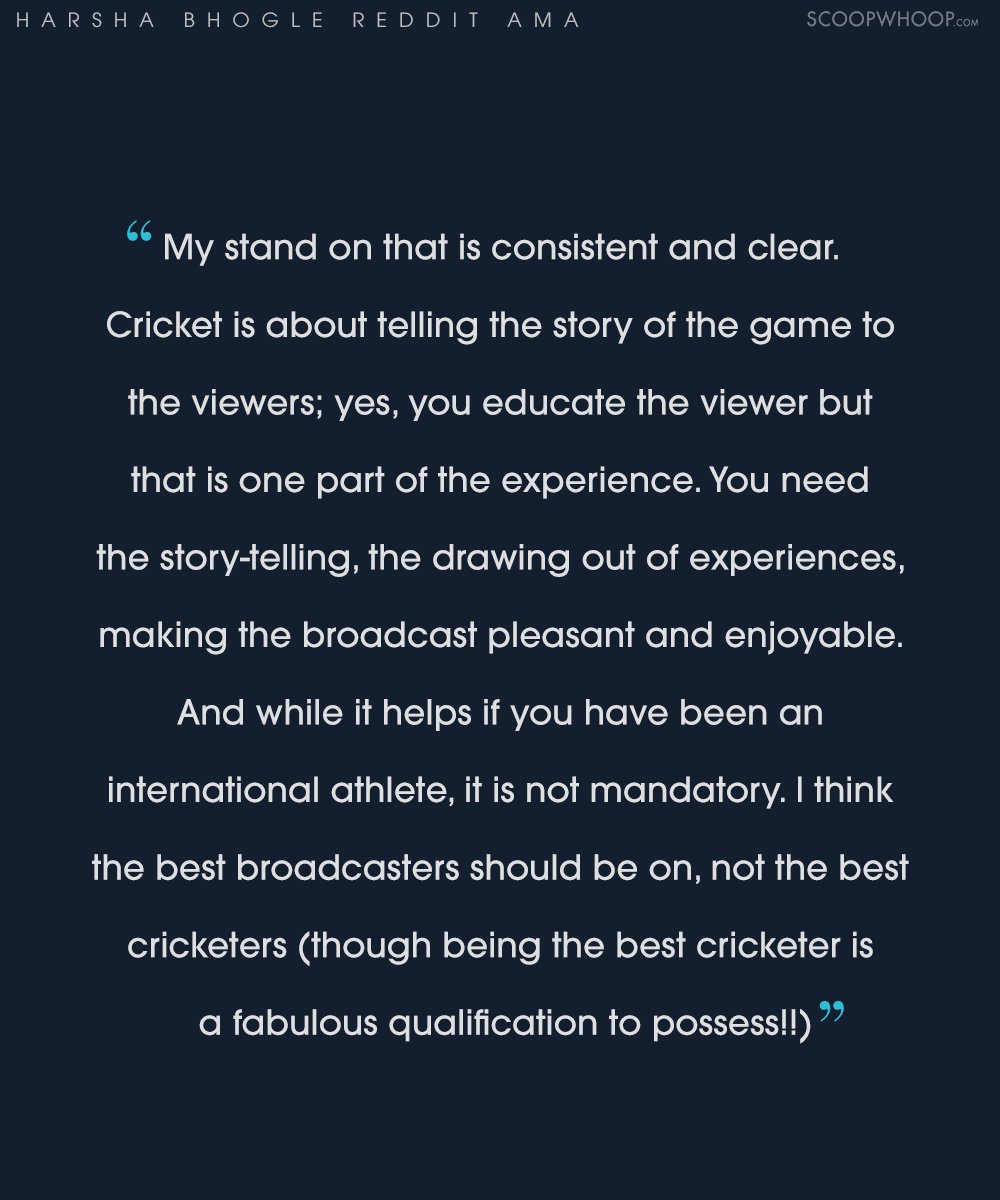 And then adityeah asked the we have been wondering since Harsha made a comeback on naional television:
Harsha, here's a difficult one for you rightaway: I have often wondered and now I ask you – we know that you are back, but are you really? Will it ever be the same again? Or will you always have that fear of an impending embargo? It is hard to believe that everything is going to be the same.
And here we have the answer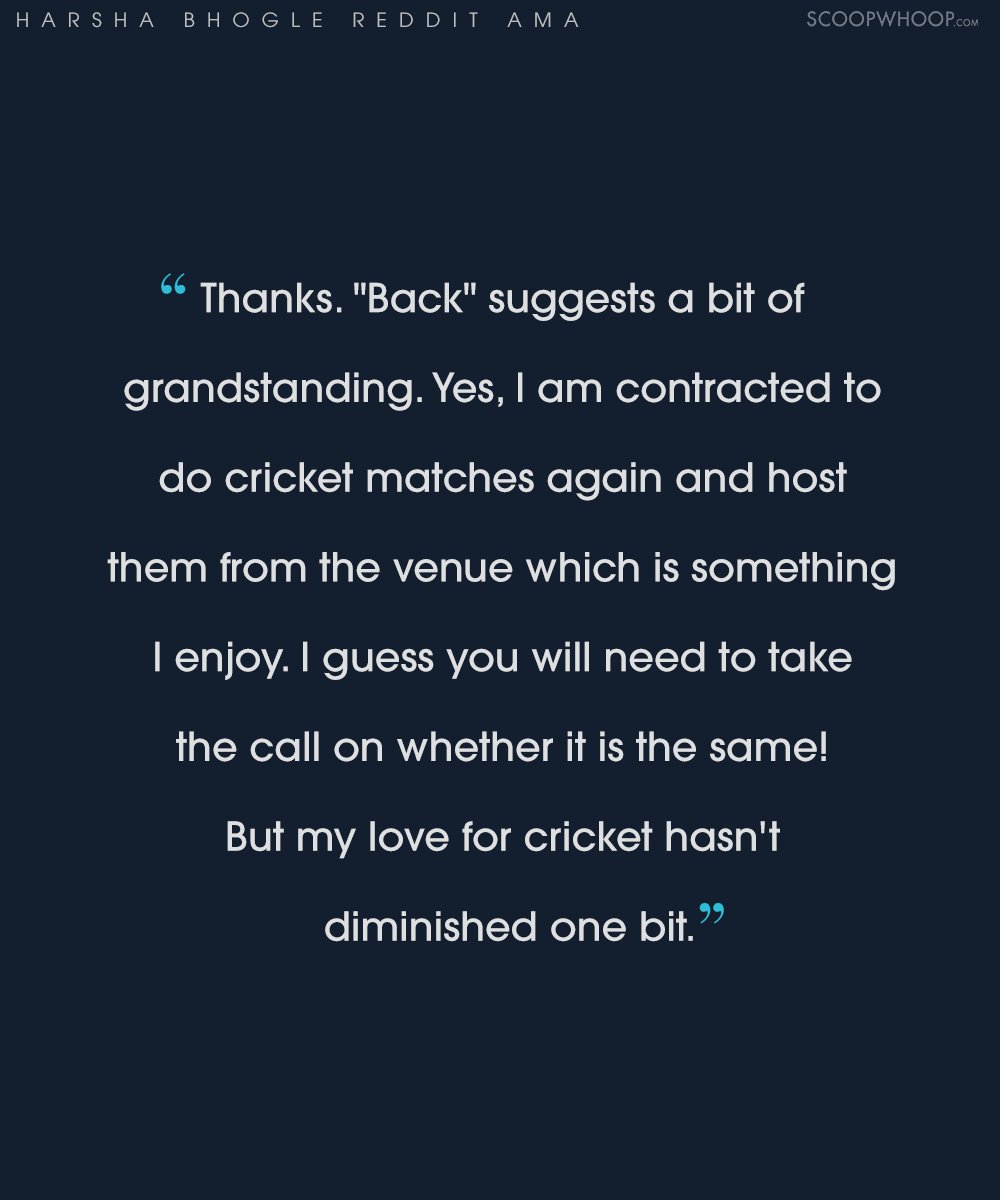 You can check out the rest of the AMA here.