Captain Virat Kohli said that the game-changing decision to bring in Kedar Jadhav was jointly taken by him and former skipper Mahendra Singh Dhoni.
Jadhav dismissed set batsmen Tamim Iqbal and Mushfiqur Rahim after their 121-run stand to get India back on track in the second semi-final of the ICC Champions Trophy here. India won the match by nine wickets.
Kohli said that he wanted to restrict and wickets from Kedar were bonuses.
"Wickets were honestly a bonus as Hardik went for a few in his first three. So we wanted to give him a bit of a break and cover up overs through Kedar and with one left-handed batsmen (Tamim), we knew that he had the ability to get in two, three, dot balls to the left-hander every over. But it ended up changing the whole game for us," an elated Kohli said after the match.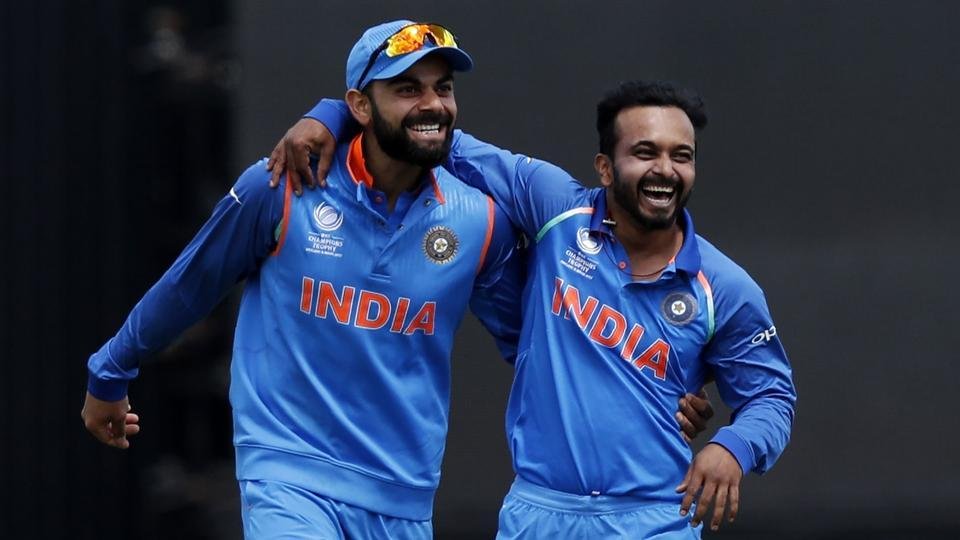 But Kohli didn't wish to take all the credit.
"Yeah, when moves like this pay off, I won't take the whole credit. Obviously, I asked MS, as well, and we both decided that Kedar is a good option at the moment, and he bowled really well. Credit to him.
"Kedar doesn't bowl much in the nets, but he is a smart cricketer. He knows where the batsmen get troubled, and if you can think like a batter when you are bowling, it's obviously a bit of an advantage to any bowler. So I think that today he executed plans perfectly."
For his new ball bowlers Jasprit Bumrah and Bhuvneshwar Kumar, Kohli was effusive in his praise.
"Well, they were outstanding. Especially, the last two games they have been terrific initially and in the later stages, as well, their wicket-taking ability is something that the opposition is aware of.
"So they are always careful going hard against these two guys, and yeah, their length after the Sri Lanka game has been impeccable. It's been consistent, line close to the batsmen, always there with an opportunity to get a wicket, as I mentioned.
"Even in conditions, which are not offering too much, bowling such lines that we can produce wicket-taking opportunities," said Kohli.
Feature image: AFP