"Till date I have never taken any instruction from anyone and I have always prepared wicket keeping the traditional nature of this track in mind. This will be a bouncy wicket and preferred by those who play the cut and pull shot well… As usual, the trend says that the pacers will get more wickets."
The curator at the picturesque HPCA Stadium, Dharamsala said a couple of days back, in no uncertain terms, that the pitch will aid the quick bowlers. After 89.3 overs on the first day of the first ever Test at the (did we already say picturesque?) venue, a certain Kuldeep Yadav proved him wrong with figures of 23-3-68-4.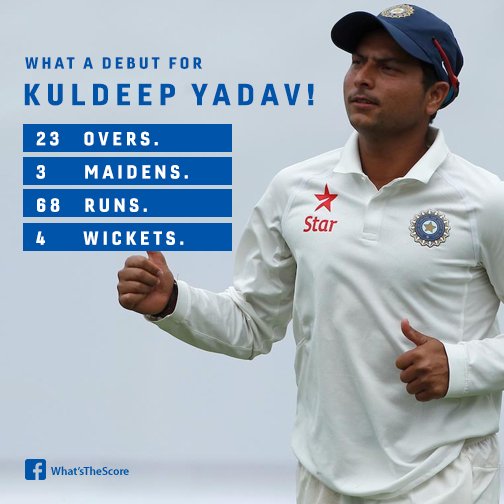 He got David Warner with a flipper that Shane Warne would have been proud of. He got Peter Handscomb with a ripper of a chinaman — a peach of a delivery and one that he said was his favourite dismissal of the day. He got Glenn Maxwell with a peach of a googly. He got Pat Cummins with a traditional tossed-up delivery.
And just like that, Australia went from 144 for 1 to 300 all out.
Who is Kuldeep Yadav?
For starters, the 22-year-old from Kanpur, Uttar Pradesh is the first ever left arm unorthodox bowler to play Test cricket for India. A country that has produced many a great spinner over the years, there have been 287 cricketers to have put on the India cap before a left-arm wrist spinner came through.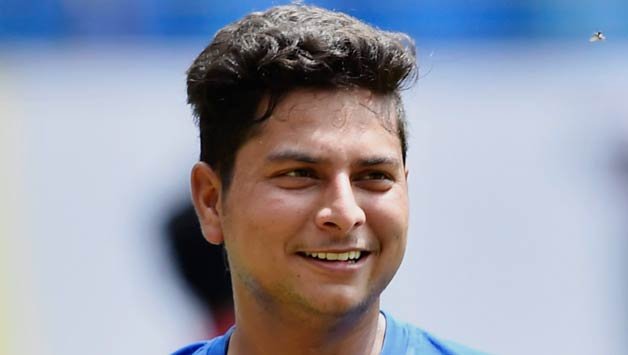 How did the journey start?
Kuldeep, believe it or not, started as a fast bowler when he first stepped onto a cricket field. Being a left-arm pacer was all the rage in early 2000s in India when the likes of Ashish Nehra, Zaheer Khan, RP Singh and Irfan Pathan to name a few broke through one-by-one. He idolised Wasim Akram. But on one fine day, Kuldeep switched to spin.
Speaking to Firstpost in February, he recounts the day he was made to change his trade, talking about he was sometimes even in tears that he was told to be spinner and not a fast bowler:
"One day, my coach [Kapil Pandey] called me and said that from today, you won't continue fast bowling. I don't know why he felt that. Then he told me to bowl spin. The first ball I bowled was 'Chinaman.' I wasn't even aware what a Chinaman was. I just held the ball and bowled and it turned out to be a Chinaman. Luckily, it was natural for me. The coach thought it was something special and if we work on this, we would achieve some good results in the future."
A memorable nets session
Having made his Under-19 debut in 2012 (as a 17-year-old, no less) Kuldeep was slowly but steadily starting to make heads turn — an unorthodox left arm spinner was practically unheard of in Indian cricket circles. In perhaps the biggest shot in the arm an youngster could get, Kuldeep was called up to bowl to Sachin Tendulkar in the nets where he managed to get the Master Blaster bowled. A stint with Mumbai Indians in the IPL was the obvious next step, and though he didn't get to play for them, it was an invaluable experience for Kuldeep.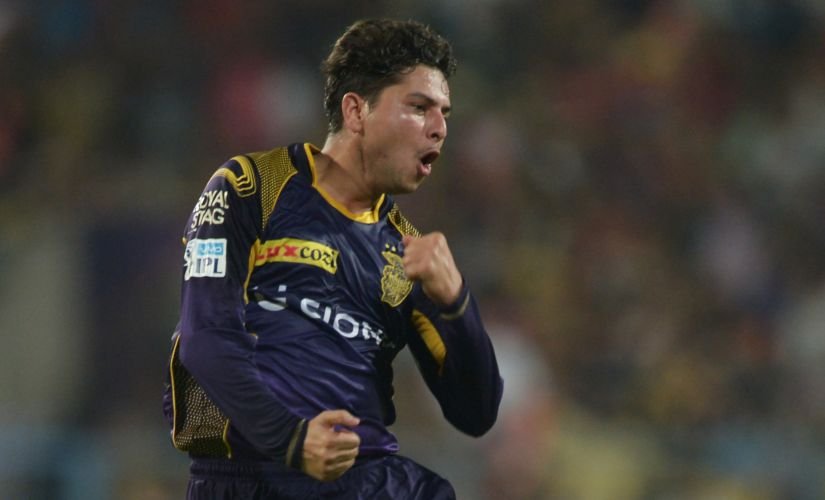 The big money IPL contract
Kuldeep well and truly shot into the limelight in 2014, when the team that loved a mystery spinner or two in their ranks — Kolkata Knight Riders, home of Sunil Narine, Ajantha Mendis, Brad Hogg to name a few — paid a whopping $66,000 for him in the IPL auction. 
A World Cup hat-trick
And then came the Under-19 World Cup where he became the first Indian to complete a hat-trick at that level. That match against Scotland once again proved that Kuldeep was a special talent. He finished the tournament with 14 wickets, the joint second-highest after a certain Kagiso Rabada. The performance seemed to justify why Kolkata Knight Riders' scouts had paid the big bucks for the youngster. He subsequently made his mark for KKR in the Champions League later that year.
First Class struggles & then a breakthrough Ranji Trophy campaign
It was not always an easy ride for Kuldeep however. Despite catching the eye in World Cup and making heads turn with his IPL contract, playing time for his state side Uttar Pradesh was limited. The more-experienced Piyush Chawla was preferred to him and in the 2015-16 season, Kuldeep hardly played, but he kept his focus on the longer format. 
"I had come back after having picked wickets playing for India A, but I would be dropped here. I felt like I was being ignored… I love Test cricket the best. I get a lot of enjoyment playing four-day cricket, and my bowling style suits four-day cricket because I flight the ball," Kuldeep had told ESPNCricinfo back then.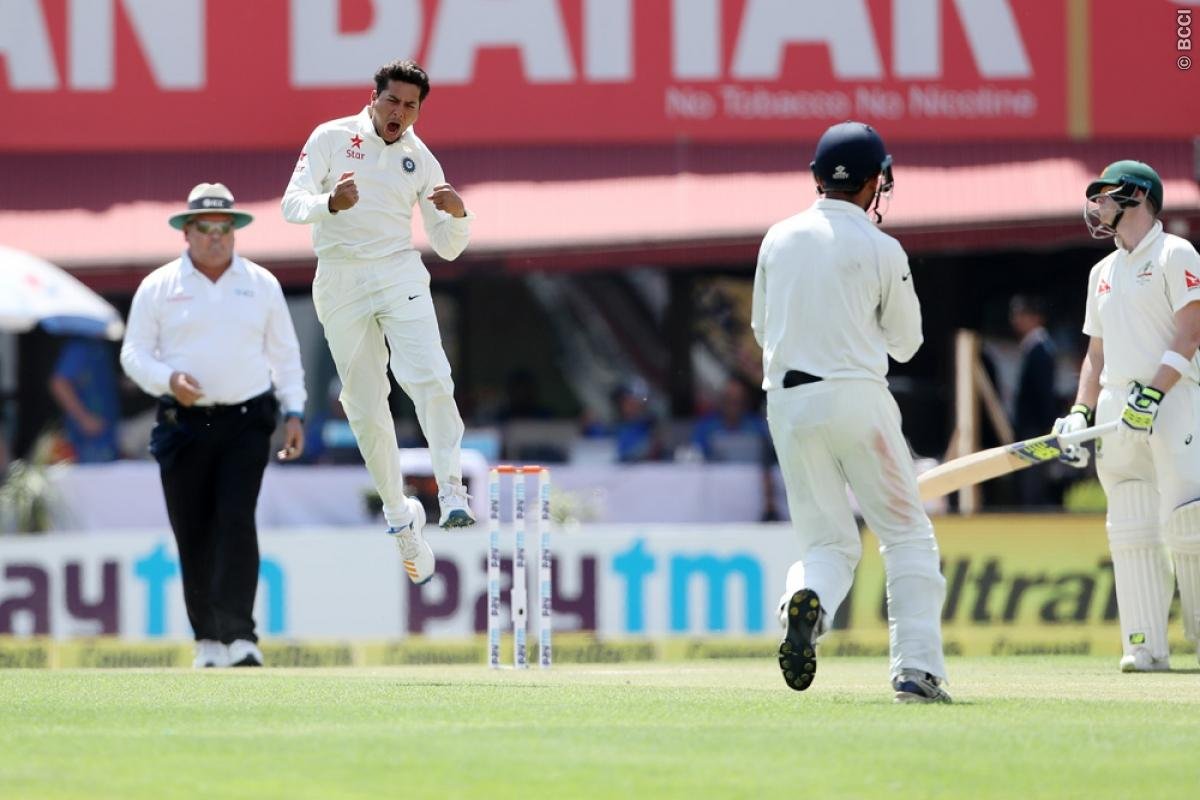 It was the latest edition of Ranji Trophy that established Kuldeep as a serious contender to play for India. With 35 wickets in the 8 matches he played, Kuldeep caught the eye of selectors once again and was rewarded with a call-up to the Rest of India squad and eventually, the Indian team for the one-off Test against Bangladesh.
He was once struggling to make his reputation count with performances — his fitness wasn't his biggest strength and he was seen as a bowler who was too slow in the air to make it big at the international level. Thus began a focussed effort to become fit and improve his pace — something which was evident in Dharamsala.
The dream India debut
The Test in Dharamsala was scheduled to begin at 0930 IST but the buzz around the match started much earlier, with reporters and fans trying to get any hint possible over Virat Kohli's injury. First, he came out for a warm-up — raising hopes of him leading the side. And then, a team huddle followed where it was initially thought Shreyas Iyer had been given the Test cap. News came in that Kohli had ruled himself out. But, as it turned out, the cap had been handed over to Kuldeep — replacing the biggest superstar of Indian cricket, to make his debut.
Kuldeep said after the match:
"My personal coach always told me that you will get lot of wickets when you play, so he was a bit upset that I was not being picked. I assured him that I will be getting my chance for sure because I had confidence after I bowled at the nets. Senior players like Virat bhai and coach Anil sir motivated me and told me that my chance would come."
And what a day in turned out to be for the youngster.