America's Bethanie Mattek-Sands suffered a horror knee injury at Wimbledon on Thursday which left her screaming and crying in pain in the middle of the court.
The 32-year-old collapsed to the ground after damaging her right knee as she approached the net in the first game of the deciding set against Romania's Sorana Cirstea on Court 17.
"Please help me, please, please," screamed the 32-year-old in scenes so distressing that television cameras panned away from the stricken player.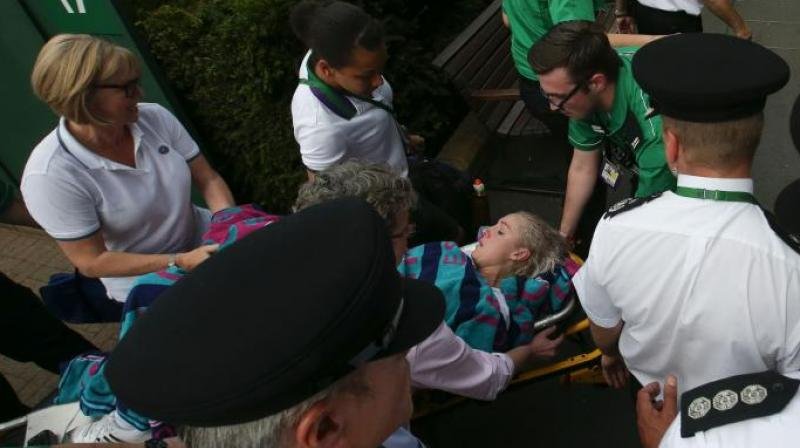 Cirstea said her friend's knee was "out… and in a very weird position".
"I freaked out. I have never seen such an injury before, the knee was really in a bad position. It was like something you see only in the movies," said Cirstea. "I tried to comfort her but I panicked. I felt useless. All she kept saying was 'Sorana, help me, help me."
"I wish I could have done more. You wouldn't wish that on your worst enemy."
Mattek-Sands's husband Justin tried to console his wife before medics arrived, while Cirstea was distraught and in tears.
After lying prone on the ground for around 20 minutes, Mattek-Sands was eventually stretchered away and taken to a west London hospital where she was said to have suffered "an acute knee injury".
Mattek-Sands's doubles partner, Lucie Safarova, with whom she shares the world number one ranking as well as four Grand Slam titles, also arrived at the scene in tears.
Cirstea, who had dropped the first set 4-6 but took the second 7-6 (7/4), was declared the winner of the second round match.
She questioned why it took the medical services so long to reach a court which is just a stone's throw away from the famed Centre Court.
'Everyone froze'
"I was screaming at the umpire. I told them to bring a stretcher because everyone froze, nobody reacted," said Cirstea who said only she, her physio and Justin Mattek-Sands initially raced to the player's assistance.
"She went into shock and it took so long for the medical team to arrive. It felt like forever.
"What if it was a heart attack? You should look at the video and time how long it took. I was there 10 to 15 minutes and the stretcher had still not arrived."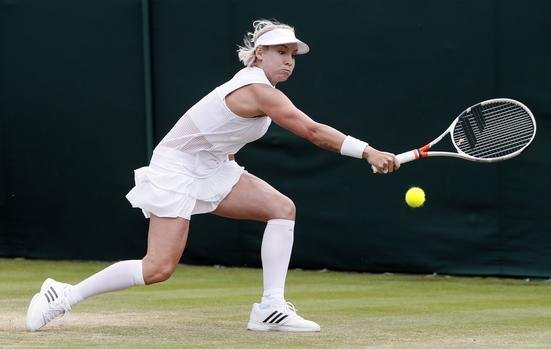 Safarova had to go and play her second round match just minutes after witnessing her close friend's turmoil.
She lost 6-7 (4/7), 6-4, 6-3 to Shelby Rogers but said that was irrelevant.
"It's been a tough day, just terrible what's happened. I am so sad for Bethanie," said Safarova who had been hoping to partner Mattek-Sands to the Wimbledon doubles title and complete the non-calendar Grand Slam.
"I have talked to Justin. She's having more tests but we don't know how long she will be in hospital.
"I will see when I can visit her. I will be there when she needs me."
The All England club defended its medical teams.
"The first response to Court 17 was within one minute, by a qualified ambulance technician," they said in a statement.
"The player was kept on court while pain relief was given.
"The player was then transferred directly to an ambulance and taken under emergency conditions to a hospital."
Messages of support poured in for Mattek-Sands, well known on the tour for her flamboyant fashion sense and friendly, easy-going nature.
Wimbledon courts are no stranger to injury controversies.
In 2013, Victoria Azarenka fell heavily, hurting her ankle and blamed the state of the courts.
Maria Sharapova said the surface on Court Two where she lost to Michelle Larcher de Brito was "dangerous" after she fell a number of times.
On Thursday, Alison Riske and Kristina Mladenovic had wanted to stop playing on Court 18 with the defeated Frenchwoman claiming there was a hole on the baseline.
Feature image: AFP