Moments that make history are not rare in the Gentlemen's Game. There are landmarks set, records made & broken and countless firsts & lasts. It's not just bat, ball, wickets, players and umpires. No, that's what cricket needs. But what cricket really is, is an emotion. An emotion that can leave you smiling or crying for there are extraordinary athletes creating unforgettable memories on the field. You really can't put a number on glorious moments. But we have managed to put together 100 (yes, that's a lot)! 
So sit back because this will take a while, and enjoy some of the greatest moments that the game has produced. 
1. The Little Master walks out to bat one final time.
Sachin Tendulkar in his final Test match, against the West Indies at the Wankhede, Mumbai.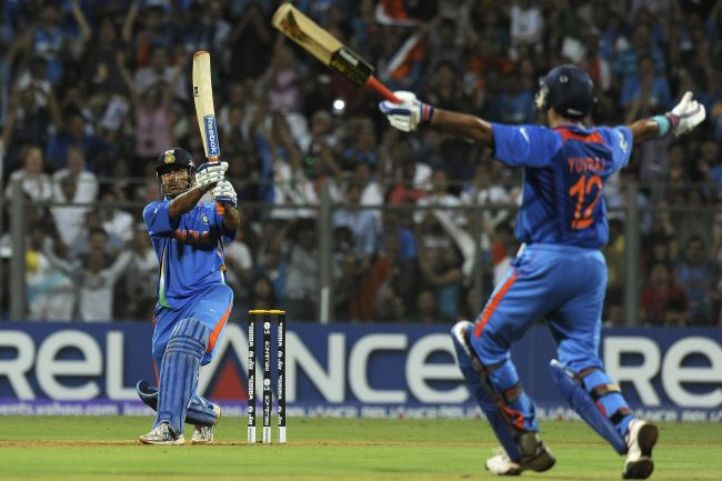 2. Anil Kumble's 10-wicket haul at Ferozshah Kotla.
Kumble took all 10 wickets in one innings against Pakistan, leading India to victory and setting a world record.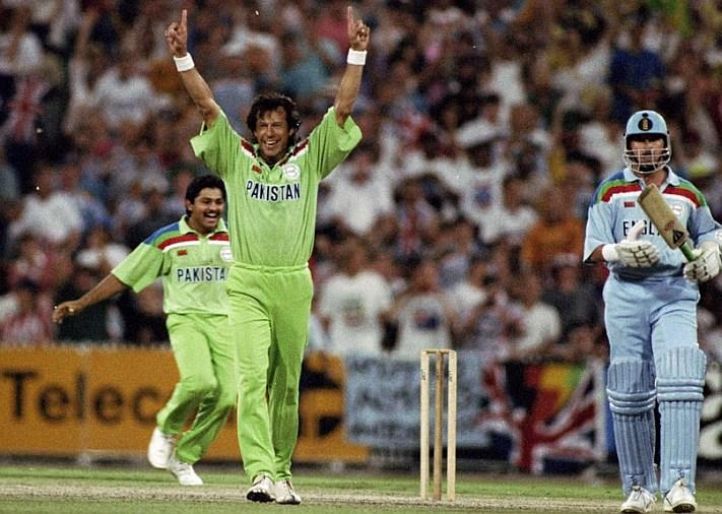 3. Dada gives a fitting reply to Flintoff after India beat England at Lord's in the Natwest final.
Flintoff had taken of his jersey in similar fashion 7 months ago after defeating India at the Wankhede, and Ganguly took the opportunity to repay the favour at Lord's as India chased down 326.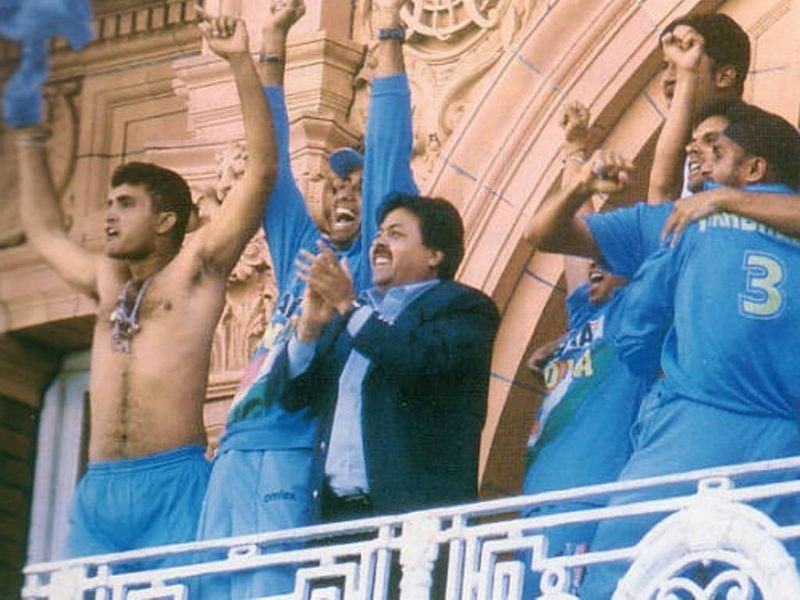 4. Yuvraj Singh's iconic sixth six off Stuart Broad in one over.
Yuvraj Singh hit 6 sixes in an over at the 2007 World T20 against England right after an argument with Andrew Flintoff.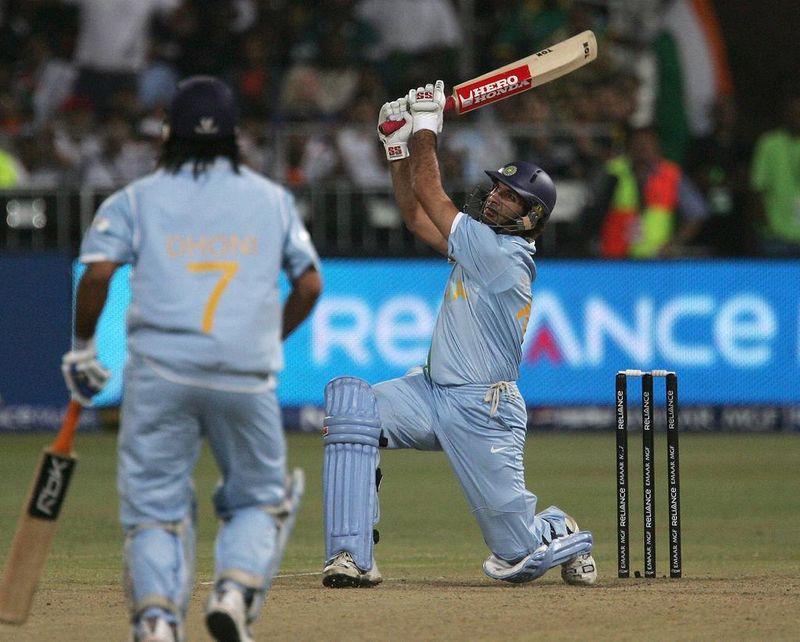 5. The moment India won its first World Cup in 1983.
After Jimmy Amarnath claimed the last West Indian wicket, the crowd rushed in.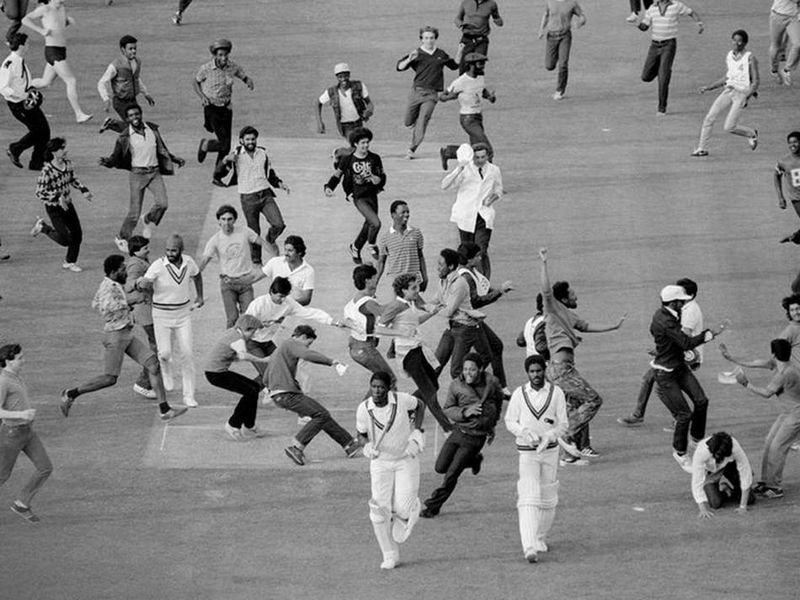 6. A selfie of cricketing greats at the MCCs bicentennial celebration.
Lord's had completed 200 years and a match was scheduled with 22 legends of the game. Sachin and Warne captained the teams.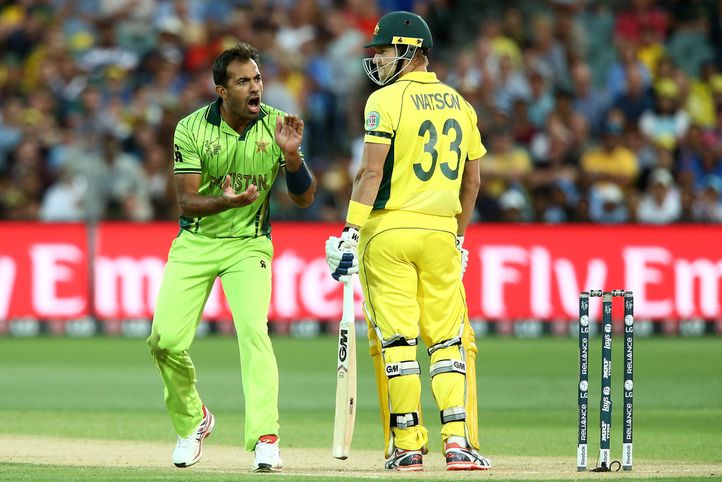 7. MS Dhoni hits the six that won India its 2nd ODI World Cup.
India defeated Sri Lanka in the final on April 2nd, 2011 and lifted the trophy for the second time in history.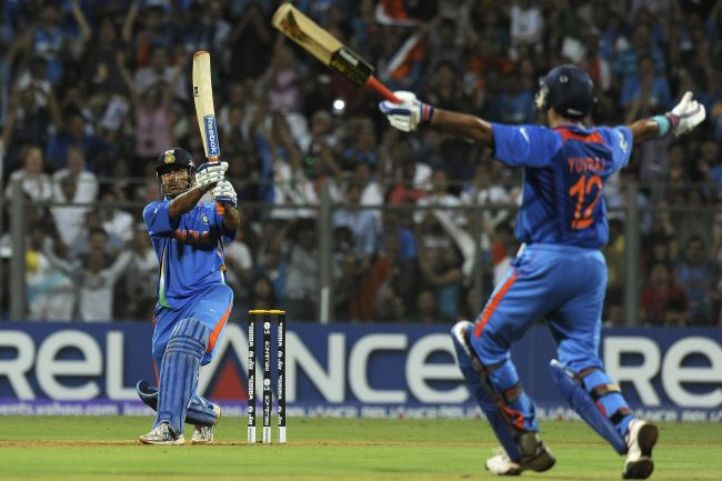 8. The day Australia put on a record-breaking total and the Proteas chased it down.
Australia put on a mammoth total of 434 but the real miracle happened when South Africa chased it down with 1 wicket and 1 over to spare.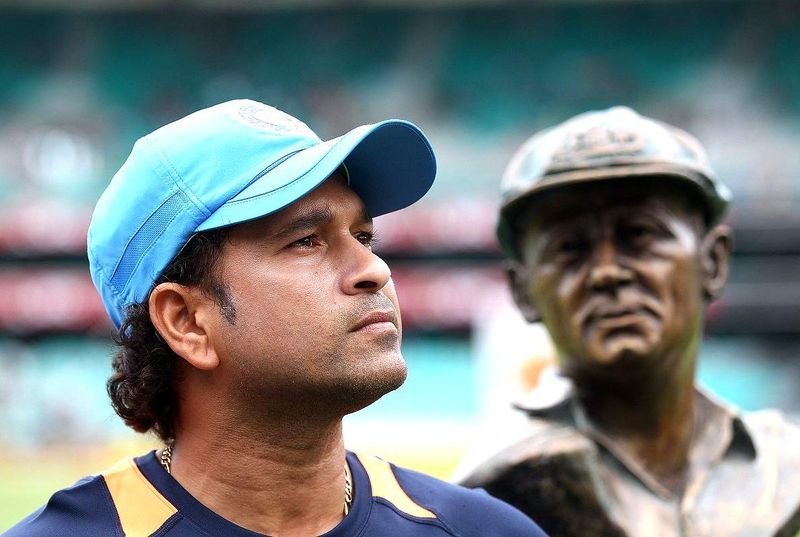 44. 

Bees attack the Ferozshah Kotla ground during a Test match between India and Australia.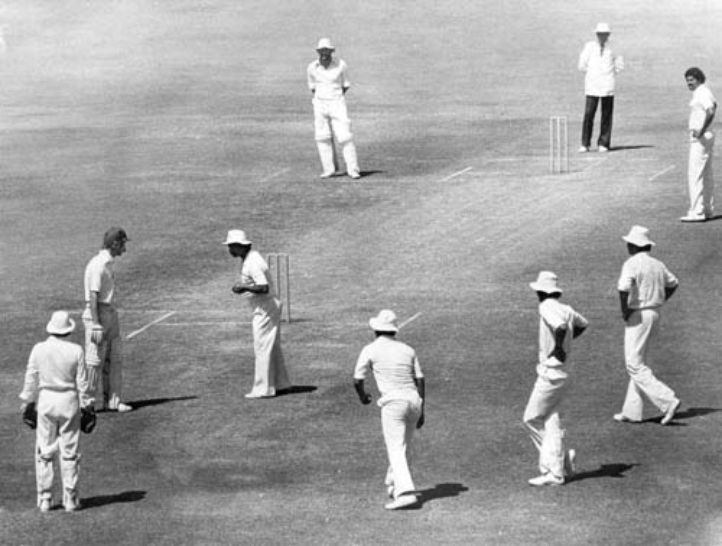 46. The beautiful Galle stadium in Sri Lanka wrecked after the tsumani hit.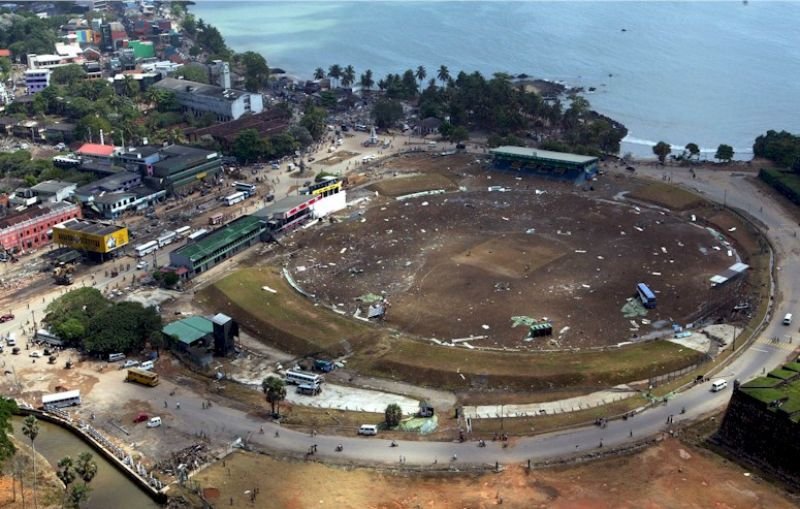 46. Imran Khan knows he has completed his destiny as Pakistan win the World Cup.
Imran Khan had come out of retirement to captain his side in 1988. It was destiny that the 39-year-old took the last wicket against England at the 1992 World Cup final, that eventually won him the cup on his 5th attempt.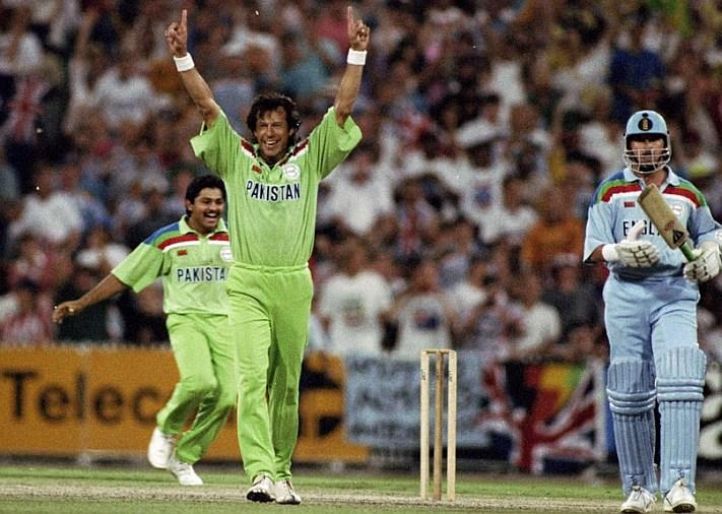 Source: defence.pk
47. Two of India's greatest Test batsman, Dravid & Laxman, during the mammoth partnership of 376 against Australia in Kolkata.
Asked to follow on, India staged an amazing comeback against the Aussies at the Eden Gardens in March, 2001.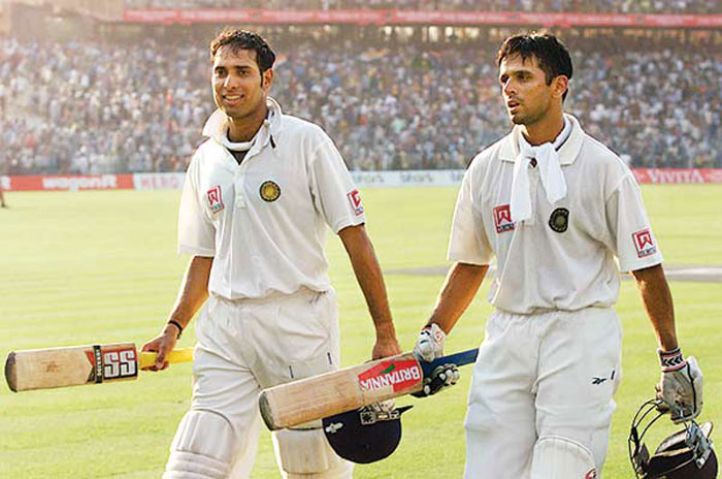 48. Javed Miandad hits a six off Chetan Sharma on the last ball to win against India circa 1986, Sharjah.
Pakistan needed 4 off 1 ball.
Source: cricketdawn
49. He also decided to jump like this to tease Kiran More, who appealed too many times.
This was a 1992 World Cup group match which India won.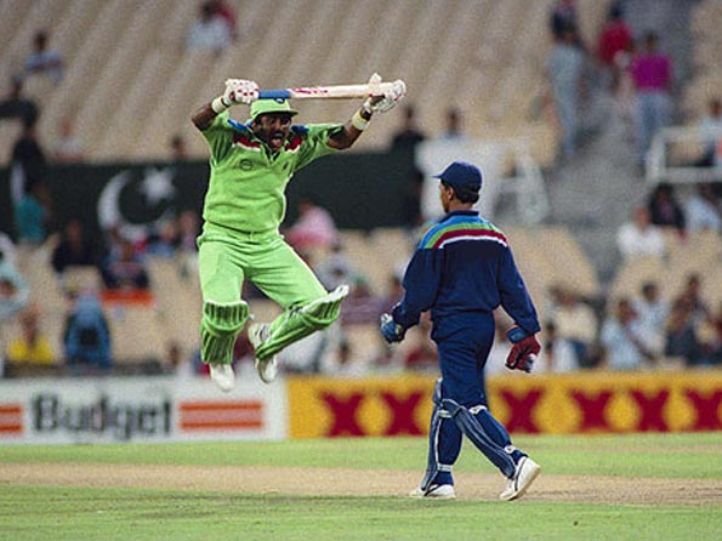 Source: cricketcountry
50. A shameful act: The Australian captain Bill Woodfull is hit directly over the heart in the Bodyline series, 1932-33.
The famous Bodyline strategy was adopted by English captain Douglas Jardine, asking his bowlers to hit vicious bouncers without any regard for the batsmen's safety. His main weapon, Harold Larwood, bowled this delivery and Jardine yelled, "Well bowled, Harold!" much to the disapproval of the crowd.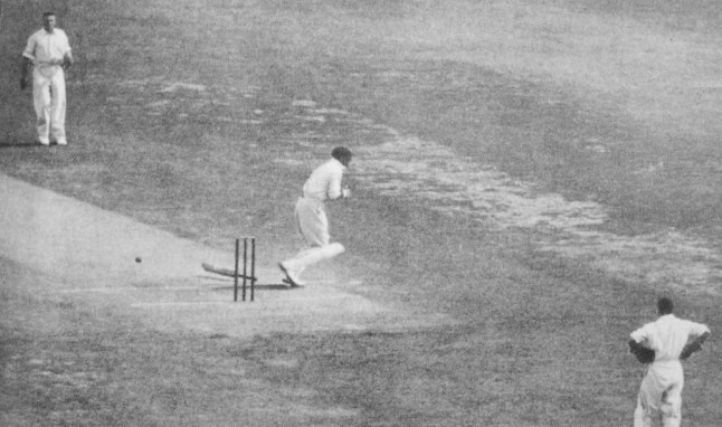 51. And the Australian keeper, Bert Oldfield, too was hit on the head and had a fractured skull.
These 'unsportsmanlike' acts were termed as Premeditated Brutality. The English were scared of the talented young Donald Bradman. This was what they had to resort to. MCC later discontinued the practice.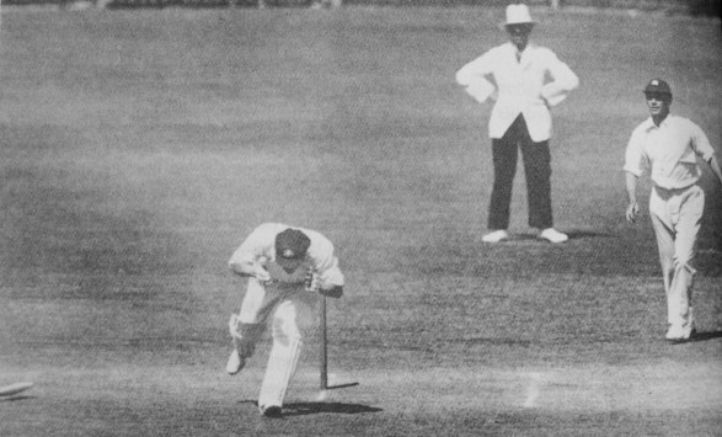 Source: dangermouse
52. Gundappa Vishwanath calls back Bob Taylor even after he was given out.
Vishwanath simply walked up to Bob and asked if he had nicked the ball that had him caught behind. He denied having touched it and the Indian skipper asked the umpire to reverse his decision.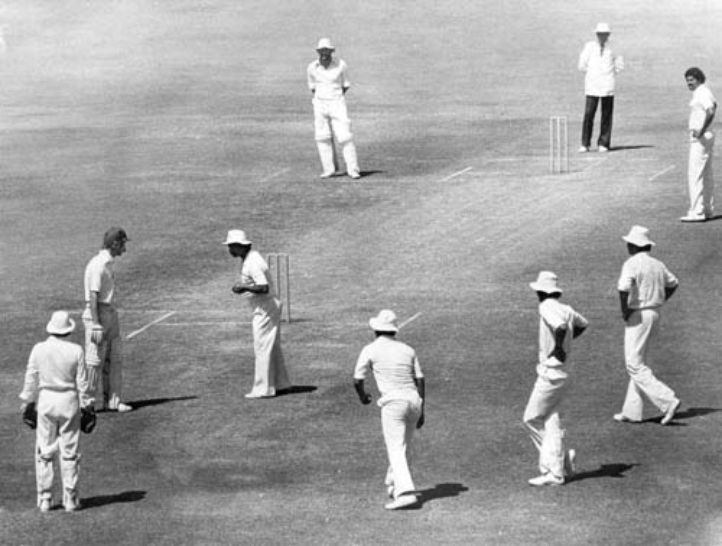 53. Grant Elliot lends a hand to Dale Steyn after hitting his delivery for the winning six in the 2015 World Cup semi-final.
South Africa were knocked out of the World Cup and Steyn's fall to the ground was testament to that. Elliot's gesture proved that he too respected the Proteas for their effort.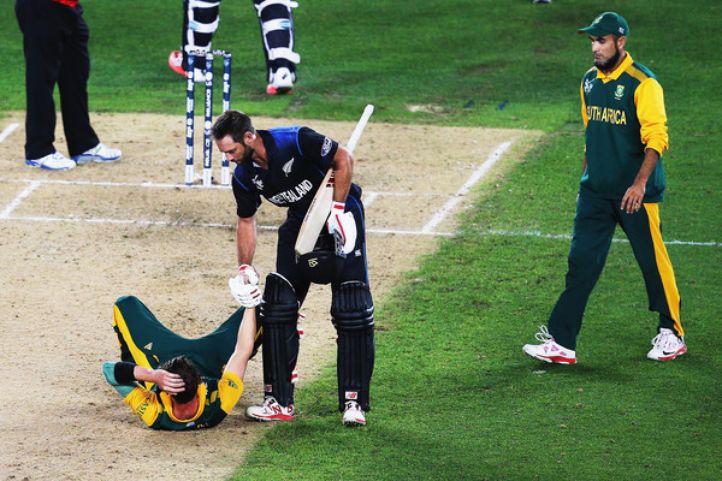 54. Chris Gayle scores the first double century in World Cup history, in 2015.
Chris Gayle scored 215 off 147 balls against Zimbabwe to become the then only player to score a double century in World Cup history.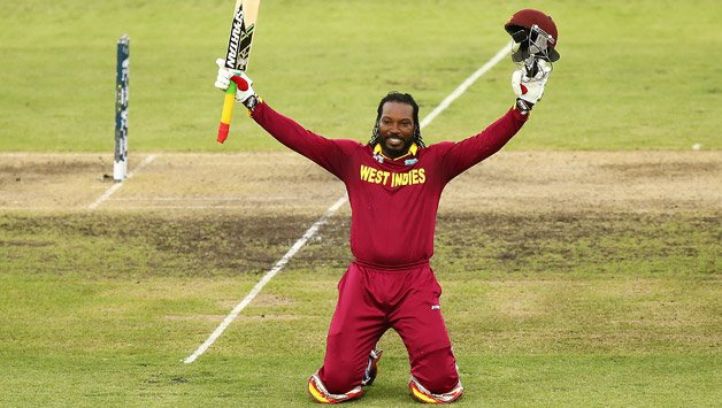 55. And later his record was broken by New Zealand batsman Martin Guptill who scored 237 against Gayle's men.
The Kiwi scored 237* off 163 balls against the Windies in 2015 WC. It is also the highest score in World Cups.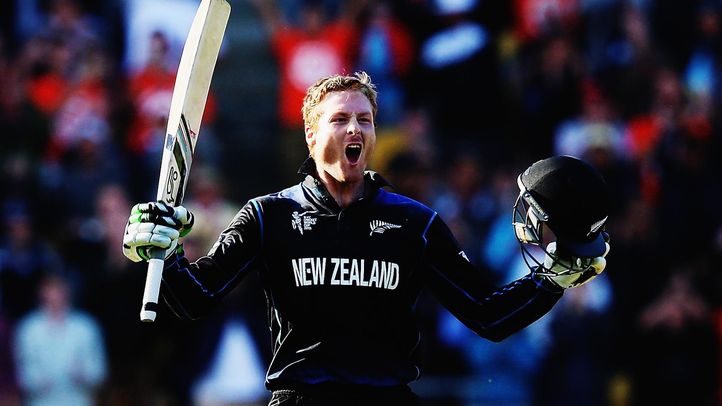 56. Wahab Riaz gets revenge on Shane Watson, in the 2015 World Cup quarterfinal, after being harassed by the Australian bowlers during Pakistan's innings.
Riaz was asked by Shane Watson while batting, "Are you holding a bat?" and 90 minutes later Riaz bullied him like a little kid. It was one of the best bowling performances in the World Cup.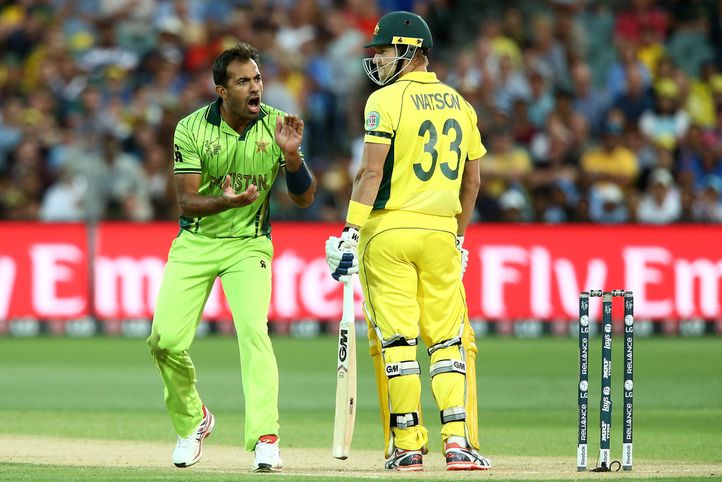 57. Daniel Vettori proves that age has nothing to do with commitment as he pulls off this amazing catch.
The 36-year-old Kiwi defied gravity as he caught Marlon Samuels right at the boundary.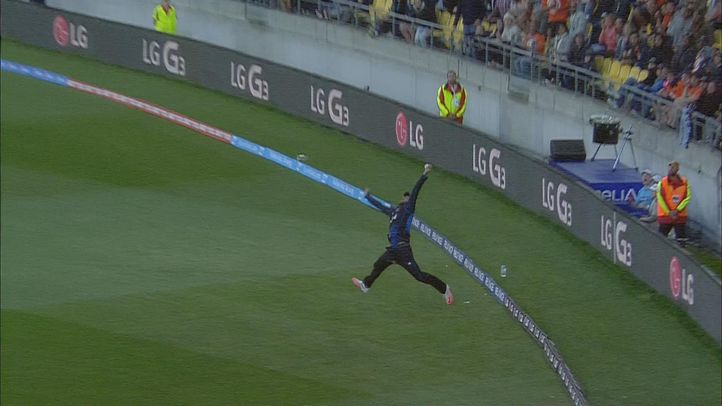 58. Ronnie Irani has fun with the crowd as they copy his warm up style.
England knew the game was already lost. So Irani decided to have some fun and the Australian supporters joined in. A lighthearted yet unforgettable moment of how cricket is also about having fun on the field.
59. Glenn McGrath bowls an underarm delivery in the very 1st T20 International match.
McGrath decided to have some fun and bowled an underarm delivery to Kiwi batsman Kyle Mills, reminiscent of the infamous delivery by Trevor Chappell several years ago.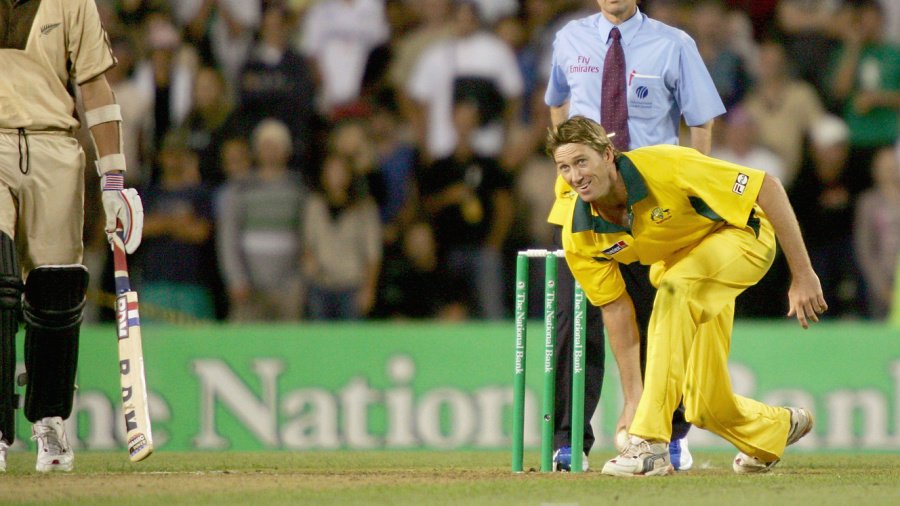 60. And he is shown a red card by umpire Billy Bowden.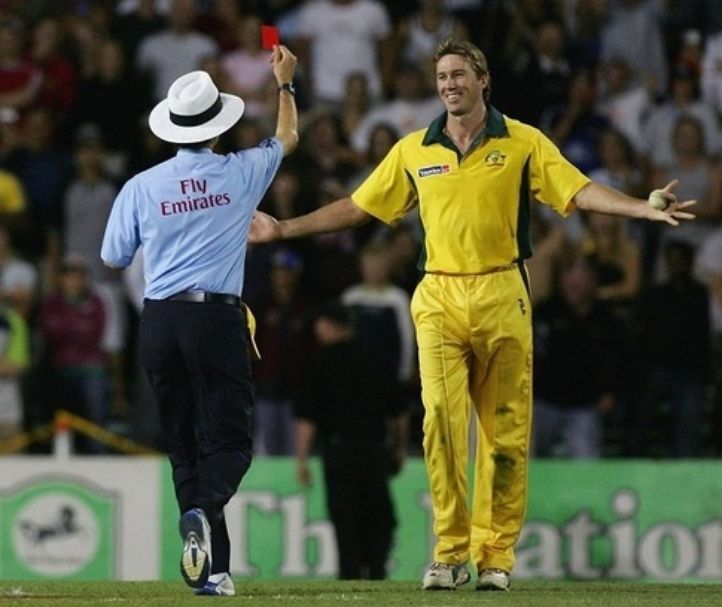 60. Mark Taylor poses in front of the scorecard that reads his score of 334, after which he declared the innings, deciding to not surpass Sir Don Bradman's record of the same score, out of respect for the legend.
The ultimate show of respect, Aussie captain Mark Taylor decided to declare the innings versus Pakistan, in Peshawar.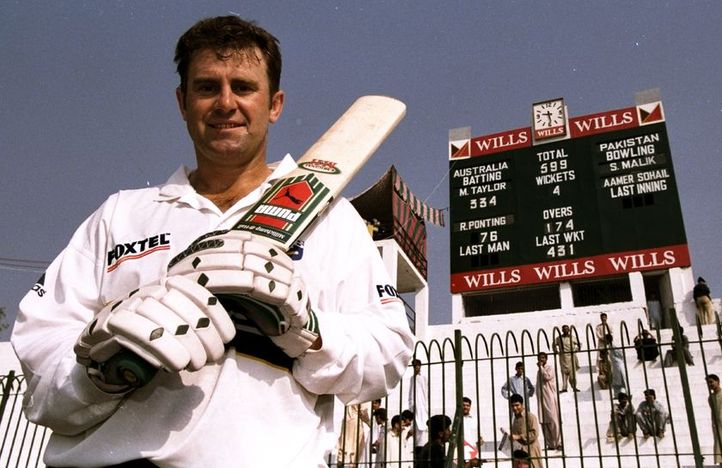 62. Sachin Tendulkar raises his bat after scoring the first double century in ODI history.
24th Feb, 2010, the Little Master showed the mortals why he is considered god. He scored the 1st double century in ODI history & remained not out on 200 off 147 balls vs South Africa.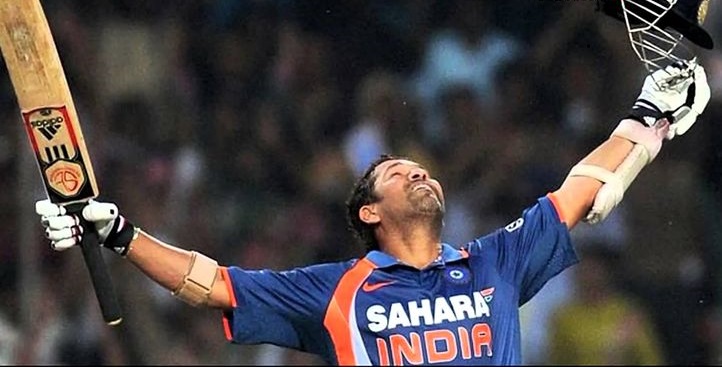 63. Kumar Sangakkara walks off the field one last time after Lanka's stint at the 2015 World Cup ended.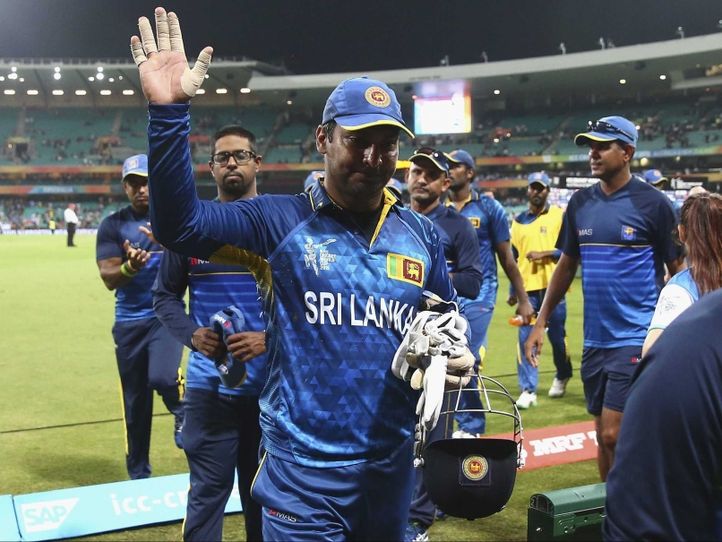 64. The first tied test in history, Dec 14, 1960: The West Indians celebrate as the Australian batsman is run out on the 2nd last ball of the day.
Ian Meckiff is run out with only 2 balls to spare and Test cricket had its first ever tie.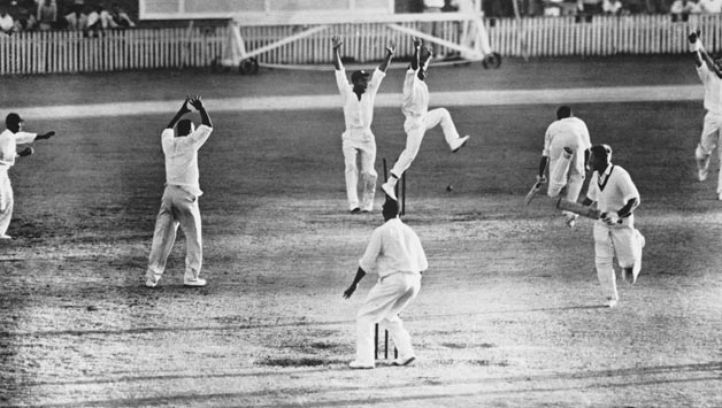 65. The English team that won the Test match against Australia by a record 675 runs at Brisbane in 1928.
The team walks in with an air of confidence and proved it in the end. It is still the largest victory margin in the history of cricket.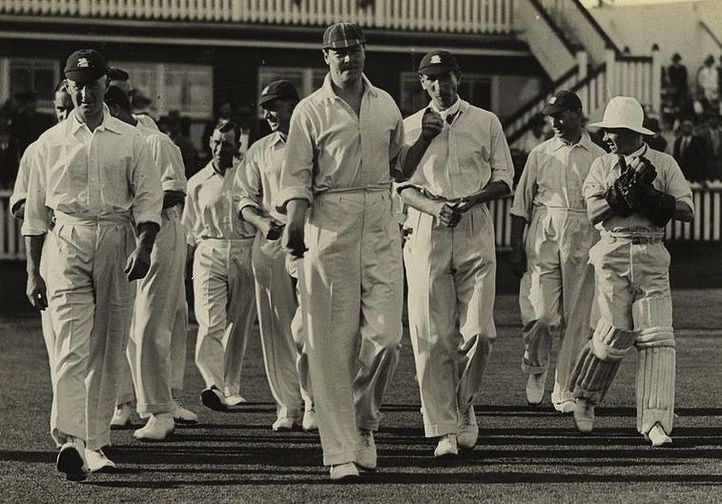 66. Danesh Ramdin's controversial response to Sir Viv Richard's criticism of him.
Though he was fined for this act, he chose to point this sign towards the commentary box as he was criticised before the series by Vivian Richards about his form. He scored a century and put up this sign in response.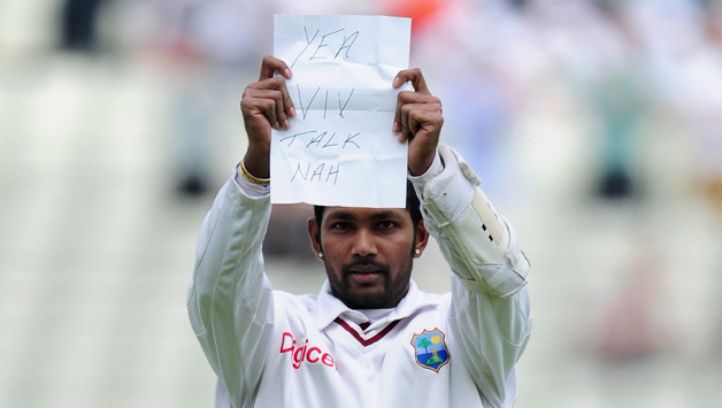 66. Pakistan captain Misbah glances at the bats and caps laid out as a tribute to Phil Hughes.
The picture is worth a thousand words. It proves how sports can transcend all boundaries. Teams and countries around the world followed the #putoutyourbat tribute for the Aussie batsman.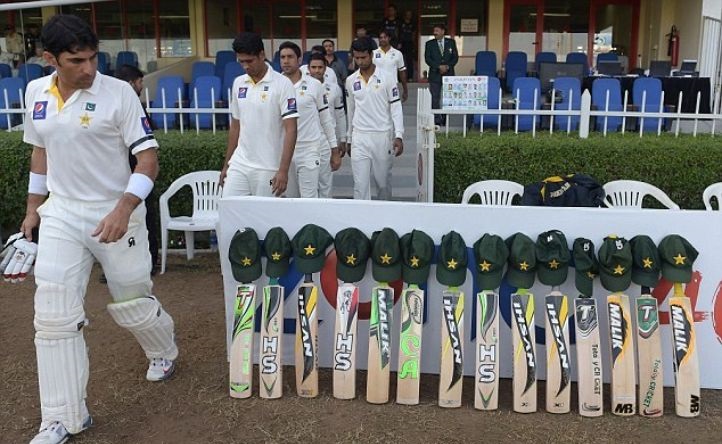 67. Muttiah Muralitharan takes his 800th wicket on the final day of his career.
India were 9 wickets down and Muralitharan was on 799 wickets, bowling in his last match. He dismissed Pragyan Ojha and the stadium erupted.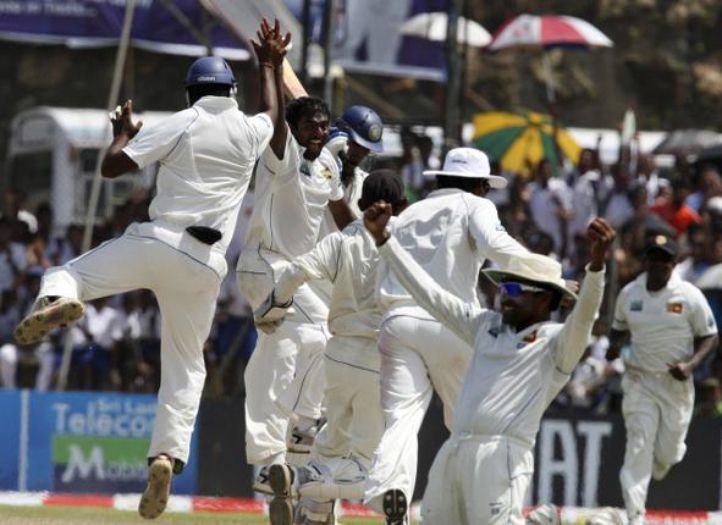 68. Gary Kirsten being lifted on the shoulders by the Men In Blue for being the man behind India's World Cup success.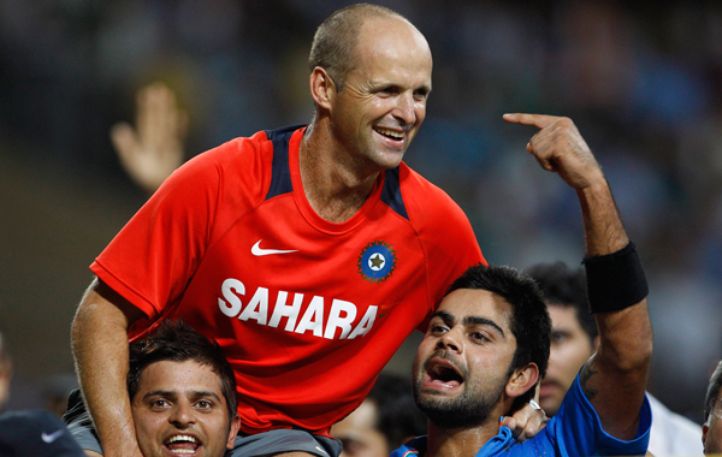 69. Indian players celebrate while Misbah-ul-Haq falls to his knees as India win the inaugural T20 World Cup in 2007.
Misbah scooped the ball to short fine leg and India defeated Pakistan by just 5 runs. Misbah's valiant effort to clinch victory from the jaws of defeat went unrewarded. A final to be remembered for ages to come.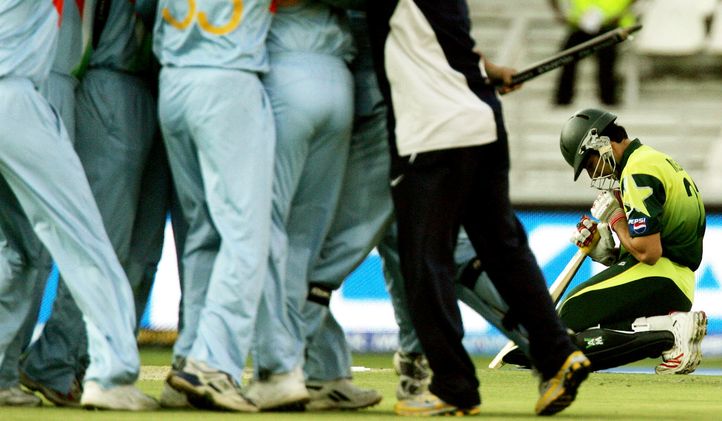 70. Michael Holding kicks the stumps after he thought the umpire was being unfair.
In 1979-80, the West Indies were touring New Zealand and Michael Holding lost his cool after Kiwi batsmen John Parker was given not out even though he was already heading for the pavilion.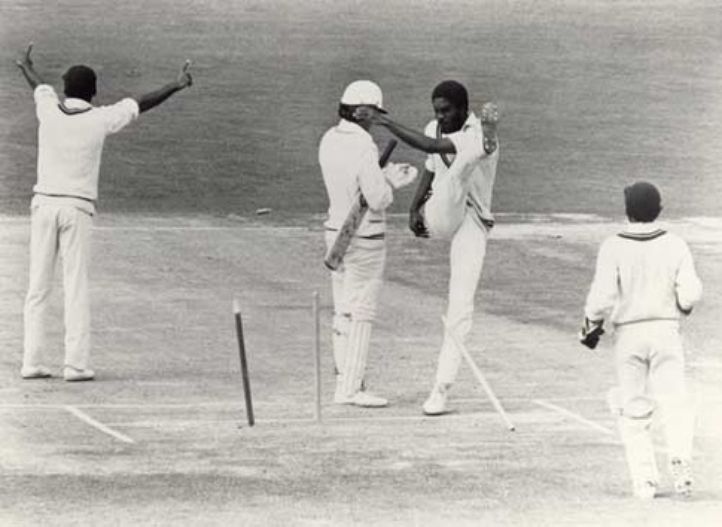 71. Misbah Ul-Haq and Younis Khan embrace one last time on the cricket field. 
They both retired after this game. Between them, the duo played 193 matches for Pakistan. Two of the best Pakistan has ever produced.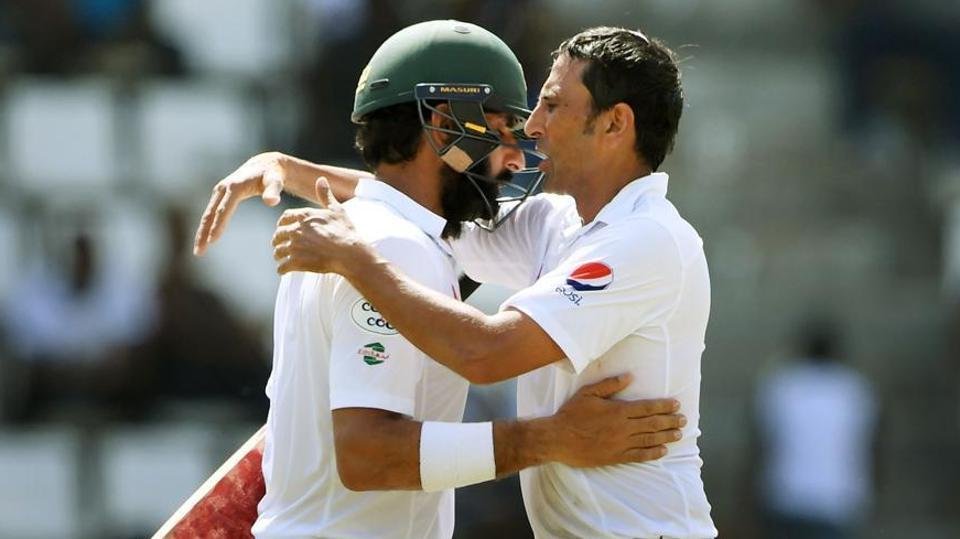 72. A rare case of pitch vandalism which caused the Test between England and Australia to be abandoned.
George Davis was a former armed robber from the UK who was convicted wrongly according to his friends and family. They protested for his release and the sport suffered for that too.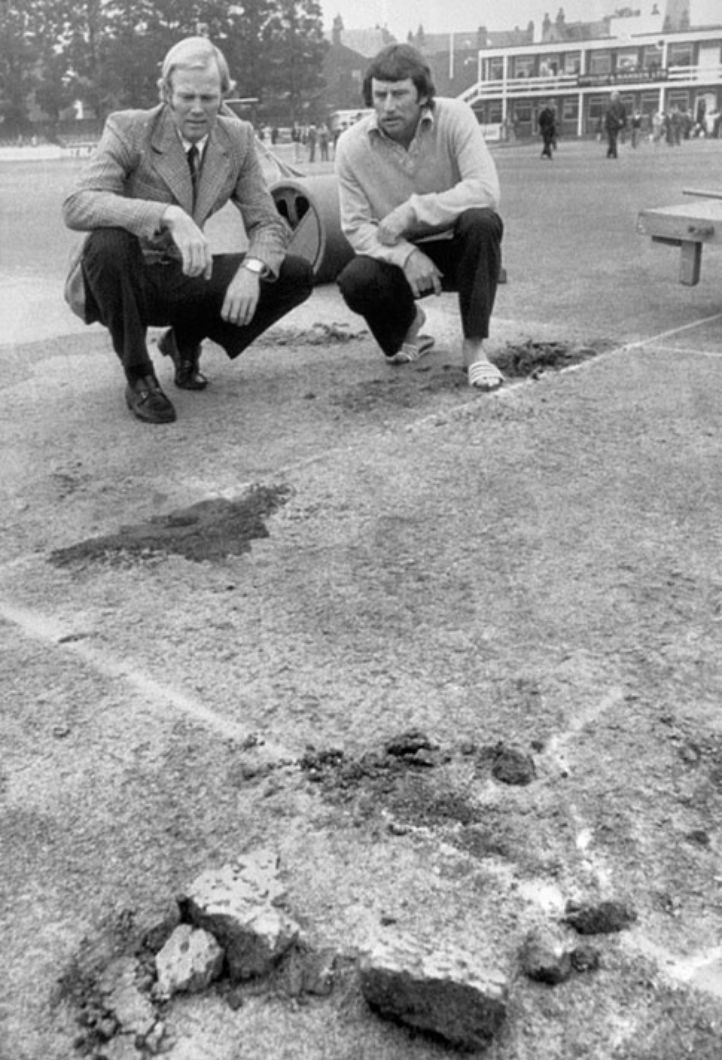 73. The famous scorecard that shows how Rahul Dravid survived through the innings.
And he justifies why some walls are impenetrable.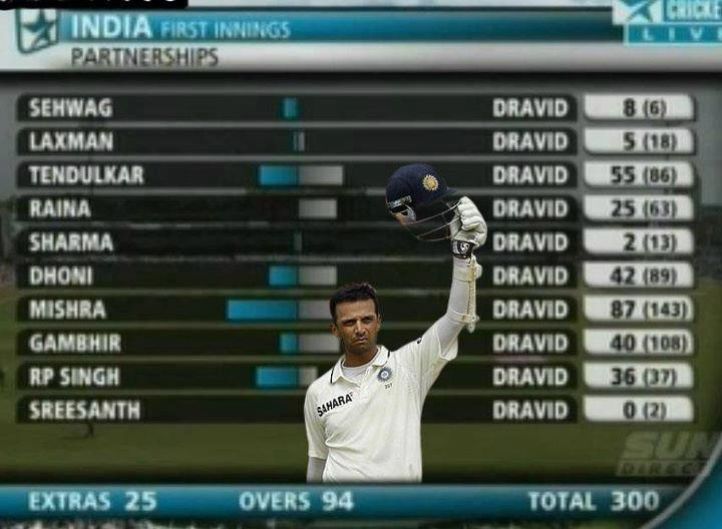 74. Carlos Brathwaite celebrates after winning the T20 World Cup for the Windies with 4 sixes in the last over.
They needed 19 off the last over, he hit 4 sixes to finish it off.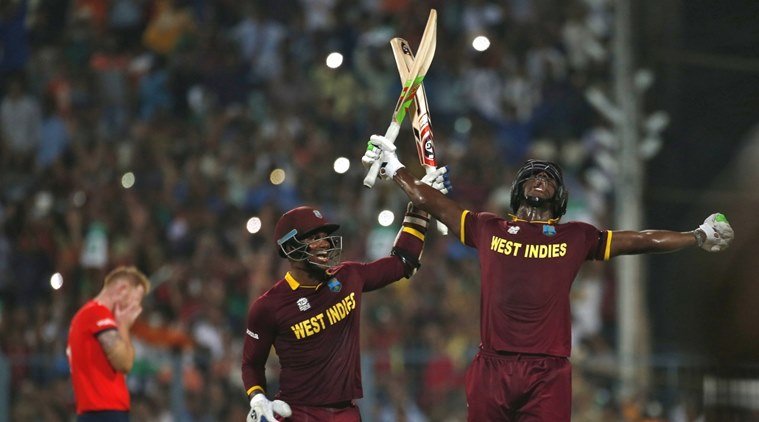 He scored 82 off just 51 balls in what is one of the best knocks in World T20 history.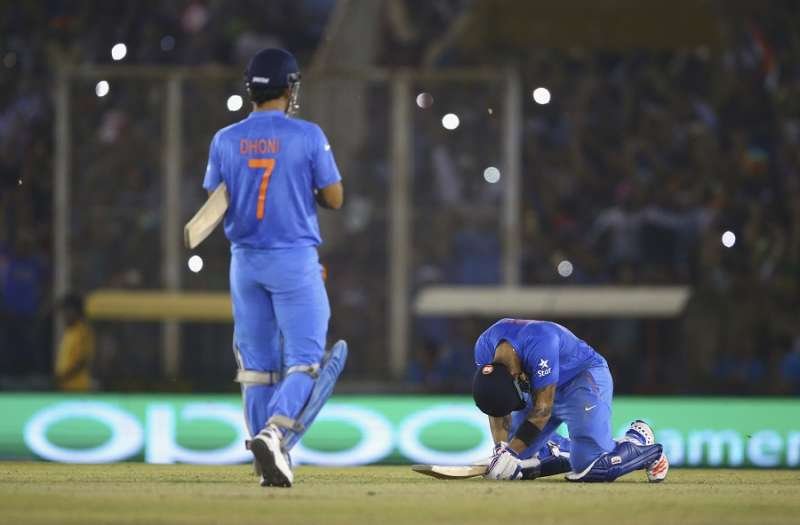 76. India celebrate after reaching top spot in the ICC Test rankings.
It came after a 3-0 victory in a Test series against New Zealand.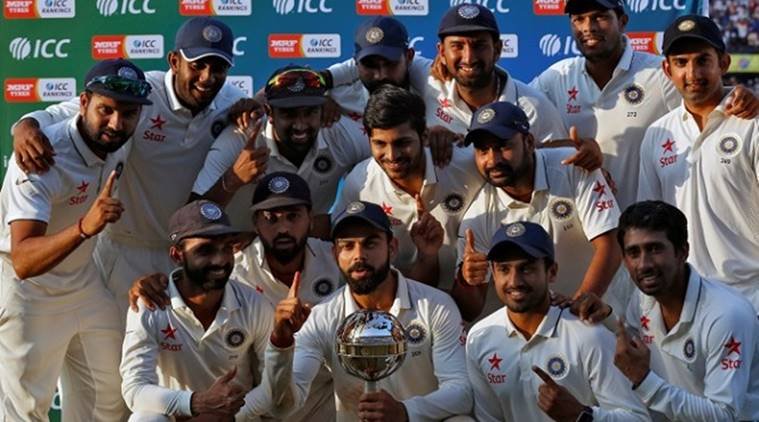 77. Virat Kohli celebrates after scoring his first double century in Tests.
It came against the West Indies, in the West Indies.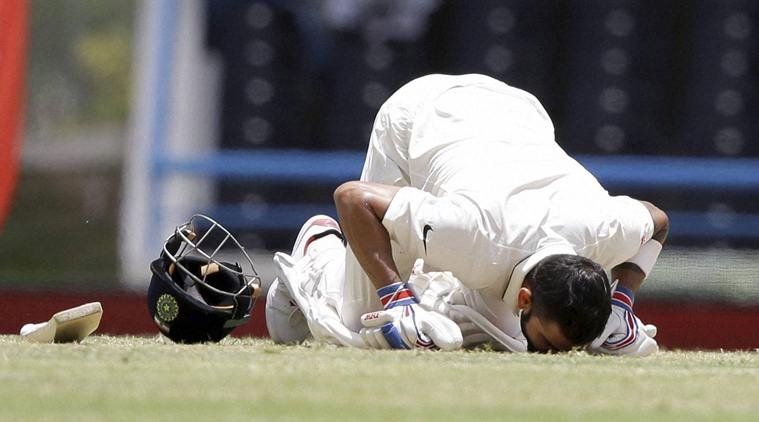 Bangladesh needed 2 to win off the last ball. Dhoni had anticipated that the batsman will miss the ball so he already had one glove off. India won by a run.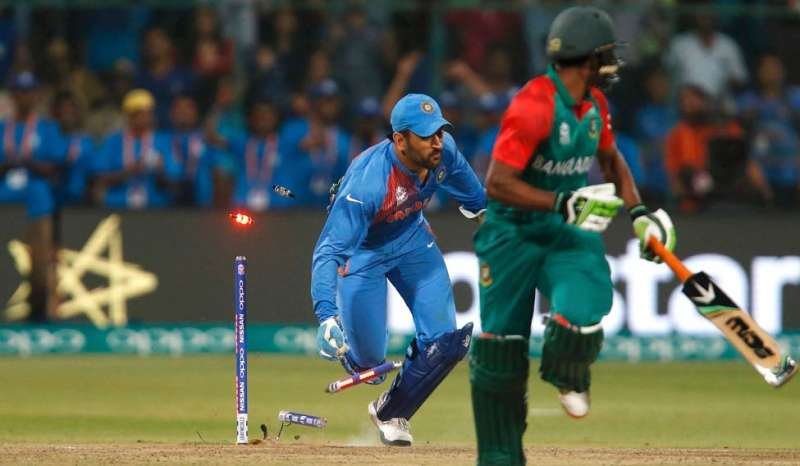 79. Misabh ul Haq, then 42, does push ups after scoring a ton in his first game at Lord's. He dedicated it to the men of the Pakistan army.
"That was my promise to the army guys. We did a camp in Abbottabad and we used to do an honour code every time, we just stepped into the ground and did ten push-ups. And I promised them, if ever I score a hundred, I will definitely do that to remind you that we were there," he said.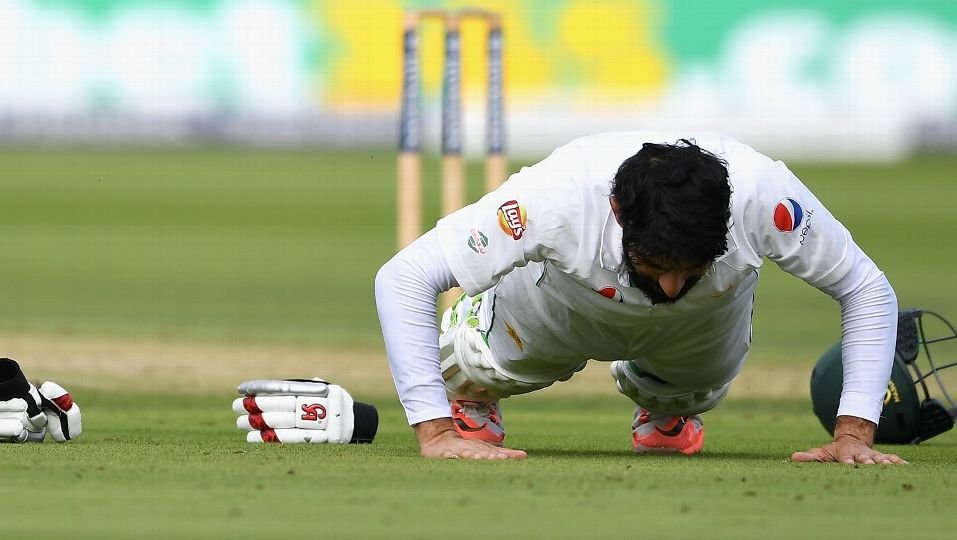 80. Zimbabwe players celebrate thrashing England 3-0 at home in 1997. A rare occasion. 
Shortly after this, Zimbabwean cricket took a turn for the worse after political turmoil in the country and over 15 players went on strike. It was never the same again.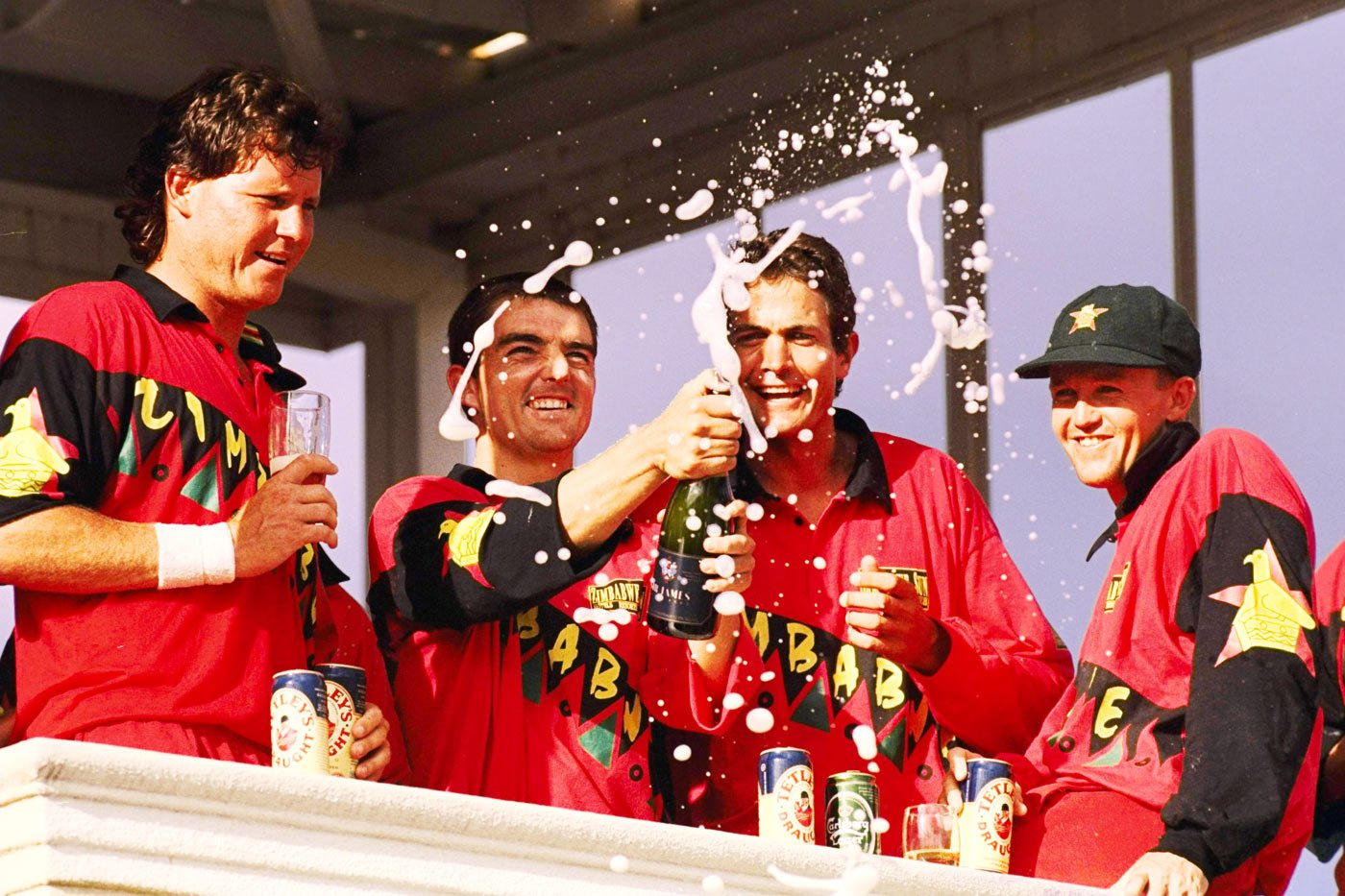 81. Ajit Wadekar waves to the crowd after he becomes the 1st Indian captain to win a series abroad, in England, in 1971.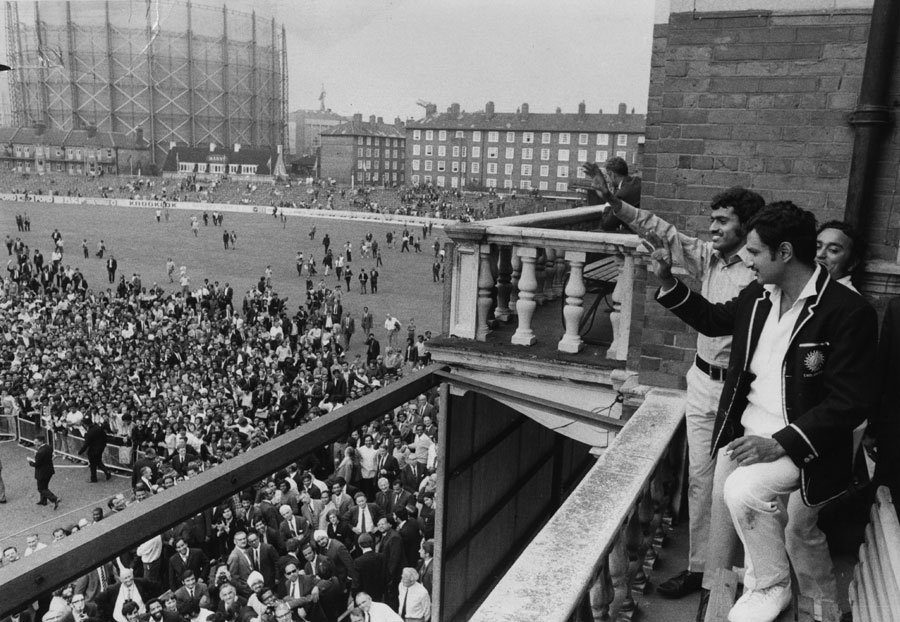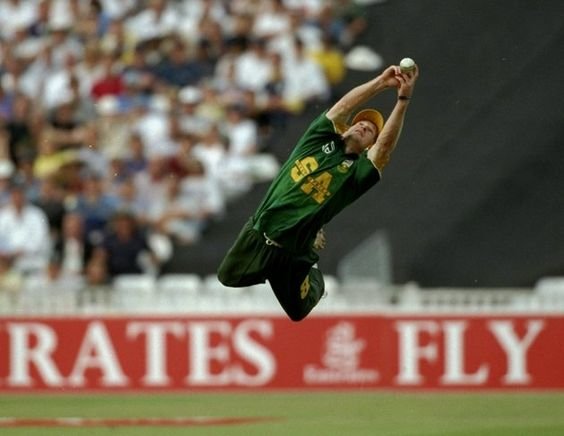 83. Wriddhiman Saha grabs a ball stuck between Steve Smith's legs and appeals.
'It went down' as one of the funniest moments in cricket.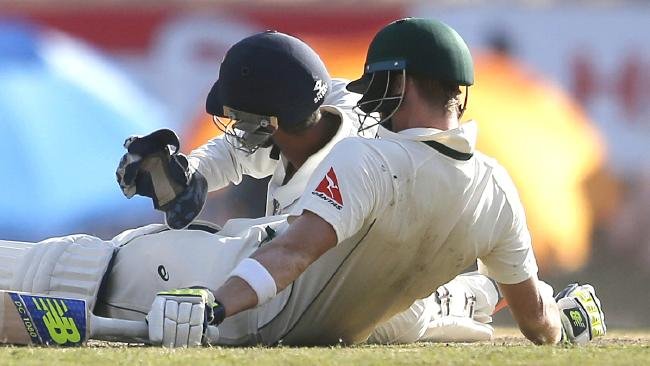 84. Dwayne Bravo does his famous 'Champion' dance with Chris Gayle during the 2016 World T20.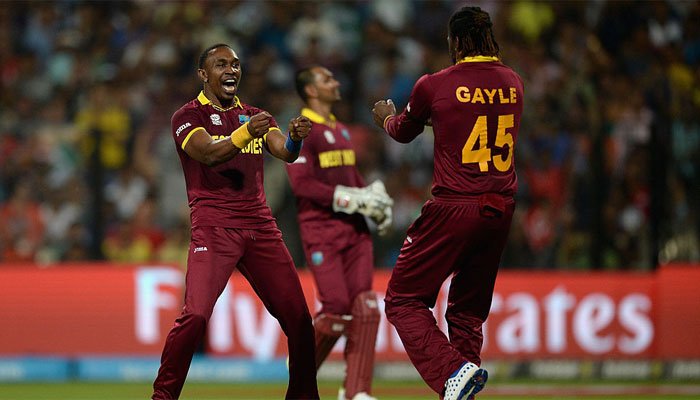 85. Amitabh Bachchan sings the national anthem at Eden Gardens before the India-Pakistan match at the 2016 World T20.
The entire stadium sang along in what is a moment bound to give every Indian goosebumps.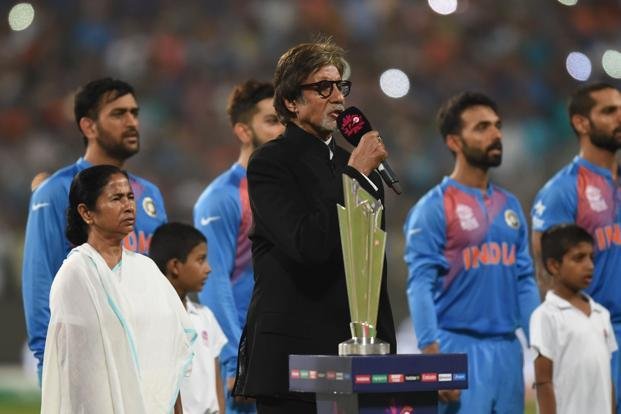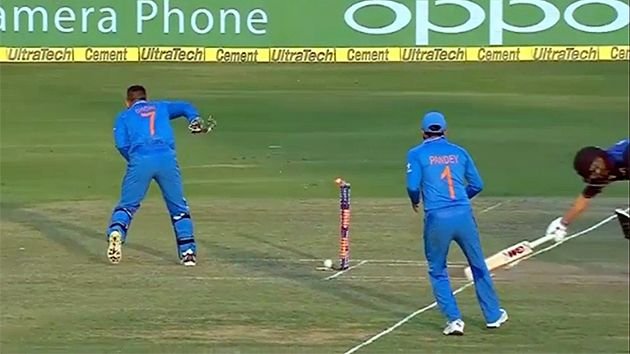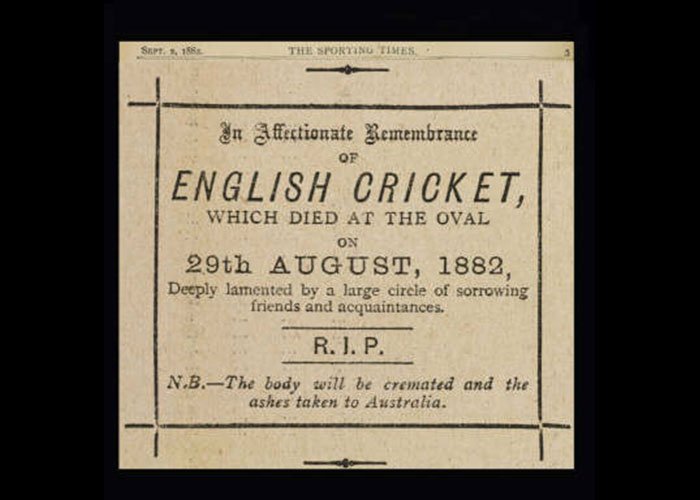 88. Karun Nair celebrates his triple century, becomes the first Indian to convert his maiden century into a triple ton.
He scored 303* as India declared at 759-7 against England.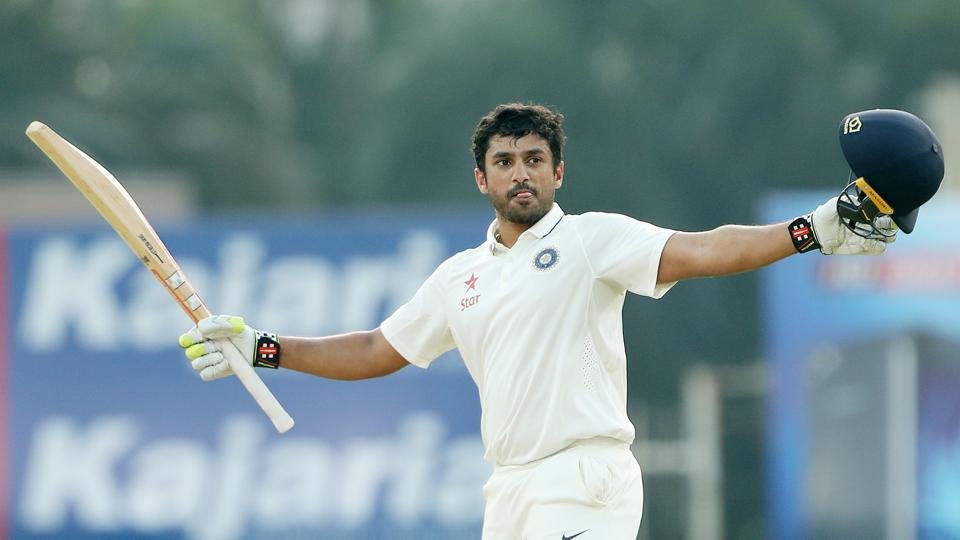 89. Sri Lankan captain Arjuna Ranatunga argues with umpire Ross Emerson who had called Muralitharan for chucking, even though he was cleared earlier.
Ranatunga was furious and wanted to forfeit the game. They left the field, but came back.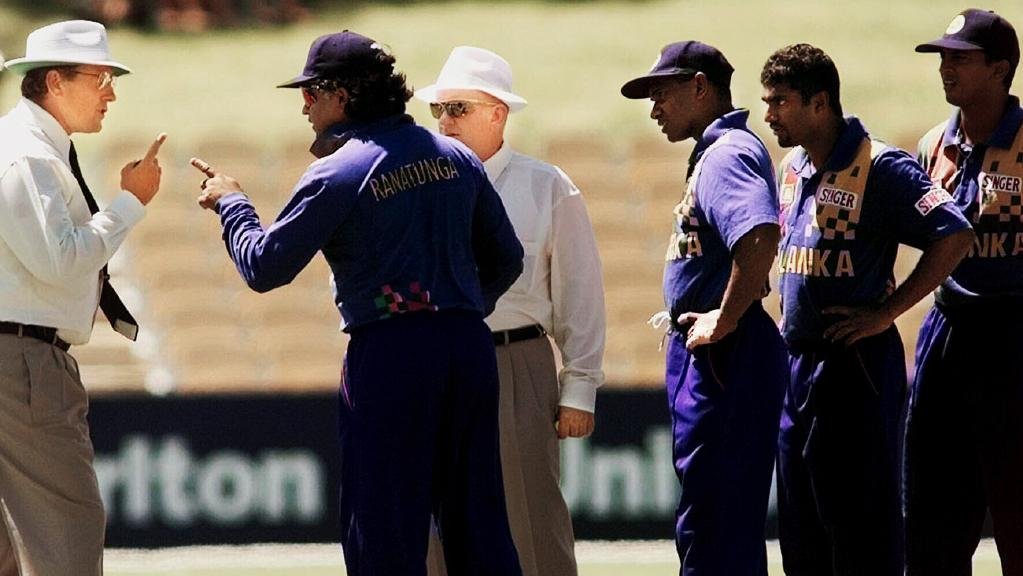 90. Otherwise seen as an aggressive leader on the pitch, Ricky Ponting enjoys a light-hearted moment with his daughter.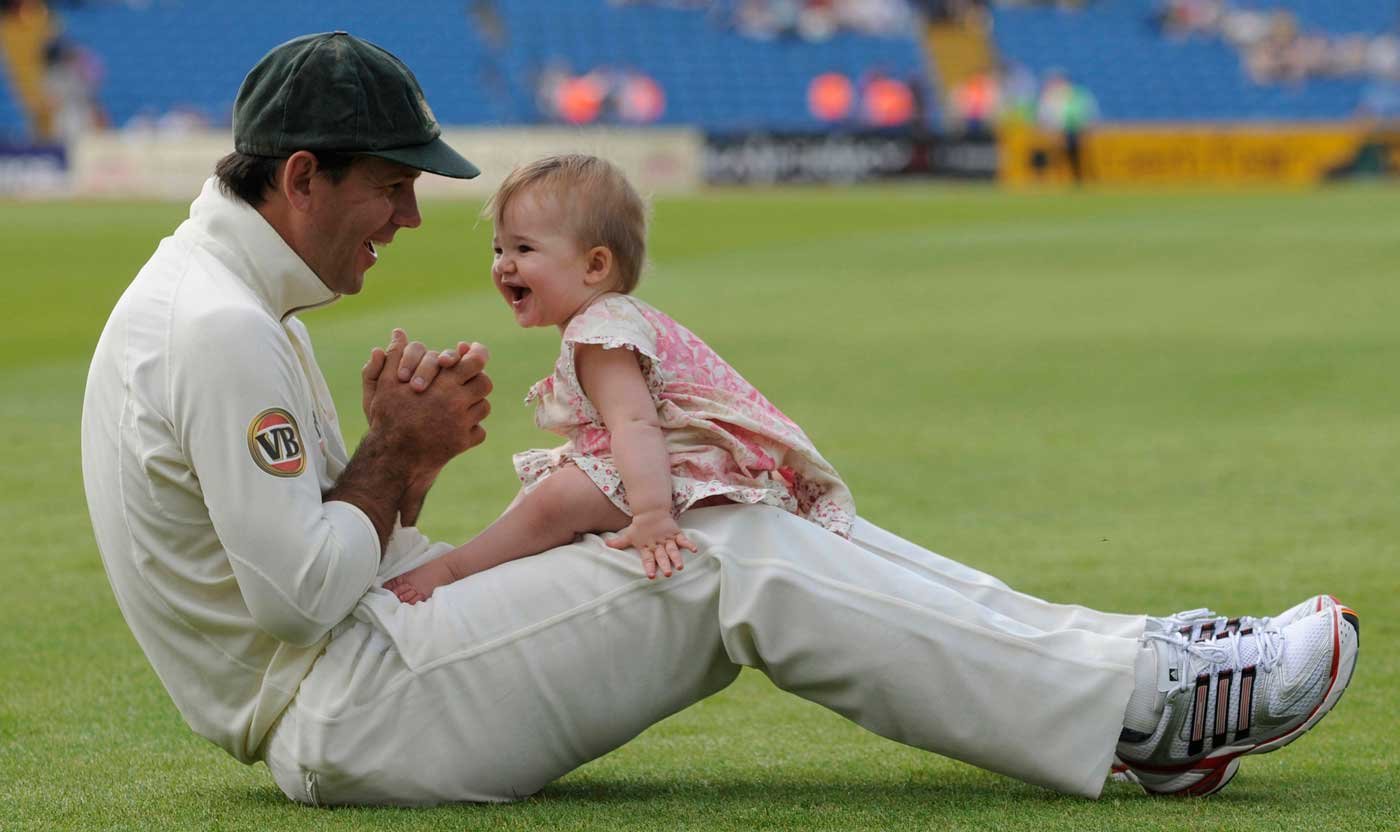 91. Shane Warne bowls the 'Ball of the Century', that spun from outside leg to clip the off-stump. Mike Gatting was left stunned.
It was Warne's first delivery in Test cricket.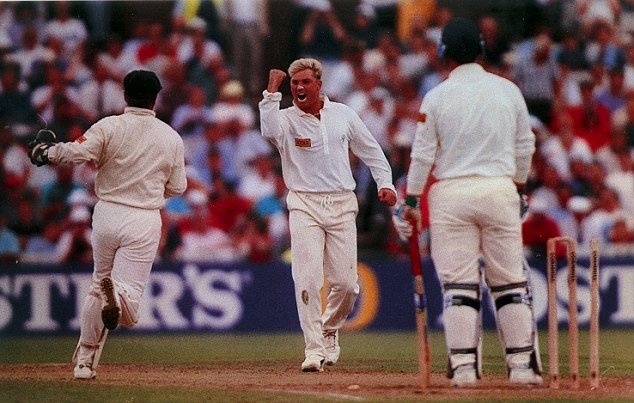 92. The Indian team gives a guard of honour to Jacques Kallis in December, 2013, during his last Test, at Durban.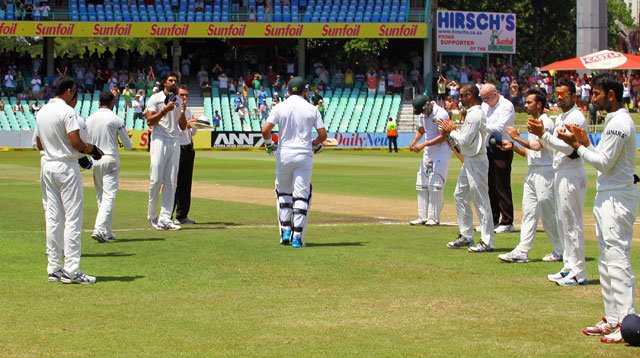 93. Virat Kohli presents Mohd Amir with his bat before the much-awaited India-Pakistan match at Eden Gardens during the 2016 World T20.
Amir had made a comeback after a long term suspension from the game due to match fixing.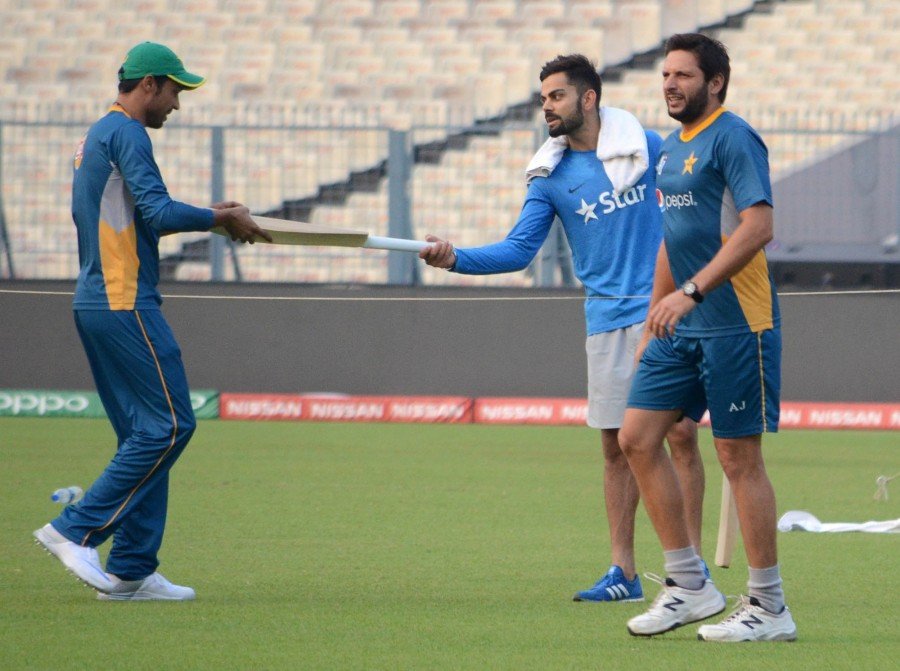 94. The first Indian Test cricket team, circa 1932.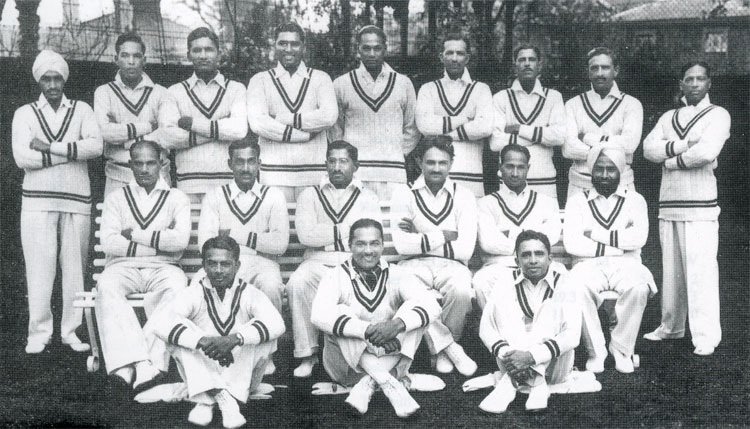 95. The England team does the sprinkler dance after regaining the Ashes after a long wait of 24 years.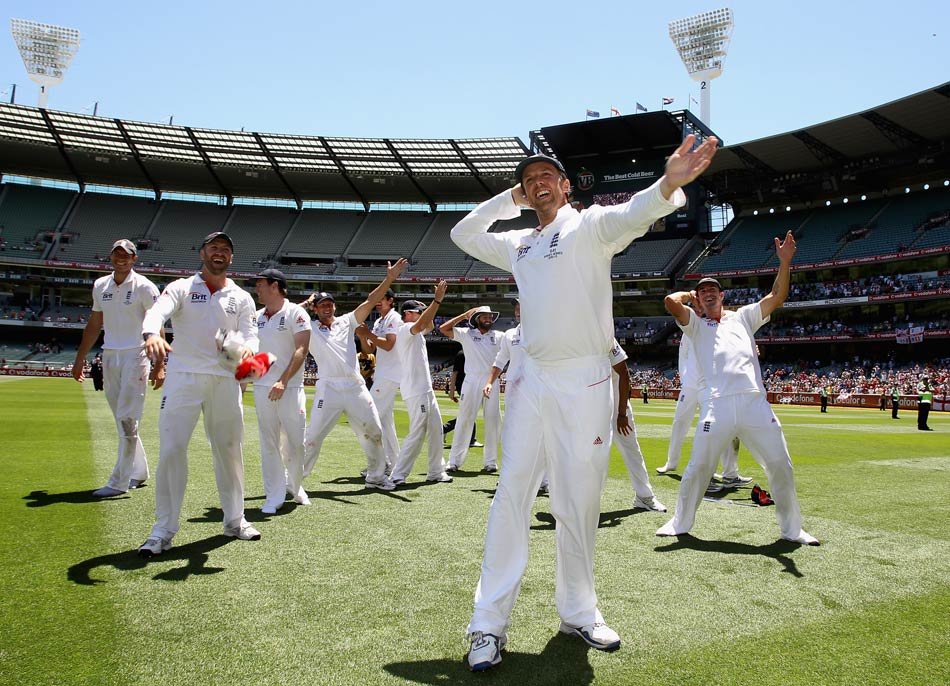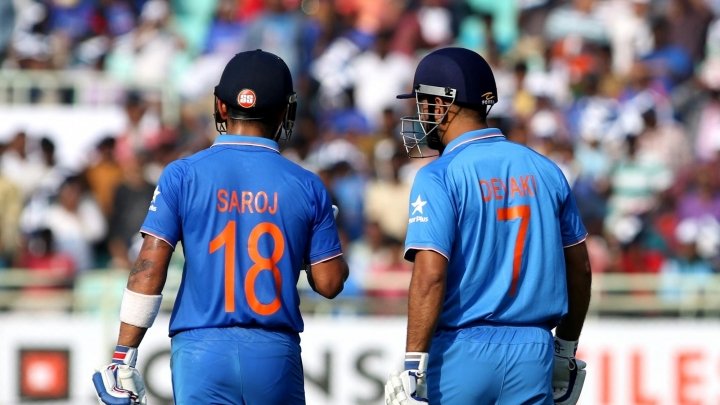 97. Yuvraj Singh breaks down after India win the 2011 World Cup. He was the Man of the Series.
Yuvi was also battling cancer at the time, but he did not know about it.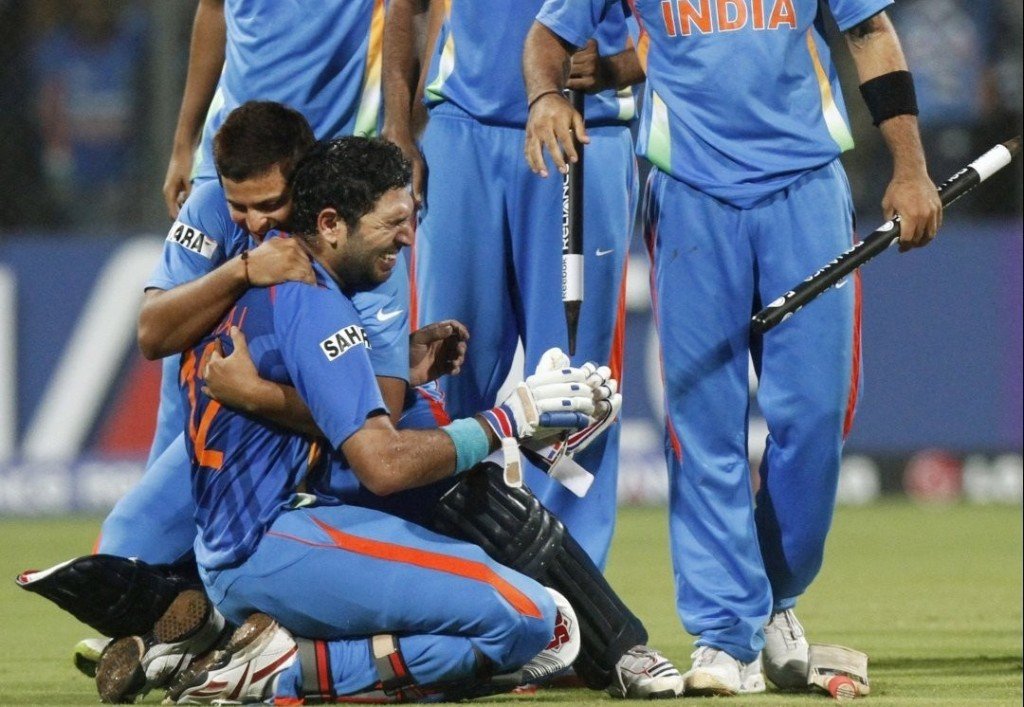 98. Warne's Warriors and Sachin's Blasters pictured together during the 2015 Cricket All-Star Series in USA.
It is a frame filled with some of the greatest cricketers to ever play the game.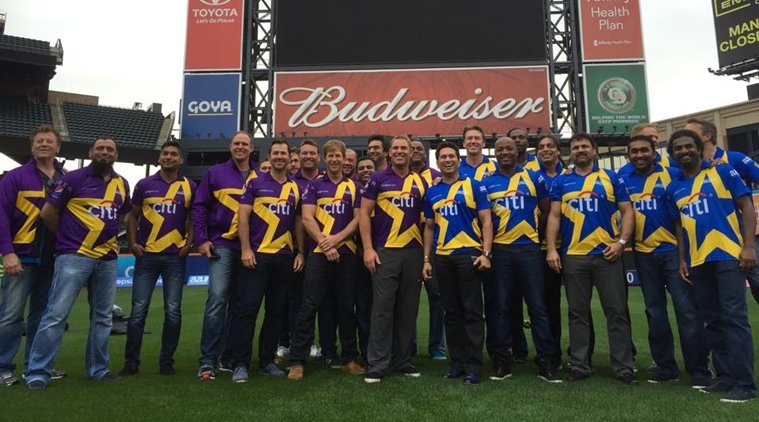 99. AB de Villiers defies physics again with one of his highly unorthodox shots.
Shots like these have gained him the nickname of Mr 360!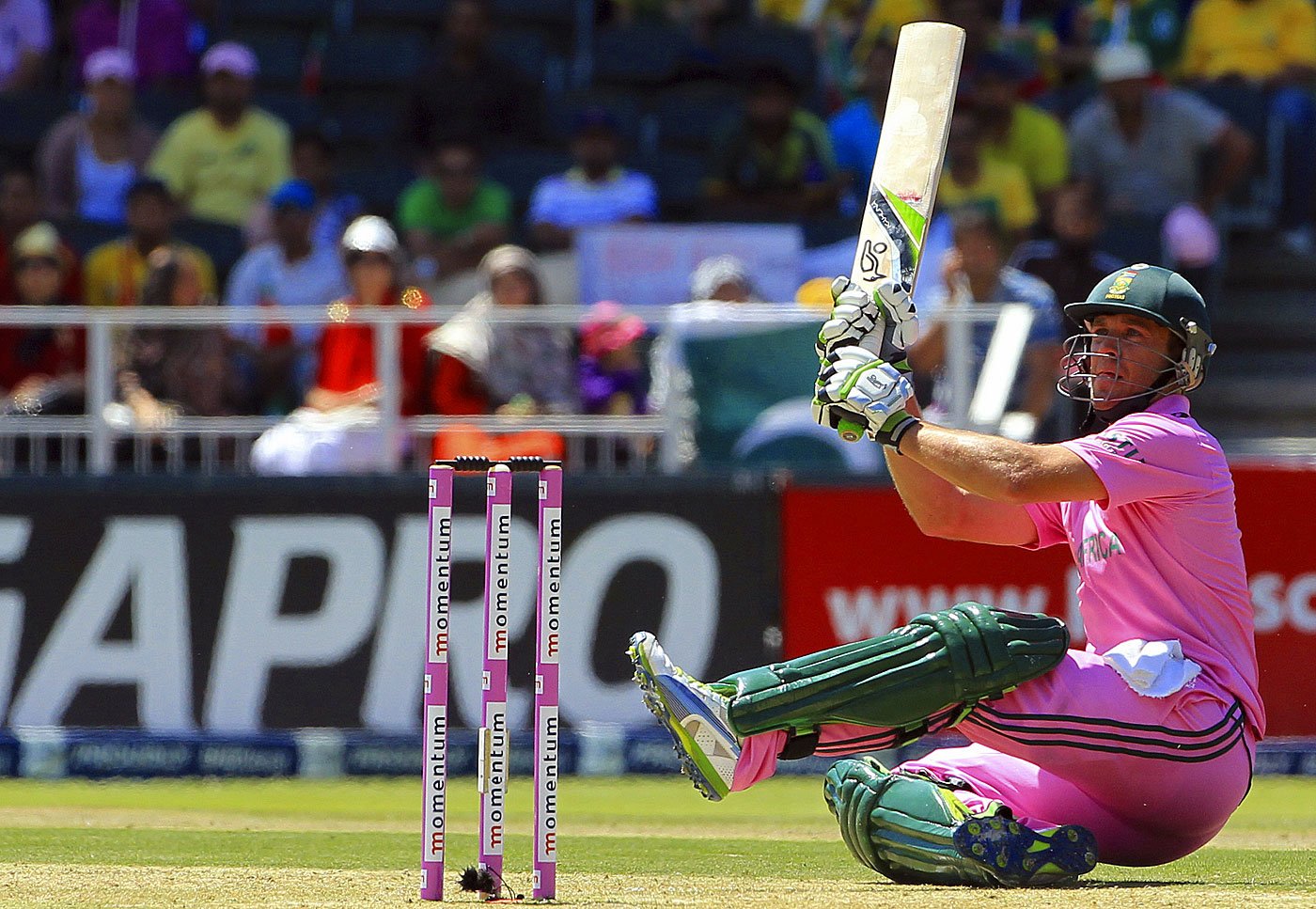 100. Virat Kohli bows down to his idol, Sachin, who was in the stands, after scoring a match winning fifty against Pakistan in the 2016 World T20.
He scored 55 off just 37 balls and kept India's unbeaten record against Pakistan in World Cups intact. Sachin applauded from his seat.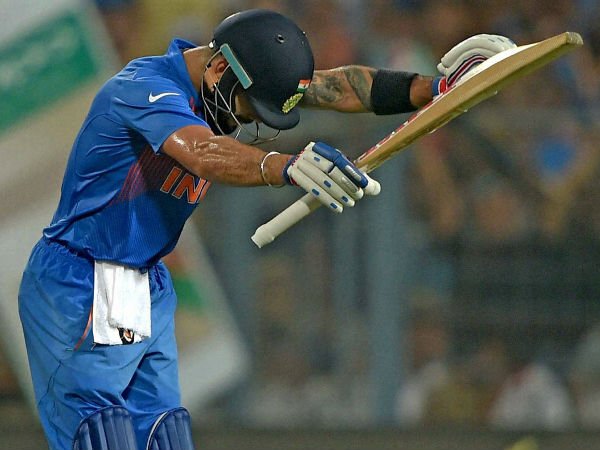 I'm sure we've missed out on few. But that's the thing about cricket. Legends are many and the moments, countless. The years ahead will provide us with many more.