Nathalie Boy De La Tour became the first female president of one of European football's big leagues when she took over the French Professional Football League (LFP) on a four-year term on Friday.
Boy De La Tour, 48, who previously worked with the 'Football Foundation' which promotes the game in the community, takes over from Frederic Thiriez who resigned last month after 14 years.
She was also previously a member of the administrative council of the LFP, the governing body of professional football in France.
"It's a first in France and in the stronghold of world football! A proof that in football too, the world has changed!" tweeted Nathalie Kosciusko-Morizet, one of several hopefuls bidding to succeed Francois Hollande in the 2017 French presidential election.
Former France coach Raymond Domenech, who had been among the candidates, withdrew from the running after he was rejected in the first round by the general assembly.
Domenech, 64, coached France from 2004 to 2010, but remains a divisive figure despite a runner-up spot in the 2006 World Cup.
His term as France coach was overshadowed by the fiasco at the 2010 World Cup and players' strike in South Africa.
Boy de la Tour had not initially been a candidate but emerged as a late runner as the LFP, which oversees the 40 professional clubs in France's top two leagues, was in crisis following Thiriez's departure.
Divisions between the top clubs, including Paris Saint-Germain, Lyon and Marseille, and smaller sides flared up in October and the vote for a president could not be taken.
"I'm very happy to be among you, astonished and emotional," she said. "It is not an election that was expected, now I am extremely happy and I hope to meet expectations."
Her role will however be more an honorary one, as since the LFP's statutes were reformed earlier this year the real power has been transferred to the executive director general Didier Quillot.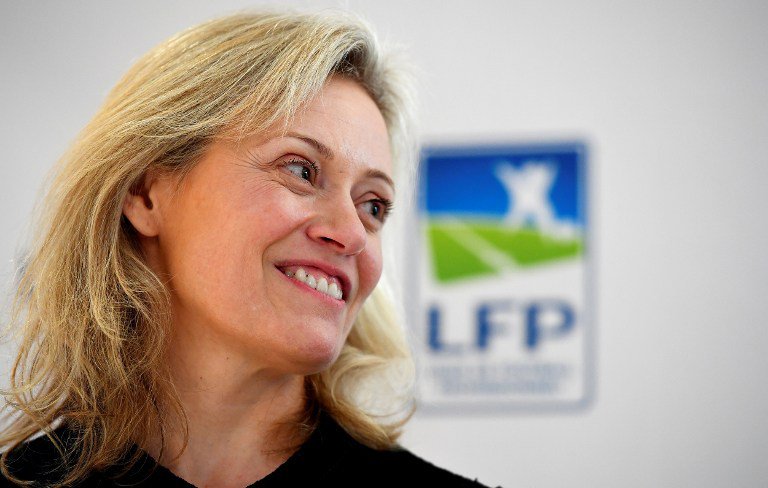 But Guingamp president Bertrand Desplat insisted that the new president would not just be a nominal leader.
"She's a wonderful woman who has had a great career in the biggest consulting firms and I can assure you she will not be a figurehead as some are saying," said Desplat, who slammed Domenech and his supporters.
"I could never have voted for Raymond Domenech. He is someone who brings back to the darkest hours of French football."
French Football Federation president Noel Le Graet welcomed the appointment of "an intelligent woman" who "will calm excessive, sometimes passionate men".
"She's someone who knows the functioning of the Federation and League well, she's full of humanity, wisdom, I think it's a good choice," he said.
"We have a good president, a woman at the head of football, it brings freshness," added Bernard Caiazzo, an official with Saint-Etienne and president of the Premiere Ligue, the union of the big Ligue 1 clubs.
Coming in a week where Hillary Clinton suffered a shock defeat to the controversial Donald Trump, this has got to bring a little bit of cheer for women around the world.
Like Clinton said:
"To all the little girls watching…never doubt that you are valuable and powerful & deserving of every chance & opportunity in the world."

— Hillary Clinton (@HillaryClinton) November 9, 2016
With AFP inputs