Even as a person who places humility at par with talent when choosing favourite athletes, I have always loved Sourav Ganguly. Yes, he isn't exactly modest, but he is brave and transparent in nature. So, when he says something, there is not a shadow of doubt that he means it.
Like millions of cricket lovers, I have always adored Ganguly for this and his willingness to do anything to get what he wants. Well, also celebrating like a champion once he does.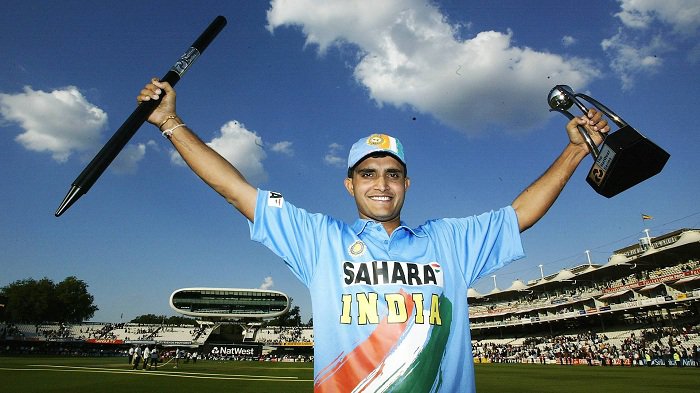 Now, you combine all the above mentioned qualities and you figure that there has never been a cricketer like Sourav Ganguly and there will be never be anyone like him ever. Here are few instances to prove the same. 
1. Mischief and Dada are almost synonymous at this point, thanks to his actions on and off the field. Like the time when he trolled Ricky Ponting during the toss by calling 'head-tail', and actually got away with it.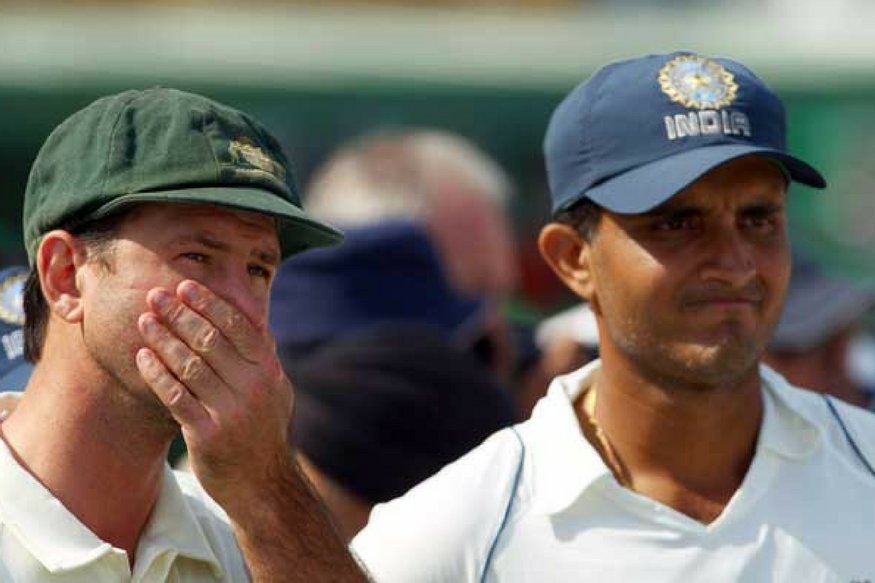 The incident was narrated by Michael Clarke, who said Dada whispered 'head-tail' during the toss and by the time Ricky Ponting could register it, he picked up the coin, announced India will bat, and went back. You'd best believe India did bat first.
2. Speaking of tosses, he deliberately reached late for one during Australia's tour of India in 2001, making Steve Waugh wait on the field. He later told people why.
Ganguly recently admitted that he did it on purpose because Australian coach John Buchanan had rudely asked Javagal Srinath why he was coming out of the field during one of the matches. Srinath told this to Ganguly and Ganguly made sure the revenge was taken.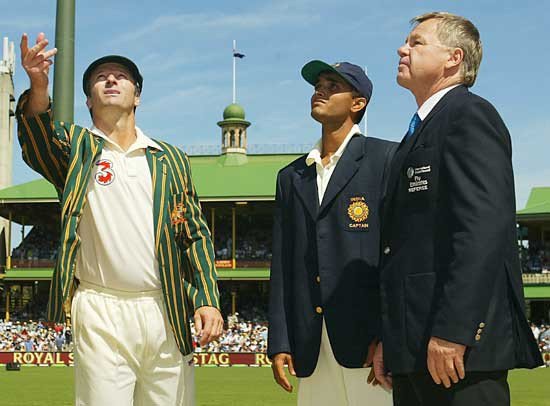 3. Now you can't mention 'Ganguly' and 'revenge' in the same sentence and not talk about him swinging his shirt from the Lord's balcony. 
It was an iconic match. It was iconic moment. Dada later went on to tell that he did it because Andrew Flintoff took off his shirt at Wankhede earlier and it was unacceptable to the Indian captain that someone would disrespect the country at its 'Mecca of cricket'.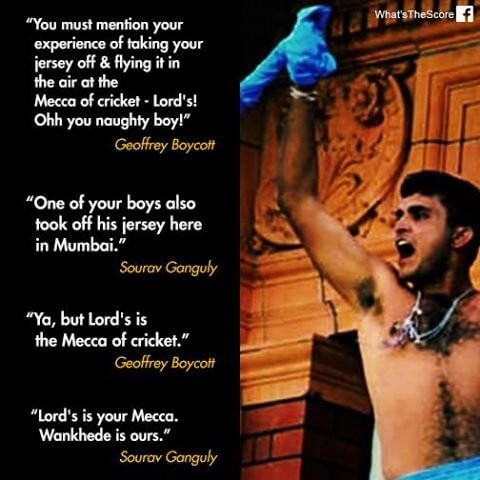 4. Ganguly remained that savage even when his career as a cricketer ended and he picked up the commentary mic. For instance, once Nasser Hussain tried to poke him with a joke on Indian football team and got a burn in return. 
This is how the conversation went:

Nasser: When can I see India in the FIFA World Cup?
Ganguly: If India had played football for 50 years, then we would have qualified for the finals at least once.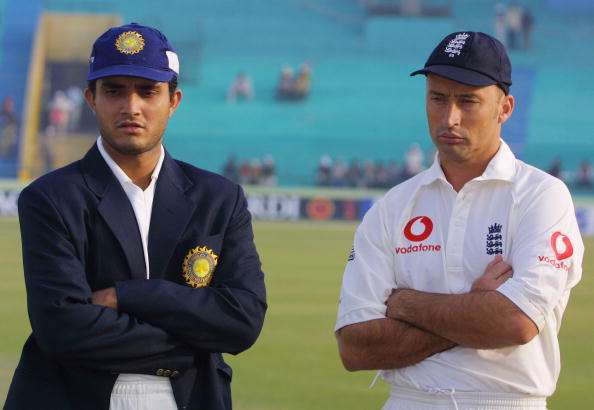 5. This also reminds me that one time, Ravi Shastri asked him, "Is there a Ganguly pavilion or Ganguly stand in Eden Gardens?" And Dada said:
The ground belongs to Ganguly.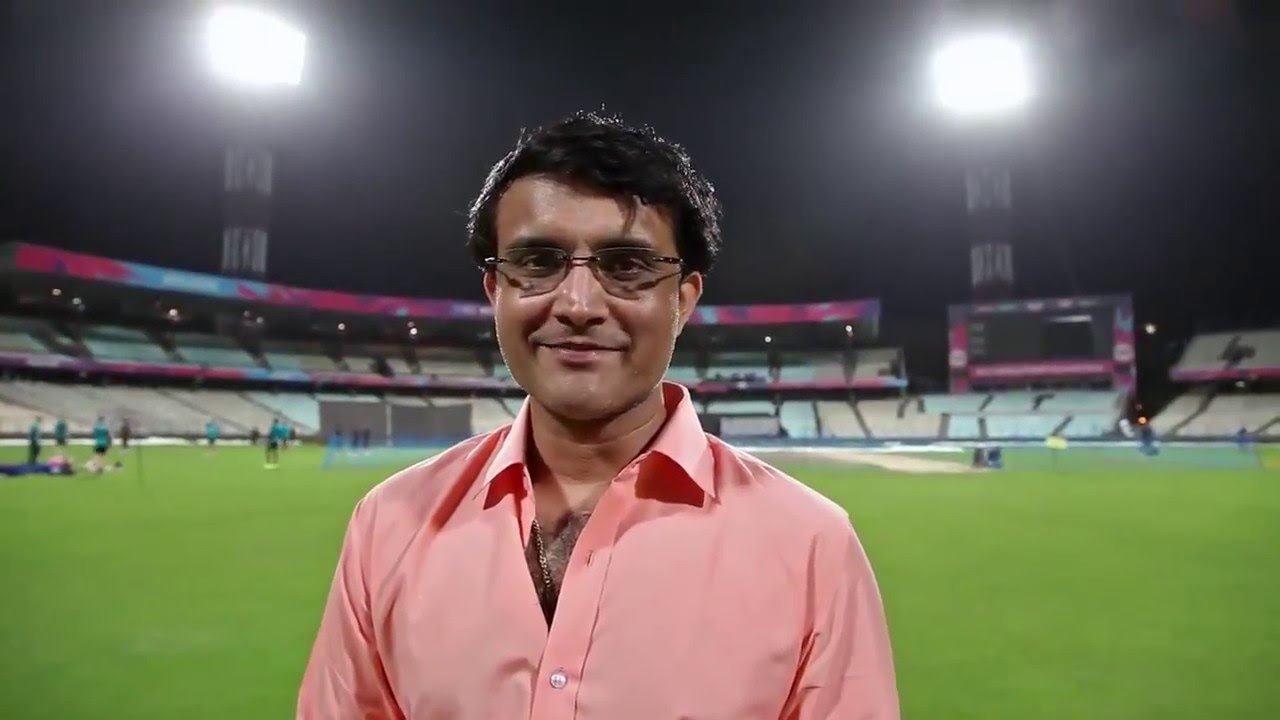 6. Obviously, this aggression reflected in everything he did and said. Questioning him about the Greg Chappell controversy, journalist Rajdeep Sardesai once asked him, "Does Greg Chappell owe an apology to Indian cricket? To Sachin Tendulkar, to Sourav Ganguly, to Dravid?".
To which, Ganguly replied:
He can call up Tendulkar or Dravid. But he dare not dial my number. If he is hearing this on TV, he dare not call Sourav Ganguly.
7. But those who have followed his game know that being carefree was also an important part of his personality. On some days, he didn't take too much stress about anything.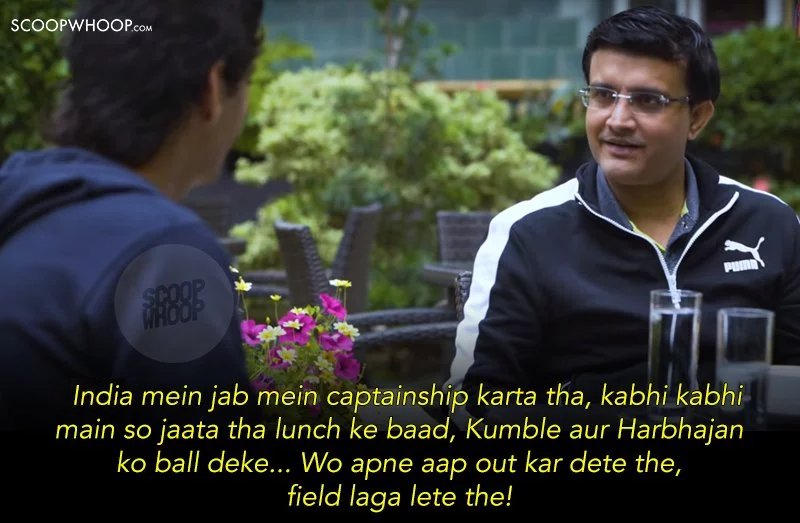 8. He made sure, though, that he was by his players' side and that he brings out the best in them. Biggest example of this is Virender Sehwag. 
It was Ganguly's idea to make him open for India and that is how the country got one of its most explosive batsmen.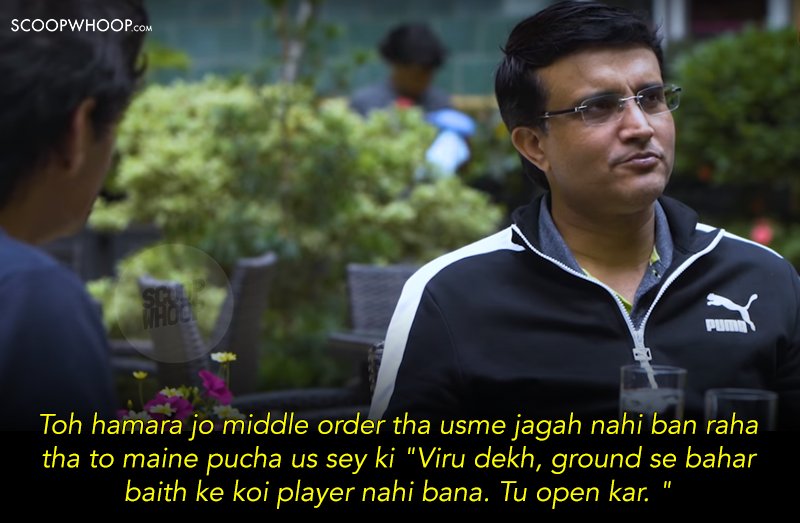 9. It's endearing how sometimes he had too much encouragement to give. As Sachin Tendulkar recounts, once he got hit by a Shoaib Akhtar delivery on the ribs and Ganguly kept telling him, 'tu champion hai re'.
Sachin, withering in pain, had to request him to stop. "Shhh.. Just let me recover".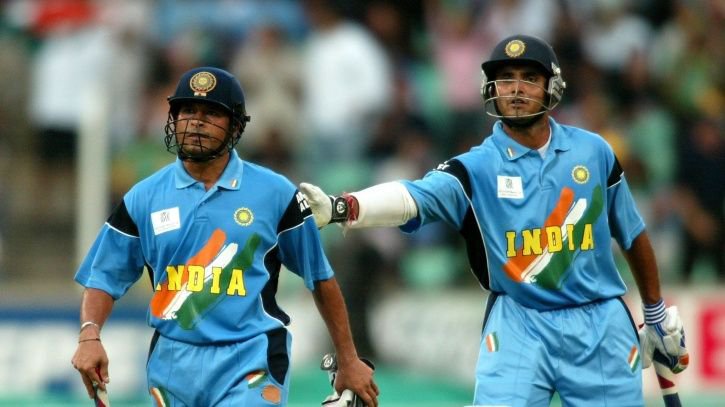 10. Ganguly's biggest regret, though, is that his 'team of gentlemen' never sledged. Speaking about players like Laxman, Sachin and Dravid, he noted:
If you tell Rahul Dravid to do that, he'll be like 'no no no that is not the right way to play'. If you tell Laxman, he will be like ' no no I am concentrating on my batting'. And if you tell Sachin, he will stand on mid-on and ask the mid-wicket fielder to sledge Steve Waugh.
They don't make them like that anymore.