Virat Kohli loves a good scrap and that's the reason he is looking forward to playing the high stakes game against South Africa in a virtual quarter-final of ICC Champions Trophy.
When asked if it is the biggest test of his captaincy career, Kohli replied with a sarcastic smile: "Wasn't the first game (against Pakistan) the biggest?
"I mean, you guys said the first was the biggest yet. Against Pakistan, the biggest match of my career here (laughing). To me, every game is the same; you win some, you lose some. I never thought Pakistan was the biggest game of my captaincy career neither is this one."
On a personal note, he feels that tougher the challenge, better it is.
"As a cricketer, personally I crave for games like these. You want to be a part of those matches that are as important as this one and then if you perform in that and your team gets across the line, it's a different feeling. It improves you as a cricketer," he said at the pre-match press conference.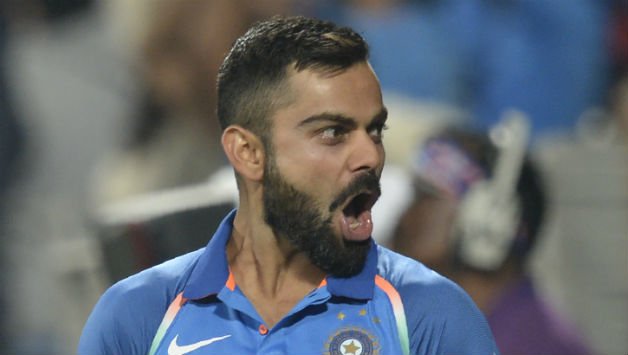 "Everyone looks forward to games like these and everyone is very excited," said Kohli, exuding a quiet confidence.
On whether there is a difference when a league game turns into a knock-out match, he replied: "I think you need to have a good balance of being competitive as well as passionate but at the same time, not getting over-excited."
Kohli cautioned that over-excitement can mess up their plans.
"A lot of times, teams come in and they want to do something special and end up messing up the game in important situations. The team that can have the most composure, I would say, to sum it up, will have a better chance of winning of the game tomorrow. I think composure will be the biggest word for tomorrow," he said.
It is pretty evident that Ravichandran Ashwin will be playing on Sunday but Kohli decided to keep the cards close to his chest.
"Yeah, as I said there are all kind of possibilities. We definitely have looked at the last game and where we can make a bit of change. We have already discussed those things, and yeah, I am not going to reveal anything now, but everything is possible. You can have any sort of combination possible for us starting tomorrow."
Asked if the first 20 overs of an ODI could be treated by the batsman as a T20 encounter in order to up the ante, Kohli said it would always remain condition dependant.
"See, that could be a possibility in the future, depending on the conditions you are playing in. I think in this tournament, every team is taking its time initially in getting in. I think the middle-overs are something that teams are looking to target. We are doing something different (playing safely), which is capitalising on the last overs better than anyone."
Kohli said that there's a thin line where in a bid to get 20 runs extra, one might end up scoring 20 runs less than par score.
"It's a thin line. If you're trying to get 20 extra and there are setbacks in that period of time, you end up getting 20 less. In the future, everything is possible. Looking at the conditions, if the wicket is good enough to go out and play aggressive cricket from ball one, then yeah, I am sure teams are going to start to look at the first 20 as a big opportunity," he explained.
But the skipper reminded that such a risk was not worth taking in England where conditions change pretty quickly.
"But I don't think in England anyone is going to try and do that because conditions can go against you pretty quickly and you can lose wickets with the new ball. The trend I have seen is every team is trying to get in first and then explode in the middle and the end. That's purely respecting the conditions that we play in.