Kieron Pollard is no stranger to controversies in the IPL. Remember the time he almost threw his bat back at Mitchell Starc? Or the time he wore cellophane tape around his mouth in protest against an umpiring decision?
This time Pollard has taken it one step further – he's taken on a commentator.
The Mumbai Indians all-rounder has slammed Sanjay Manjrekar for his on-air comments about his batting during an IPL match against Kolkata Knight Riders at the Wankhede Stadium, saying that the former India player suffers from "verbal diarrhoea".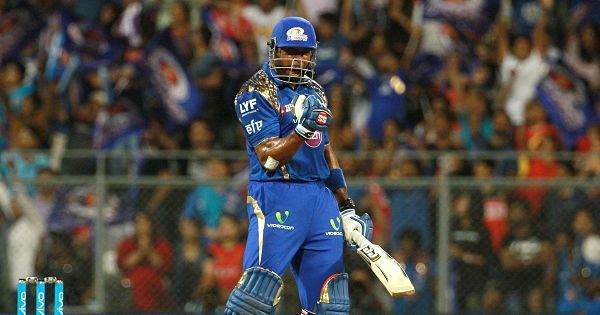 The reason is not exactly clear but one can only presume it was for Manjrekar's response to a question on should Pollard bat higher up the order. He was dismissed for a run-a-ball 17, leaving MI at a precarious 119/5 with less than four overs to go in his team's chase of 179. In the commentary box, Manjrekar had criticised Pollard, saying that he was only good enough to bat for the last six or seven overs of an innings.
Pollard responded angrily to Manjrekar's criticism in a series of tweets. 
It is still not clear whether Manjrekar used the word "brainless" on air, it must be said.
It was a classic case of 'that-escalated-quickly.' Fans on Twitter were largely confused as to what made Pollard react this way but most saw this as a chance to take a dig at Manjrekar who's not exactly the most popular Indian commentator.
With PTI inputs
Feature image source: AFP & PTI