Ravichandran Ashwin is an ordinary fielder. In Mohali, after India had lost the toss on what looked like a good batting wicket, he dropped a sitter of the (then) in-form Alastair Cook. Catches don't come easier than that. Minutes later, he pulled a Sourav Ganguly by running alongside the ball instead of bending down to pick it up, before putting in an ugly dive — a dive that still did not stop the ball.
Ravichandran Ashwin is over-enthusiastic when it comes to using the DRS. It's as if every time he appeals, he thinks he is right. It's one thing to be confident about your own bowling, but it's completely another to be nagging his captain to go for a review, like a little kid who desperately wants his daddy to buy him a candy. 
Ravichandran Ashwin got out on zero once recently. When his team was in trouble in Mumbai, trying to get past England's (then) daunting first innings total of 400. He left his captain stranded at the other end. India were saved by a record 9th wicket partnership later but Ashwin's failure could have proved so costly.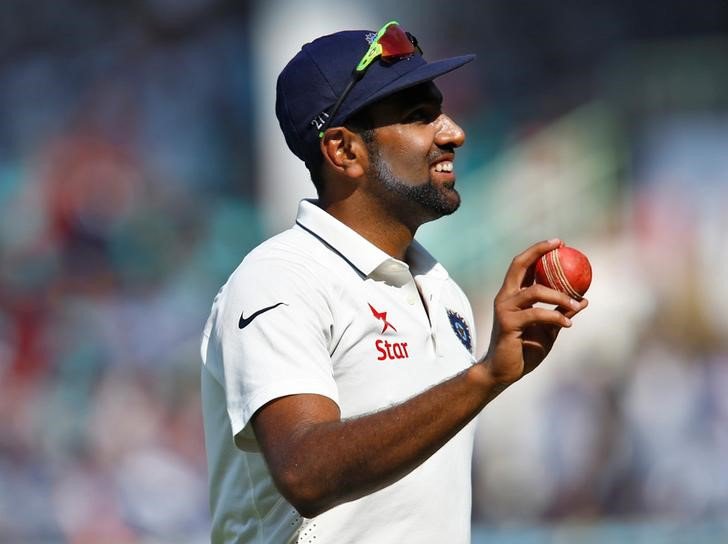 And Ravichandran Ashwin… erm… no, that's about it. We tried. There is not much else one can say the man has done wrong.  
It's been that kind of a run for the world's best cricketer of 2016. A year of wickets, runs, records and awards.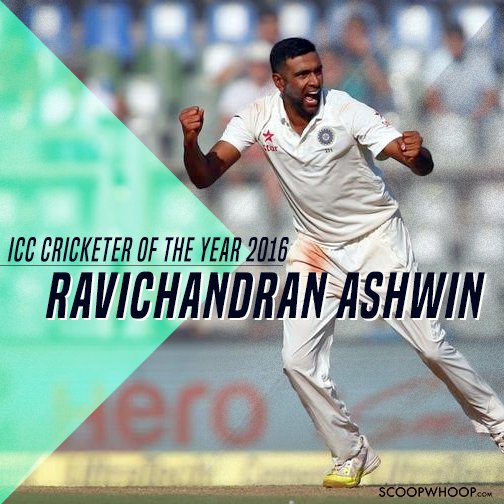 One just has to listen to his Captain Virat Kohli talk about Ashwin over the course of the team's record unbeaten run for 18 Tests. 
"Best in the world at what he does." 
"It's a pleasure to have someone like Ashwin in the side." 
"He is a champion."  
"50-60 percent of what we have achieved as a team is down to Ashwin."
Gushing would be an understatement. 
And to think Ashwin was dropped in the first match that Virat Kohli took charge as the captain of India in Adelaide.
Ashwin does not fail to point out that, that's were things turned for him as a Test cricketer. Speaking after becoming the third Indian to win the ICC Cricketer of the year, Ashwin said:
"If I have to pick a moment, the most important for me, personally, was the Adelaide Test in 2015 when I was left out of the side. I wouldn't say my confidence was affected but my pride was hit. That is when I took Bharath Arun (then bowling coach) aside to work on my technique and ever since things have flowed like music."
The 'music' metaphor fits perfectly for Ashwin's rise. His action is now so perfectly in-sync with his mind, like he is conducting his own orchestra. He lands the ball at the exact spot he wants to, like an opera singer hitting the perfect notes. His control over his craft, without depending on the conditions, is akin to a singer so at ease with his talent that he can improvise at will.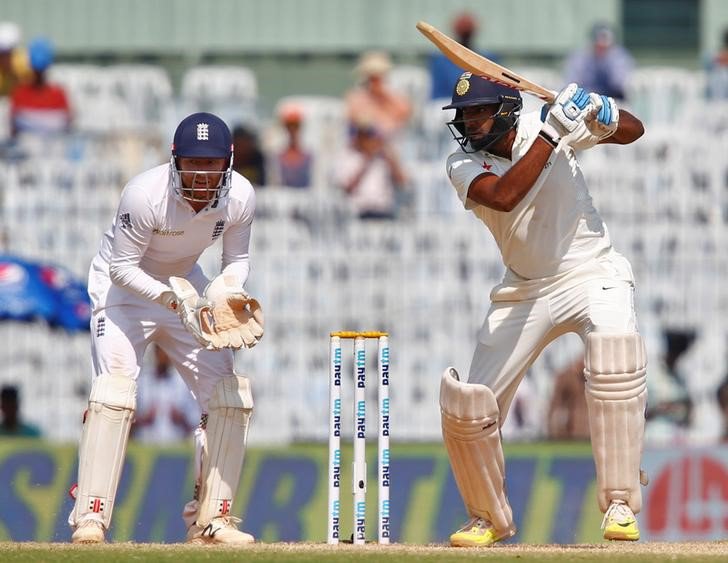 You would have a broad idea of what Ashwin has achieved over the past 18 months or so. He has won the most man-of-the-series awards by any Indian cricketer — seven compared to Tendulkar and Sehwag's five. He has 24 five-wicket hauls, third on the list behind Anil Kumble and Harbhajan Singh. He has seven ten-wicket match hauls, second only to Kumble's eight.
And he has done all that in 43 Tests.
His achievements are more remarkable in fine print. His performance in the four-Test series against South Africa late last year had the caveat of being played on rank-turners. But in West Indies this year, he showed he is no one trick pony. He rates his 7 for 83 in the Antigua Test as the performance he enjoyed the most — a performance that helped India to an innings-and-92-run win. Away from the sub-continent, he still finished the series as the leading wicket-taker with 17 in the three Tests that he bowled in. 
In the eight Tests in the home season so far, none of the pitches were dust bowls. He has shown his ability to adapt his pace, vary his length, use his full repertoire of variations — the carrom ball that he had cut out to win his place back in the side, is back in full view, now that his confidence is sky-high. The top-spinner has been added to his arsenal as well, as seen during the last two Tests against England.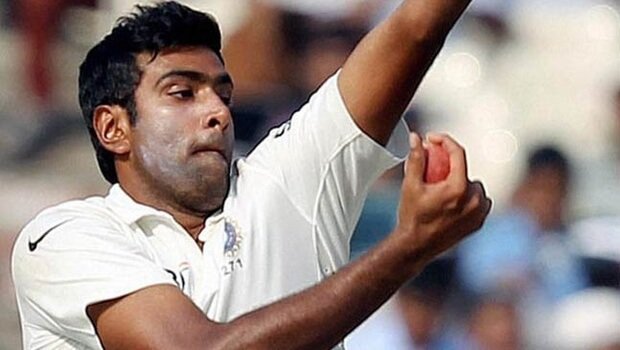 A deeper look will tell you Ashwin gets the big fish of the opponents more of than not. In Sri Lanka, he had a flawless record against Kumar Sangakkara. Against South Africa, AB de Villiers and Hashim Amla struggled to pick him. Against New Zealand, Kane Williamson — arguably the best all-round Test batsman in the game right now — was dismissed by Ashwin four out of four times he came out to bat.  While his spin-twin Ravindra Jadeja made Alastair Cook his bunny, Ashwin got his wicket thrice in the series.
And one of those occasions was the first ball he came on to bowl in Mohali after the afore-mentioned dropped catch. He, it seemed then as it has seemed most year, rights his own wrongs more often than not. 
Another aspect of Ashwin's remarkable run is his ability to read the conditions and adapt — an analytical mind that made Ravi Shastri compare him to an astronaut. His confidence at his own ability is paralleled by the analysis of his own performances.
"It was a wicket where you had to work hard, be patient and bowl good lines," Ashwin had said after the Indore Test against New Zealand. "This wicket didn't have a lot of bounce. It was not going to short leg or backward short leg, so I had to get them to drive. I got a bit of footmarks outside right-hander's off-stump and I wanted to get them lunging outside by bowling a lot wider outside off-stump and the results are there to."
As if his bowling was not doing enough for Kohli's cause for winning Tests, his batting has improved leaps and bounds. The comparison to a Very Very Special batsman for India's recent past has been unmissable. His stance, his use of the wrists to play the on-drive, the elegance of his cover drive, his contribution to the team's cause lower down the order — all of which were Laxman's trademarks.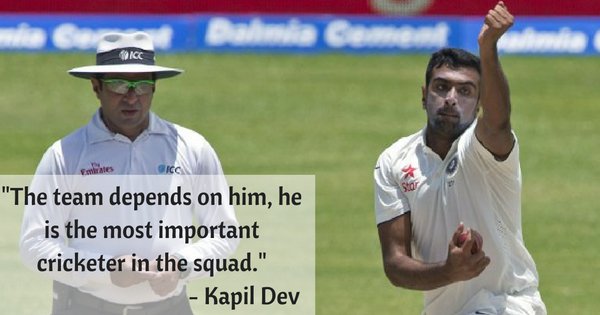 His knock of 118 in the first innings in St Lucia — fourth Test hundred — helped rescue India from 126 for 5 to 353. They went on to win the match by 237 runs. Against England, Ashwin became the first Indian to achieve the double of 300-plus runs and 25-plus wickets in a series — a feat Kapil Dev never managed despite playing many more five-match series than India tend to these days. That is, in fact, a feat so rare that the last time it happened was in 1981 in the series that was famously known as "Botham's Ashes."
Years down the line, when fans and players look back on 2016 with fond recollections of India's rise as an impressive Test side, Ashwin and Kohli will be eulogised for their remarkable performances. 
A fearless captain riding on the talent of his most-potent strike bowler. A captain who preferred Karn Sharma's wrist spin to Ashwin's finger spin on that fine summer day in Adelaide in 2015. Dropping Ashwin for that match might just prove to be the most important decision Kohli takes in his time as Indian captain.
Tougher tests await Ashwin, of course, but as he has shown by bouncing back from that low, he will be ready for it.