India's tour of Sri Lanka was massively triumphant. A 9-0 whitewash completed in all formats of the game. Such dominance is rare. The 9th game, a one-off T20I, saw Virat Kohli choosing to field during the toss. Smart call, that. We won the game by 7 wickets, even though the Lankans posted a fighting 170.
But our captain stepped up, yet again, with the bat. He's is our champion. A pure winner. So much so that even when he's losing, he's winning. Just like the toss, which he had apparently lost but still won.
Confused?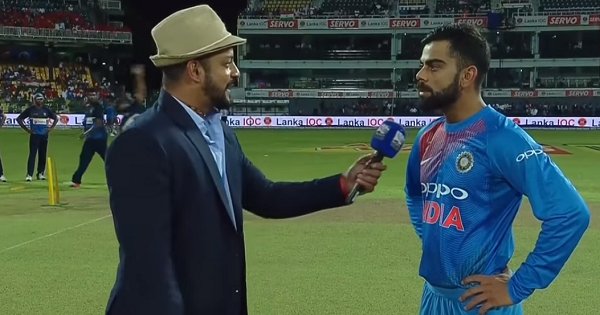 Well, here's what happened…
Dressed in a hat and suit, Murali Kartik was doing a nice job of introducing everyone. The captains, the match referee, the toss representative. He's going along like a pro.
He has done this before, he knows he's got this. The coin was flipped, Virat called for heads but the result was tails!
Well, 8-0 up, full of confidence, maybe we did not need to win the toss to win the game. Attention shifted to Murali as he was supposed to call the Lankan captain and ask him for his decision. But nah! It didn't go down like that.
Here's what happened:
To be fair to Murali, it's difficult to hear in a packed stadium (although there are quite a few empty seats behind him). But whenever India is playing, it is noisy and maybe that drowned the match referee's call. 
But here's another twist. And it is a major one, which shifts the blame from Murali a bit. Once the coin landed, the match referee, Andy Pycroft is heard saying, "Tails, India!", after which Murali says, "Heads it is!", and walks over to Virat.
Comedy of errors!
The confusion can also be seen in the match referee's reaction when he sees Murali award the toss to India. It was like he was about to plead to Murali but the camera drowned him out.
No one knows what the outcome would have been had Sri Lanka been awarded the toss, because they too wanted to field. Well… This was by far the most confusing toss in the history of cricket.