These are Pep Guardiola's words, not mine. And yet, here we are, week in and week out, writing about how he does what he does. Or at least, we try to. Because there aren't enough words to describe the little magician. It's like trying to catch a rabbit on the run in its natural habitat. It dodges, it leaps, it evades. 
"Don't write about him, don't try to describe him. Just watch him."
Except that's natural for a rabbit. But for a human, it requires a skill set only given to one man – Lionel Messi.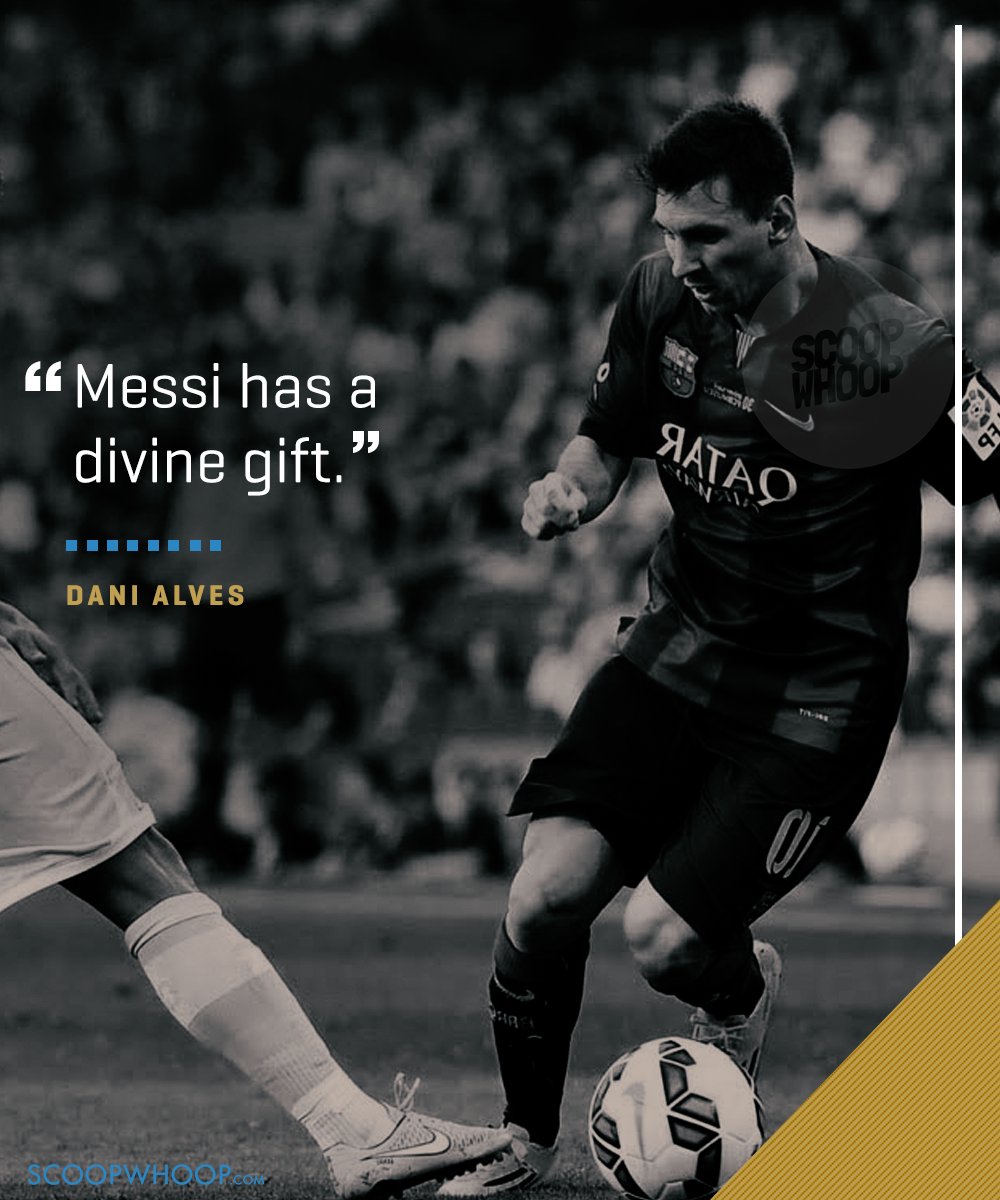 The only reason you can hate Messi is that he doesn't play for your club. But when he's not playing against it, you can see him make the game even more beautiful. I will always be a Ronaldo fan and I hate it whenever Messi gets the better of him. 
But I also believe that they aren't rivals, something they claim as well. Sooner or later, they will both retire and normalcy will return to football. Before that, debating is stupid, but celebrating them is what we need to do. Because as much as I love Cristiano, I will always be mesmerized by Leo's magic. It comes so naturally to him and there's something beautiful about it.
Behind that child-like face that now sports a beard is still that child-like enthusiasm. The passion to win, the will to perform and every now and then provide us with a spark of brilliance.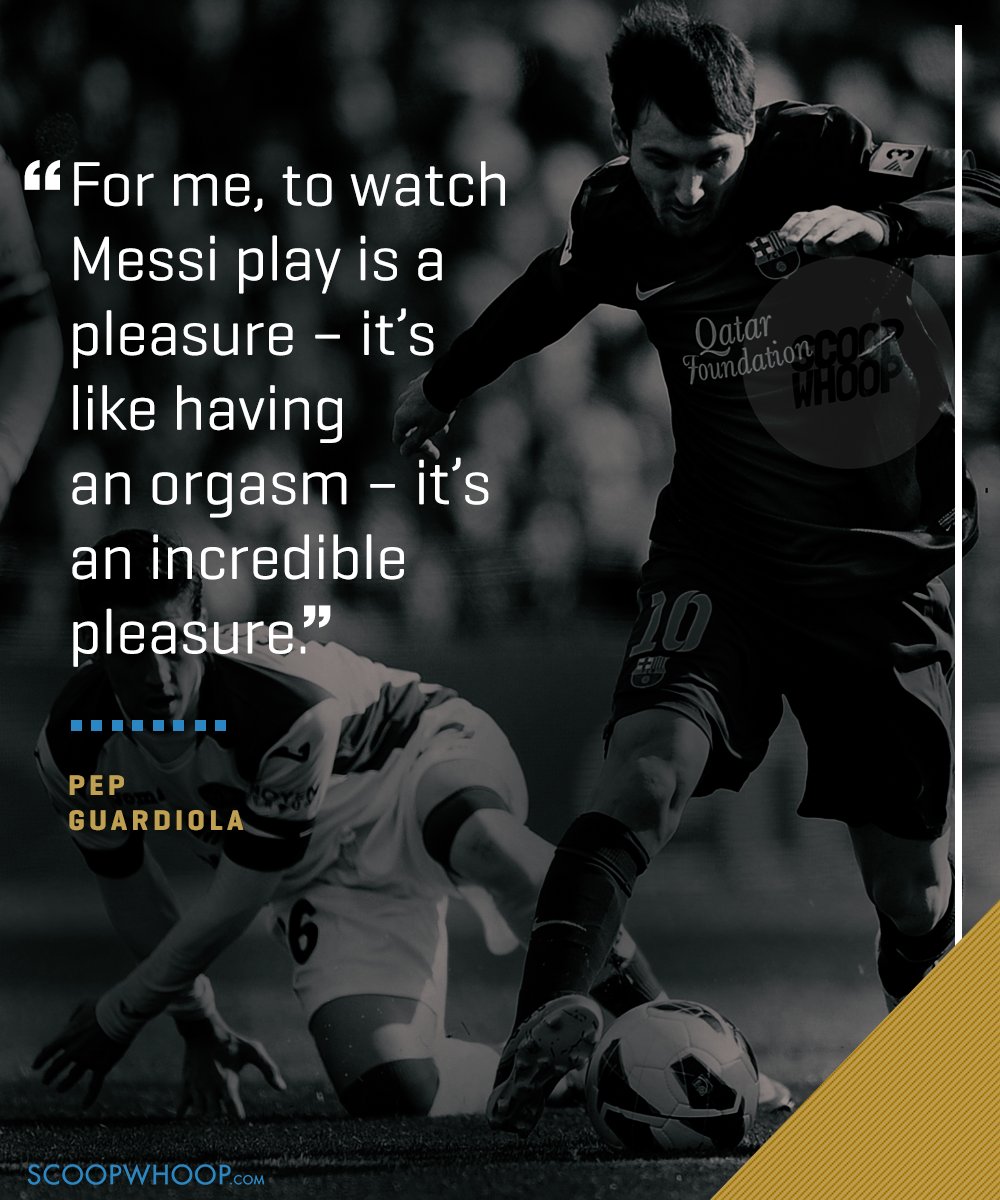 When Pele called football 'the beautiful game', he probably said it because of men like Messi. But are there any other men like Messi? People compare him to Diego Maradona, who called him his rightful heir. Same goes for Ronaldinho's throne at Barcelona. Diego belongs to a different generation. But Ronaldinho actually passed the baton to him. 
In one of his first games in Barcelona colours, Messi came on with 3 minutes to go. Ronaldinho, who had all the skill in the world to beat the defenders and the keeper, lobbed the ball to Leo instead. He had seen his abilities in training. 17-year-old Messi delicately chipped it over the goalie like he had been doing it for decades. It was cruelly ruled offside. 
So what did he do? Exactly the same thing 90 seconds later. This time it wasn't disallowed. Ronaldinho carried, on his shoulders, the man who would carry the future of Barcelona after him.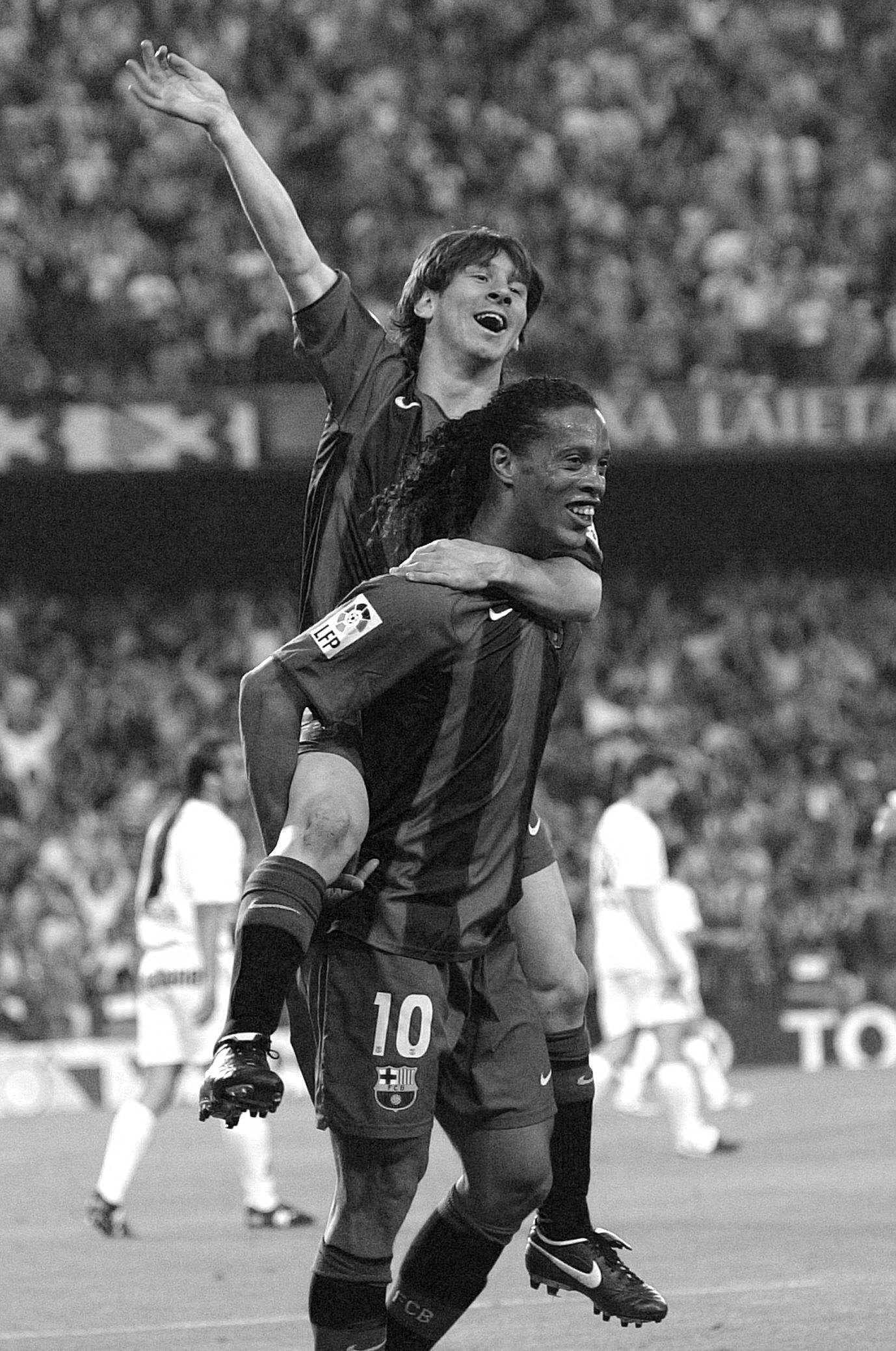 We soon saw his ability to turn a game on its head by making defenders fall on their backs. He picks his moments. Somehow he knows when to make a run, when to dribble past defenders and when to stick it in the back of the net. The only way he can be stopped is if you bring him down. But for that, you need to catch him first.
It's like one of those end-of-the-world films where the entire planet is falling apart and he is swivelling through the damage. Tripping sometimes, even falling, but still going forward.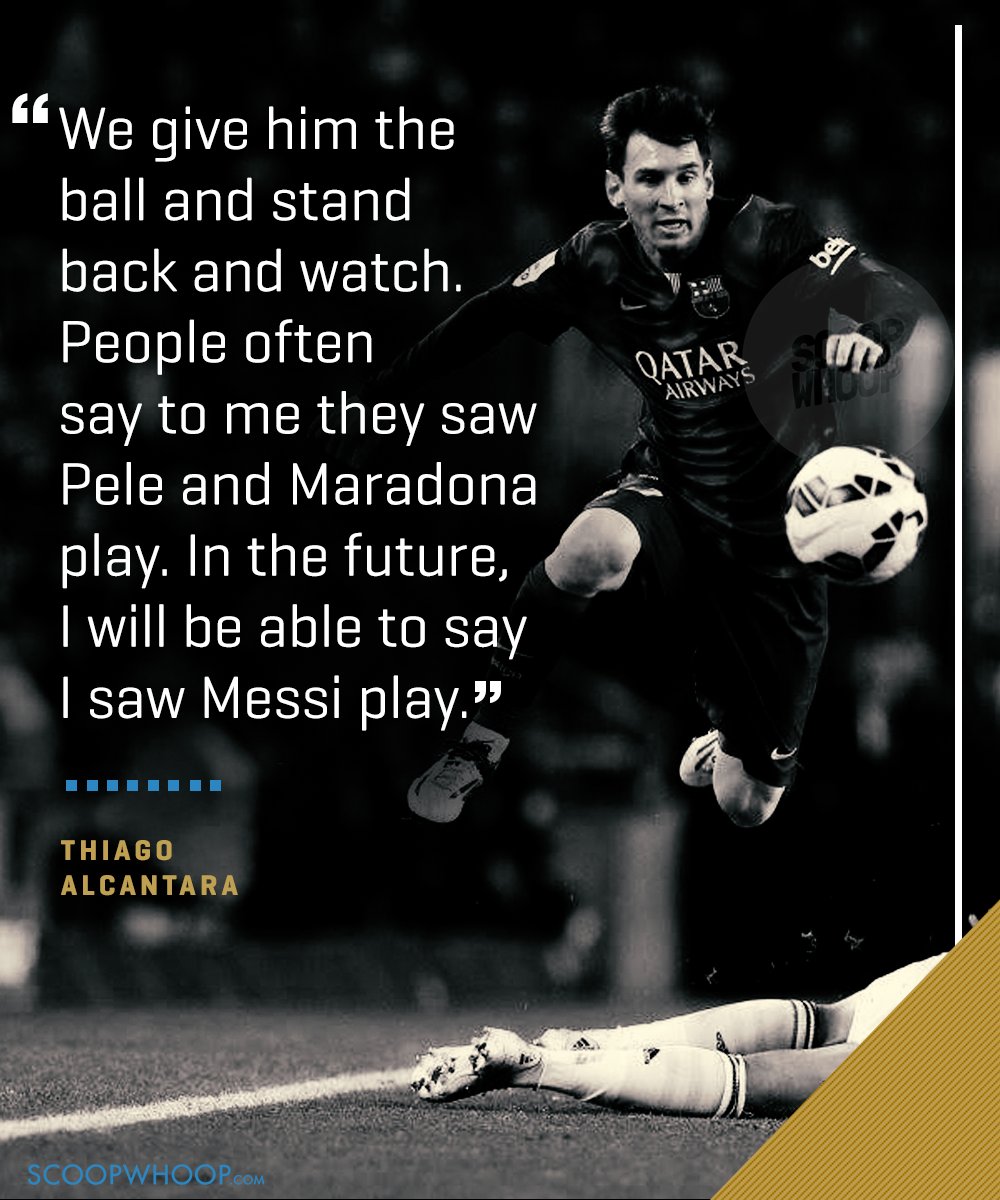 People who have played with him and against him have said that his greatest trait is that his feet are on the ground. Although he glides sometimes. 
On the flight back from the Ballon d'Or ceremony in 2011, where Messi had just grabbed his 3rd consecutive trophy, he toasted to Xavi and Iniesta, the Barca playmakers, saying that they deserve the award just as much as he did or perhaps even more. 
Yes, that's him being humble. But think of it this way, can a midfielder have a better forward to feed the ball to? Who wouldn't want Messi in front? You get the ball to him and he'll take care of the rest.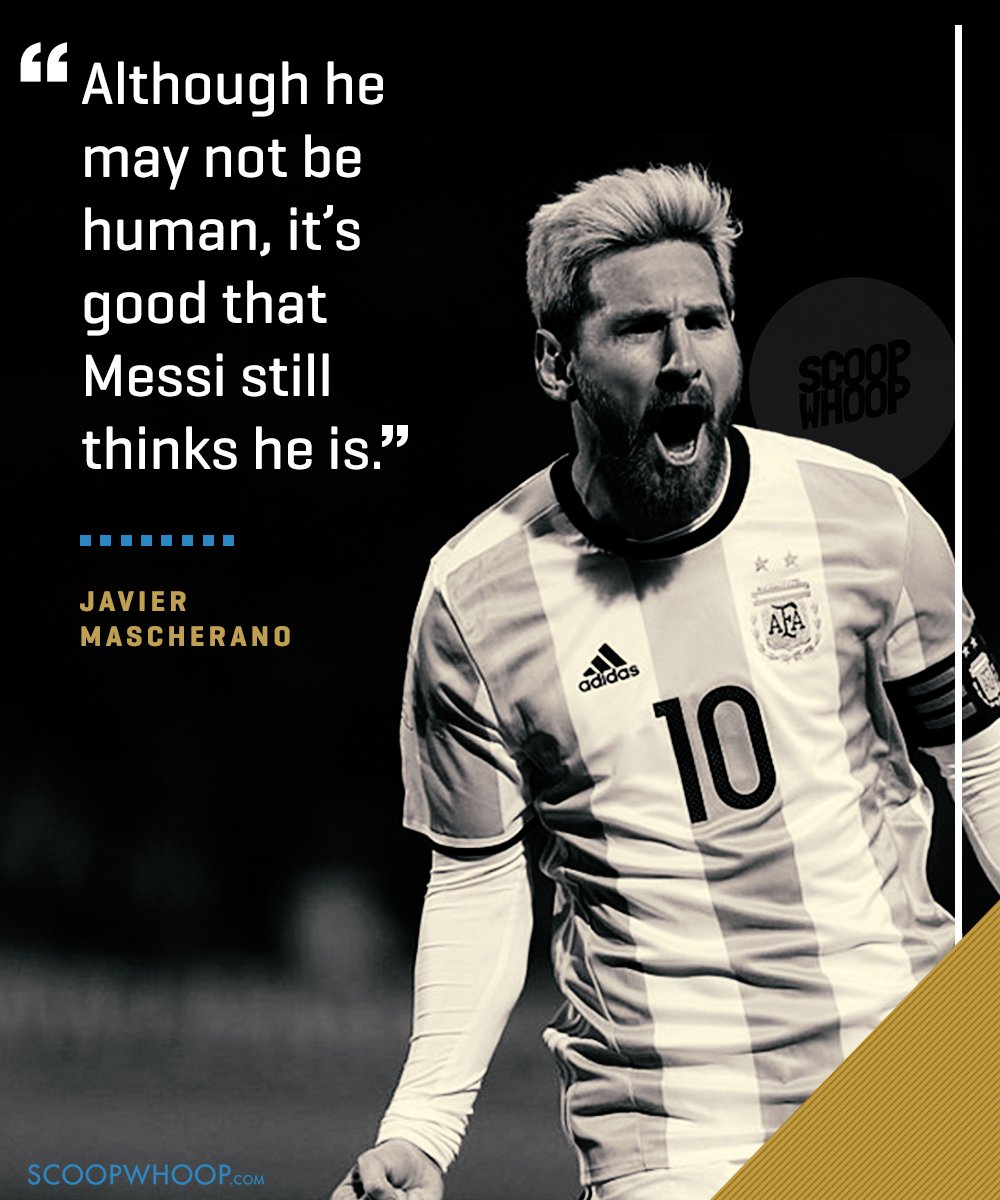 Words to describe him probably aren't there in our vocabulary. But we can try our best to bask and revel in the greatness that is the man who wears number 10 for club and country. History cannot deny the Messiah his due. All we have to do for that is take Pep's advice and simply watch him and every time life seems unfair, remember that we lived when the little genius played. 
Remember him because you won't see anyone like him ever again. Remember Leo Messi, god's gift to mankind.