Manchester United reached the Europa League semi-finals for the first time after beating Anderlecht 2-1 on Thursday, but at the cost of a potentially serious injury to Zlatan Ibrahimovic.
The talismanic Swede, 35, had to go off after damaging his right knee late in the game at Old Trafford and may not play again this season, while United also lost centre-back Marcos Rojo.
United prevailed courtesy of an extra-time strike by Marcus Rashford, which secured a 3-2 aggregate success, after Henrikh Mkhitaryan's opener was cancelled out by Sofiane Hanni.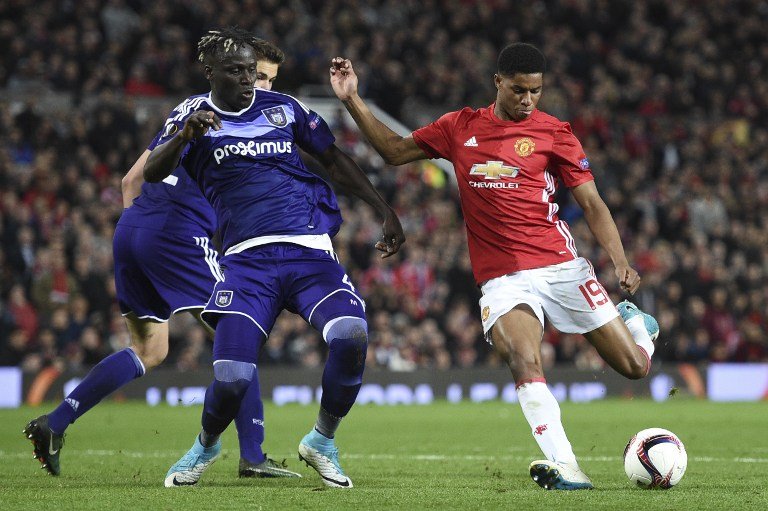 "I don't think they are easy injuries, but I prefer to wait until all the tests are done and then speak. But the news is fairly negative I think," United manager Jose Mourinho told BT Sport.
"It is an important title and we have to keep going. Today showed how difficult it is. We are not expecting anything easy in the semi-finals."
The scrappy, sapping victory means Mourinho's side remain on course to claim the only major trophy missing from the club's collection.
But the injuries to Ibrahimovic and Rojo could prove costly, particularly with United having re-energised their push for a top-four finish in the Premier League by brilliantly beating Chelsea.
Ibrahimovic's injury occurred late in stoppage time, his right knee bending the wrong way as he landed following an aerial challenge in the Anderlecht box, leaving him grimacing on the deck.
The former Paris Saint-Germain striker, scorer of 28 goals this season, was able to hobble down the tunnel, aided by medical staff, but United's fans will fear they have seen the last of him this season.
It cast a shadow over United's evening, but Rashford's superb 107th-minute strike ensured they took up a place in the last four.
Feature image source: Reuters