Maria Sharapova vowed to "rise up again" on Wednesday after she was refused a wildcard for the French Open following her 15-month ban for doping.
The Russian former world number one also earned the backing of the head of women's tennis, a day after the French tennis federation's announcement that it would not grant her a wildcard for the event she won in 2012 and 2014.
May 17, 2017
The five-time Grand Slam champion, 30, was banned for two years for using meldonium, with the penalty later reduced by the Court of Arbitration for Sport (CAS), which ruled she was not an intentional doper.
After the ban expired on April 26 she returned to competition at the Stuttgart Open, reaching the semi-finals, and progressed to the last 32 of the Madrid Open, failing to earn a qualifying spot for Roland Garros, the second Grand Slam of the season and which starts later this month.
Many of Sharapova's rivals have hit out at other tournaments giving her preferential treatment, but WTA chief executive Steve Simon called the actions of the French federation (FFT) "groundless", in a strongly worded statement backing her.
Whilst acknowledging that wildcards were granted at a tournament's discretion, Simon said: "What I do not agree with is the basis put forward by the FFT for their decision with respect to Maria Sharapova."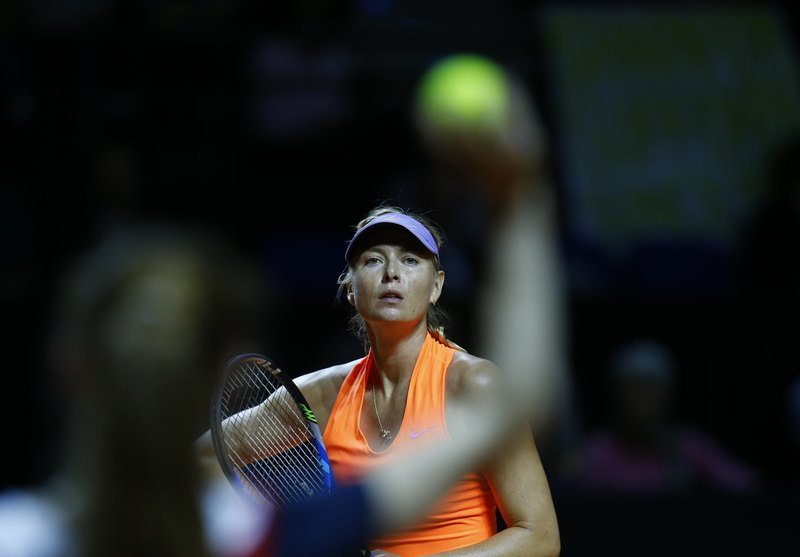 Announcing the FFT's decision on Tuesday, president Bernard Giudicelli said giving Sharapova a wildcard would make a nonsense of tennis authorities' ramped-up efforts against doping.
But Simon said: "She has complied with the sanction imposed by CAS. The tennis anti-doping program (TADP) is a uniform effort supported by the Grand Slams, WTA, ITF and ATP.
"There are no grounds for any member of the TADP to penalise any player beyond the sanctions set forth in the final decisions resolving these matters."
Sharapova is guaranteed a qualifying spot at Wimbledon in July after winning her opening match at the ongoing Rome Masters, although she missed a chance at direct entrance into the main draw after a second-round exit on Tuesday.
Sharapova, whose ranking has plummeted to 211 leaving her reliant on wildcards, could have earned her spot at Wimbledon by reaching the semi-finals in Italy but retired against Mirjana Lucic-Baroni in the final set with a thigh injury.
The Russian issued a statement afterwards that failed to address the French Open and said merely that she hoped her injury "is not serious".
– No Serena, no Sharapova -The FFT's announcement was eagerly anticipated and Giudicelli spoke on Facebook Live, adding an extra sense of drama.
"Nobody can deprive her of her two titles at Roland Garros, but today I can't grant her the wildcard requested," he said, ahead of the May 28-June 11 tournament that will also be missing its other major name — the pregnant Serena Williams.
"The titles won here, she won within the rules without owing anything to anyone.
"While wildcards exist for players returning from injury, there is nothing for a return from a doping ban," he added.
"I know the media dimension of Maria and I'm measuring the expectations of the public and sponsors, but in all conscience it didn't appear possible to me to go beyond the strict application of the world anti-doping code."
Some of Sharapova's rivals have openly criticised her return.
Last month former Wimbledon finalist Eugenie Bouchard blasted Sharapova as a "cheater" and suggested she should be kicked out of tennis for life.
The absence of Sharapova and Williams, a three-time champion in Paris, leaves the women's French Open field wide open.
Feature Image: Reuters