If you don't know who Shanthi Soundarajan is, you should. Born in 1981, in the village of Kathakkurichi in the Pudukkottai District of Tamil Nadu, she grew up in abject poverty. She lived in a house which had no bathroom, running water, or electricity. One of five children, she overcame severe malnutrition to become the first Tamil woman to win a medal at the Asian Games. She has won 11 international medals for India, and close to 50 for Tamil Nadu.
At the 2006 Asian Games, held in Doha, Qatar, Soundarajan won a silver medal in the women's 800m race, finishing at 2 minutes, 3.16 seconds. She had to undergo a sex test after the games, which indicated that she did not "possess the sexual characteristics of a woman." She was diagnosed with hyperandrogenism, a condition which meant that she had excessive testosterone in her body. Stripped of her silver medal, Shanthi was shunned everywhere. She was banned from competing by the Indian Olympic Association, and even tried to kill herself. 
"Everyone looked down on me. Everyone was looking at me in this new way: Is she a man? Is she a transvestite? It's very hurtful. It ruined my life and my family's life." 
Her coach P. Nagarajan said that the hyperandrogenism could be the result of her growing up in such a poor household where she never got three meals a day. The first time Soundarajan ate three proper meals in a day was in 2004, at the age of 23.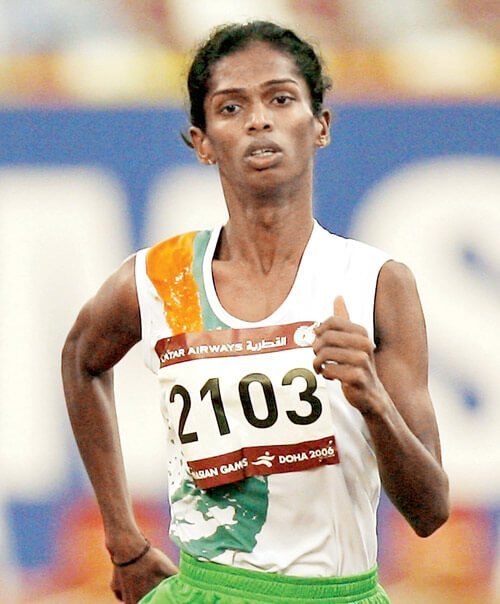 Even after a decade since this happened, Soundarajan is still fighting. In this video created in association with Thappad, she asks to be reinstated into the official record of races she won, and for the government to give her a permanent job.
It's time Soundarajan gets something back from the community she worked so hard for. She was given ₹15 lakh from the Tamil Nadu government for everything she achieved, which she used to train younger athletes. Soundarajan had extended her support to sprinter Dutee Chand, who was also diagnosed with hyperandrogenism in 2014. In July 2015, Chand contested her disqualification, and won her case. Soundarajan is hoping this will work in her favour as well.
You can sign the petition for Soundarajan here.