India made a statement yesterday, after starting the World Cup with a win against Australia. This victory was a moral boost for the team and the nation. Of course, none of it would have been possible without the exceptional players and the performances that especially stood out on the field. The Rahul-Kohli partnership was one example. However, there were a number of exciting moments that people cannot stop talking about.
Like these times:
1. When Virat Kohli walked back to the pavilion.
Cricket fans have a sense of emotion attached with specific players, and this can often be seen in how they look up to their favourite cricketers. During the match yesterday, when Virat Kohli walked back to the pavilion, people gave a standing ovation. This was definitely about his performance against Australia, but it wasn't JUST that – it's also the love that shows.
2. When KL Rahul scored a six.
During the final moments of the match, KL Rahul performed exceptionally well, even under pressure. After KL Rahul scored the final six, India beat Australia by six wickets. This also meant starting the World Cup on a happy note.
3. When Virat Kolhi was given the 'best fielder' medal.
After the match, there was understandably a lot of excitement – both among fans and the players. BCCI shared a video of the post-match celebrations from the dressing room. It shows Virat Kohli being awarded the best fielder medal by the fielding coach T Dilip. Dilip added that being a good fielder is about showing consistency and encouraging others to do better – which Kohli showed.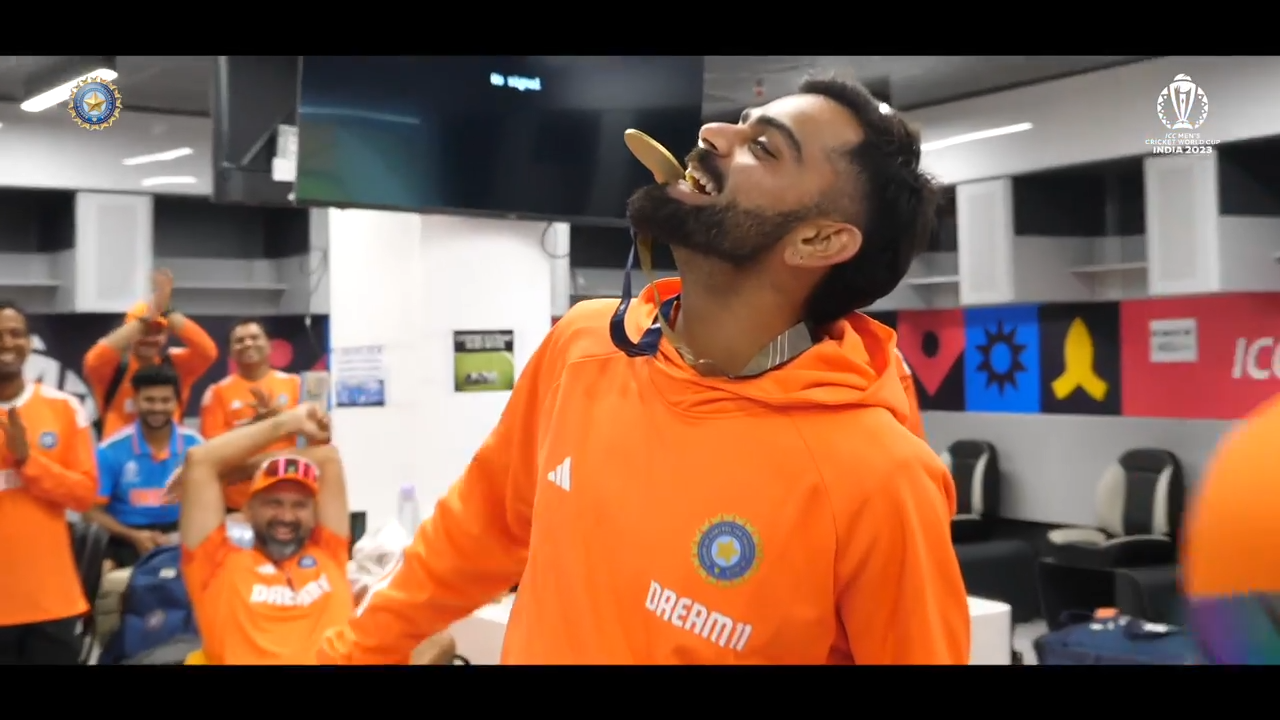 4. When Jadeja changed the course of the game.
Jadeja delivered an impressive performance, taking three crucial wickets including those of Steve Smith, Marnus Labuschagne, and Alex Carey. It was a sight to behold, and definitely the beginning of Australia's collapse, against India. People cannot stop talking about how his 'spin magic' was one of the reasons that made India's victory possible.
5. When KL Rahul talked about Rohit Sharma having his back.
After the match, KL Rahul was named Man of the Match for his unbeaten 97. He shared a very honest speech while being recognized for his performance. He also added that Rohit Sharma has always had his back, even when his performance was questioned before. He took a stand when people were criticising the player, and so he dedicated the win to him.
6. When India won.
The Indian team won against Australia where they kicked-off the World Cup 2023 campaign with a six-wicket win in Chennai. The enthusiasm showed among players, who hugged and jumped on the field. However, of course, it wasn't just contained to that. People who were in the stands, stood up, applauded and cheered the team – and there were some very happy visuals.
A world cup start that we're going to talk about, for years.