For the first time during his captaincy stint, Virat Kohli lost the toss in a home Test. For the first time in a while, India were on the back-foot from the first morning of a Test match in home. For the first time in the long domestic season, Indian spinners were given the unenviable task of toiling in the field for five sessions, conceding over 500 runs.
Indian batsmen, who have not got going as a collective unit since the Test series against South Africa last year, had an uphill task of not letting England take control of a five-match series. And India were a batsman short, with Kohli going back to the five-bowler strategy. It was time for the batsmen to step up. First blood to Alastair Cook's men in Rajkot would have been a blow to the No. 1 ranked Test side in the world.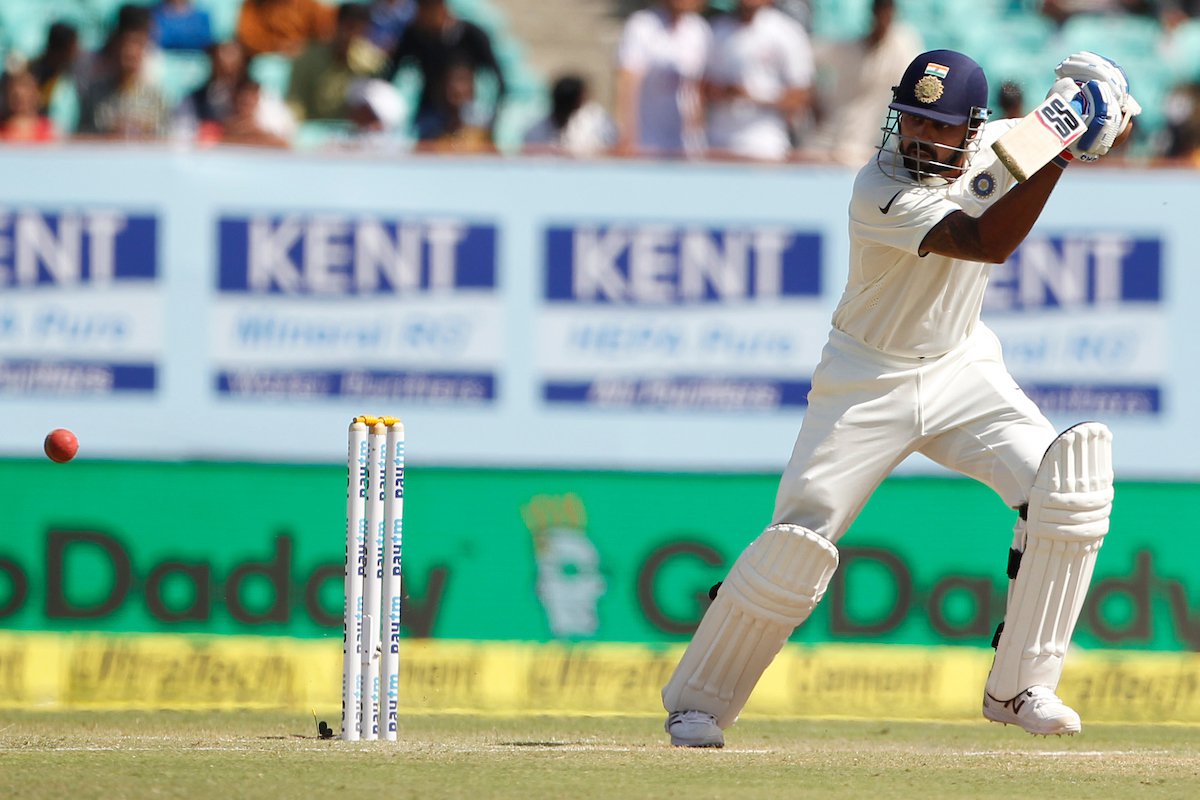 So when Stuart Broad stuck early on the third day to get rid of Gautam Gambhir, the onus fell on Murali Vijay and Cheteshwar Pujara. Pujara, after his tough run in the West Indies resulting in him losing the place for the third Test, has been in fine touch since the New Zealand series. But the same can't be said about Vijay. With the Indian openers slot becoming a musical chair contest, his run of form was starting to become a concern ahead of what will be India's toughest home assignment this season. 
And on day three in Rajkot, he stepped up when the team needed him with an innings that befitted his nickname — Monk. Displaying immense patience and excellent judgement of where his off stump was, Vijay played a serene 301-ball knock for his seventh century in Tests. His partnership of 209 with local boy Pujara has taken India to a position of relative safety. 
The England bowlers were relentless in their line and length all day, but Vijay wouldn't budge. Even as Pujara was testing the sturdiness of modern helmets by taking not one, not two but three painful blows to his face, Vijay held steady. He ducked, he swayed with his eyes firmly on the ball when Chris Woakes and Ben Stokes peppered him with bouncers. His front foot defence was solid — a boundary against Woakes when he did nothing more than dead bat a good length ball on to the pitch that raced away to the boundary was a sight to behold. He left balls outside off stump like he was Sachin Tendulkar in Sydney making 241. And, out of nowhere, when the spinners tossed up a delivery, he danced down the track to loft them over the infield — he hit four sixes against the spinners, each almost a carbon copy of the other. 
Most 6s in an inngs for #IndvsEng :

4 each by -Kapil, Lord's, 1990Dhoni, Oval, 2007Sehwag, Chennai, 2008Yuvraj, Mohali, 2008M VIJAY *— Deepu Narayana (@deeputalks) November 11, 2016
The highlight of the day was undoubtedly Pujara's 9th Test hundred. In Rajkot's first ever Test, the local boy delighted a sparse crowd with a majestic innings — a crowd which included a stoic 'Papa Pujara' and the effervescent Mrs, Pujara. It was an innings that showed what good touch the Saurashtra batsman is in. His scores so far in the domestic season read: 62, 78, 87, 4, 41, 101* & 124. 
There is no doubt as to who played the better, more flamboyant, more memorable innings on the day.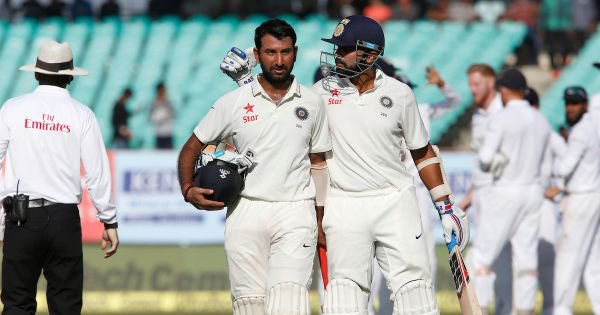 But what Vijay's innings does is ease any stress on Kohli's mind about the string of weak opening stands in recent times. It eases pressure on Kohli the batsman as well, as it is fair to say the Test match has at least been saved by India. With the afore-mentioned musical chair likely to continue for the second Test in Vizag, with the impending return to fitness of KL Rahul, Vijay is — assuming his limp in the final session is nothing serious — India's only solid presence at the top. 
The monk lost his cool for the first time during a gruelling 6 hour stint out in the middle when he tamely gloved Adil Rashid to short leg with two overs left in the day. The hitherto-unflappable Chennai batmsan was livid with himself for throwing it away so close to stumps. 
But when he left the crease and walked back to the pavilion, Kohli could afford to heave a sigh of relief for India have played out time and cut down on England's advantage in this Test. Even the ever-aggressive Indian captain would know it's not always chasing a win in Tests — its about ensuring the team doesn't lose. And Vijay's 301-ball 126 might have just ensured that.