Neeraj Chopra beat Davinder Singh in a thrilling men's javelin throw contest to win the gold on the second day of the Federation Cup National Senior Athletics Championships on Saturday.
World junior record holder Chopra ran away with the honours with a fine best throw of 85.63m at the NS-NIS here. The Neeraj-Davinder duel was the highlight of the day.
Both the athletes have already qualified for this year's World Championships in London.
Neeraj's effort, a new meet record eclipsing Devender Singh's mark of 79.65m recorded in Mangalore in 2015, put him in the top 10 list in the world this season.
Davinder finished second with a best effort of 83.82m, while Abhishek Singh of Uttar Pradesh threw the spear to 77m to claim the bronze.
The women's 800m event saw national record holder Tintu Luka failing to complete the race as she fell on the track after 300m mark.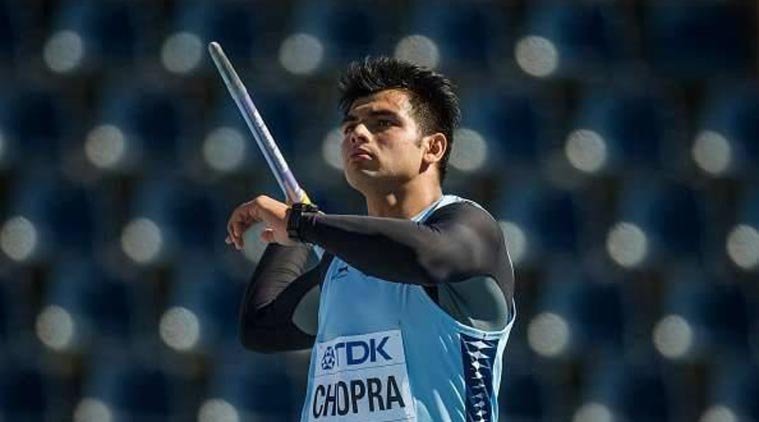 Archana Adhav of Maharashtra clocked 2:05.66 seconds to claim gold while silver and bronze went to West Bengal's Lili Das (2:05.93 seconds) and G K Vijayakumari (2:07.37seconds) of Karnataka.
Another high level performance was recorded by Tejinder Pal Singh, who won the men's shot put event with a throw of 20.40m, just 10 centimetres away from the World Championships qualification standard.
He finished ahead of Jasdeep Singh Dhillon who picked up silver with a throw of 19.46m while national record holder O P Karhana took the bronze with an effort of 19.30m.
Competing in the year's first 200m competition of the domestic calender, Amiya Mallick and Srabani Nanda, both of Odisha, claimed the men and women's titles respectively.
Mallick recorded a time of 21.22 seconds while Nanda clocked 23.57 seconds.
Mallick, who was competing in his first 200m competition since the 2013 Open Nationals, finished ahead of Sanjeet of Haryana (21.43 seconds) and Vamsi Praveen of Andhra Pradesh (21.78seconds).
In the women's competition, Nanda finished ahead of statemate and fellow Olympian Duttee Chand (23.60seconds) and Jyoti HM of Karnataka (24.37seconds).
In the middle distance events, Delhi's Amoj Jacob was the surprise winner of the men's 800m. The second-year student of Delhi's Khalsa college took his first gold medal of the Federation Cup with a time of 1:50.54seconds.
Rio Olympian Jinson Johnson of Kerala took the silver in 1:50.83 seconds while Vishwambhar Kolekar of Karnataka completed the podium with a time of 1:50.92 seconds.
Andhra Pradesh's Nayana James won the women's long jump with a best effort of 6.55m while V Neena of Kerala (6.31m) and G Karthika of Tamil Nadu rounded off the podium with an effort of 6.05m.
National record holder Ankit Sharma of Madhya Pradesh claimed the top prize in the men's long jump event by clearing 7.80m ahead of S Samsheer (7.67m) and Mohan Naik (7.66), both of Karnataka.
Earlier in the morning session, Punjab's Karamjit Kaur won her first Federation Cup title in the women's 20km walk with a time of 1:40:01.68 seconds. Soumya B of Delhi and Rani Yadav of Uttar Pradesh won silver and bronze with a time of 1:41:03.16 seconds and 1:42:22.32 seconds.
Karamjit is the sister of national record holder Khushbir Kaur who has previously won the Federation Cup title.
"I am satisfied with my result. This is my personal best effort," said Karamjit.
National coach Alexander Artsyabashev was also satisfied with the result despite it being nearly three minutes off the meet mark held by Khushbir Kaur in 2012.
"This is a good result considering the temperature and the fact that this is our developmental squad. Our main team is currently training at high-altitude center in Dharamsala with the target of performing at the World Championships in London," said Alexander.