Devendra Jhajharia's first throw on the night was a season best 57.25 metres. He improved that in his second attempt – to a very impressive 60.7 metres. He was laying down the marker early on. He was setting the pace. The world record was 62.15 metres, that he had set 12 years back in Athens. It was close. It did not seem possible until that moment, given his season best was over 5 metres less than his personal best.
And then came the third attempt. The javelin went over the head as he adjusted his grip with his good right hand and the amputated left hand. The arms went up and down, as he loosened his shoulder muscles. Deep breaths. The run up began. The commentator mentioned how he had set the pace so far — he builds up a rhythm as Devendra picks up his pace. The release is clean as a whistle.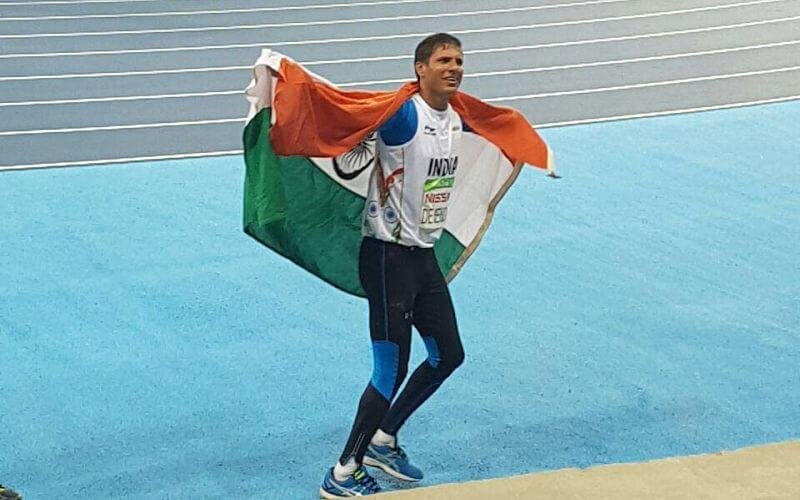 "He is the world record holder," says the commentator as the javelin arcs beautifully through the night air of the Olympic stadium in Rio de Janeiro. And then it hits the ground. What followed was magical.
"Oooooh and he is the world record breaker! It stood for 12 years since his Athens gold and Devendra sends it out to the horizons. It's gone well beyond 62 metres, by a long way. Look at that! Sensational throw, 63.97. Devendra's wait is over!"
Goosebumps. Over and over again!
At around 3:15 am IST in the wee hours of Wednesday – 14th September, 35-year-old Devendra Jhajharia rewrote the record books, one he had written in the first place. At around 4 am, when the world para-champion from China could not muster anything close to the 63.97 meter mark, Devendra became the first ever Indian athlete — Paralympics and Olympics combined — to win two individual gold medals.
Meanwhile, India was literally and metaphorically, sleeping — blissfully unaware that one of the greatest moments in Indian sporting history was unfolding in Rio de Janeiro. I, for one, couldn't stop watching that throw. On loop. The look in Devendra's eyes as he sent the javelin arching across, the little jig at the end when he found out what his mark was, the commentator's unscripted incredulity at what he was describing. It was mesmerising, chilling even, to see a 35-year-old man jump up and down in joy and just let out a few animal cries at what he had achieved.
It was raw emotion. It was unadulterated joy. It was incredible to watch.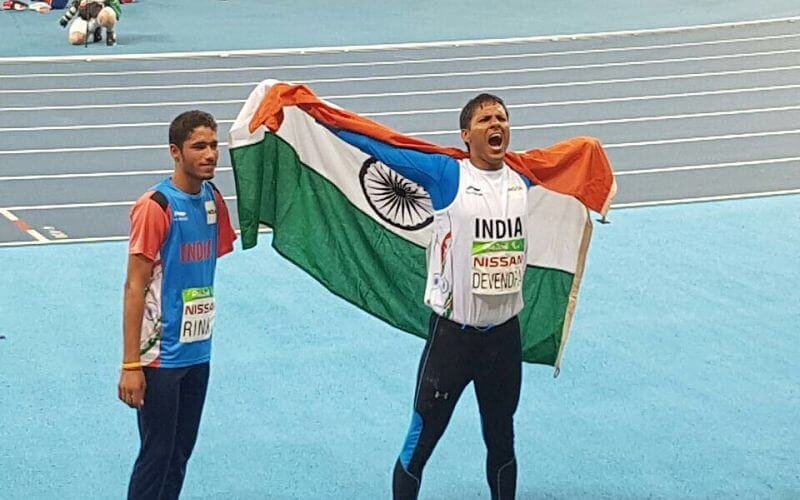 "It's been a long wait," he had told ESPN India before Rio 2016. "I've been training and keeping myself motivated all this while knowing this will be my last appearance at the Paralympics."
12 years is a long, long time in any sport. His event was scrapped after 2004 and was added for Rio 2016. He did not even have a new javelin to practice with, for a Paralympic swansong, a source with GoSports Foundation told ScoopWhoop. Then three new javelins were bought, the motivation was rekindled, and here we are, talking about an unprecedented second world record-gold medal combo.
But it is important to mention here that the amazement was at the fact that he won the gold by breaking his own world record — because otherwise Devendra was expected to win a medal at this event. He won the silver medal this year at the IPC Para World Championships after all. 
And therein has been the biggest difference between watching the Paralympics and Olympics from India. It's fair to say a good majority of the sport fans, stayed up late every night from 5th August, in anticipation, in hope that the medals will come. Media houses, ours included, ran live blogs all night. The events involving Indians were beamed live (well, most of them) on multiple television channels. 
There was an unprecedented buzz which was, for the most part, accompanied by disappointment. 
But the buzz has been almost non-existent during the Paralympics. There are no journalists present in Rio to cover the event. No dedicated live blogs – our publication included, again. No official broadcaster. Just a YouTube live stream. Despite all that (or is it because of all that?) the para-athletes have gone out and lived up to their potential or even exceeded it. Not just Devendra, all four of the medals at these games, have been more or less 'expected'. And unlike most of our Olympians, the Paralympians have delivered. 
Make no mistake, the country woke up on Wednesday, literally and metapohorically, to the achievements of Devendra Jhajharia. He will get all the love that he deserves. He will be rightly hailed as one of the greatest athletes of our generation.
It's only a small personal consolation but I, for one, will rest peacefully knowing that I saw it unfold live.