The world has changed. For sports fan, eras are flagged by different markers. There was a time when all the sports news we got was from the last page of a newspaper. All the posters we got were from the centre-spread of SportStar. There was also a time when owning a football jersey was a rarity.
Yes, such an era existed. Not so long again. The very same time when only a few football matches were broadcast on TV and those too were restricted to the English Premier League. The La Liga (Spanish League) came on really late at night. For us school kids, back then, staying up at 1.30 AM was a big deal.
But then, there are those few footballers, those players, those great, great men who had the skill and the audacity to bend the game and our minds at will. They made it worth the late nights and the scolding from our parents. 
One such man was Ronaldo de Assis Moreira or as we know him, Ronaldinho!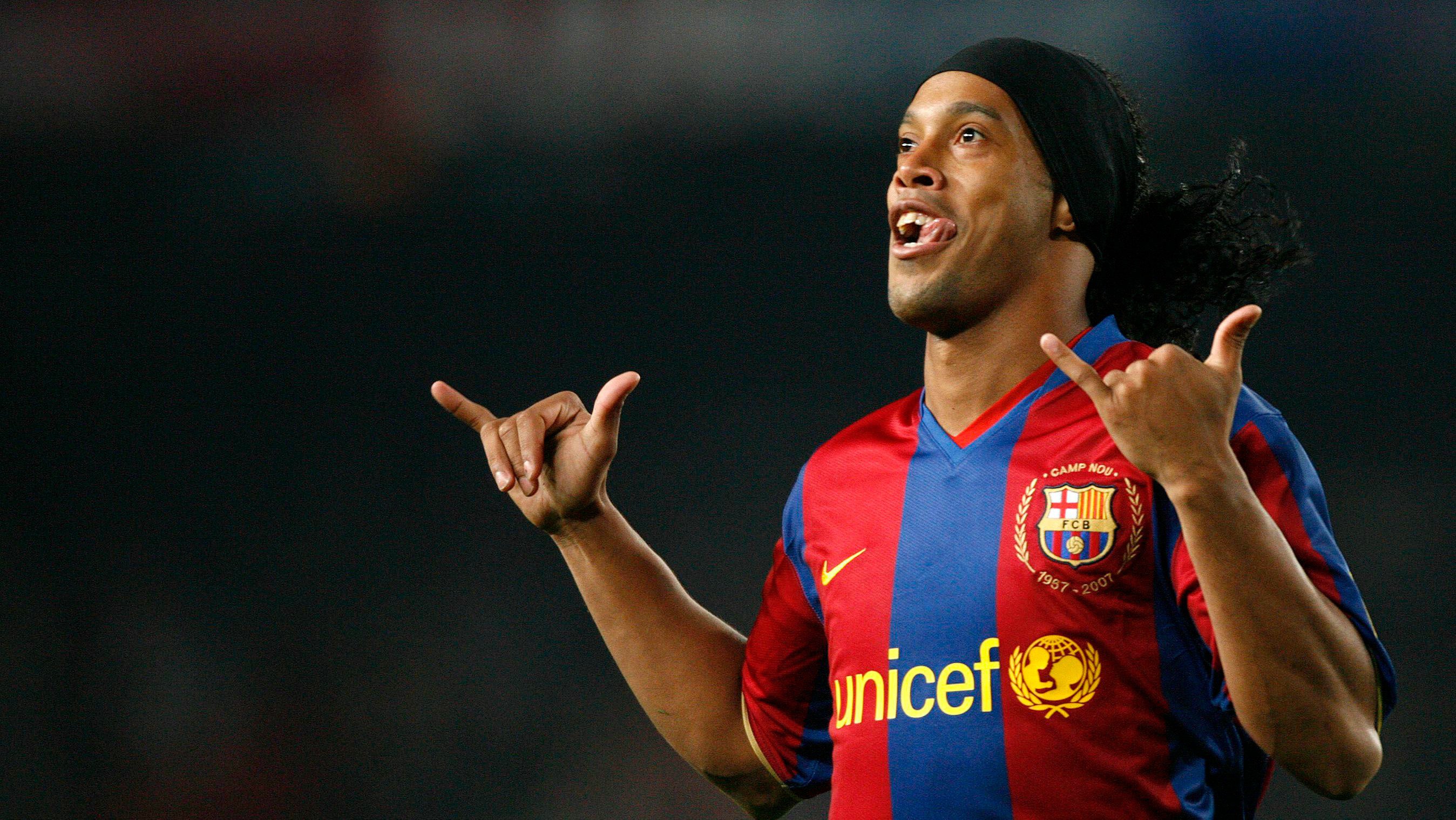 The ever smiling figure who took football to a new level. You know there are always haters. Those who love Messi and hate Ronaldo or vice-versa. 
But I've noticed something different about this guy. No matter where he went, no matter who he played for or against, he always had the respect of all football fans.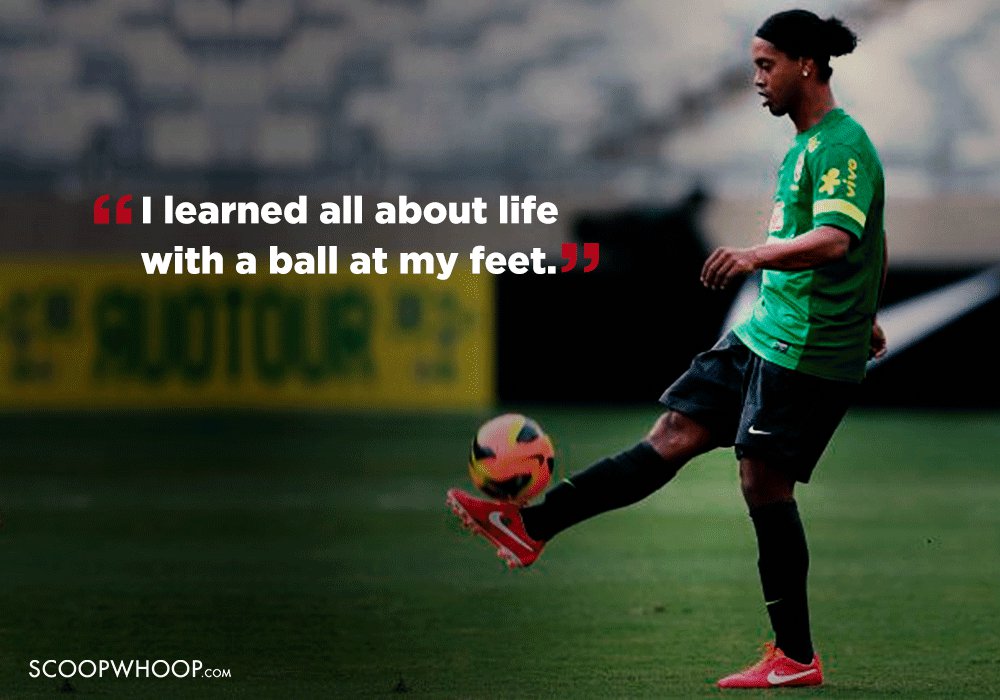 The man always has a smile on his face. Always happy to be on the pitch. Always happy to have the ball at his feet. It truly showed how much football meant to him. Some play for greatness, some play to win, but he just plays because he loves to play. His romance with the game was professed by his tricks with the ball. Glory arrived. It had to. 
He could make the ball do whatever he wanted it to do. Something he proved with that inch-perfect free-kick that broke English hearts at the 2002 World Cup.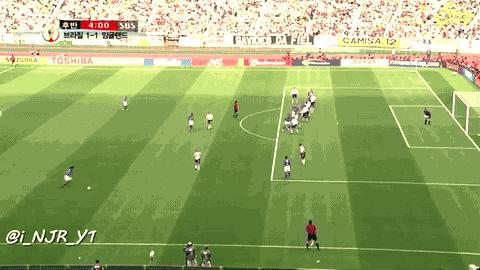 It was a wondrous sight. Seeing him do the things he did. The skills that embarrassed defenders, the carefully calculated finishes that ended with the ruffling of the net and the no-look pass that made the world watch in awe.
It was beautiful destruction when he tore open an opposition. No one – I repeat – no one would ever get a standing ovation from the opposing fans in an El Clasico. It is by far the biggest game, the greatest rivalry in football. 
Maradona was the only one, until in 2005, Ronaldinho made true of Julius Caesar's phrase 'Veni Vidi Vici' when he arrived at Madrid's stadium. 
He came.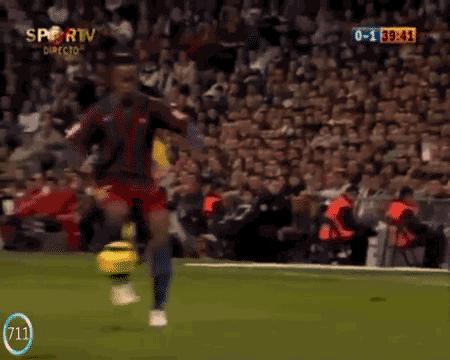 He saw.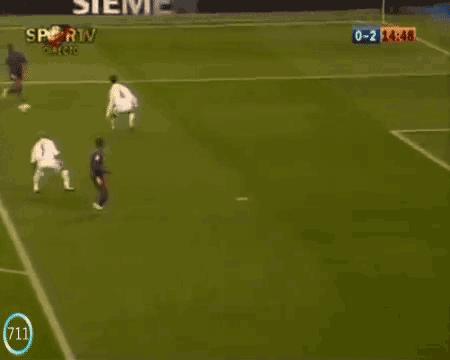 He conquered.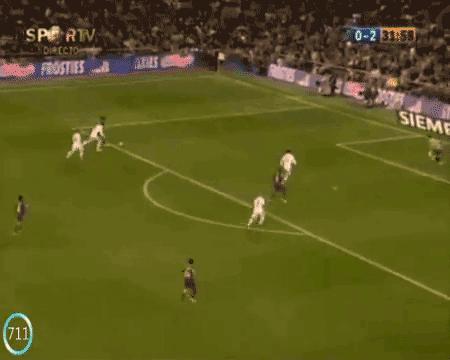 All Madrid fans applauded on their feet to respect the Barcelona superstar.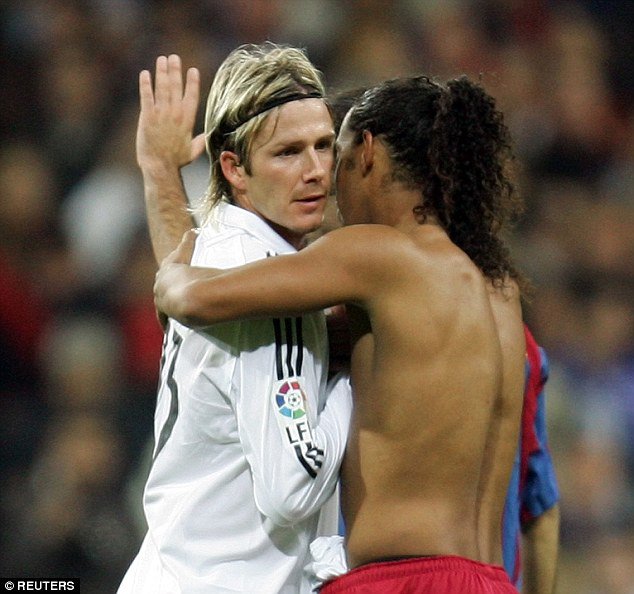 He did not just change games at Barcelona, he transformed the club. He left a legacy so beautiful that it was best described with the then Barca captain, Carlos Puyol, asking him to be part of the team photo even when Ronaldinho came to play against them in 2010. 
Like always, the man, this time too, stood out.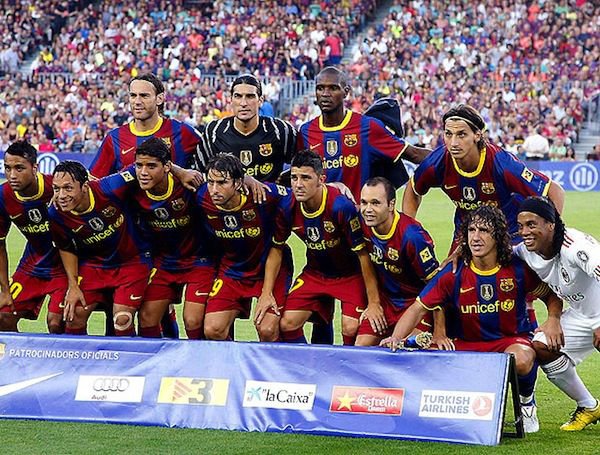 He passed on the baton to a young boy, and it literally started with a pass. A 17-year-old Lionel Messi's first goal for Barcelona was assisted by Ronaldinho. 
It is only fitting that Messi now sports the number 10 jersey.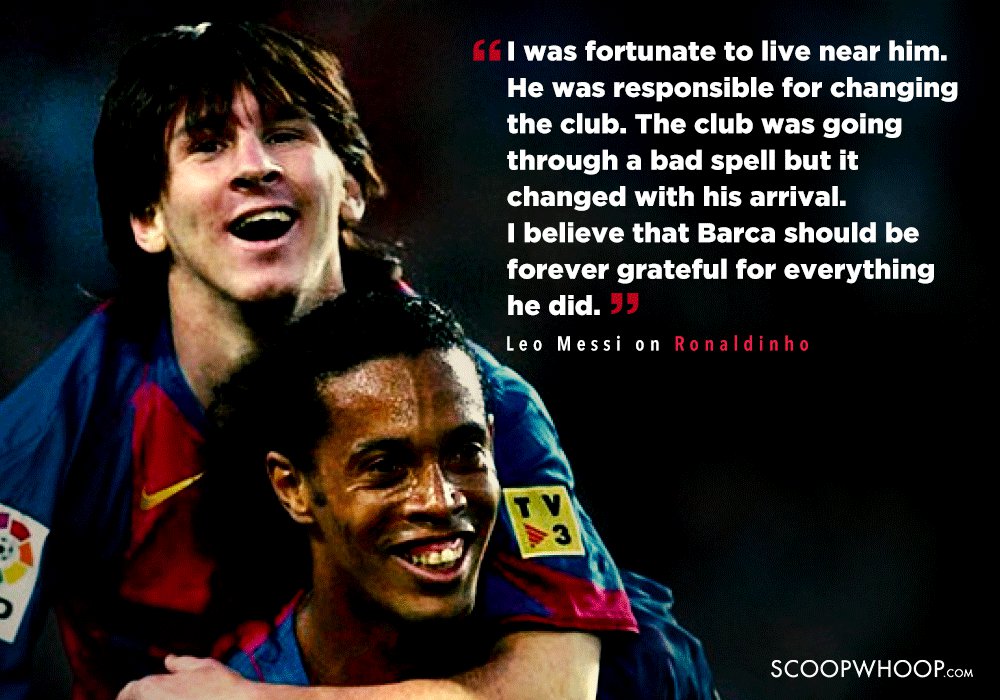 Dinho did it all with a smile on his face. Something that was true of his character from his early days. Always a nice guy. Giving attention to the fans who worshipped him, presenting them with photos, autographs, jerseys and loves. 
He spread joy to the world with a football at his feet.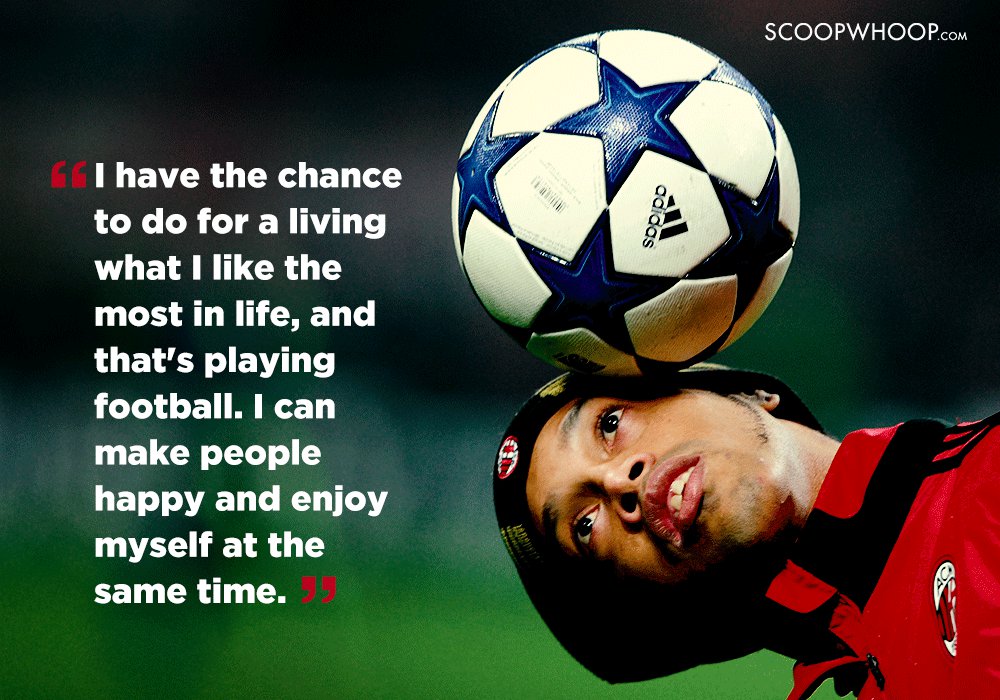 The only time I saw him not smiling was when he cried. That moment told me more about the man than anything I had ever seen. 
In 2012, he scored a wonder goal for Atletico Mineiro. Curling it from some 30 yards out. It was the day after his stepfather had died. He looked up to the heavens with tears in his eyes. It showed how much he emoted through the game. How much football really meant to him. Of course, he was past his physical best. But the love, the romance did not fade.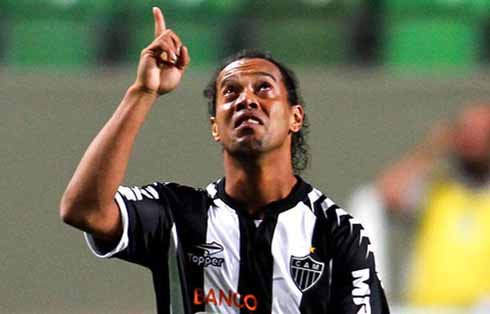 It is said that he eventually fell out of love with the game. Training less and partying more. But his curse was that he was Ronaldinho. People always expected more. His humility only proved that he was human and he never denied it.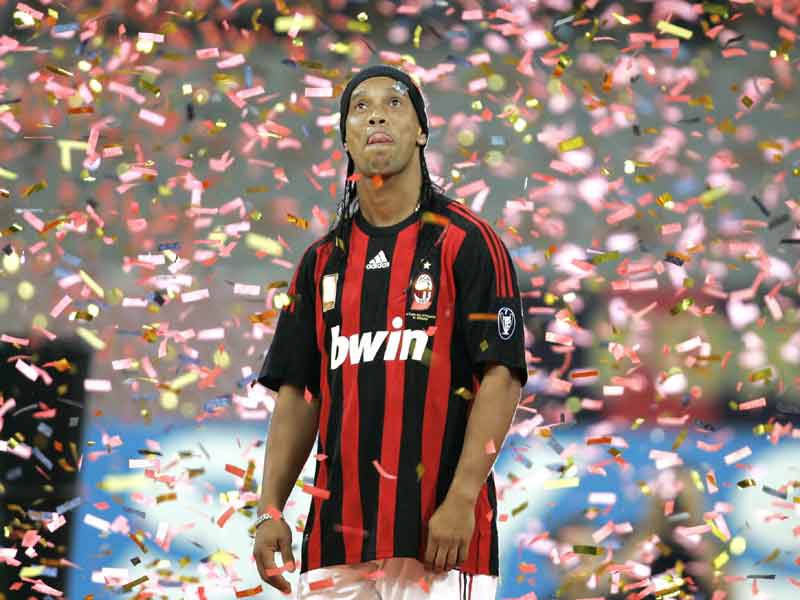 But I don't believe that he can ever stop loving football. He lived for the game and gave it his all. In 2015, while playing in Mexico, for Querétaro, he scored a brace against the then champions América, in an away game. 
This was the second time he cried. This was also the second time Ronaldinho received a standing ovation from the opposing fans. 10 years apart, the greatness remained.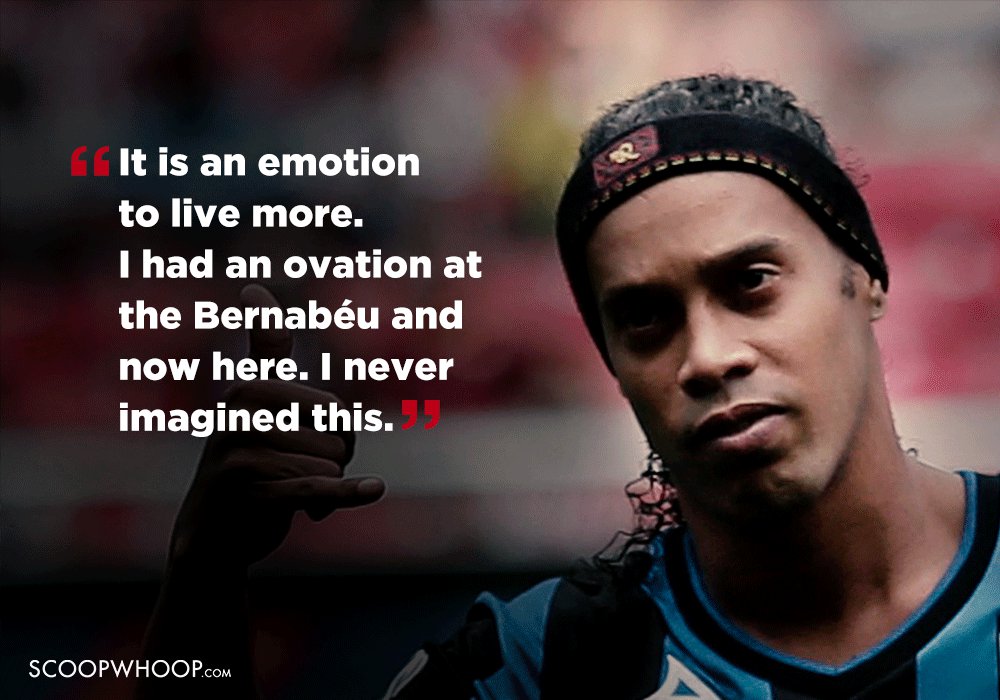 He even travelled all the way to India and left his mark here, in 2016. 
Remember when he scored 5 goals in the Futsal Premier League in a single game? Yes, the man still has it!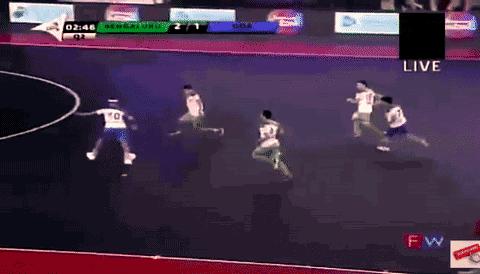 World Cups, Leagues, Champions Leagues, Copa Americas, Ballon d'Ors, the man has won it all. Don't tell me he stopped loving the game. Because I know for a fact that the game never stopped loving him.
His commitment to the entire football community is amazing. Aged 36, he has offered his services to the Chapecoense football club which lost 19 of its players in a tragic plane crash. Dinho said he is willing to come out of retirement and help the team. The sadness and love in that statement just proves how beautiful the game of football is and what it means to him.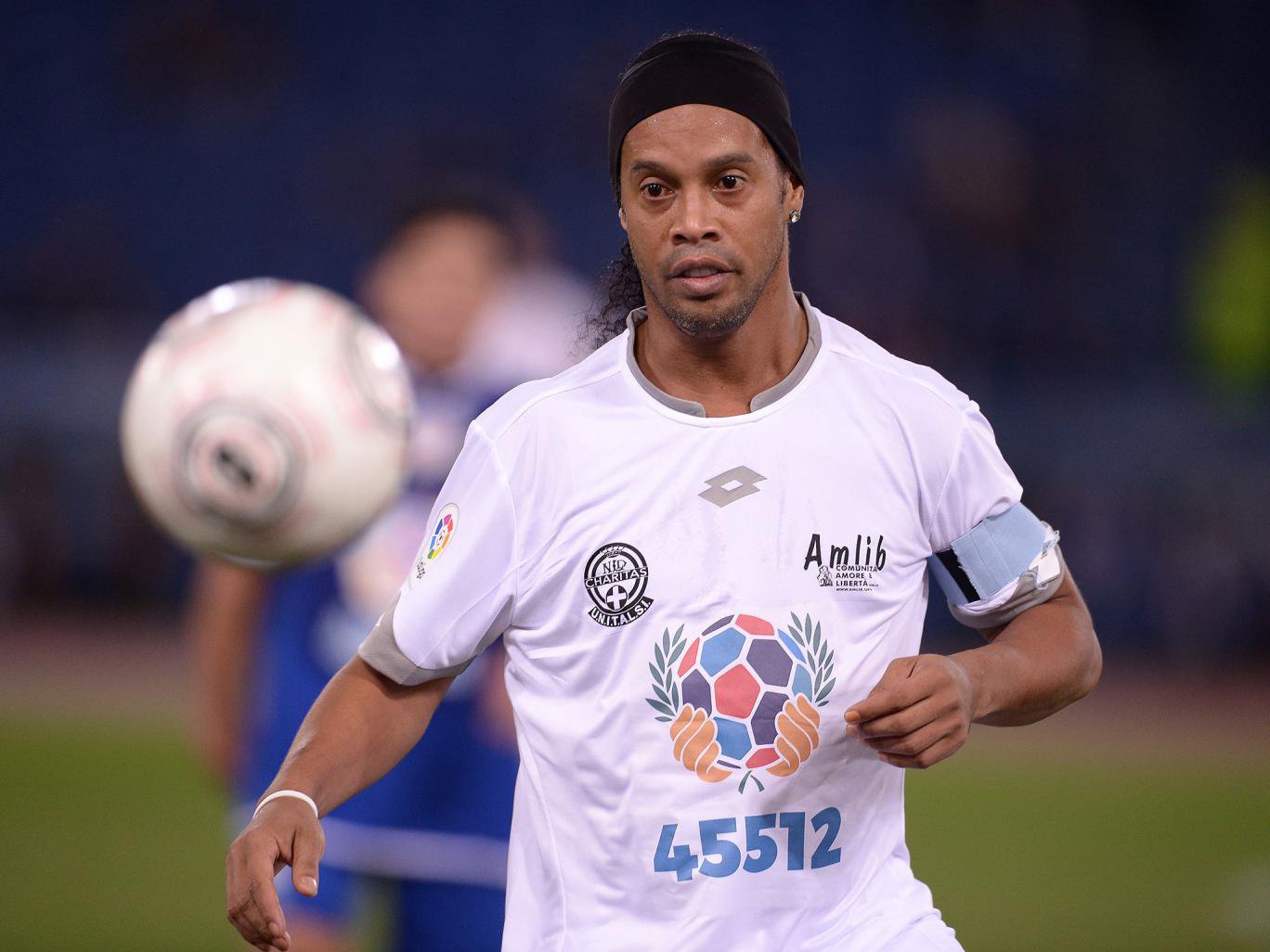 The undying romance between him and football, like his skills, remains unmatched for me. No matter how many greats come and go, football will always be grateful to the man who played it with a smile on his face, the man who made us look the other way, the man who changed the game – Ronaldinho Gaucho!