Harsh Goenka, who is the brother of Rising Pune Supergiant owner Sanjeev Goenka, and a corporate giant himself, learnt that criticising MS Dhoni isn't a very clever decision. Especially after the Indian was replaced by Australia's Steve Smith as captain of the Indian Premier League side this season.
Harsh Goenka tweeted after Rising Pune Supergiant vs Mumbai Indians game, in which Smith took his team to victory with two sixes in the last over, finishing with 84 runs off 54 balls. Dhoni was at the other end when the winning runs were scored, not out at 12 runs from 12 balls.
Goenka thought it was the right moment to justify the team's decision to make Smith the captain of the side…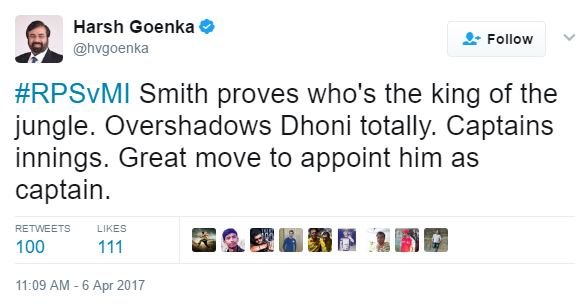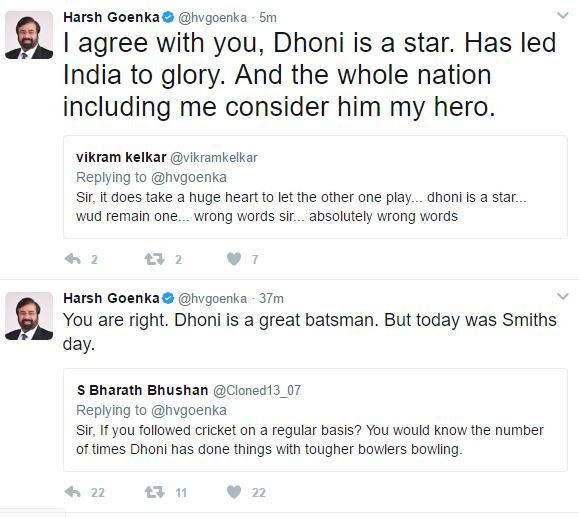 Obviously this didn't go down well with a lot of fans – after all, Dhoni's sixes have won India the World Cup and the IPL seems small change in that regard.
@hvgoenka In your dreams… No batsman can overshadow Dhoni. Take him out your team and see the fan count.. maybe you will get to know the reality

— Vamsi Kaka (@vamsikaka) April 6, 2017
Dhoni team won 2 World Cups 2 ipl trophies 2 cl trophies and champions trophy as well.we don't talk abt it that doesn't change the fact 🙄 pic.twitter.com/UXLJcXsZ4P

— rishu proud msdian (@rishika2101) April 6, 2017
@hvgoenka If you are not dead you would have heard whose name Crowd was changing throughout the game

— Krish (@Kingkrish94) April 6, 2017
@hvgoenka No doubt Smith was brilliant today but do you really need to compare two players of your own team ?

— Manas. (@That_MSDian) April 6, 2017
@hvgoenka Yes it was Smith's day absolutely. That never means he overshadowed him. Learn to use the right words Sir. With due respect, a cricket fan.

— S.G🌿 (@Srijeeta7) April 7, 2017
Feature image source: Twitter