India tamed Bangladesh by 109 runs in the World Cup quarter-finals at the MCG on Thursday, March 19, but there was one moment in the match that might still be unresolved. Team India were in a spot of bother when Virat Kohli was caught behind for just 3 runs.
The bowler Rubel Hossain was expectedly ecstatic at having taken the prized wicket but his celebrations were slightly over the top. In fact, he had to be restrained by his teammates from having a go at Kohli, who was walking off the pitch.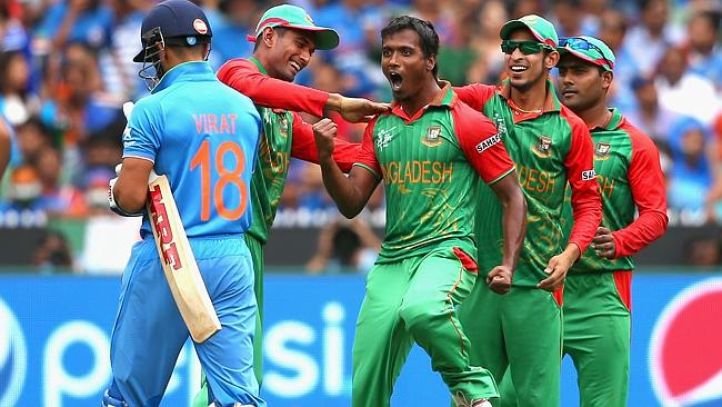 Here is a video of the wicket:
Well, as it turns out, the two have a history. When India and Bangladesh met in the Under-19 World Cup in 2008, there was an on-field spat between them. The mutual hatred carried on to the 2011 ODI World Cup, where Kohli even swore at Rubel after the pacer threatened to throw the ball at him.
Here is a video of Kohli abusing Rubel in the 2011 World Cup opener:
At the MCG on Thursday, Kohli did not retaliate to the bowler's antics. The Indian batsman didn't show any reaction when Rubel was out for a duck later in the match.
With India having beaten Bangladesh, let's suffice to say that Kohli had the last laugh. Besides, this rivalry will liven up the match the next time India face Bangladesh.