It was the 22nd of April, 1998. The night started with the Men in Yellow batting first. There were few teams as dominant as Australia back then. We were playing in the Gulf. But it felt like home. Men, women, children were all there, not just to watch India play but to watch Sachin bat. 
The Aussies had left us a target of 285. But a sandstorm struck. The target was changed to 276 off 46 overs. But our main target was to qualify for the final. For that, we needed to reach 237. The storm subsided, the desert air cleared out and the Little Master came out to bat.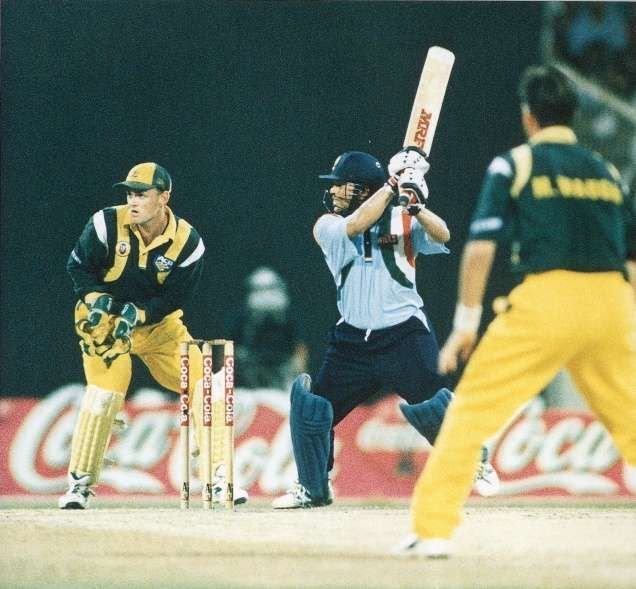 The Aussies had no idea that the real storm was yet to come. Over the next 43 overs, history was to be made. A night that has ever since been etched in every Indian cricket fan's memory. Oh, those men from Down Under were clueless about what was coming. 
That was the night of the Desert Storm!
It wasn't like a World Cup semifinal or something. It was just a tri-series. A series where Australia had already beaten us before this game. But this was Sachin's night. This was our night and for all those in the stands and those staying up at night, ignoring everything else to watch pure class.
He won the World Cup, innumerable Man of the Match and Series awards, scored the first-ever ODI double ton, made the highest number of centuries, the highest number of runs, most caps for the country… he did it all. Every landmark justified why we call him God.
But this one, this innings was different. This one was like no other. Tendulkar will be remembered for many things, but Sharjah will always be special. We witnessed God in his prime that night. 
No injuries, no controlled carnage. Ruthlessly true & pure. Just him, the Aussies and his bat.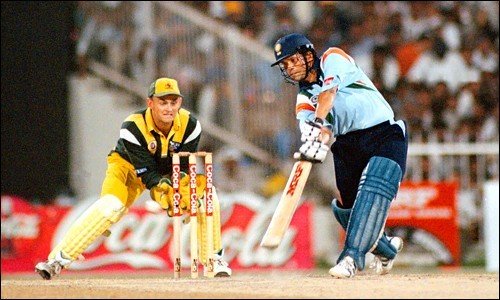 The straight drives were perfect, the sixes cleared convincingly, the boundaries were unstoppable. He was relentless from the first ball. No time needed to settle in. Wreaking havoc right from the onset. It was as if the entire world had broken into a berserk symphony, and in the middle of it all stood the maestro. Every shot was like music to the ears.
He may have said it before, he did say it countless times after, but this was the first time I recall the late Tony Greig saying –"What a player! What a wonderful player!"
He was in awe of the man and so were we. His century that night was inevitable. No nervous 90s, no slip ups, just pure Sachin. We all have that image of him embedded in our minds. He reaches a landmark, takes off his helmet and looks up at the heavens. 
But that night, he did not remove his helmet. Not when he reached his ton, not when he helped us qualify, not when he walked back to a rapturous applause that filled the skies. It was testament to how focussed he was – to get to the final. God alone knows what goes on inside that calculating mind of his. Or maybe not even He does.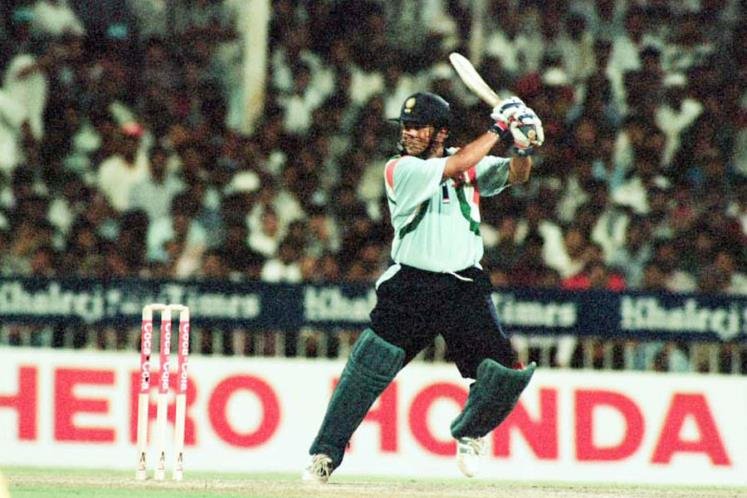 Forget the qualification part, he wanted us to win the bloody game. The umpire did not think he was out, but Sachin being Sachin… he walked. 143 off 131, his then highest score. He could've stayed and won us the game easily. But he saw us through to the finals and it was enough. Glory was his. And more of it awaited.
That night, we won the battle, but not the war. However, the war was not over yet. Like good old Tony spoke of the anticipated final – "These two teams are gonna do battle again, and what a battle it's gonna be."
We did battle again. Sachin could have played the very next day. But the mortals needed a break. We needed a break. It was too much to take in. A demolition like that was unheard of.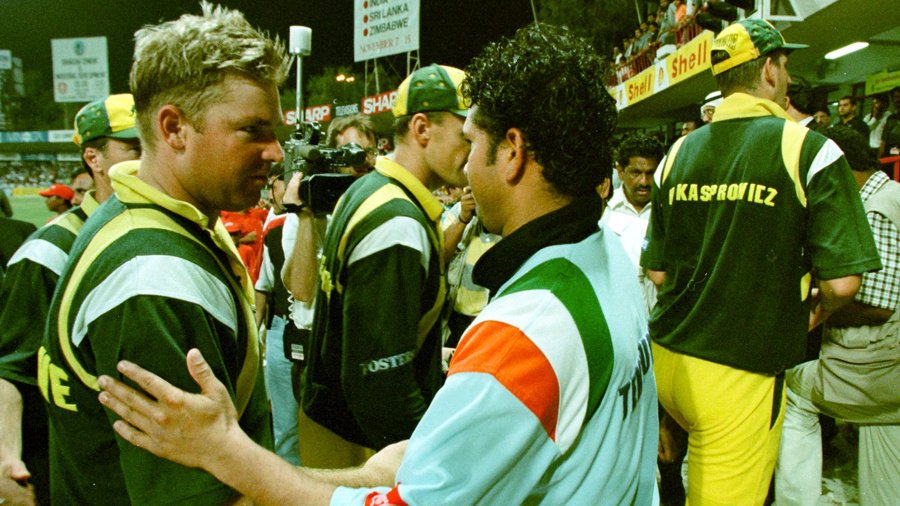 So they battled two nights later. And soon, the war was ours too. His work had been left incomplete the other night. So he came out and won us the trophy with another century – 134 this time. It was his birthday, and what a treat he gave us. I know the final seems more important, but the one before was more crucial. It got him into his mode – God mode.
It wasn't just India vs Australia in that series. It was Sachin vs Warne too. A clash of the titans. Any fan can recall that moment in the final when Sachin stepped out, took it on the bounce and whacked it out of the park. That shot just asserted Sachin's dominance over the two nights. 
Warne – like the Aussies – had been conquered. He had left them clueless and Warne's expression said it all: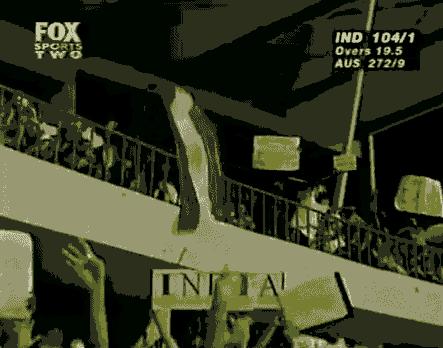 These two nights went down in Indian folklore. Two nights of joy. Two nights of Desert Storm that the Aussies just couldn't escape. Two nights of Sachin Tendulkar in all his unbridled glory. 
It's been 19 years since Sharjah. It was against all odds that Sachin proved that he truly was immortal and remained so thereafter. The feeling is impossible to describe. 
Tony Greig's words though, as simple as they come, described the Little Master as beautifully as anyone could – "What a player! What a wonderful player!"