Remember how Mumbai Indian all-rounder Kieron Pollard had slammed Sanjay Manjrekar for his on-air comments about his batting? After the IPL match against Kolkata Knight Riders at the Wankhede Stadium this week, Pollard had tweeted that the former India player suffers from "verbal diarrhoea,"
Manjrekar has now taken to Twitter to rubbish claims that he had called Pollard "brainless" and that he would criticise a player but never insult him.
Said " Does he have the range? " Using terms like 'no brains' or 'brainless' not my style. I can be critical but never insulting.

— Sanjay Manjrekar (@sanjaymanjrekar) April 15, 2017
I would also encourage all those reacting to the Pollard issue to hear the footage & not just take my word for it.

— Sanjay Manjrekar (@sanjaymanjrekar) April 15, 2017
Manjrekar's response on air was to a question on should Pollard bat higher up the order. He was dismissed for a run-a-ball 17, leaving MI at a precarious 119/5 with less than four overs to go in his team's chase of 179. In the commentary box, Manjrekar had criticised Pollard, saying that he was only good enough to bat for the last six or seven overs of an innings.
Pollard had responded angrily to Manjrekar's criticism in a series of tweets.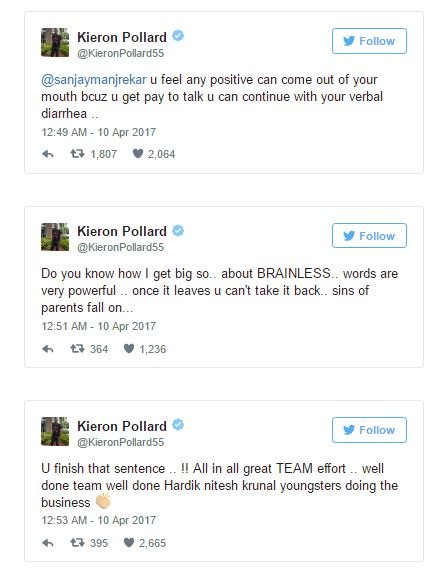 Fellow commentators Harsha Bhogle and Aakash Chopra came to Manjrekar's defence as well.
My two-penny worth: you can criticise people or disagree with them or not rate them but to attack them with untruths isn't fair.

— Harsha Bhogle (@bhogleharsha) April 15, 2017
I think decency and journalistic ethics mandate that all those who roasted @sanjaymanjrekar over the "brainless" issue offer a full apology

— Harsha Bhogle (@bhogleharsha) April 15, 2017
On another note, I am extremely concerned by the agility with which the media judges people without the need to be truthful and/or accurate

— Harsha Bhogle (@bhogleharsha) April 15, 2017
With inputs from PTI