Harsh Goenka's tweet on how new Rising Pune Supergiant captain Steve Smith had overshadowed former captain MS Dhoni has not gone down well with the World Cup winning skipper's wife Sakshi Dhoni.
The IPL team took the controversial decision to drop Dhoni as captain before the season began, opting for Smith instead. It didn't help matters when the Australian struck an 84 off 54 balls in RPS's win over Mumbai Indians in their first match. Dhoni was at the other end with Smith, and finished with 12 runs from 12 deliveries.
Industrialist Harsh Goenka tweeted at the time: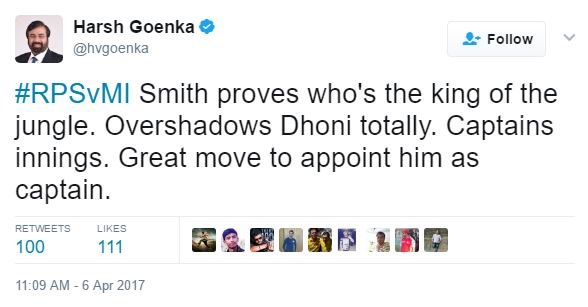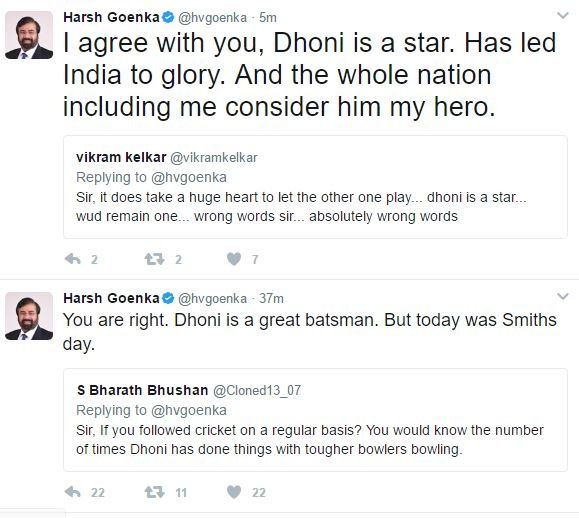 Goenka deleted the tweet after backlash from fans. 
However, Sakshi clearly took notice of it and posted her own message on Instagram – which is clearly a message for whoever tries to put her husband down.
"When a bird is alive, it eats ants. When the bird is dead, ants eat the bird. Time and circumstances can change at any time. Don't devalue or hurt anyone in life. You may be powerful today, but remember, time is more powerful than you. One tree makes a million match sticks but only one match is needed to burn a million trees. So be good and do good," the post read.
This is not the only time Sakshi has taken to social media to point out something that isn't in favour of her husband. 
Like this instance when she tweeted to the Law and Justice and Ministry of Information Technology minister Ravi Shankar Prasad to take down a picture of Dhoni giving his biometrics for an Aadhaar card which mistakenly gave out his mobile number.
With Sakshi by his side, Dhoni's battles are certainly made easier!