Two weeks after becoming a first-time mother, tennis superstar Serena Williams revealed her baby daughter to the world Wednesday in an online montage that featured moments from early sonograms to just after the birth.
In the touching compilation posted on Williams' Instagram account, the 23-time Grand Slam singles champion also said that there had been "complications" in the delivery of Alexis Olympia Ohanian.
"It's been a long time, but we had a lot of complications, but look who we got — we got a baby girl!" said Williams in one segment of the home movie as she left the hospital with fiance and Reddit co-founder Alex Ohanian.
She said the couple had spent almost a week at the hospital after the September 1 delivery, but did not say what the complications had been. Media reports said the birth had been induced by doctors.
The clips show the pregnant tennis star — who turns 36 at the end of this month — showing off her belly bump, dancing and practicing her game, as well as shots of the expectant couple assembling their daughter's nursery.
The film appeared to be meant as much for her daughter's future viewing as for Williams' millions of ecstatic fans, with the pregnant tennis mom telling the camera as she filmed her belly, "You move at 10:15 or 10:30 every night."
Williams won the Australian Open while newly pregnant with her daughter, a fact reflected in a shot on the Instagram post that read "Born: September 1, 2017, Weight: 6LB 14 Oz, Grand Slam Titles: 1."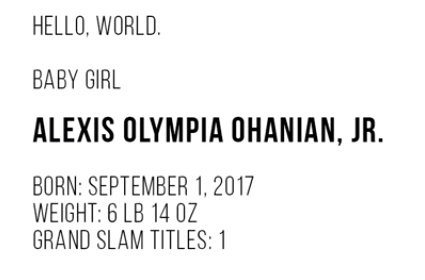 Friends and fans took to Twitter to congratulate Serena and welcome the baby.
An excellent name- well done and good luck Alexis!!!

— Martina Navratilova (@Martina) September 13, 2017
That IG story was everything! Congrats superstar 😍

— Suzanne Shank (@curlymaneee) September 13, 2017
True its unique and its what the parents like. And thats a princess

— MPUME DLAMINI (@Nandi1204) September 13, 2017
The princess is gorgeous Serena! So happy for you and Alexis on this journey

— Baby O's 2nd Auntie (@4TheTennis) September 13, 2017
Congratulations Serena. Proud of you both. Babies are resilient. Enjoy this new phase of your life. Baby Alexis is gorgeous.

— luciahoff (@luciahoff) September 13, 2017
Feature image: Serena Williams/ Instagram