Chris Gayle always likes to go over the top – he is not just a cricketer, but a true entertainer. And there's hardly any other cricketer out there who has made fans get off their seats than this flamboyant batsman – who has played for 11 franchises in T20 leagues across the world. 
Now, he has released his autobiography where he talks about his journey till date. And Gayle talks like he bats.
The 36-year-old officially launched his autobiography at a hotel in Delhi on Friday – he was joined by Virender Sehwag and BCCI president Anurag Thakur, who was the chief guest of the evening to officially launch the book 'Six Machine'.
"It will be as entertaining as my batting and will bring a different side of Gayle. It will give insight of my childhood and inspire the young ones," he said.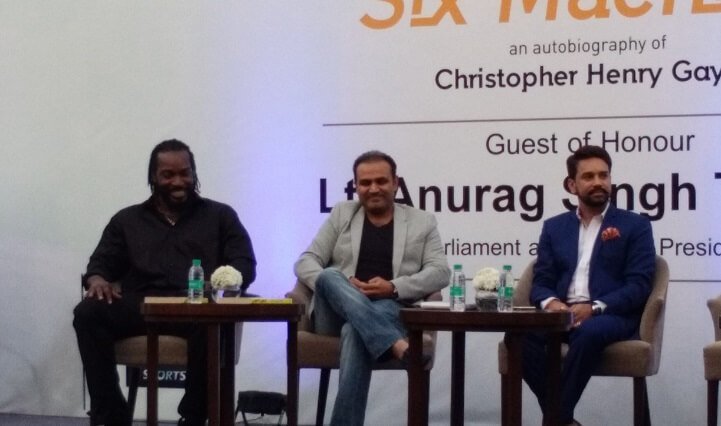 The highlight of the evening though was Gayle revealing that during the West Indies-Australia series in 2005, he had to go through a heart surgery which is hardly known to anybody. Even his parents came to know about the operation after it was successfully done.
It was the moment he realised the importance of life: "I realised the importance of life during those days. It was a life changing moment for me. Thereafter I decided to enjoy my life to the fullest and it still continues," he said.
Sehwag talked about how they used to plan to thrash Australian bowlers.
" On many occasions, we both have discussed about how to launch attack against the Australian bowlers," said Sehwag.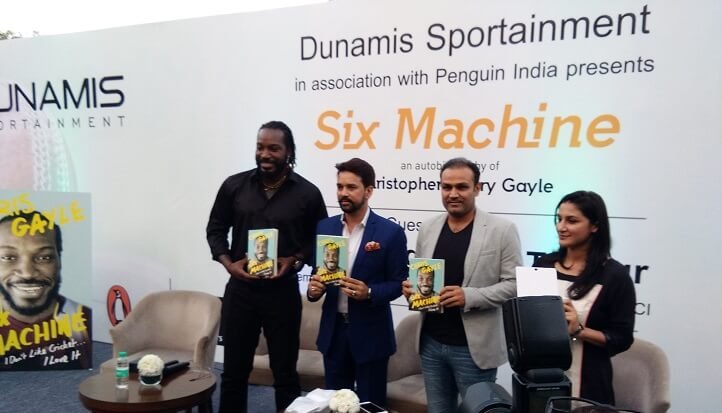 Gayle also spoke about how bowlers would come to him after being thrashed for more then 25 runs in an over and ask about the treatment received.
"Bowlers often come to me and say why you did that to me. But I would always tell them that there is nothing personal."
Sharing a similar experience, Sehwag revealed that Murali Karthik once came to him and asked,"why are you hitting me so much" during a T-20 match.
Praising Gayle for his talent and his dashing image on and off the field, Thakur said, "Chris Gayle is as popular in Jalandhar as in Jamaica. He has gone beyond the limits of boundaries to make the game of cricket popular." 
He added that players like Gayle can bring cultures and countries together.
Feature image source: Scoopwhoop